Creating a high conversion rate is one of the ultimate goals of any marketing activity. Without a good conversion rate, the likes of email marketing, content production, and ad tech simply won't lead to enough sales to generate a good ROI. That's definitely going to become a problem sooner rather than later.
So, how can you leverage your brand for conversion rate optimization (CRO)? Well, it starts with brand tracking.

What is brand tracking?
Put simply, brand tracking is a way of measuring the success of your brand-building activities. Brand tracking will show you how your activities are impacting key brand KPIs amongst your target audience.
Knowing exactly how your target audience perceives your brand, you can better understand areas in need of improvement, which activities generate the best ROI, and what your market share is.
Not only that, you can more easily measure the output of your efforts against that of the competition. With the knowledge that comes from brand tracking, it becomes easier to align your strategy with the expectations of various publics and make informed decisions that lead to increased sales.

3 ways to improve your conversions with brand tracking
Brand tracking is a hugely powerful tool that really lets you dig deep into who is visiting your site. With that knowledge, you can start to take advantage of the opportunities presented by brand advocates.
Use brand tracking to find niches demographics to target
Successful brand tracking will let you see who your strongest and most active demographics are. Once you've narrowed down the options and looked at the data to see who is buying your products and services, then you can start towards creating brand advocates and pushing for a higher conversion rate.
Audience segmentation is a big part of what makes brand tracking work. With audience segmentation, a picture of niche audiences can be created by breaking down demographics into age, gender, income, location, and any unique characteristic that would attract a consumer to a product.
Once you've found your target audience, machine learning can utilize algorithms and audience data alongside sample composition to build an accurate picture of your brand's public perception both currently and going forward.
The insights gained from brand tracking will help the backbone of a successful strategy. Finding the right kind of advocate to relate to, engage with, and spread your message among your target audiences is crucial. Thankfully, brand performance and consumer perception tools make it easier than ever to find the right groups.
As seen in the graph above of the brand funnel, conversions depend largely on targeting the right groups and the value they're interested in, and the points within the funnel that trigger their actions.
Leverage third-party endorsement and brand advocates to boost conversions
Why are brand advocates so important? Because there's no more powerful tool than third-party endorsement. We are far more likely to believe what our peers feel about a product or service over what a paid-for message tells us to think about it.
In fact, nearly 90% of all marketers find ROI from influencer marketing comparable to or better than other marketing channels.
Partnering up with social media influencers to promote your product may work for a younger or more niche target audience, but it can also fall foul of the trust issue inherent with other forms of advertising.
This is why it can be much more effective in the long term to build up a group of unaffiliated brand advocates amongst your key demographics. Brand tracking will show you where these groups spend their time online, the social media they use, the types of email they sign up to, and the websites they frequent and buy from, allowing you to tailor engaging content towards them for big returns.
Once you've made contact and they've bought in, these individuals will quickly and effectively spread the virtues of your brand throughout personal networks that will largely be made up of the same or adjacent demographics. Using the insights gleaned from continuous brand tracking, you can monitor the impact and make adjustments as necessary.
Create a positive experience for users
However you decide to engage potential customers, you must make sure your website, email campaigns, and social media are as easy to understand and interact with as possible. User experience (UX) must be taken into account in order to remove unintentional barriers that could turn away audiences, such as a difficult-to-navigate website or an HTML email where interactive elements and CTAs are not made clear.
That means that call to action buttons stand out from the rest of the page so that the user knows what they are looking at. It's also important that buttons lead to immediate, direct action, taking them on the next step of the journey as quickly as possible. The fewer steps, the better the conversion rate, but there must be a logical progression involved.
In the example below, Netflix uses a direct CTA on their homepage.
UX determines how long users stay on your page, as well as whether or not they'll return. An intuitive UX directly impacts conversions. If the site is not easy or pleasant to use, then sales will be taken elsewhere. If the time has been invested to make sure key demographics are engaged by and can engage with the site, then your conversion rate will be higher.
Of course, a pleasant user experience is not going to be enough to establish loyal and effective brand advocates. A relationship must be built over a series of interactions across multiple platforms. Some of the brands with the most devoted followings are exceptionally active across multiple platforms.
One example is Lucy & Yak, an independent and ethically made dungaree brand that has a strong presence across Facebook, Instagram, Twitter, Pinterest, and YouTube. So strong is their presence and ethos that Lucy & Yak inspires community engagement to rival corporate comms, with fan groups being formed on Facebook.
You can also note the exceptionally high use of their hashtag on Instagram.
Creating a relatable and trustworthy tone of voice is a strong first step. Next, put yourself in the place of someone who is interacting with your brand for the first time and without prior knowledge. Ask yourself, what would be key in swaying you towards making a purchase? Clearer copy? A resource of useful blogs and content? Taking the time to reply and engage with users on social media? All of these things should be considered.
Automated messages that deploy at various points in the user's time on your site are also seeing an increase in use and can present a great opportunity for targeted engagement. Think of different messages to great returning customers or those referred from a certain link. You can also set a time for messages to appear to anyone lingering, or who has had an item in their basket for a certain amount of time. You can also set a message to appear on pages that have otherwise had a high bounce rate to provoke conversation and extend their time on the page.

Another way to build trust is to use testimonials or point to an independent review aggregate from the likes of a TrustPilot page. Consumers generally read an average of ten online reviews before feeling happy enough to proceed. In fact, 91% of those between 18-34 years old trust an online review as much as a personal recommendation, while 93% of consumers overall say that reviews influence their purchasing decisions.
As an example, here's how HubSpot uses website testimonials to prove real user experience and attract new customers.
Finally, you can quickly build up trust and positive sentiment by offering incentives. This can be regular discount codes, offers, or even giveaways that encourage sharing of social media posts on entry or when selected as a winner. Encouraging users to like and follow your post and page will, at the very least, increase your reach within the given social media platform.
Here's a textbook example of how to persuade users to engage effectively from the make-up brand Ipsy.
Best brand and conversion rate optimization tools
Once potential customers have achieved a good level of brand awareness, you can start the process of pushing them down the sales funnel with the help of brand tracking and other tools.
Latana
Data-centric brand tracking tools, such as Latana, allow you to monitor your overall brand performance within target audiences over time and the impact that specific campaigns are having.
You can also compare and contrast with the brand performance of your competitors. These insights are invaluable to see what works and what activities are not efficient and need to be stopped before spending any more of the budget.
Latana pricing plans start at $7,000 a year per market.
Google Analytics
Google Analytics can also be an extremely useful tool for improving conversion rates. It has the ability to see mobile conversions and time-specific breakdowns are all functions that make measuring impact and boosting conversions both easier and more intuitive.
Google Analytics is widely used by industries across the world, as its easy integration with existing Google accounts ensures ease of use and a high level of support.
Decibel
A digital experience solution, Decibel, can help you create a better CRO strategy by using hundreds of metrics to measure and evaluate the performance of your website. Decibel also scores each and every one of your customer experiences online, providing a greater level of insight to lead to informed action.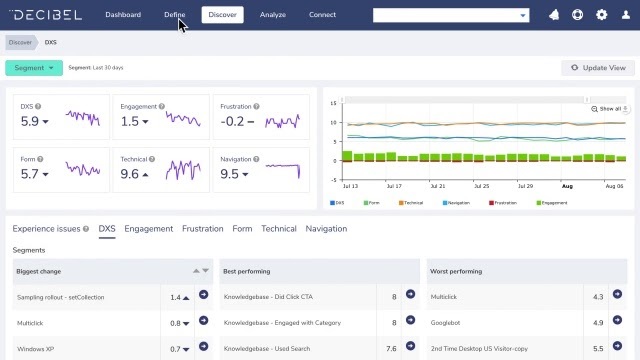 Taking the right next steps
In summary, there's not one single thing you can do, nor one program or tool you can rely on, to instantly improve your conversions. What you can, and must do, however, is invest the time and resources necessary to make sure you know who your target audience is and how they react to your brand.
Brand tracking, both before and during any activity, is absolutely key to understanding what makes your chosen demographics trust you enough to convert. Once you know that, and put in place the conversion rate boosting methods laid out above, you can start building on that success and replicating it more successfully.