Native advertising is a type of advertising that matches the other content on the platform upon which it appears. Such ads look like unpaid content, so the users do not identify them as ads.
In this article, we will explain why you should use native advertising and how to make it work. We will show the benefits of native advertising, describe the types of native ads and give examples.
Why use native advertising?
There are different ways to promote products. Native advertising is one of the most popular of them. Here we will explain why you should use native ads and how they can boost your business.
The main advantage of native advertising is that it does not cause rejection among the audience. Consumers become more resistant to traditional ads and develop "banner blindness". On the other hand, native ads are not identified as promoted content and do not have straight calls to action.
Below we describe in detail why using this type of advertising is useful.
Native ads work. They increase the purchase intent of customers and engage them more than the original editorial content. Consumers interact with native ads more than with the other types of advertising.
Native ads don't tire out the audience. They do not cause ad fatigue which occurs when the audience gets bored with seeing ads. Native advertising engages the customers and they do not feel tired watching it.
Consumers are more loyal to native ads. They know that native ads are a form of advertising. However, if the resource has already shown the expertise, advertising will not cause a negative reaction. There has been an experiment at Stanford University on how people distinguish native ads from other content on the platform. Researchers found out that consumers identify native advertising easily. However, it still affects their purchase behavior significantly.
Now you know why you should use native advertising. Let's proceed to the way ads work.
How do native ads work?
The goal of native advertising is to create a natural advertising message to increase the number of targeted actions. The key factors for success are platforms where you place ads and the content you promote. Consumers see native advertising embedded into sites or apps they use every day. It is subtly and naturally woven into the digital content and feels like it should be here. If people are interested in advertised products, they are more likely to engage with ads, even if they are labeled as "sponsored" or "branded".
To sum up, native ads work because they do not look like ads and bring value to the customers. Let's move to the next part to discover the advantages of native advertising.
Benefits of Native Advertising
If you want to promote your business, we recommend looking closely at this type of advertising. Here we provide its benefits and explain why they are so crucial.
Customers' attitude to native ads is better. When you do not use aggressive advertising messages and calls to action, it increases loyalty to the promoted material and raises the effectiveness of the campaign.
Native advertising does not invade personal space. Such ads fit into the platform format rather organically. So consumers receive the needed information and do not notice the difference between plain and promoted content.
Users cannot block such advertisements. They can block only certain elements, but if they use a platform, they will meet native advertising anyway.
Natural advertising does not fall into the "banner blindness" zone. According to a study carried out by IPG Media Lab & Sharethrough, natural advertising has more chances to become viral on social networks. Consumers look through native ads 53% more frequently than display ads and 32% of respondents are ready to share such advertising information.
As you can see, native advertising is a great method to promote your business. We will describe the types of native ads in the next section.
Types of Native Ads
The choice of a native ad format depends on many factors. They include niche, industry, price policy, target audience, and its preferences, available resources, etc. Let's discover the most common types of native ads to understand which one would be the best for your business.
The most popular types of native advertising are sponsored social media content, advertorial articles, and collaborative content. Take a closer look at each one below.
Sponsored social media content
Nowadays nearly half of consumers shop more on mobile than in-store. Consequently, using social media as a platform for native advertising is a great way to promote your business.
Usually, companies work with bloggers to advertise 'naturally'. These people have a large audience who trust them. So, if a blogger promotes something, there is a great chance that subscribers would buy this product. Work only with experts in your niche. Choose bloggers who have the same values and trusting relations with the audience.
The most common way of natural advertising is when bloggers mention services or products within their content to increase customers' brand awareness. There are different types of native ads on social media: posts, stories, videos, tweets, articles, etc.
Below there is a photo on Kendall Jenner's Instagram. She promotes a brand that produces toothpaste and teeth whitening pens. It is a great example of sponsored content.
Source: @kendalljenner
Advertorial articles
Such native adverts have paid placements in the middle of the non-advertising material. As a result, they are not identified as advertising, as they look natural. We can find advertorial articles in magazines, newspapers, on sites, etc.
For example, EC Virtual provides 101 tips on how to learn English. The last tip is an ad, but it is native as people who read the article are already interested in the topic.
Source: EC Virtual
Collaborative content
You can see collaborative content on video platforms and social media. Companies usually ask influencers to make their creative input in product creation or provide them with a discount code to gain a percentage of the profits.
Using collaborative content helps increase customers' brand engagement and loyalty. Influencers who handle word-of-mouth marketing, and promote a brand and its products through different digital platforms are called brand ambassadors and the process is called influencer marketing.
Companies are more flexible when they create collaborative content. Brands seek influencers who are ready to make every effort to communicate their message to the audience. However, businesses may also have strong requirements and a brief.
An example is the collaboration of Dua Lipa and Puma. The singer is an ambassador of a brand: she takes part in shootings, presents new models, and promotes their sneakers.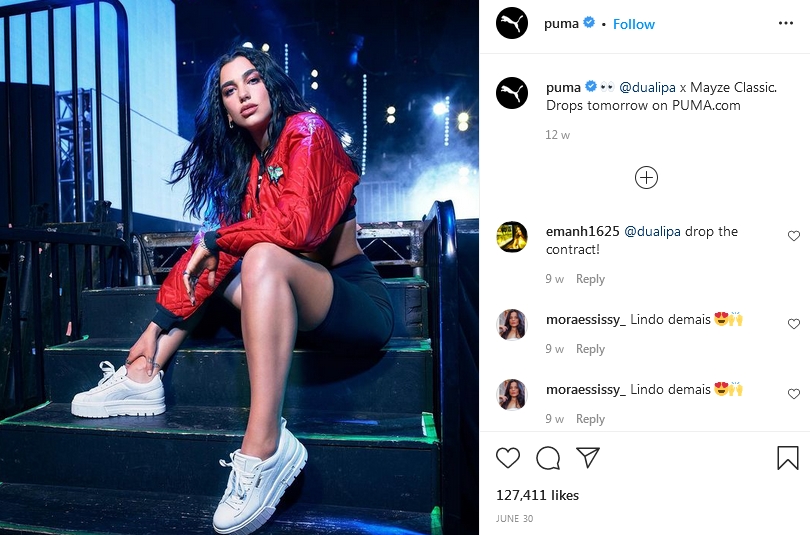 Source: @puma
As we can see, all these types have their peculiarities. Now you know more about them, so let's look at some more examples of native advertising.
Native Advertising Examples
Native advertising involves building trusting relationships with potential customers. Thus, native ads have more opportunities to go viral than regular advertising articles. It influences the content directly, as it should be presented 'naturally'. Look at the examples below.
Here we can see an example of a promoted account on Twitter. You can find such ads in the search. There are also similar examples of promoted feeds on Facebook, Instagram, etc. They look natural because people open social media to entertain, look for some accounts to subscribe to, and do not even notice that they see an advertisement.
This is an example of collaborative content. Football player Luis Suarez collaborates with Puma Football and they create a post together. This type of native advertising is profitable for both influencer and business, as the first one gets a certain percentage of profit while the company attracts new customers.
Source:@luissuarez9
There are many more examples of native advertising on the Internet. Now you know enough to use such ads for your brand promotion.
Last Updated: 06.12.2021