Incentivized traffic is the traffic generated by users who receive different types of rewards such as cash, gift, discount, whitepaper, free eBook, or game tokens for visiting specific websites. It brings more visitors to websites and valuable customer data.
In this article, we'll unveil the benefits and types of incentivized traffic.
Benefits of Incentivized Traffic
Incentivized traffic is an easy way to boost the number of visitors to your website which results in more potential customers. The strategy aims at acquiring customers by providing them with different incentives. Your company can invite prospective customers to click a link to obtain a discount, whitepaper, upgraded product, eBook, or a gift. With incentivized traffic campaigns, you can focus on driving prospects' interest, encouraging them to explore your content and product, and perform the desired action to get the reward.
Besides increasing customer acquisition rate in a short time, incentivized traffic can bring you even more pros. With its help, you can boost customer reactions. Over time, the high number of downloads and customer acquisition rate will positively influence your ranking in search results. Consequently, more users will see your site.
For instance, if your mobile app is increasingly popular on Google Play or App Store and the number of installs is high, over time it will be more visible for users. Companies will see positive changes from these campaigns in around three days.
Now when the benefits are clear, let's discover the types.
Types of Incentives
Companies can offer different incentives to increase customer acquisition and boost visits. There are many rewards they can use to encourage people to perform the desired action. Many websites apply content locking and ask users to answer several questions to access it. Gaming sites and apps implement offer walls. They reward gamers with game tokens for referring friends or sharing information about their accounts on social media. Besides, they generate traffic by giving cash, discounts, access to materials, gifts, etc.
Incentives are extremely popular in mobile gaming since they help advance and inspire users to play the game more often. Companies can reward their users with exclusive bonuses.
Angry Birds is a mobile game that demonstrates great results from its incentives for users. The company has daily bonuses for players. Its daily login streaks and bonuses for new levels encourage gamers to play and increase customer retention.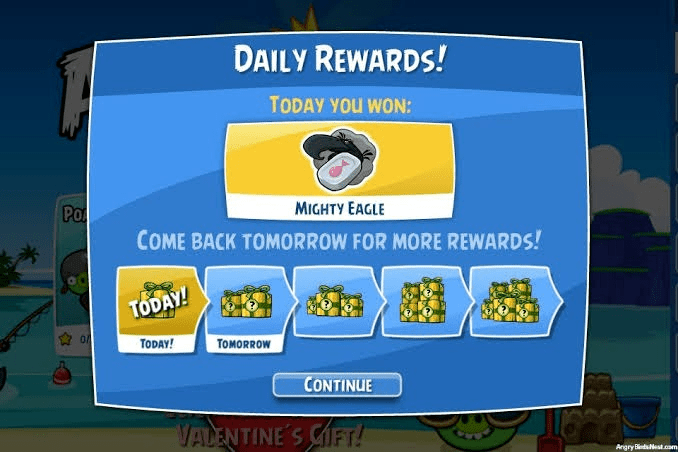 The choice is yours. Choose the strategy that suits you the most to obtain leads. Hope the examples above will help you in deciding how to approach prospects in the best way.
Last Updated: 22.03.2023