Conversational marketing is a strategy that implies communicating with customers with the help of live chats, chatbots, and voice assistants. A consumer can reach a company through these forms of communication when visiting a brand's website, social media, or paid ads. It helps attract more prospects, understand their needs, and lead through the sales funnel faster.
In this article, we'll discover conversational marketing statistics and benefits. We'll also review 3 conversational marketing platforms and get inspired by outstanding examples.
Conversational Marketing Statistics
Conversational marketing allows businesses to communicate with their leads at the appropriate time and provide them with the information they need. Face-to-face communication is essential for customers. Live chats and chatbots help connect the digital and physical world. Statistics prove that prospects often need personal assistance.
71% of buyers prefer to communicate with brands in real-time.
52% of consumers mention that they will purchase again with a brand if it provides support with the help of a live chat.
Conversational marketing brings advantages to businesses as well.
79% of brands report that a live chat contributes to more loyal customers, a higher number of sales, and revenue.
With chatbots, businesses can save 30% of the cost a company spends on support.
Now that you know the most important statistics that support the idea to implement the strategy, let's walk you through the benefits of this effective marketing approach.
Benefits of Conversational Marketing
Entrepreneurs implement the technique because of the various benefits it brings to the business. Companies enhance user experience and implement innovation so that customers can perceive them as industry leaders. Moreover, conversational marketing is a great opportunity for businesses to get insights into their customers' needs and problems.
Besides a better buying experience, the strategy enables brands to qualify leads and connect them with the right departments to effectively move prospective customers through the sales funnel. As a result, more conversions, high organic traffic, and a wide customer base. Close communication with customers allows companies to understand their needs and address them at the appropriate moment. When a team knows a lot about consumers, it can effectively identify the right time for upselling and cross-selling. If done right, it can increase the brand's revenue.
By engaging with customers through the most suitable channels like live chats or chatbots, brands provide users with a good buying experience. It improves customer satisfaction. This, in turn, encourages word-of-mouth promotion and referrals. As a result, a brand can obtain new customers.
The majority of startup owners assume that creating chatbots requires some special skills and knowledge yet it doesn't. We'll tell you about the services that don't require you to specialize in programming or coding.
3 Conversational Marketing Platforms
Although developing a good chatbot can take a lot of time and effort, there are still a lot of excellent services that help simplify the process. Consider using the following platforms to provide your customers with instant help.
SendPulse
The chatbot builder allows you to automate replies, manage customers' inquiries, and move leads through the sales funnel. You can set up a chatbot in the most popular marketing channels like Telegram, Whatsapp, Facebook, and Instagram. By creating a chatbot with the service, you have an opportunity to quickly consult customers and provide them with the necessary information about your products.
SendPulse allows you to add up to 10 quick replies to make the process faster, use buttons to redirect users to your site or connect to other necessary information. To enhance your sales process, the service enables you to receive payments from customers. Integrate the preferred payment systems to simplify payment. Check out our article to find out how you can create a chatbot for free.
Below you can see the sequence of actions required when creating a chatbot flow with SendPulse. There are several variables you can include to start a flow.
Free plan: up to 1,000 subscribers, 3 bots in Messenger and Telegram, 10 variables, 1 RSS feed for auto-posting, and API.
Paid plan: From $7.88 per month for one user billed annually.
Chatfuel
The service empowers you to automate all your marketing efforts with a chatbot. It will help manage lead generation and support services. It provides you with an editor that allows you to design chatbots to your liking without any coding skills. The platform enables you to create a bot that will serve as an advisor, assistant, or informer.
Since brands often require popular social media platforms, Chatfuel offers you to integrate with the necessary services. It also provides users with access to analytics where they can explore chatbot performance and gather valuable insights.
Below you can see how to create a chatbot with Chatfuel.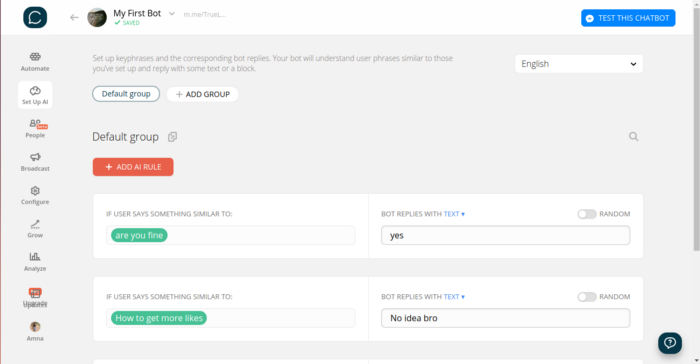 Free plan: 30-day trial.
Paid plan: From $15 per month.
13chats
13chats is a platform that suits the needs of marketers, support teams, and sales reps. With its Facebook chatbot and live chat, you can boost sales volume and customer satisfaction. So, if you have a small or medium-sized startup, you can use 13chats to improve your online chat. It allows you to use a drag-and-drop editor to create professional message flows with no coding skills or knowledge.
Its chatbot enables you to update customers on upcoming promotions, product releases, webinars, and personalized offers. Moreover, you have the access to analytics to evaluate your performance. These insights can help you deliver content that meets customers' needs and desires.
Below you can see audience activity.
Free plan: Available forever.
Paid plan: From $13 per month.
Let's see several great examples.
Examples of Conversational Marketing
To obtain the necessary information from visitors, brands need a human approach such as conversational marketing. Let's delve into several examples to grab some inspiration from established companies.
Kayak
Kayak's interactive chatbot empowers travelers to find the necessary flights and hotels in Facebook Messenger within minutes. With its help, customers can search for hundreds of hotels, flights, and places to visit and book everything they need. The main advantage of the chatbot over its traditional website is that a user can search the history and find the appropriate information when opening a conversation with a chatbot.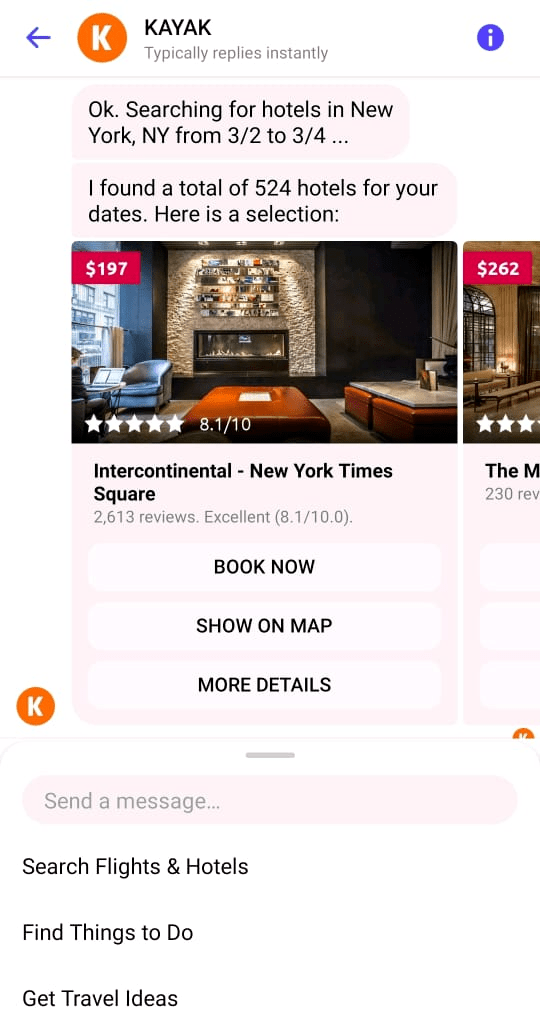 Sephora
Sephora tries its best at engaging customers and providing them with a human approach. The retailer designed two main helpful bots for Messenger that assist its leads and customers. Sephora Reservation Assistant helps customers book a makeover while the Sephora Virtual Artist bot allows customers to find the products they look for.
Simply put, conversational marketing is effective if you aim at reaching out to your target audience, exploring their needs, and addressing them correctly. Nowadays, good customer support is impossible without a chatbot or live chat.
References:
This article defines the term and unveils its benefits.
In this article, you'll find great examples.
This article provides readers with a conversational marketing guide.
Last Updated: 29.09.2021