Shoppable content is an ad, video, image, or social media post a customer can click through to make an instant purchase. It helps a brand increase sales, provide a better customer experience, increase customer loyalty, and boost conversions.
In this article, we'll uncover why shoppable content is important for eCommerce and unveil the types and examples.
Why is shoppable content important for eCommerce?
Brands offer different options for customers to shop. They can do it in-store, on websites, via apps, and others. With the rise in the use of social media, people can shop without leaving a platform by simply clicking a photo, video, or post. According to statistics, 4.62 billion people worldwide now use social media, and around 55.5% of US social media users aged 18 to 24 have purchased via social media networks. Since the number of customers on social media increases and they prefer to buy products online, companies provide shoppable content.
After clicking a shoppable ad, video, image, or social media post, customers proceed to the brands' websites to complete the checkout or complete the transaction. It makes the purchasing process simple, fast, and convenient. With shoppable content, people can get what they wish without delays and a long sales funnel. By posting interesting and shoppable content, brands reduce the number of abandoned shopping carts and provide a better customer experience. As a result, customer loyalty increases.
Many people like to make instant shopping decisions and buy products fast. However, the long purchasing process might discourage them from buying and going through the checkout. Shoppable ads, images, and videos help avoid this scenario, and the odds of conversions improve.
Now that you know why shoppable content is important for eCommerce, it's time to explore the types.
Types of Shoppable Content
The type of shoppable media you'll choose for your business depends on the target audience, product, and industry. We'll list the 4 main types for you to consider.
Social media posts
Social media is a perfect place for your shoppable posts. Various communication platforms allow you to drive users' attention to your product without interrupting their browsing. Posts on Instagram, Facebook, and TikTok include images of products and tags. Once users tap a product, they can see a window with a price and a link to the brand's website. If they are interested in a product, they can click the link to proceed to the website and complete the order.
For example, JLo Beauty uses this type of shoppable content on Instagram to educate people about the available products and price points. The post also encourages subscribers to purchase and explore the benefits.
Videos
A video is a form of content that helps customers see the product in detail. It enables you to improve customer experience. Many people decide to buy a product after exploring a brand's video. Shoppable video increases customer engagement and raises brand awareness.
For instance, with the video, IKEA shows its products in action.
User-generated content
Collecting social proof helps you earn customers' trust. You can do it easily with user-generated content. Reviews, influencer posts, videos of opinion leaders, feedback, and recommendations will come in handy if you want to influence purchasing decisions of your target audience. These posts are more trustworthy so that they encourage users to buy your product. Consider collaborating with an influencer or collecting customer reviews to share them on your account.
For instance, Rare Beauty features a global stylist wearing the brand's pencil and gel. This person has thousands of followers who listen to her advice.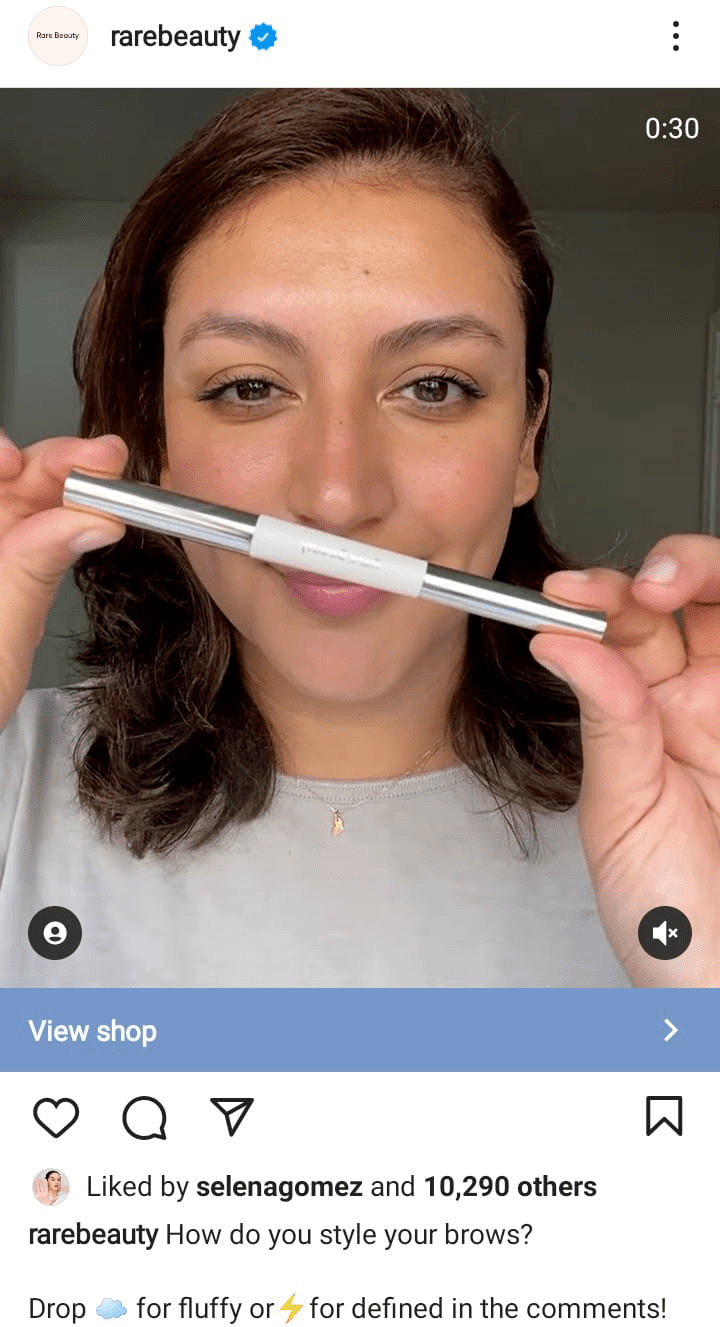 Ads
Ads might disturb users' free browsing, so they use ad blockers to avoid annoying advertising. However, shoppable ads are different in nature. These ads manage to grab attention and entice customers to purchase.
For example, Nom Nom uses Facebook to promote its ad and encourage customers to buy its product. The ad also includes the "Shop Now" button.
Now that you know the types, let's walk you through some amazing examples.
Examples of Shoppable Content
You can encounter many excellent examples of shoppable content on social media networks like Instagram and Facebook.
Crocs
The famous shoe manufacturing brand uses shoppable content to its advantage. On its Instagram account, Crocs shares its product and invites customers to purchase by clicking the links that lead to the company's website. This way, they entice users to purchase one when they scroll through their Instagram feed.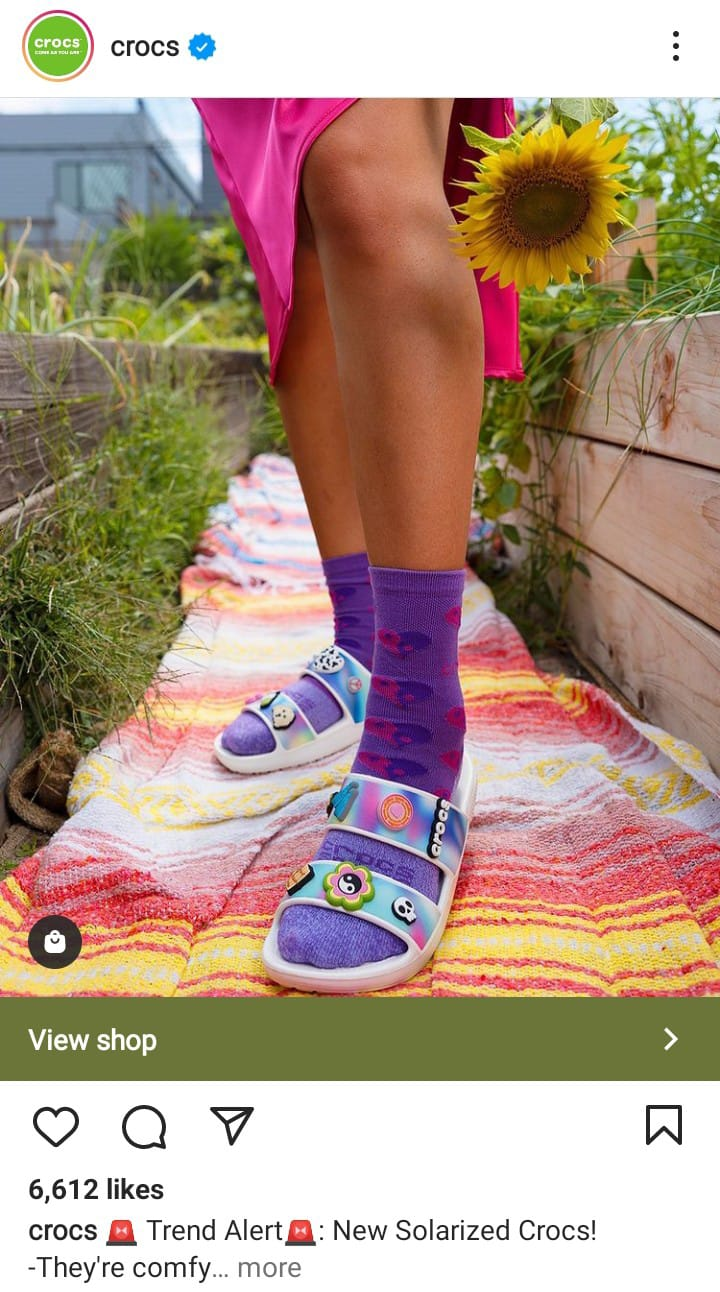 Habitat
Habitat, a brand that sells furniture and home accessories publishes Facebook posts to reach customers. The company shares attractive offers on the platform with the opportunity to click the "Shop Now" button and proceed to Habitat's website where people can buy.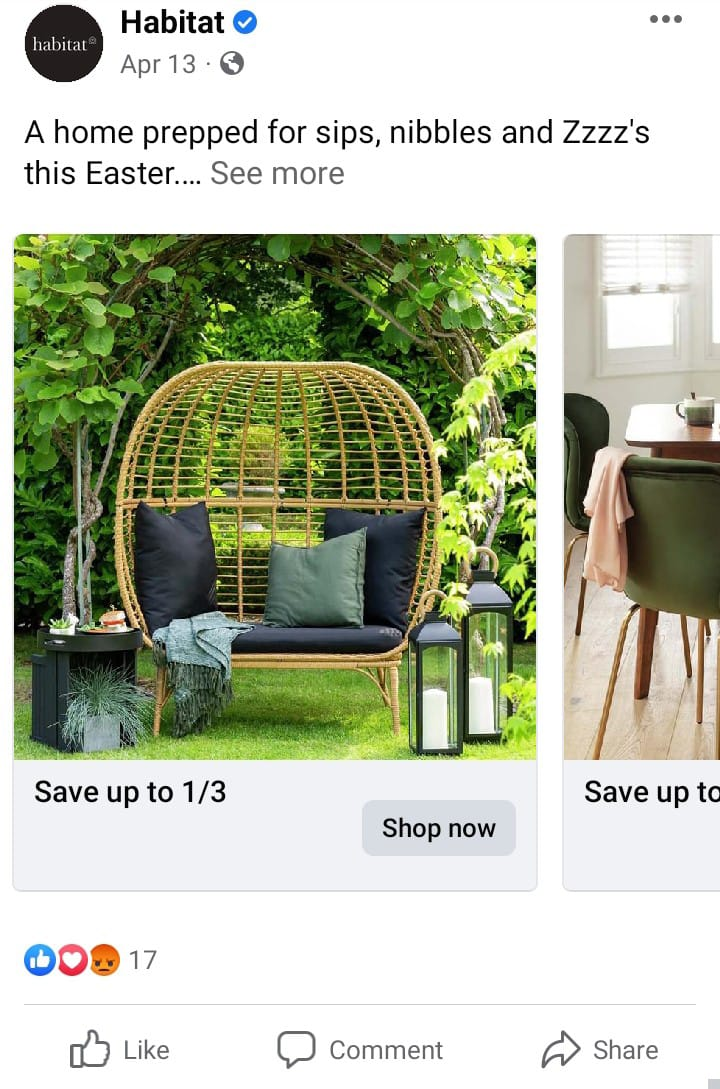 Eureka Street Furniture
Based in Australia, Eureka Street Furniture invites customers to shop online on Facebook. After tapping the image, the user can instantly see the prices of products depicted on it. The "View shop" button below the post enables visitors to explore products in the brand's shop on Facebook and then open the website if they decide to complete the purchase.
Congrats, now you know the types of shoppable content you can leverage to promote products. Hope our examples inspired you to create some posts, images, and videos that allow users to instantly shop for products.
References:
In this article, you'll find different types of shoppable content.
This article provides readers with 6 excellent examples of shoppable content.
Last Updated: 22.03.2023