FullContact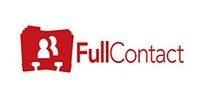 FullContact is a content management platform. It collects the data about prospects, companies, professionals and enterprises to organize and keep it in a centralized place. The service extracts the information from blogs, social networks, photos and other public data. Besides, there is a scanner tool which transcribes automatically business cards. FullContact also checks your inbox for additional information in email signatures. They offer API for developers to create own contact apps in order to gather more data about users basing on their email address. Use FullContact to generate more leads, grow your target audience, create brand advocates, target users effectively and get more data about your customers to segment them correctly.
Why integrate FullContact with SendPulse?
Integrating FullContact with SendPulse, you won't have to manually copy contact information from one service to another because Zapier does it. Every time a new business card is created in FullContact, Zapier will copy the information and add it to SendPulse mailing list of your choice. This way, you save time for more important issues and ensure that your mailing lists are always updated.
How do you connect FullContact to SendPulse?
Integrating FullContact with SendPulse unites these two simple tools to benefit your business. Just follow these steps: 
Create FullContact account
Create a new mailing list in your SendPulse account 
Make FullContact to SendPulse zap using Zapier with SendPulse integration
Set the kind of interaction you want between these two platforms
Set the trigger email you want to send to your contacts
See our Knowledge Base to learn more about Zapier integration.
If you have any questions on how to connect FullContact to SendPulse with the help of Zapier, please feel free to contact us.