FormKeep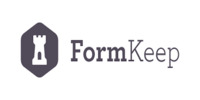 FormKeep is the simple but powerful platform for web designers, marketers and customer specialists to create beautiful and customizable forms for the websites with no iframes, JavaScript embeds and CSS overrides. When hand-coding the forms, you don't have to worry about the backend. After the signup, you'll get a code snippet to be inserted into your site together with HTML form elements. You take full control over the form types and design, create branded forms in your corporate colours by adding extra CSS. FormKeep collects the data from text, radio buttons, checkboxes, date, telephone numbers, email. You can easily update your existing form by adding a new field to it in 3 months after the launch — FormKeep will refresh the information on the fly. All the important data is safely kept by the platform as an unlimited number of form submission is available. After a user submits, FormKeep sends an automatic thank-you email or redirects to any URL you wish. Capture more information about the leads to personalize your marketing approach.
Why integrate FormKeep with SendPulse?
Integrating FormKeep with SendPulse, you don't need to manually add new submissions to your mailing list because Zapier does it. Once the integration is set up, every new submission in FormKeep will trigger the adding of a new subscriber to SendPulse mailing list of your choice. This way, you not only save your time but can start implementing your best marketing technics immediately. 
How do you connect FormKeep to SendPulse?
Integrating FormKeep with SendPulse unites these two simple tools to benefit your business. Just follow these steps: 
Create FormKeep account
Create a new mailing list in your SendPulse account 
Make FormKeep to SendPulse zap using Zapier with SendPulse integration
Set the kind of interaction you want between these two platforms
Set the trigger email you want to send to your contacts
See our Knowledge Base to learn more about Zapier integration.
If you have any questions on how to connect FormKeep to SendPulse with the help of Zapier, please feel free to contact us.