A retail business is the sale of items and services in small quantities to customers in-store or online. Grocery, clothing, and drug stores are examples of retail.
In this article, we'll cover the importance, types, and ideas for retail business. We'll also teach you how to start and promote your retail business.
The Importance of the Retail Industry
Retail stores play a crucial role in the everyday life of modern people. Retailers enable consumers to access a wide variety of products and services worldwide. The retail business helps support the country's economy and create additional workplaces.
First of all, the retail industry is about customers' convenience. Retailers bring ready-to-consume products to people and let them get everything they need for their happy living. Customers don't have to wait for a long time. They can visit a grocery, clothing, convenience, or drug store to have the products they need now. Besides, retailers often offer delivery to the customer's doorstep.
The retail business is a part of a bigger system called a supply chain. Retailing is a crucial part of the supply chain since it links a manufacturer with a consumer. Retailers contact vendors and buy products in large quantities. After, they sell these items in small amounts to customers to obtain profit. After making a deal with a manufacturer, businesses can offer consumers a wide range of products.
The retail industry influences the economic development of a country. Stores sell goods and pay taxes to the country's budget. Retail companies provide people with jobs. The level of unemployment decreases.
Now that you know the importance of the retail industry, it's time to unveil the types of retail business. If you are still deciding which store to open, it'll be useful to find out the features of each, so let's dive into the next section.
Types of Retail Business
In this section, we've gathered the most popular stores people open most often. It's time to identify a business that will meet your profit expectations.
Convenience store. It is a store in your area with all the essential items you need regularly. A convenience store is often a small place with a limited number of product categories. It can have only 2-3 types of each product, but you'll find this store almost everywhere in any city or country. You don't have to go to the supermarket, check in your bags, or wait in a long queue to buy milk. It's better to go to a convenience store near your house.
Specialty store. This store specializes in one or two product categories. Its main advantage is the availability of items you can't find in the market. Examples of especially stores include florists, furniture stores, sporting goods stores, bookstores, etc. For instance, if you need a specific book, you better go to a bookstore. Supermarkets and malls don't offer much choice of books.
Supermarket. It's a marketplace with various product categories and product lines. The choice is diverse. In a supermarket, people can find everything they need for their homes: fruits, vegetables, bakery, sweets, detergents, coffee, home appliances, dishes, and many other products. People shop at a supermarket to refill their home inventory. They find everything in one place. Customers don't need to go to several stores to buy all products. It's convenient and time-saving. Supermarkets encourage consumers to come back by offering discounts, promos, and unique products.
Drug store. It's a store that sells medicine. The store has a wide choice of drugs to fulfill people's needs every day. Besides pharmaceuticals, drug stores offer health and beauty products, water, snacks, and sunscreens, and have a pharmacist who can give a piece of advice.
eCommerce store. It's an online store that sells products and services on the internet. Customers who can't find a specific item in stores will find it online because of the choice modern platforms offer. They deliver items from different countries. Famous examples of eCommerce stores include Amazon and Alibaba. Today, Amazon holds a huge market share of retail business and is at the top of customers' minds. The tendency of going online and having high profits will soon encourage all retail stores to sell products from a website.
Discount store. This store offers a great variety of products with a good discount to hook customers' attention. Discount stores provide great discounts because they buy products from manufacturers in big volumes at a low price. These stores have low selling prices, and low margins, and sell products in significant volumes. Walmart is the most recognizable example of a discount store.
Now that you know the types, let's walk you through some outstanding retail business ideas. Hopefully, they will inspire you to create a successful company.
Retail Business Ideas
We've prepared a list of retail businesses with low investment yet great profit for you to consider. Let's dive in.
Cosmetic store. The beauty industry is getting stronger every year with an annual growth rate of 4.75% worldwide. If you have a big budget and want to target the luxury segment, you can sell branded cosmetics. When targeting people with average incomes, it's advisable to sell mass-market beauty products. Explore the market to understand the demand in your location. If you don't offer luxury or amazing high-quality products, you can always surprise your consumers with excellent customer service. Come up with a personalized greeting, instantly address customers' shipping issues, listen to consumers, and ask for feedback. Consider implementing a chatbot to reply to clients fast.
Sports shop. If you are fond of sports, it's an excellent idea to open a sports shop. Your knowledge and skills will help you choose the right products and enable customers to purchase the best options among available items. However, before you decide to start this business, conduct research to identify the specific demand in your area. This will enable you to meet consumers' needs and ensure the efficient work of your store.
Thrift shop. Excessive consumerism negatively affects the environment. That is why people are becoming more conscious and try to buy new clothes less often. A thrift shop offers second-hand products at an attractive price. It's a perfect solution for people who avoid buying new products and prefer to reuse old ones. They help the planet by preventing excessive pollution.
Organic food store. More people care about their health and nature. So they try to consume organic food. Since the number of conscious people increases, creating a store that fulfills their requirements and meets food preferences would be great.
Bookstore. If you are passionate about reading and have good knowledge of different authors and their books, consider opening a bookstore. It's worth exploring some marketing strategies before searching for suppliers and ordering dozens or even hundreds of books for your store. Your bookstore should have a unique value proposition to stand out. For instance, the Strand Book Store, established in 1927, succeeded because of its wide range of books. The diverse selection of books and friendly employees delight visitors. Besides books, the store also sells Moleskin products and Shakespeare insult coffee mugs.
Flower shop. Flower shops help people create amazing gardens filled with various plants and make their homes look cozy. Many people visit flower shops to find gifts for their loved ones. Before thinking about suppliers, you need to decide whether you want to have an online or offline brand. Both options are possible if you consider running this type of business.
Now that you have some great ideas, let's discover how to start a retail business.
How to start a retail business?
If you think about running a retail store, we'll show you how to do it successfully. Follow our step-by-step guide to doing everything right.
Find a perfect niche. The first thing you should do is choose a niche for your business. Whether you already have some ideas or not, we recommend that you pay attention to the following points: your interests, competitors, and profitability. Before diving into a specific niche, you need to identify your passions and interests. Find out the things you are fond of to select the niche. For instance, if you like reading, it'll be great to have a bookstore to use your knowledge in this field. Once you have some ideas about your niche, conduct a competitive analysis to find out the number of competitors. Explore the product they sell and a strategy they follow. Your rivals can be a source of useful lessons for your business. You'll know what you should and shouldn't do from their experience.
Develop a business plan. Make sure that your business plan covers several essential points. It should include the product you sell, information about brick-and-mortar and online stores, the target audience, ways to stand out from the competition, vendors, employees, the budget of your startup, the hiring process, etc. Allocate the budget to be able to cover all the expenses. They include advertising and marketing, license and regulatory fees, insurance, wages, equipment rentals, rent, maintenance, etc.
Register your company. Once you have your business plan and budget prepared, you need to make it official. Come up with a unique, short, and easy-to-remember name. This name should reflect the purpose and identity of your business. After, research to make sure that the name is unique and no one else uses it. Search for trademarks in the U.S. Patent and Trademark Office to find them out. If the name isn't in use, it's free and clear, buy a domain name, and create a website and accounts on social media networks for your new brand.
Get all necessary licenses. Get the licenses and permits required in your country to run a business. For this purpose, consult your city clerk's website for the requirements. Consider visiting U.S. Small Business Administration's website to apply for licenses and permits. If you are just starting with a retail business, you'll probably need to obtain more licenses to start working, such as a resale certificate, a certificate of occupancy, and a seller's permit. Besides, don't forget about business insurance.
Find suppliers. At this stage, your main task is to identify reliable and trustworthy suppliers. Consider the budget, reputation, quality, and customer service of your future suppliers. Choose the best among available options. Your vendors are your key partners since they provide you with products and sell the best-selling products at a low cost. Establish good relationships with suppliers to have long and profitable cooperation. You can also negotiate a discount for large purchases or a long-term partnership.
Choose a physical location and create a website. You need a perfect place for your retail business if you plan to sell in-store. Ensure to establish your physical store in an easily accessible area with parking so that many customers can come to shop. Analyze your target audience to find the location where the majority of your potential customers live. Find out where your target audience lives and explore the area. Do competitor analysis in this area. When considering selling online, you should create a website. Develop a user-friendly website where a customer can easily find the right product and quickly place an order. Take care of website speed and optimization for mobile devices.
Hire employees. Interview candidates to identify their experience in retail. You should make sure that the members of your team have expertise in the field and will contribute to the success of your business. Hire a professional HR to find people who meet your requirements.
Market your business. Create a marketing strategy that will encompass the steps you should do to market your product and educate people about it. Together with your team implement brainstorming to find a creative way to approach your target audience. Employ SEO, social media, paid ads, and email marketing to resonate with your prospects. Build an appealing website and develop accounts on social media platforms to reach your target market. Partner with influencers to get recommendations and encourage word-of-mouth promotion.
Now that you know how to start a retail business, it's time to figure out how to promote it. The success of a business depends on how well your marketers and advertising campaigns work.
How to promote your retail business?
There are many marketing channels such as email marketing, offline advertising, content marketing, word-of-mouth marketing, social media, etc. We'll review communication platforms that have better performance. When you are considering a retail business, you need to be creative to approach your target audience. That's why we've prepared a list of ideas that will help you promote your new store. So let's explore them right away.
Make use of email marketing
According to statistics, 4 out of 5 marketers say they'd choose email marketing over social media. Companies that send segmented campaigns report a 760% increase in revenue. Email marketing is a perfect way to keep customers engaged. By sending a commercial message to a group of prospects or customers, you can inform them about new products, discounts, and services. With email campaigns, you'll be able to educate your audience about your brand's value and increase engagement. According to Direct Marketing Association, email brings a £38 ROI for each dollar spent. That's why it's considered one of the most cost-effective marketing channels.
SendPulse empowers you to create outstanding email campaigns with its drag-and-drop editor. You don't need any special skills or knowledge of code to create professional emails. With its library of ready-to-go templates, you'll be able to draw subscribers' attention and make them remember your brand.
Below you can see SendPulse's email campaign builder. In the editor, you can choose a featured template and create an email informing customers about their abandoned cart and encouraging them to finish the checkout.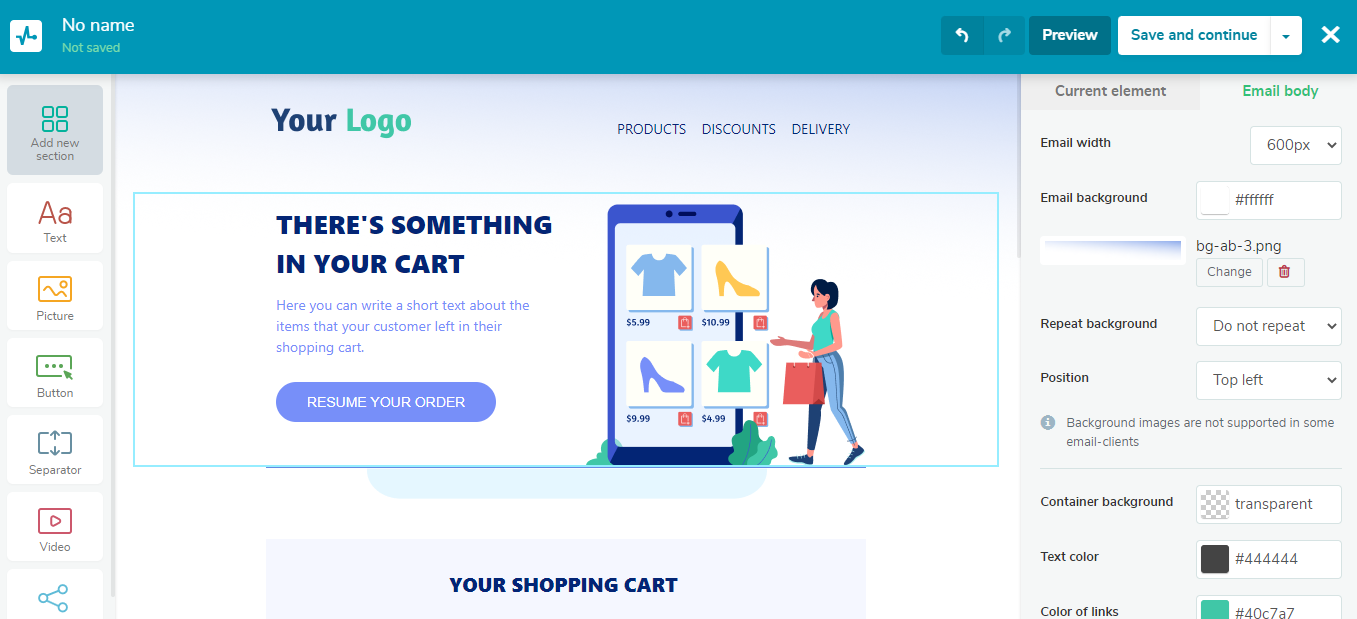 Create an account on TikTok
According to statistics, Tiktok is the 6th most-used social media network worldwide. It's one of the most engaging social media apps since Android users spend on the platform around 19.6 hours monthly. This short video is a perfect way to hook customers' attention and earn their trust and love. TikTok's interest-based algorithm is friendly to startups. With its help, you can reach the necessary audience segments and educate them about your product.
For instance, The Silk Labs' video went viral on TikTok in 2019 and got 600K likes and 3.5M views. After posting the video, the company's account gained 20K followers. The founder of The Silk Labs, Jenna Labiak, highlights the importance of being active on social media for small brands since it helps earn more money and become more recognizable. Now the company has more than 100K followers on this platform.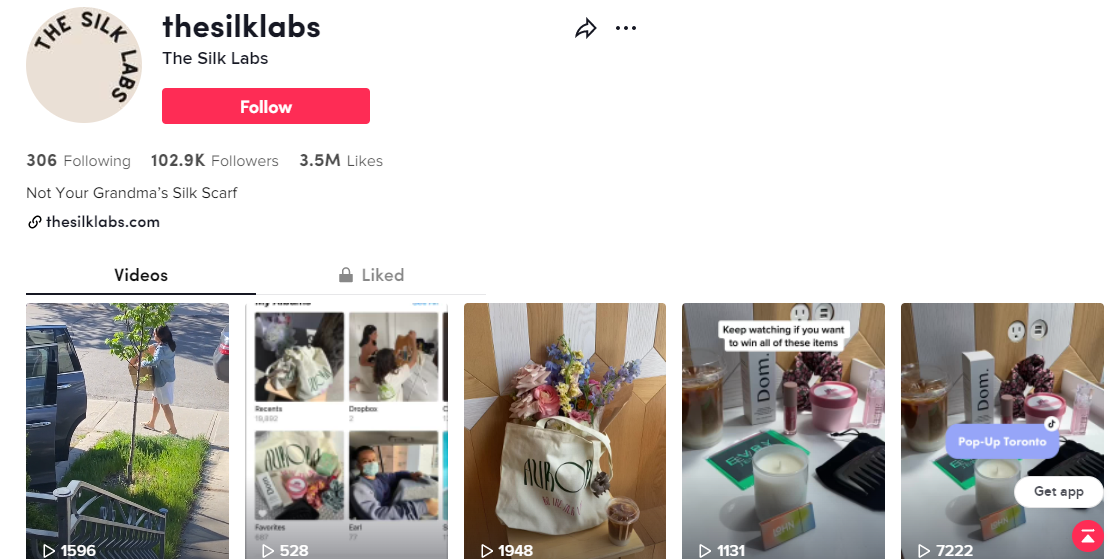 Organize in-store events
There are many ideas for in-store events you can implement to bring more people to your store and drive attention to your new brand. A yoga studio can offer new visitors a free yoga class, a wine store can hold a tasting, and a bakery store can teach new customers how to bake bread. Consider conducting an event online, if your audience isn't local or if there are many people who wish to attend your event. This way, you can introduce your product and talk about its benefits and values.
For example, Rose St. Trading Co., a store that sells stylish homewares, fashion, and gift items, hosted a book signing event. Such events help drive attention to the store and the goods it offers.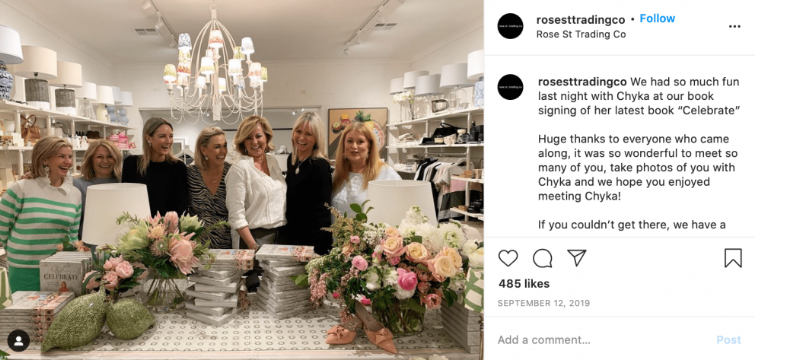 Implement influencer marketing
There's a steady growth of influencer marketing because 61% of customers trust influencers' recommendations. Influencer marketing is a collaboration between a brand and an influencer aimed at product promotion. It helps increase your following and boost engagement with your brand. Since people trust influencers' recommendations, you need to consider this strategy to build awareness and increase sales.
For instance, Rihanna, a famous singer, and an influencer promotes one of the most popular retailers of beauty products. The singer published a post on Instagram promoting Ulta Beauty, a company that sells top beauty brands.
Now that you know how to start and promote your business, consider using SendPulse's tools to do it. After setting up our chatbots for Facebook Messenger, Telegram, WhatsApp, and Instagram, you'll be able to provide 24/7 support, reduce your workload, and close deals fast. SendPulse also invites you to send timely and relevant email campaigns to communicate with your audience, provide personalized content, and boost traffic and sales. Take advantage of our CRM for free and build a landing page without the knowledge of the code.
References:
In this article, you'll find the definition of retail business, types, and benefits.
This article covers the types of retail outlets.
This article unveils how to start a retail business in 13 steps.
Last Updated: 22.03.2023