What is confirmation email
Confirmation email is a kind of a transactional email sent to a customer after a certain condition is triggered. This email can be sent to confirm that a customer has placed an order at an online shop, subscribed to a newsletter, booked tickets, registered for a webinar. In SendPulse, you can send confirmation email automatically according to specific conditions and filters.
Why should one send a confirmation email
Email in itself remains one of the most effective tools when it comes to lead conversion. It is a very effective marketing channel and has a return on investment of (ROI) of $39.40 per email. Confirmation email, being an underdog among other types of emails has a couple of aces up its sleeve. These points might illustrate why email confirmation is important. 
Primary inbox Confirmation emails usually land in the primary inbox section.
Increased CTR They provide information vital to the user which in turn increases a click-through rate.
Opportunity to upsell This type of email is a great opportunity to upsell products and services along with useful information they contain.
Anticipation Emails of such type are anticipated, which means they have a higher open rate.
Triggered by customers' actions These emails are triggered by customers' actions which means you can learn their behavior and preferences.
Types of confirmation emails
How to set up email confirmation
After the registration in SendPulse, it is really easy to set up your automated  confirmation emails. 
Select the Automations tab and create new automation.
Configure an automation flow by adding  events, conditions and actions.
Craft your own confirmation email or choose one from over 130 free responsive email templates.
Review your settings and start your campaign. 
Email Confirmation Best Practices
These are some basic but very important points to consider while creating your own confirmation email. Play around with your emails, A/B testing is a great way to see what works best.
Wow your customer First impressions are important. The same goes for emails. Confirmation emails are the first to arrive to your customer's inbox. Make reading your email a worthwhile experience.
Make it short and sweet Online user's attention span is getting shorter. You've got seconds to attract attention and say what you have to say.
Stand out It is sometimes OK to use email templates but if you want to build your brand's image - resort to your own design! It's totally worth it.
Be mobile ready More and more people tend to check their emails on the go. Make your own emails or use adaptive templates. They'll look amazing both on your laptop and a smartphone screen.
Incorporate your CTA Sure, confirmation email serves a purpose to provide transactional information, but why limit yourself? Upsell your products, invite your customers to join you on social media or offer a discount. It's up to you. Just don't over do it.
Email Confirmation Examples
Now, that we've covered main tactics to use while designing your own email confirmations, let's see how different companies go through with their transactional emails. 
Order Confirmation
Amazon provides all the necessary information concerning the order, in the same time they offer some magazine subscriptions based on a browsing history. 
Newsletter Subscription
BuzzFeed keeps their newsletter subscription confirmation light and with a touch of humour. Also, they include a funny CTA button to have their subscribers double opt-in.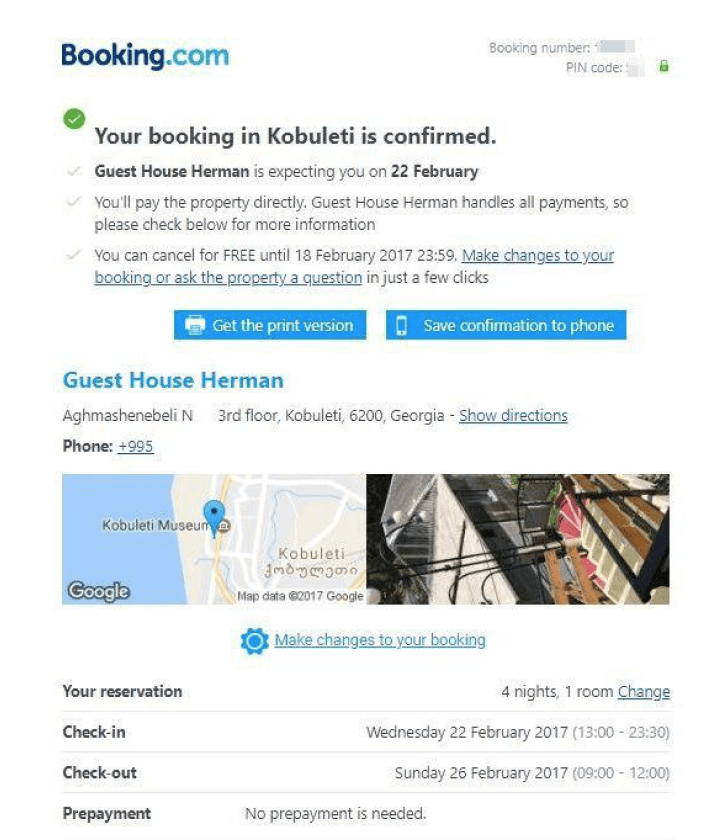 Booking confirmation email
Booking.com makes their confirmation email all about user convenience. 
The email has all the necessary information along with useful links to make changes to your booking and even a link to get directions to the hotel. 
Registration confirmation
Blinkist keeps their registration confirmation email simple and elegant. 
They also ask the users to double opt-in and set expectations about their future newsletter frequency and content.