Marketing expertise doesn't come out of the blue: it's a great deal of experience and non-stop education that make an A-class pro. For this post, we've gathered the best marketing books to help you polish up your professional skills and scoop some wisdom from recognized thought leaders.
Email Marketing Books
Email Persuasion by Ian Brodie
Being one of the top ecommerce books, this must-read offers a complete walkthrough of the main principles of creating a winning email. This book is full of examples, templates, and clear cut steps for building an email marketing strategy that gets results.
The book coaches you to understand your target customers, analyze their interests, location, aspirations, and problems in order to develop one or several ideal customer personas. This information can be further used to gather a mailing list, segment the database, and, of course, create an email copy that sells. Ian Brodie unveils the winning formulas for continuous growth of an engaged subscriber list and provides the tips on how to influence the audience through emails from the very subject line — all topped up with the examples.
Email Marketing Rules by Chad White
In this book, the author splits email marketing into 120 rules which guide a marketer on their way from gathering the database to analyzing the deliverability of their campaigns. The author walks readers through the fundamentals of list building and list management, as well as the main stages of subscriber lifecycle, explains which emails to send on each stage and how to interpret campaign, channel, and subscriber metrics.
You will learn to develop your permission-based marketing strategy and design emails with engaging, timely and relevant content by cherry-picking Chad's experience and best practices of other acknowledged marketers.
Email Marketing Blueprint by Steve Scott
If you want to find out how to create a quality mailing list, this must be your handbook. Steve Scott shares the tactics of collecting email addresses, maintaining a high sender score, and eventually getting benefits from your email marketing practice.
In particular, the author of this marketing book thoroughly explains three strategies for building a subscriber list — pure profit, authority building, and hybrid. You'll be able to develop a strategy based on the needs of your business, so follow this guide to make your marketing efforts successfully work together.
Email Marketing Demystified by Matthew Paulson
If you're just starting out with email marketing, make sure to have this book on your reading list. Based on the author's personal experience, the book uncovers the basics of email marketing and walks the beginners through the key steps of email campaigns creation.
As such, the book not only offers the comparative analysis of both benefits and drawbacks of the best email service providers but also touches upon such aspects as subscription process. . Remarkably, Matthew Paulson doesn't dwell solely on the latter; he goes further indicating the types of subscription forms and providing some creative ways to grow your mailing list. This piece also scratches the surface of the legal aspects of email marketing helping you stay away from spam folders and comply with anti-spam legislation of the US and Canada.
SEO Books
SEO 2019: Learn search engine optimization with smart internet marketing strategies by Adam Clarke
This is one of the best SEO books and Amazon's top seller. Adam Clarke unveils the main principles of Google's algorithm and covers the top factors for calculating search results. Apart from outlining the upcoming changes in the SEO world, this piece also guides readers through the core concepts of both SEO and link building and provides them with some tips and tricks on how to drive traffic to a website.
Reading this book, you will learn everything about the keyword research — how to create keywords, where to find them — and find a list of tools and hacks on how to create your own keyword list. This guide also traces and explains the three most powerful SEO strategies: authority, trust, and relevance.
Adam Clarke shares the strongest factors found in the websites which are ranking in the top 10 search results:
content relevance;
click-through rate;
time-on-site;
low bounce rate;
HTTPS-security certificate;
large fonts in the main content area;
number of images;
number of internal links;
number of backlinks;
total social media activity.
This marketing book will be equally useful for beginners and pros as it provides the full pack of information on how to increase rankings, traffic, and sales.
Ultimate Guide to Link Building by Eric Ward and Garrett French
If you've ever wondered what link building is or how to do it right, this is your ABC. This book starts with a brief introduction to the history of links and search engines and gradually picks up steam by offering the core principles of link building.
You'll find out which link-building tools and approaches to use and which to avoid in order to level up the quality of links and delight both search engines and readers. The book also sheds some light on link audit and explains how to carry out the competitor analysis and craft a careful link-building strategy.
The Art of SEO by Eric Enge, Stephan Spencer, and Jessie Stricchiola
Check out this marketing book in order to master your SEO skills and learn how to plan your SEO strategy with its further implementation. The team of search engine optimization pros share endless tips on how to develop a SEO-friendly website and provide readers with well-tried tools to track and measure their success.
You will not only learn how to link your SEO with content marketing and social media but also understand the role of user data and links. The authors simplify tricky SEO concepts through examples and screenshots and offer the readers to travel online to unveil more value by providing with discounts and exclusive access to SEO tools, services, and videos.
Content Marketing Books
Content Chemistry by Andy Crestodina
This is an excellent beginner's walkthrough of the content marketing. The book covers the basics of marketing on social media and email platforms as well as essentials of search engine optimization. On top of that, it digs into the creative side of your content building.
Additionally, the book dwells on content promotion and measurement by providing optimization and Google Analytics tips. So, this piece is a reliable guide through the world of content marketing — the readers can immediately start applying the highlighted techniques to their marketing campaigns.
Guest Blogging Goldmine by Tom Corson
Guest blogging is an important strategy in content marketing and this book can help you here more than any other piece. It unveils the tricks of getting more blog readers and attracting more customers for your product. You will learn the best strategies to search for guest blogging opportunities and measure their success.
The book uncovers three main principles a top blogger must follow: be persistent in writing, understand how to contact other bloggers to get a response, and differentiate which blogs can be trusted and which should be avoided.
The Content Code by Mark Schaefer
In this book, Mark Schaefer reveals six factors of marketing beyond social media, web traffic, and SEO. The book explores the psychology of sharing and the connection between the brand and content transmission.
The author believes that content marketing isn't about content alone; it's more about content that moves. So Mark Schaefer offers each brand to be a BADASS in order to create buzz, get heard, and bring value with their content. And BADASS is actually an acronym which stands for the six elements of the Content Code:
Brand development;
Audience and influencers;
Distribution;
Advertising, promotion, and SEO;
Shareability embedded into each piece of content;
Social proof and social signals.
This guide will help you combine all above-mentioned elements to rock your content marketing.
Born to Blog by Mark Schaefer and Stanford Smith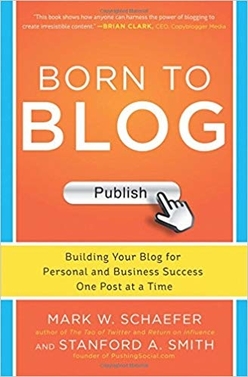 In case you're longing to create and keep a brain-candy personal or business blog, don't hesitate to check out this piece. This book is stuffed with useful techniques and ideas to help you create a database of loyal followers, promote your blog, and generate powerful content. Born to Blog unveils the importance of blogging for business and helps you discover and improve your blogging skills.
The book dwells on the portrait of the ideal blogger. As it is, this person must
be persistent and flexible;
have the courage to aim for perfection;
be passionate about writing;
find a personal style to stand out in the blogging world.
Each idea offered in this book is supported by comments and tips of the authors as well as best practices of other bloggers.
Social Media Marketing Books
Social Media Marketing for the Future: Strategies for 2020 & Beyond by J.E. Ford
Turning to social media while running your email marketing isn't a new hat. So neglecting Facebook, Twitter, Instagram, Snapchat, and YouTube means leaving a good deal of money on the table. J. E. Ford's book highlights the main trends of social media marketing for the upcoming years. The book is divided into chapters each telling you about the future of the above-mentioned networking platforms and explaining how to get a piece of your business pie with their help.
J. E. Ford also dwells on some new forms of advertising like messenger and snap ads, new technologies like artificial intelligence and augmented reality, and instructs how to implement them into your social media strategy. You will also learn how to reach and communicate with the so-called gen Z — a trend-setting generation of today's social media.
The Social Media Marketing Workbook by Jason McDonald
This is a great book for beginners. The author compares social media to parties and marketers who use them to 'online party throwers.' Just like it takes pains to throw a cool party, you need lots of tech skills to figure out how each social media platform works and how to use it.
The book unveils the core concepts of content marketing and explains how to effectively use your social media channels. Namely, Jason McDonald shares some tips on how to market on Facebook, LinkedIn, Twitter, Instagram, YouTube, and Pinterest and even provides the reader with worksheets and quizzes for testing themselves.
The author of this book claims you need to be really systematic about your content marketing and suggests taking three steps to do well in this vertical: create buyer personas, use keywords that might appeal to your audience, and work on the content plan to outline what needs to be produced, who needs to produce it, and when it needs to be produced.
The Guide to Social Media Images for Business by Andy Macarthy
Unlike other social media marketing books, this piece is dedicated to social media images for your business. Feel free to learn the tricks on how to make GIFs, memes, infographics, presentations for social media and the peculiarities of creating images for Facebook, Twitter, Instagram, Pinterest, Google+, and Snapchat. The author also shares some ideas of the eye-catching graphics and gives you a lead to the sources of free stock images.
Copywriting Books
Everybody Writes by Ann Handley
Read this marketing piece to find peace with your writing style. You will find grammar, punctuation and vocabulary tips on how to make your content really engaging for the reader. With this book, you will learn how to write social media and blog posts, copy for landing, home and 'about us' pages, as well as text for infographics.
Ann Handley believes good writing is the foundation of good content, a reflection of good thinking and intuitive psychology. She coaches to step aside from storytelling and learn to tell a true story well instead. The author provides the reader with valuable writing, self-productivity, editing tools, and ideas for creating meaningful content.
The Copywriter's Handbook by Robert Bly
This is a mind setting guide for everyone who creates, edits, or advertises content — anyone related to copywriting. The book dwells on how to write in order to get attention, communicate, or sell. The Copywriter's Handbook provides the reader with 15 ways to create an email that gets opened, clicked through, and sells, of course.
With this book, you will learn how to write commercials, presentations, sales materials, print advertisements, direct emails — any content that requires copywriting skills. You will even discover how to get a job as a copywriter and how to hire and work with copywriters.
On Writing by Stephen King
This book isn't dedicated to copywriting, yet it's an excellent piece to master your overall writing skills. Stephen King believes anyone is a talented storyteller; you just need to practice and sharpen your talents: read a lot and write a lot. The author shares his writing experience and provides multiple tips on how to improve your writing style through organization of your workflow and even workplace.
Stephen King thinks fear is the root of poor writing. He points out: "Dumbo got airborne with the help of magic feather… Just remember before you do that Dumbo didn't need the feather; the magic was in him." So if you are looking for a copywriting muse, check out this book and be sure to derive inspiration to write from it.
And which books did you find useful while settling in the universe of marketing? Feel free to share your favorites in the comments below. See you!