Which performs better: email or social media? It's the question that seems to have been on everybody's mind for as long as these tools are around. Would you like to know the benefits each channel provides to marketers and the ways to combine this duo? If so, keep reading.
Email vs. social media marketing
Facebook is the most popular social channel nowadays, let alone its tremendous influence on customers' buying behavior. For example, in October 2017, Facebook motivated 47.7% of US users to make a purchase. According to another survey, 26% of customers have said that they have been using Facebook to search for products they want to buy.
Additionally, Facebook is a powerful tool for growing your brand awareness. In fact, 90% of marketers claim that their social media strategy causes higher exposure of their businesses profile. Such factors as sharing, social proof and ability to provide feedback and contact companies directly make Facebook an appealing platform for both shoppers and brands.
Does this mean that emails are less effective or out of date? Of course not! Relevant and well-segmented emails are always in. What is more important, email delivers the highest ROI of $38 for each $1 spent. That's why businesses tend to use it more and more proving that the performance of this marketing channel is on the rise.
Besides, promoting your products and driving sales from social media works differently for companies and for some it might not even be necessary, so you should definitely look deeper into social media stats and see if your business fits the social media dynamics.
According to the Exact Target survey, 66% of shoppers make their purchases as a result of email offers. That's an impressive number, especially compared to 20% of people, whose buying decisions were made owing to Facebook marketing messages.
So, what's the best choice: social media or email? The answer is both! Email marketing drives more conversions and traffic, while social media is better for engaging with the audience and sharing. Moreover, email and Facebook are two marketing channels with the highest number of active users — 3.8 and 2.2 billion people respectively.
Why to integrate Facebook and email marketing
Although these marketing channels work highly effective on their own, there are many reasons for combining email marketing and Facebook.
Here are top three of them:
Large mailing lists and growing number of followers
Combining email and Facebook is a simple way to expand your mailing list and keep receiving new followers, who will eventually become your customers. For better results, invite your Facebook fans to sign up for your emails, as well as your email subscribers to follow you on social media. It's a win-win situation: users will be able to choose the most convenient way to stay in touch with your brand, and you will get the more engaged audience.
Social media posts have a very short lifespan, which means that they quickly disappear from a user's newsfeed. It takes Facebook post 2.5 hours to hit 75% of its lifetime impressions and 5 hours to reach 75% of its maximum engagement. Emails, in turn, don't disappear from a person's mailbox unless they get deleted; that's why you should use your chance to remind your subscribers about the most important topics and your offers.
Better consumer experience
Using multiple channels to deliver the best customer experience is a classic strategy proven to be effective by thousands of big and small brands. In fact, 65% of best-in-class companies combine their social media and email marketing efforts. Consistent messaging throughout all brand channels builds up consumer's trust and loyalty.
Now that you know the advantages of combining the forces of email and Facebook, let's discover the ways to bring this integration to life.
How to integrate Facebook and email marketing
Include social media icons in your emails
Adding social networks buttons which lead directly to your social pages is probably one of the easiest ways of integration. Statistics show that 72% of brands include social media icons in the email footer. See the example from Aaptiv below.
Others, like Dreamstime, invite users to follow their social media pages right at the beginning, in the email header so that a subscriber won't miss it.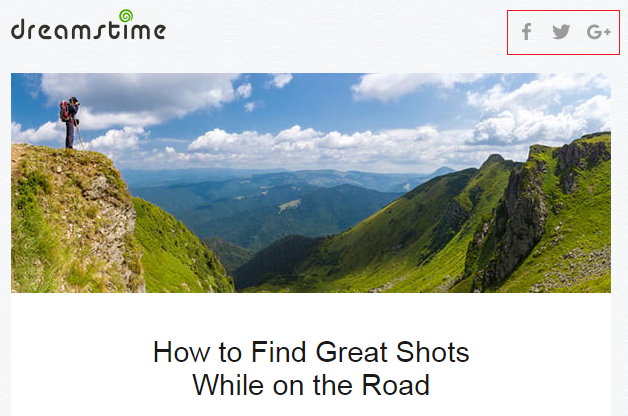 Another option to encourage subscribers to get connected with you on social media is to run a dedicated email campaign. Think of making it a part of your welcome email series, and don't forget to tell subscribers why they should follow you.
Take a look at such 'Keep in touch' email by Mud Pie. The brand explains the benefits of being their follower and provides a list of their social media with a clear CTA.
Encourage for sharing
Provide your subscribers with an incentive to share your content. It can be a store discount or a chance to be featured in your next email campaign. For example, True Citrus runs a social perk campaign. It consists of three levels of sharing activity. The more company's emails are shared by the user, the greater are the privileges granted.
Mom Tile, in its turn, decided to hold a Facebook contest among its subscribers, where the winner will get a financial reward in return for the best reasons the mom in his or her life is amazing.
Add 'Share' buttons to your emails
If your content is unique and relevant, your subscribers would love to share it on their social networks. Actually, 57% of global content sharing activities occur via Facebook. The fewer actions you ask your subscribers to do, the more likely they are to share your content. That's why 'Share' and 'Like' buttons will work better than 'Forward to a friend' option. Take a look how Everyday Food does it in their emails.
Offer a subscription form on your Facebook page
Facebook provides an opportunity to add an email subscription form to your Facebook page so that a user won't have to go to your website. Here's where you can take action, and use Facebook Ad Leads tool. As soon as you receive a new subscriber through Facebook, he or she will be automatically added to your SendPulse mailing list. Comfy, right?
For example, SXSW placed an email sign-up button on the top of their Facebook page. Once a person clicks the CTA, another window opens with detailed instructions for the subscription.
Here is another example of the subscription form from the iContact page.
Apply user-generated content
Use Facebook to get user-generated content (UGC) shared by your brand fans and customers: comments, reviews, videos, photos and so on. Think of your subscribers as of your co-creators and advocates, whose opinion can help you build a stronger image for your brand online and even offline.
Get inspired by user-oriented companies. For instance, Philosophy offers to promote their most active Facebook fans in upcoming email campaigns — it's a great opportunity to both raise your social media engagement rate and freshen up your emails by adding user-generated content.
Conclusion
As you can see, social media can bring you high engagement in the form of public shares, likes and comments, unique UGC and direct feedback from your followers. In its turn, email still has the highest ROI and reach enabling the growth of your brand advocates. Use the recommendations above to combine these two powerful marketing channels and get the highest results possible.