Rebranding happens when a company changes its logo, slogan, vision, mission, values, name, target audience, or market to build a new brand identity in the minds of leads, customers, competitors, and partners. It helps brands attract new audiences, stay relevant, stand out among competitors, and improve brand awareness.
In this video, you'll find out when to rebrand your business and the steps to successfully implement this strategy.
Why is rebranding important?
According to Forbes, your business has seven seconds to make a first impression. Sometimes brands fail to draw the attention of customers because of using the wrong logo, having a difficult or uncatchy name, or working with an unclear vision and mission.
We live in a world where trends are constantly evolving, so companies also require changes to attract new customers. This is possible with rebranding. You might just need to refresh your business, design a new logo or name after a merger with another company, or define new business objectives, mission, or vision.
So, let's consider several advantages of this process.
Benefits of Rebranding
New Audience
Higher Relevancy
Improved Brand Recognition
Improved Google Ranking
Streamlined Teamwork
Let's review the benefits you can reap with a successful rebranding strategy.
New Audience
The main advantage of rebranding is the chance to reach a new target audience. If you focus on your company's mission, vision, values, and communicate them correctly, people will notice it.
Let's look at Old Spice. They implemented this strategy after discovering that 60% of men's body washes were purchased by women. The famous brand decided to reach female audiences with their new commercial. Their new campaign received 105 million views on YouTube, drove traffic to the brand's site, and earned 1.2 billion impressions.
Higher Relevancy
Rebranding allows you to keep your company up-to-date. Regardless of the age of your brand, it should always remain relevant. Companies need to move fast and follow the new trends in marketing to keep pace. As you know, design trends play an important role in how clients perceive your brand and the products you offer. Ensuring that you always stay up-to-date will help you gain customers' trust and confidence that your brand is the best.
Let's consider a successful rebranding campaign from Adidas. The company was established in 1949 and used rebranding several times to stay relevant for their customers. To connect with the millennial market, the brand stopped production of the well-known Stan Smith sneakers in 2011 and presented a refreshed version in 2014. By promoting a launch on social media and partnering with retailers and influencers, Adidas managed to capture the hearts of their new audience and boost sales.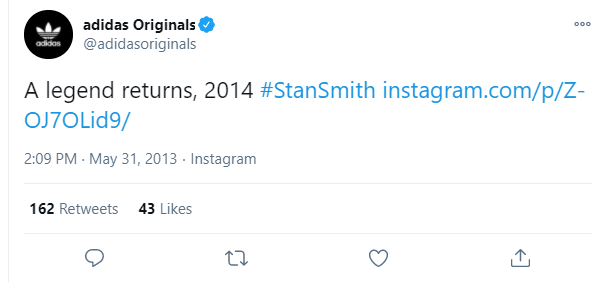 Improved Brand Recognition
Humanizing your brand through a genuine story or video during rebranding can make your company stay in the minds of your clients. Research shows that customers are more likely to engage with a company that delivers an experience, matches their views, or evokes specific emotions.
For example, Dos Equis, a Mexican beer manufacturer decided to change its branding story. This company created "The Most Interesting Man in the World" campaign with a clever and powerful story. The commercial was catchy, well thought out, and humorous. As a result, beer sales increased by 22%.
Improved Google Ranking
Considering the fact that SEO ranks second in the highest ROI list after email marketing, investing in your company to build a strong brand is the right decision. If customers engage with your new brand and recognize it, you can be sure that Google will evaluate your efforts. For example, after serious brand building, Neil Patel's website traffic went from 240,839 to 454,382 users in several months.
Streamlined Teamwork
If your company doesn't have a clearly defined mission, vision, and strategies, you have a chance to restructure them according to your needs. This structural clarity is critical to improving the efficiency of your business: hire the right employees and make them work accurately, manage company operations, and make the right business decisions.
It is essential to be aware of the pros of a rebranding campaign. Besides, it is important to know in which situations you should consider this risky move.
When do you need rebranding?
Rebranding is a complicated and costly process that carries big risks for big and small companies alike. Therefore, you should have serious reasons to implement this method in your business. Here are the main reasons to consider rebranding:
If there is a market repositioning. Repositioning involves changing a company's existing brand or product status in the marketplace. This process is critical when a company has a weak or outdated image, requires global strategic changes, or needs a new target audience. If you decide to reposition your product to target a completely new market segment through new packaging, size, taste, promotional channels, price, or place, it is advisable to think about rebranding.
When you want to improve your company's reputation. A scandal on social media, low quality of products, or data leaks can result in a tarnished reputation. Of course, it has a negative impact on your company and its customers. Real changes within the company can help eliminate negative associations that arise in the minds of people and win customers' trust again.
If a company merger takes place. If two companies link forces and become one, you have a merger. To showcase the best qualities of each business, gain customers' trust, develop brand awareness, and avoid confusion, a refresh is necessary. A merger allows your company to enter new markets, use financial resources efficiently, obtain more profit, new management, and more. This process also influences consumers as it results in better customer service, higher quality products, and lower prices.
When you want to go international. When a business enters international markets, it often resorts to rebranding to achieve distinctive growth and financial gains. To connect with new locations, companies come up with a new company name and a logo that identifies your brand is unique, easy to remember, and can be understood in other countries.
If there is a change in leadership. Companies are linked to their leaders. If a brand changes hands to an outside owner, a new identity is a way to emphasize the transition.
Remember not to make changes just because you're bored with your logo or slogan, or you're looking for attention because your brand awareness efforts didn't meet all your expectations. You are misleading yourself if you think that a branding change is the fastest and easiest way to improve your business.
To successfully implement this strategy, you need to study the types of rebranding that are available and choose the one that suits you the most.
Types of Rebranding
Partial Rebranding
Total Rebrand
Before getting started, you need to determine which type of rebranding strategy you need.
Partial Rebranding
This strategy is used when you decide to add something new to your current brand without totally changing it. A refresh is necessary when your company's logo and image have become outdated or there has been a slight shift in your business objectives.
Here you can see the Apple logo's refreshes from 1976 to 2013.
Total Rebrand
This option is used when your company has had a foundational shift like mergers, a change in leadership, product overhauls, etc. As a result, your brand needs to undergo a change in brand identity along with your brand mission, vision, and values. Here comes a complete makeover.
The gaming hardware manufacturer, Oculus, was acquired by Facebook in 2017. Shortly after the acquisition, Facebook did some rebranding, and critics of the merger feel that the changes to the logo were just the beginning for Facebook's total rebranding of Oculus.
Now that you know the main types of rebranding, let's consider the steps to get started.
How to rebrand a company
Redefine your target audience and market
Rethink your vision, mission, and values
Reconsider your company name
Revise your brand slogan
Re-establish your brand identity
Once you've decided whether you need a partial or a total rebranding strategy, take a closer look at the following steps to implement this strategy in your business.
1. Redefine your target audience and market
Conduct research to understand your target audience, what your competitors are doing, what is unique about your brand, and how it differs from other companies in the same industry.
In-depth research that involves focus groups and data analysis, allows you to notice if your customers and competitors don't match your idea. Identify your actual buyers and their preferences. Compare this data with your initial target market and audience to find out some differences. As soon as you manage to define your actual market and audience, you can go on implementing your strategy.
2. Rethink your vision, mission, and values
Every company has three main elements that you need to evaluate: mission, vision, and values. Analyze each of them to understand what is going wrong.
Vision. Vision gives your brand direction and defines the actions your company needs to take. Over time, the vision of your business might change, and that is totally normal. However, it is essential to redefine your vision as soon as this happens to ensure that your employees are moving in the right direction and make decisions accordingly.
Mission. This defines the purpose of your company. Your mission describes your primary consumers, the products you produce, and your location. It is your business' roadmap. As your mission changes, your messaging requires change too.
Values. Your company's values explain why you're working towards your vision, and why you're committed to your mission. As brands evolve, they might change their old values. So you need to reflect your new values to show your main focus.
Remember, if the components mentioned above change, the way you communicate them to your audience also requires some change. The language you use, the tone, and voice have to match the message you want to convey.
3. Reconsider your company name
Of course, changing a company's name is a serious step as it can cost you brand recognition and organic traffic. However, if you are seriously thinking about changing your brand's name, make sure that you have a plan of recovery after you rebrand.
In general, if your company name still aligns with your mission, vision, and values, it is better to keep it. Yet if it mismatches your identity, it is advisable to modify it. Make sure that your new brand name conveys your message, is easy-to-spell and catchy. The right name also supports your goals and business growth.
4. Revise your brand slogan
Your aim here is to create a slogan that communicates your company mission, vision, and is also memorable. Consider changing it carefully as it highlights the purpose of your brand.
For sure, customers remember catchy slogans from famous brands like "Just do it" from Nike, "I'm Lovin' It" from McDonald's, or "Because You're Worth It" from L'Oreal. To create a great slogan, consider providing instructions, making a claim, getting metaphorical, or using poetic language.
To help you create a great slogan for your brand, here are several simple tips:
5. Re-establish your brand identity
There are several things you might consider changing about your company's brand identity like your logo, shapes, imagery, colors, or guidelines. Here are several changes you need.
Change your logo
If you have had some internal changes in your company and you want to demonstrate them, consider developing a new logo. To refresh your old logo, use these basics to do it correctly:
demonstrate your confidence by creating a simple logo;
create a logo that will stand out;
use universal shapes and styles that fit your communication channels;
ensure that your new logo supports your mission, vision, and values in the long run;
try to use parts of your old logo to help customers recognize your brand.
Use different colors
According to the Maryland study, color raises brand recognition by 80%. So, color influences your customers and your brand.
Look at your company colors with fresh eyes to decide whether it matches your brand image. Besides, nowadays it is essential to check how your color palette looks on-screen and in-print. Make sure it looks the same on different brand materials.
Reconsider your shapes and imagery
Once you decide to change any visual elements of your branding, give a thought to modifying shapes and imagery to keep everything cohesive. Also, make sure that your imagery and shapes support your brand's message.
Rebranding Examples
Dunkin' Donuts
Airbnb
Starbucks
Dropbox
Burberry
Co-Op
Coty Inc.
Companies are taking a risk when rebranding. However, if implemented correctly, it can help your business grow.
Dunkin' Donuts
2019 is marked as the year when Dunkin' Donuts considered a redesign. The brand came up with a new logo that dropped the word "Donuts".
According to the company's Chief Marketing Officer, they refreshed their logo to reflect the increasing emphasis on coffee, other drinks, and sandwiches. Nevertheless, the brand still uses the same color palette and iconic font to maintain brand awareness among customers.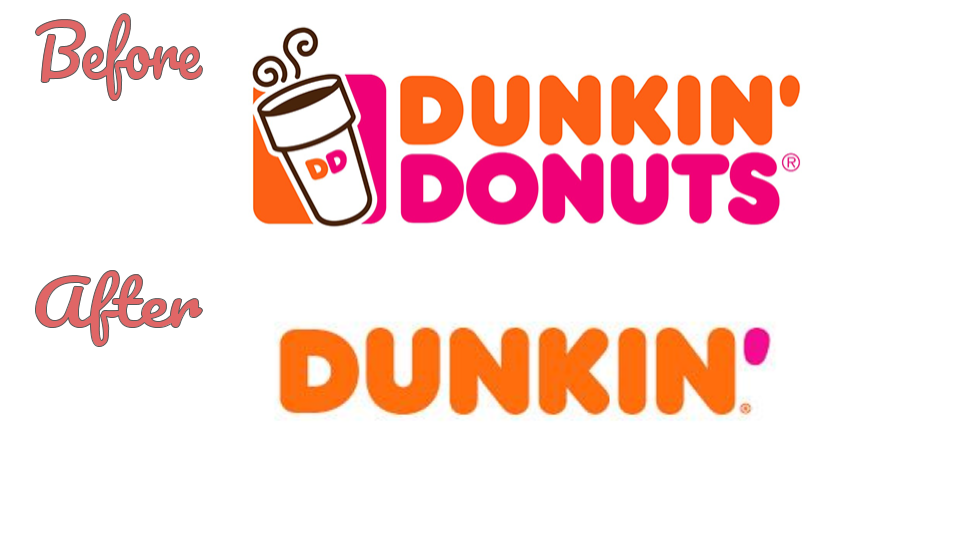 Airbnb
This famous worldwide company established in 2008 implemented a total redesign that worked. The company's management decided to radically change the perception of the brand. They used different color palettes, typography, and a new logo. Airbnb received many negative comments on social media but finally, the audience accepted the company's step. As a result, Airbnb has a contemporary and engaging identity.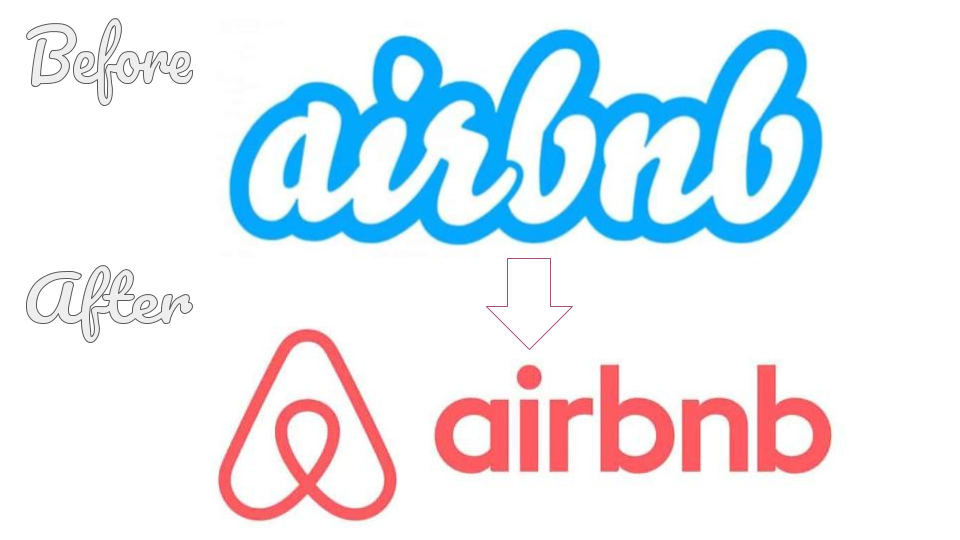 Starbucks
This multinational chain of coffeehouses and roasteries has changed its logo several times since it was founded in 1971. Let's consider Starbucks' latest rebranding conducted in 2011.
To celebrate their 40th anniversary, the Starbucks team decided to introduce a new logo. They dropped the lettering from the logo and gave space for the image of the mermaid and introduced a new identity to their consumers.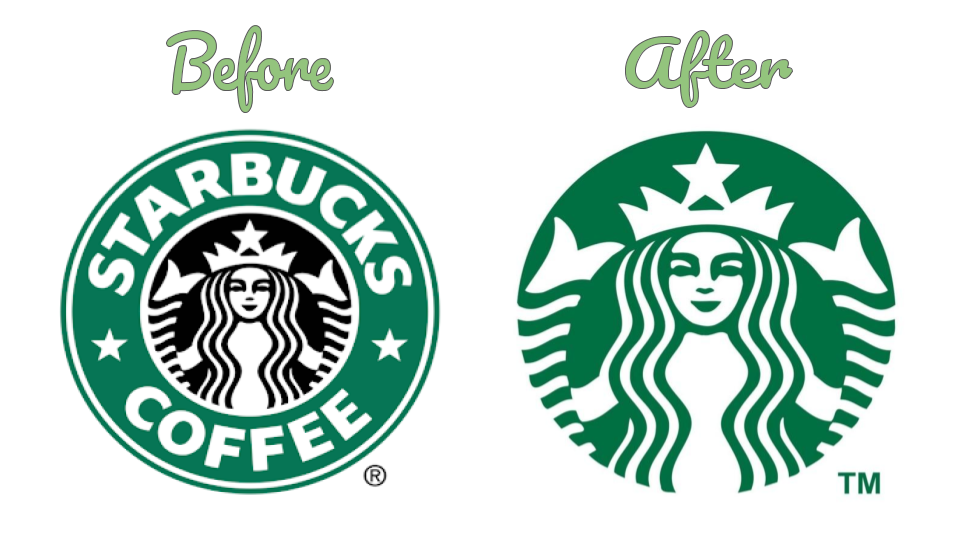 Dropbox
Dropbox was established in 2007 as a file-hosting service, however, in 2017 the company started to position itself as the connective tissue for different teams and businesses. The brand also changed its internal mission and created a cleaner and simpler logo. With a refresh, the team wanted to highlight that Dropbox is a workspace that enables teams and ideas to connect.
Burberry
Burberry, a luxury fashion house established in 1856, needed a makeover when its CEO changed in 2006. Since then the company started telling its story of moving forward to showcase the best aspects of the brand. Burberry aimed at engaging customers digitally via social media channels. The brand redesigned its story and made a strong emphasis on its "Britishness" by employing British models.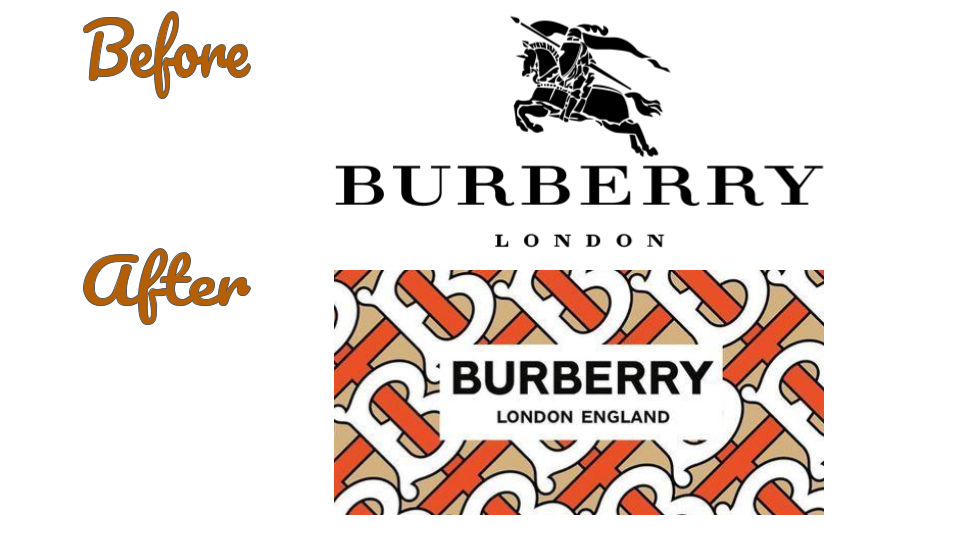 Co-Op
The organization founded back in 1844 is a consumer co-operative with a diverse family of retail businesses. The company's decision to rebrand was caused by a series of events that undermined the Co-Op's reputation. In 2013, the public found out that there was a 1.5 billion pound hole in the bank's accounts.
The company needed to improve the group's tarnished image to prevent a collapse. Co-op changed its leadership and restructured business. They decided to adopt a recognizable visual identity for their customers. Additionally, the organization offered a 5% reward on the brand's products.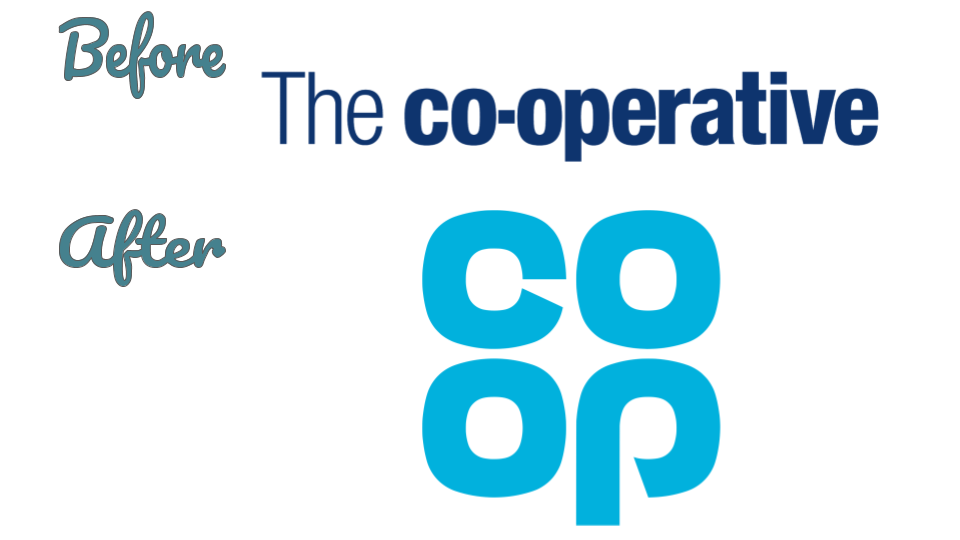 Coty Inc. 
A rebrand gave a new life to Coty, a beauty company that has been in business for more than 100 years. After a refresh, the brand presented its new visual identity, values, and purpose to its target audience. The company switched its identity to joyful, colorful, and multifaceted to showcase the diversity of beauty. They instantly created newly branded interiors and delivered personalized brand communications to their customers.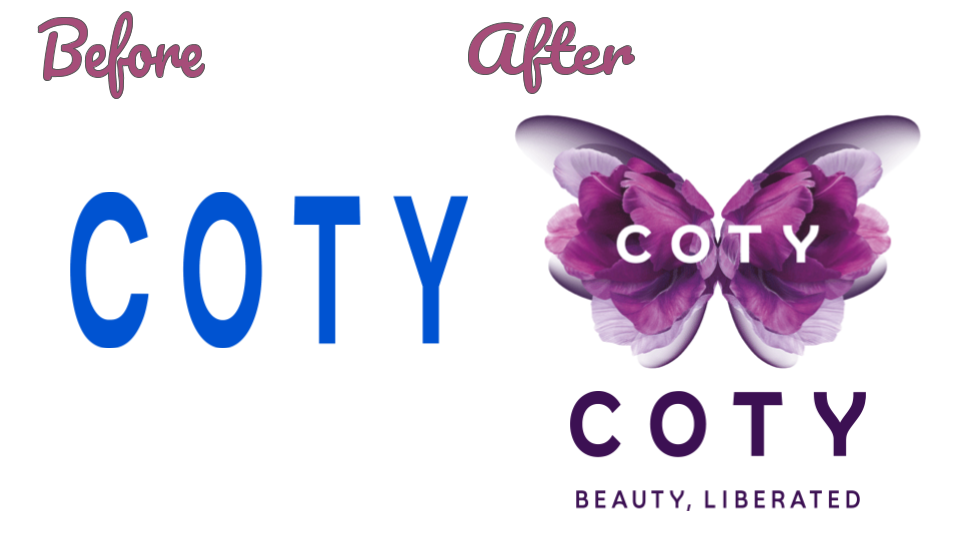 Whether your brand needs a refresh or a total makeover, rebranding is instrumental in creating the right perception. It allows you to create a brand new visual identity for your business to achieve several goals, like: reaching new customers, improving brand awareness, boosting your Google ranking, and more.
Resources:
Last Updated: 12.06.2023