Are you fully aware of what people say about your company online? If not, then it's time to look into it. In this article, we share some actionable tips on online reputation management, specifically: how to maintain your positive reputation or repair a negative one.

Why is online reputation management important?
Before buying anything, we often look through reviews of the product, store, or service. And for sure, sometimes we don't purchase something because of a bad review or a lack of reviews.
If you're anything like me, you carefully study Airbnb reviews when looking for vacation rentals, check company responses to complaints in a product's comment section, and compare the rating of delivery options when deciding which to choose. This shows how important online reputation is both for customers and businesses.
Online reputation management (ORM) can help you:
Increase sales. Customers research a company, its products, and services before making a purchase. Personal reviews are considered the most reliable information. According to the ReviewTrackers study, 94% of users choose not to do business with a company if they have negative feedback. Thus, if you have enough positive feedback and respond to negative comments, users will recognize that you provide high-quality products and are eager to improve.
Know your customers. Monitoring your online reputation allows you to take a look at yourself from your customers' perspectives. You can find out what customers think about you, what they consider the company's strengths and weaknesses, either with the product itself or with customer service. This kind of research will help you find fresh ideas and improve your soft spots.
Know your staff. The same concept works for enhancing your reputation as an employer. Online reputation management lets you see any gaps between your perception of the company and how your staff sees it. This is the first step to build better relationships with current employees and look more attractive to applicants.
Please your customers. People love when others listen to their opinion. They feel satisfied when you thank them for their feedback, ask for details, respond to and share their opinion, and come back with updates and improvements. By managing online reputation, you demonstrate that the voices of your customers carry weight.
Secure your future. Once something is on the internet, it is there forever. So even if some unnoticed misleading feedback doesn't cause damage immediately, there is always a risk that it will pop up in the long term and harm your online reputation.
Be more transparent. Transparent companies share both the ups and downs with their customers and are engaged in dialogue with them. Addressing criticism publicly and maintaining open communication is the only way to show you have nothing to hide. 85% of users admitted being more loyal to transparent companies.
Not start all over again. It takes a lot of time and great effort to build brand awareness and a good reputation. But if you leave even one negative review unattended and it gets to the top of Google, it can ruin everything you have worked for. That is why it is critical to monitor your online reputation constantly and respond in a timely manner.
Your online reputation not only impacts how others perceive your brand, but also provides tools to improve your communications and better understand your customers' needs.
Key aspects of your online reputation
Online reputation management implies tracking your company's image on every available online channel: review websites, media, social networks, search engines, and others. This includes mentions monitoring, responding to them, creating value-driven content, and collecting feedback for future improvements.
There are three main concerns in business reputation management strategy: reviews, search results, and social media mentions.
Reviews
72% of customers don't make a purchase until they have read reviews. There are several places where you can find reviews:
Your website
Social media
Review websites
Comparison shopping websites
Look at reviews on MAC's website. Their structured feedback form is very convenient and makes customers feel like experts.
The review feed itself looks very clear, it's easy to find the necessary information, and interesting to scroll down.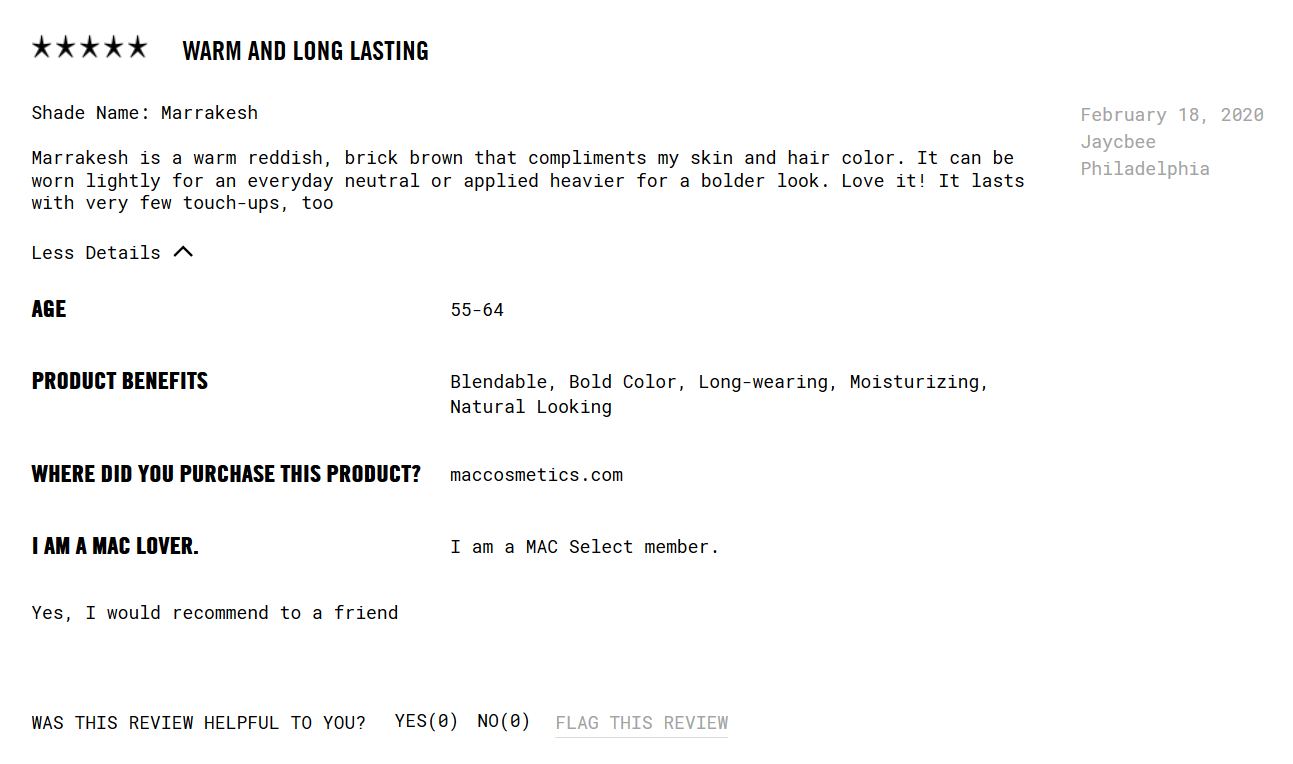 What should you do with reviews?
Respond to reviews. 71% of the users are more likely to buy from a brand that responds to their feedback.
Ask for good reviews. The more positive reviews you have, the less impactful negative reviews are. Positive feedback can be placed on a separate page on your website as a form of social proof. So ask for customer feedback in emails, social media, or personal accounts on websites and applications to build a strong online reputation.
Acknowledge negative feedback. Bad reviews are not a surprise, so do not remove them. Their complete absence may even seem suspicious to users. The best thing to do is respond quickly and professionally. Show that customers' opinion matters, that you are ready for a dialogue. If any changes in the service or product follow, be sure to notify the author of the complaint about it publicly. A fast and proactive response minimizes the damage and stops the spread of negative information.
See below how LuxExpress responds to the complaint about a bus trip. They apologize, take responsibility, and suggest solutions to show that they care and are willing to improve.
Search results
70% of users perform online research before reaching out to companies. Search engine reputation management (SERM) is about making sure your brand, products, and services are positively represented on the first page of the search results. You can represent your brand positively with reviews, news, blog posts, social media posts from your website, and social profiles or mentions on third-party platforms.
By improving your SERM, you can engage leads who already have an idea about you and google your name to get more information or to compare their options.
Check what first impression users get when searching online:
Define your branded search queries. Most often, it is "brand" or "brand + reviews."
Analyze the top-10 search, this is your modern business card. The content should be positive and credible, whether you or a third party owns it.
Prepare content that includes keywords used by your target audience, meets users' expectations, answers their questions, and removes their doubts.
Identify the type of websites that are highly-ranked and publish information there or on similar sources.
Regularly add information to your website and social profiles.
If you provide valuable information with popular keywords on suitable web sources, search engines will highly rank your content and it will have a positive impact on your leads.
Social media mentions
Social media reputation management deals with the content you share on your social pages and any mentions on social media profiles that don't belong to you. The biggest benefit of social media is its huge audience — 3.8 billion users. Another benefit is the growing social commerce: 55% of consumers have made a purchase through a social media channel at least once.
The main distinguishing features of social media reputation management are:
Fast responses. Because socials have a tagging feature you receive an instant notification to the corresponding profile. This immediate process means that users expect a prompt response
Full transparency. Mentions link to your profile, so even people who don't know about the existence of your brand yet, can click through to your page straight away.
Daily interaction. On average, users spend 3 hours a day on social media and generate tons of fresh content. For example, on Instagram, there are more than 100 million posts every day. On the one hand, this means that if you don't engage in conversation systematically, you will soon be overwhelmed by its flow. On the other hand, your own content risks going unnoticed if it's not engaging and relevant to your target audience.
Look what happens when STIHL GB interacts with an unsatisfied user. Without any response, this emotional comment casts a shadow over the company's reputation. But as the company replies, the discussion ends on a positive note and looks like a meaningful dialog between two professionals.
Engaging in social media and staying on a publishing schedule with relevant content may help you stand out from competitors and get to know your audience better.
Online reputation management tools
Here are some services that will help you manage your online reputation:
Online reputation management tools help you protect your reputation by being at the right place at the right time. They are particularly useful if your business is present on dozens of review websites and listings, making it difficult to track your brand mentions manually.
Best practices for reputation management online
Regardless of the communication channel, your reputation management strategy should be based on the principles of regularity and consistency. It is necessary to agree upon the key message and responsibilities in advance.
Focus on the following aspects to start your online reputation management:
Allocate resources
To respond to all comments clearly and quickly, you need staff and finances. At least, it is necessary to appoint a person to work with feedback and mentions. Whether it is just one person or a separate PR department, responsible people must communicate with sales and customer support frequently to check the facts from the reviews and fix the situation.
If you have enough money and don't want to do it yourself, you can hire an agency that specializes in online reputation management.
Craft communication standards
To manage your online reputation, make and follow a clear online communication policy. Consistency only adds to your brand's authority. So make sure that the same person responds to reviews using the same tone and language every time. There are two global reasons that these standards are important.
The first one is content engagement. Research the motivations and objections of your target audience, analyze your content's performance, and reveal the most effective posts. Build your brand's voice according to this information and follow it consistently. As a result, your communication will be more relevant to your customers.
The second reason for creating сommunication standards is to prevent harmful content. You can specify how employees should behave online when writing about your brand, its customers, and competitors. It's obvious that sensitive information like financial or private data must not be shared, but it's always better to put it into words. A communication policy will help you avoid legal issues and protect the company's reputation.
Eliminate contradictions
Track all your communication channels and make them suit the selected standards. Everything that contradicts your tone of voice weakens your brand identity. Change conflicting messages, remove inappropriate posts, and update outdated information. This way, all your communication enhances your online reputation.
Combine automated and manual monitoring
Automated services won't find 100% of mentions. For example, they can't extract reviews from closed groups on social networks or reviews that don't mention the name of your company. Therefore, it is better to do brand reputation monitoring both automatically and manually.
Where and how to carry out manual monitoring:
With search engines. Check image and video search results for your products or software screenshots. Sometimes people don't specify a brand with words, but instead, include visual materials in their feedback.
On social networks. Look for closed communities dedicated to your topic and join them to monitor periodically.
On review websites. Some review sites may have separate sections devoted to one company. That's why the reviews themselves may not include your brand name. Look for sections like this and check them manually.
When you start monitoring your reputation, you will understand where the biggest stream of references comes from. Later you can focus your efforts on these particular websites. But do not forget to monitor the remaining possible sources from time to time to paint a fuller picture.
How to repair a damaged online reputation
Let's imagine that you looked through the reviews, monitored social networks, and unfortunately got poor results. What can be done to improve the situation?
If there is no feedback
No digital presence nowadays is something highly suspicious. You need to start building your media space as soon as possible:
Collect feedback
Add your company to all the corresponding directories, business listings, and maps
Create groups on social networks
Make a blog on your website, add suitable articles and guest publications
Submit guest posts to other blogs
Launch advertising to promote your expert articles or your pages in general
If the feedback is mostly negative
Start with SERM. Search results are the first place where a customer can get bad feedback about you.
Analyze the first two pages of Google for branded queries: "company name," "name + reviews." Your next steps are:
Collect all results in a table.
Define all the resources that are mentioned several times in this table for different queries.
Sort the resources by type: review websites, directories, blogs, etc.
For each type, find 4-5 similar resources and start adding positive content there.
Remember that you need to request positive reviews, and not write them yourself from fake accounts. Your content must be SEO optimized to be highly ranked by search engines. This way you can flood the first page of the search results with positive information about your brand.
Conclusion
Online reputation management is vital to raise brand awareness, process negative mentions over time, and collect customer's feedback. There are three key platforms:
Review websites
Search engines
Social media
An efficient reputation management strategy should consider:
Human and financial resources
Communication standards
Consistency of messaging and tone of voice
Automated and manual monitoring
Publish new materials about your brand, process all the reviews, and communicate regularly on social networks to build a killer reputation.
Feel free to sign up for SendPulse to collect customer opinions through email campaigns or chatbots on Facebook.