Pipedrive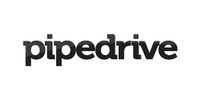 Pipedrive is a CRM built for small and medium businesses that helps to close more deals in less time. This is an easy tool with the help of which, you can start selling immediately after the registration, customize all your activities, track the progress of your sales, manage your workflow, receive the reminders, get the customizable reports, track your sales process, predict your revenue and the deals which are the most likely to be closed. Pipedrive won't let you miss important things to do. Use web forms to generate more leads, discover the activities which bring the most conversions, get a clear idea of the workflow of your team, sync your activities with Google Calendar and access your deals even on the go.
Why integrate Pipedrive with SendPulse?
Integrating Pipedrive with SendPulse, you won't need to spend time on adding the email addresses of your leads from one service to another because Zapier will do this job for you. After configuring the integration, an email address of the customer you close a deal with will be automatically added to a SendPulse mailing list of your choice. Thus, you will have more time for important things to do and send your marketing campaigns to new customers.
How do you connect Pipedrive to SendPulse?
Integrating Pipedrive with SendPulse unites these two simple tools to benefit your business. Just follow these steps: 
Create Pipedrive account
Create a new mailing list in your SendPulse account
Make Pipedrive to SendPulse zap using Zapier with SendPulse integration
Set the kind of interaction you want between these two platforms
Set the trigger email you want to send to your contacts
See our Knowledge Base to learn more about Zapier integration.
If you have any questions on how to connect Pipedrive with SendPulse with the help of Zapier, please feel free to contact us.