Forte Payments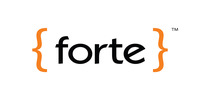 Forte Payments is an omnichannel cloud-based provider for electronic payments solutions that fits businesses and organizations of all sizes. The service deals with debit, credit, ACH, electronic checks. Forte Payments can be used for different types of transactions: mobile, in-store, online, phone and mail. Those who are in ecommerce are offered a full-featured gateway so all transactions are secure. Besides, you can store data safely with the help of tokenization. Another useful feature is a virtual terminal which makes it possible for multiple users to access it and accept payments. Using routing and account numbers, eChecks and ACH payments can be successfully processed. Forte Payments provides different industries with payment solutions, such as government, financial institutions, utilities, ecommerce, non-profit, small businesses, etc.
Why integrate Forte Payments with SendPulse?
Integrating Forte Payments with SendPulse, you won't have to waste time on adding customers' email addresses from Forte Payments to SendPulse manually — Zapier will do this for you. Once, a new customer is created in the app, their email addresses will be automatically added to your SendPulse mailing list specified before. This way, your address book will be always up-to-date and you can send news and offers to your new customers immediately.
How do you connect Forte Payments to SendPulse?
Integrating Forte Payments with SendPulse unites these two simple tools to benefit your business. Just follow these steps: 
Create Forte Payments account
Create a new mailing list in your SendPulse account
Make Forte Payments to SendPulse zap using Zapier with SendPulse integration
Set the kind of interaction you want between these two platforms
Set the trigger email you want to send to your contacts
See our Knowledge Base to learn more about Zapier integration.
If you have any questions on how to connect Forte Payments with SendPulse with the help of Zapier, please feel free to contact us.