WebinarNinja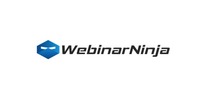 WebinarNinja is the platform that allows to create, share and attend webinars easily with built-in marketing. It perfectly fits both the beginners and advanced users. The attendees don't have to download and install the software as they can join on a desktop, with any browser and on any mobile device. Different types of webinars are available: automated, live, summits, series or hybrid. Built-in marketing implies creating a landing page, registration, thank-you page that can be easily customized. WebinarNinja team sends confirmation and reminder emails to the registrant automatically, so nobody will miss your webinar.
Why integrate WebinarNinja with SendPulse?
Integrating WebinarNinja with SendPulse, you won't need to export new webinar registrants to SendPulse mailing list manually because Zapier will do it for you. A webinar is a great chance to grow your target audience, so why should one miss it? Configure the integration and once you get a new attendee, they will be automatically added to your SendPulse mailing list. This way, you can start email marketing immediately.
How do you connect WebinarNinja to SendPulse?
Integrating WebinarNinja with SendPulse unites these two simple tools to benefit your business. Just follow these steps:
Create WebinarNinja account
Create a new mailing list in your SendPulse account
Make WebinarNinja to SendPulse zap using Zapier with SendPulse integration
Set the kind of interaction you want between these two platforms
Set the trigger email you want to send to your contacts
See our Knowledge Base to learn more about Zapier integration.
If you have any questions on how to connect WebinarNinja to SendPulse with the help of Zapier, please feel free to contact us.