We can't omit the fact that customers need online chat for a good experience with your brand. When potential customers explore your product and website for the first time, they might need help to find some crucial information. This is when a live chat tool comes in handy.
A high level of customer satisfaction requires your support 24/7. Live chat empowers you to provide real-time answers to prospects and customers, improve customer experience, ensure a positive experience with your brand, and establish trusting relationships with clients.
In this blog post, we'll discuss points necessary to know when choosing and using website chat software. We'll also review the best tools you can use for your brand.
What is live chat?
Live chat is software that enables your customer support agents to chat with prospects and customers and provide them with answers to their questions in real-time. You can add a chat widget to your website to assist clients 24/7 and improve satisfaction with your company. With its help, you can instantly answer questions and solve problems. Potential customers can contact you whenever they need help and receive responses from specialists.
When one searches for a live chat service provider, there's no perfect solution that will fit all businesses. Everything depends on the main purpose, features required, and budget provided. You need to look for a service that complies with your company's requirements.
In the next section, we'll provide you with a guide on selecting the right website chat software for your business. Stick to it to find the perfect solution and attain your primary goals.
How to choose online chat software
There's a list of steps to consider when choosing a live chat software for your company. Let's dive in.
Consider the size of your brand
The choice of an online chat platform depends on your company's size and the number of employees. If your business has a big team of customer support agents who can handle chats, consider finding a more complex solution. This software usually allows several operators to answer questions in chat and provide help.
However, if you are just starting your brand with a few customer support specialists, it's recommended to find a simple platform. There's no need to overpay for several operators when you have only one specialist responsible for a live chat on your website. This way, you'll avoid spending additional costs on expensive website chat software and teaching your customer support agent how to use a complex platform.
Define your main goal for using live chat
Companies can use live chat for several purposes. Some brands add it to ensure support 24/7, while others want to increase their sales. You need to choose a platform based on the use case wisely.
Depending on the purpose you want to have live chat, there'll be a set of features necessary to attain your goals. For instance, if you plan to implement an online chat to answer FAQs, provide solutions, accept orders, and ensure support at any time, you need customer support live chat.
To ensure seamless support, your live chat tool should allow canned responses and chat categorizing tags. This way, you'll be able to manage several chats at a time, divide conversations into groups based on issues customers face, and save time. If you need live chat for lead generation, you should pay attention to the visual representation of your website visitors — the source they come from and the information they explore.
Check out the integrations you need
Live chat software usually has different integrations. They vary from one platform to another. That's why when choosing a live chat tool for your support or sales team, it's essential to have a clear understanding of your company's needs. Make up a list of essential integrations for your team and company in general. For instance, the software might integrate with CRM, reducing the tasks and workload on your team.
When CRM is integrated, all customer information will be added to the system automatically. You also might need messaging apps like Slack to communicate with your team members. This way, you'll always stay instantly updated on new customers and deals. Integrations enable you to provide a seamless customer experience with your brand.
Identify features your team requires
When selecting software, you need to look through the list of features it has to make up a decision. As we've already mentioned, you should first determine your main goals. Afterward, you can choose a platform to help you meet all those targets. If you have specific questions about this or that service and can't find the information on the company's website, you can contact customer support.
Find software that meets your budget
Every company has its own limitations in terms of financial resources. Today, there are many options you can choose from when it comes to platforms for live chat. Consider listing software that doesn't exceed your budget and make sure that they have all the necessary features and the number of operators you need. Once you review each of them in detail, you can select the one that suits you perfectly.
Decide which type of software you want
There are two main types of live chat service providers: cloud-based and self-hosted. Since cloud-based platforms are hosted by software vendors, it means that you are not responsible for upgrades and maintenance. You don't need to spend time setting up the software and ensuring it works properly. This type of service also allows you to add as many agents as you need to manage customers' inquiries. However, with cloud-based software, you have less control over the platform, resulting in lower security and privacy. It also takes longer to load.
Self-hosted software is hosted on your server, so you avoid any problems with the privacy and security of your data. However, this type requires you to take responsibility for the technical side of the solution (maintenance and upgrades).
Selecting live chat software is easy if you know why you need it. We'll make the process even easier for you by listing the best live chat tools in terms of features, user experience, and price.
Best live chat builders
Nowadays, when the variety of software for building online chat is big, it might be a challenge to find the best option. That's why we've decided to filter all available platforms and provide you with the most effective ones. Look through the list below to find your perfect fit.
SendPulse
SendPulse is an all-in-one solution for businesses of different sizes and industries. With the platform's live chat, quickly level your customer support. The service allows you to start conversations with prospects and provide instant answers. With automated messages, you can answer FAQs within seconds without any customer support agent intervention. The messages you send depend on triggers and customer behavior on your website. As a result, they will receive the necessary answers very fast.
SendPulse empowers you to design your live chat according to your company style and requirements. You can customize your live chat's format, color, and style to match your branding. The platform allows you to decide when to hide or expand your widget. To find out the most appropriate moment, consider testing multiple widget launches. Afterward, select the one that encourages more interactions.
With the platform's help, you can see chats with customers from different messengers on one page. You'll be able to see the dialogue history, read all inquiries without changing apps, and provide solutions faster.
Live chat from SendPulse empowers you to create deals right from the chat on autopilot. To do it, you need to specify custom actions that trigger your CRM to automatically add new deals. Your team doesn't need to do everything manually, so they can focus on more urgent tasks.
To build the live chat flow, drag and drop the required elements. If you want the language of your live chat to sound more natural and human-like, consider integrating ChatGPT. This feature is also available in SendPulse.
Benefits of this live chat software:
a direct integration with ChatGPT;
ability to create automated flows to introduce your brand;
ability to accept payments in the chat;
1,000 active users and 10,000 conversations for free across all apps;
user-friendly interface and intuitive builder;
24/7 support for customers.
Pricing: The first 1,000 active users and 10,000 conversations with different messengers will be free. Afterward, the price might vary depending on the number of subscribers.
LiveChat
LiveChat is a platform that enables you to provide customer support across multiple channels, including websites. With the service, you can create a chat widget and add it to as many sites as you need.
If you choose LiveChat, you can make use of its helpful features. Customers can send you messages through the chat widget without waiting for your agents to reply. As soon as your agent sees the message, they can reply to the inquiry. Even after leaving your website, customers will receive an email where they can continue chatting or open a live chat widget.
With LiveChat, you can save answers to FAQs and reuse them once customers ask the same questions. This way, you'll provide instant solutions. The service allows you to assign tags to different chats. It helps you mark chats that belong to the same group and update all customer support team members on the problems clients face. This way, your agents will know where to start the conversation and find solutions.
The platform invites you to use buttons, quick replies, moments (apps displayed in the chat widget for customers to perform specific actions), cards, and carousels (used for product recommendations), and provide prospects with personalized experiences.
Benefits of this live chat tool:
a free trial;
ability to save responses to FAQs and reuse them;
chat tags;
personalized experience;
possibility of sharing different formats of content like screenshots, offers, and catalogs;
access to past conversations;
sound and visual notifications;
possibility to transfer chats among team members.
Pricing: The service offers a 14-day free trial and four paid plans. After the trial ends, you can purchase a paid plan for $49 monthly for unlimited chat history, full widget customization, automated greetings, and agent groups.
Tidio
Tidio is a platform that offers multiple tools for marketing, sales, and customer support. The service enables you to instantly connect with your prospects and clients via live chat. With Tidio, you can design and add live chat to your site in minutes.
Since the competition among brands is constantly increasing, it's necessary to provide excellent customer support fast. Rather than waiting for 10 hours for an email from a brand, potential clients can choose another company. With live chat from Tidio, you can prevent this scenario. After adding a live chat widget to your site, you'll be able to answer customers' questions within three minutes.
The platform empowers you to tailor your live chat to match your company style and branding, identify website visitors, and encourage them to interact with you through live widgets. Besides, you'll be able to find out where your leads come from.
Tidio integrates with CRM, eCommerce, and email marketing services, so you'll be able to perform multiple tasks on autopilot. You can also integrate Facebook Messenger, Shopify, WordPress, and other tools.
Benefits of this live chat software:
a free plan;
live typing;
access to customers' browsing history on your website;
canned responses;
integration with necessary tools with no coding skills.
Pricing: Tidio has free and paid plans. The platform allows you to have 50 live chat conversations, 100 chatbot triggers, unlimited tickets, and three seats for free. However, if your team has more customers, you should buy a paid plan. For $29 monthly, you'll get 100 live chat conversations, 500 chatbot triggers, unlimited tickets, and three seats.
LiveAgent
LiveAgent provides solutions for customer support and sales teams. With its live chat, agents can ensure instant support 24/7 and convert leads into customers. The platform empowers you to build a live chat and add it to your website fast. You'll be able to solve problems within seconds and ensure excellent customer experience with your brand.
The platform has the following features: proactive chat invitations and real-time typing. With these features, you instantly see what customers type and answer without waiting for them to finish their sentences. As a result, your response rate improves. Prospects don't have to wait for hours for you to answer.
Benefits of this live chat software:
a free trial;
chat buttons;
chat button animations;
chat history;
control of queue length (hide widget when there are many visitors in the queue);
monitoring of online visitors;
real-time typing view;
real-time chat.
Pricing: LiveAgent has a 7-day and 30-day free trial. During this time, you can find out whether the platform can help you reach your goals. If you think that LiveAgent is a perfect fit, consider buying a paid plan for $15 monthly. For this price, you'll get two live chat buttons, 10 departments, one knowledge base, and 50 event rules.
Brevo
Brevo is a multi-channel platform that ensures communication with clients for businesses. Live chat is one of them. With the service's help, you'll be able to convert site visitors into clients, encourage engagement, improve customer satisfaction, and provide personalized interactions. Brevo allows you to answer customers' questions via PCs, laptops, and mobile devices.
Only a couple of steps separate you from seamless customer support 24/7. First of all, you need to customize your chat widget. With Brevo, you can choose the name and picture of a person that will appear during communication with customers. Consider modifying the style of the widget to comply with your branding. Secondly, spend a couple of minutes adding it to your website. Thirdly, set up operating hours and turn on notifications.
Benefits of this live chat tool:
a free plan;
conversation history;
typing insights;
online and offline chat widget;
real-time visitor list;
chat notes;
multi-user access.
Pricing: If you use a free plan, you'll get unlimited chats, a website chat widget, complete conversation history, and one user seat. However, if you have a bigger team, you'll need to buy a paid plan for $15 monthly per user.
Freshworks
Freshworks is a perfect solution for business owners who want to provide excellent support to leads and clients. With the service, you can reduce customer churn, provide a personalized experience with your brand, support 24/7, and ensure seamless user experience.
The platform can be used for lead nurturing. With Freshworks, you can monitor your website visitors' behavior in real-time, help them, and encourage conversions. Once you set up live chat, your prospects will get a personalized experience and receive discounts, coupons, and promos they might be interested in.
By integrating canned responses, you provide instant answers to customers' FAQs and improve their experience with your company. If prospects' inquiries are out of your scope, consider sending them to the appropriate team.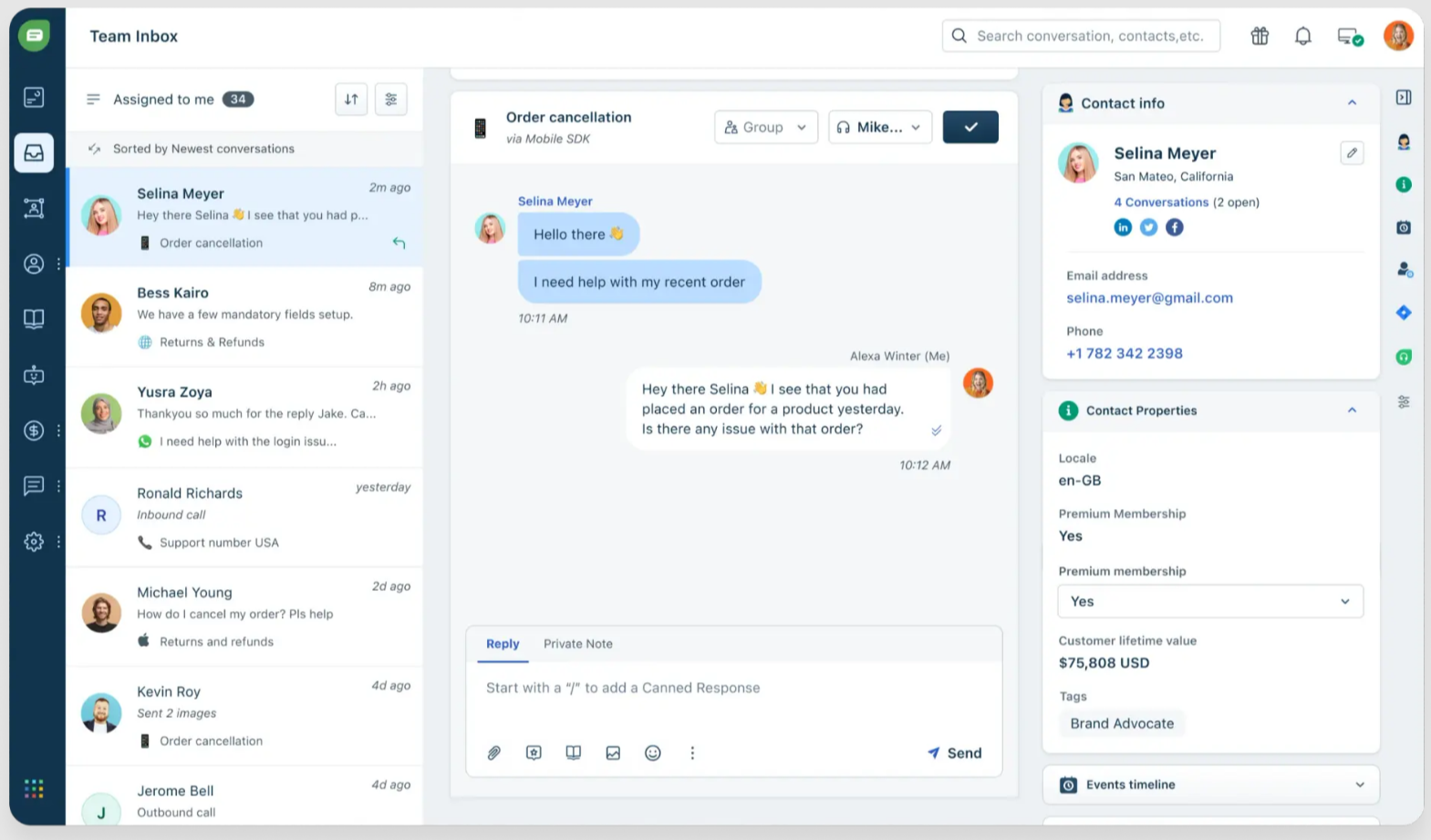 Benefits of this website chat software:
a free trial;
canned responses;
personalized experience;
insights on customer behavior;
user-friendly interface.
Pricing: The platform has a 21-day trial and paid plans. The cheapest paid plan costs $18 monthly (one agent) for 2,000 bot sessions, 500 campaign contacts, assignment rules, priority inbox, canned responses, private notes, and FAQs.
Intercom
Intercom is a platform that helps improve customer satisfaction through AI-powered chatbots, live chat, and automation. With Business Messenger, you can reach your clients in person and ensure the right answers at the right moment. Intercom allows you to access chat history and continue relevant conversations whenever prospects decide to come back.
The service's inbox stores all chats from different channels in one place. This way, you can manage several conversations at once. The customer data platform provides all the necessary information about prospects and customers to ensure a personalized experience. With Intercom, ensure proactive support before customers reach out to you and ask for help.
Benefits of this website chat software:
a free trial;
conversation tags;
saved replies;
team-level office hours;
team reply time.
Pricing: The cheapest paid plan will cost you $74 monthly if paid annually. It covers Intercom Messenger, single inbox, conversation tags, the ability to assign and snooze conversations, and send saved replies.
SmartSupp
SmartSupp provides several solutions to reach prospects and convert them into clients. The platform offers chatbots, live chat, and video recordings to improve the efficiency of your business. Their live chat lets you directly connect with potential clients, provide short-to-the-point responses, and ensure excellent support. All these factors are essential for driving sales and increasing satisfaction with your company.
With SmartSupp's customizable widget, you can choose colors and messages based on your brand character. The platform allows you to share different formats of files in the language you need. Consider sending a contact form in live chat to obtain contact data for further conversation. You can get in touch with these prospects and provide them with the necessary information through other communication channels.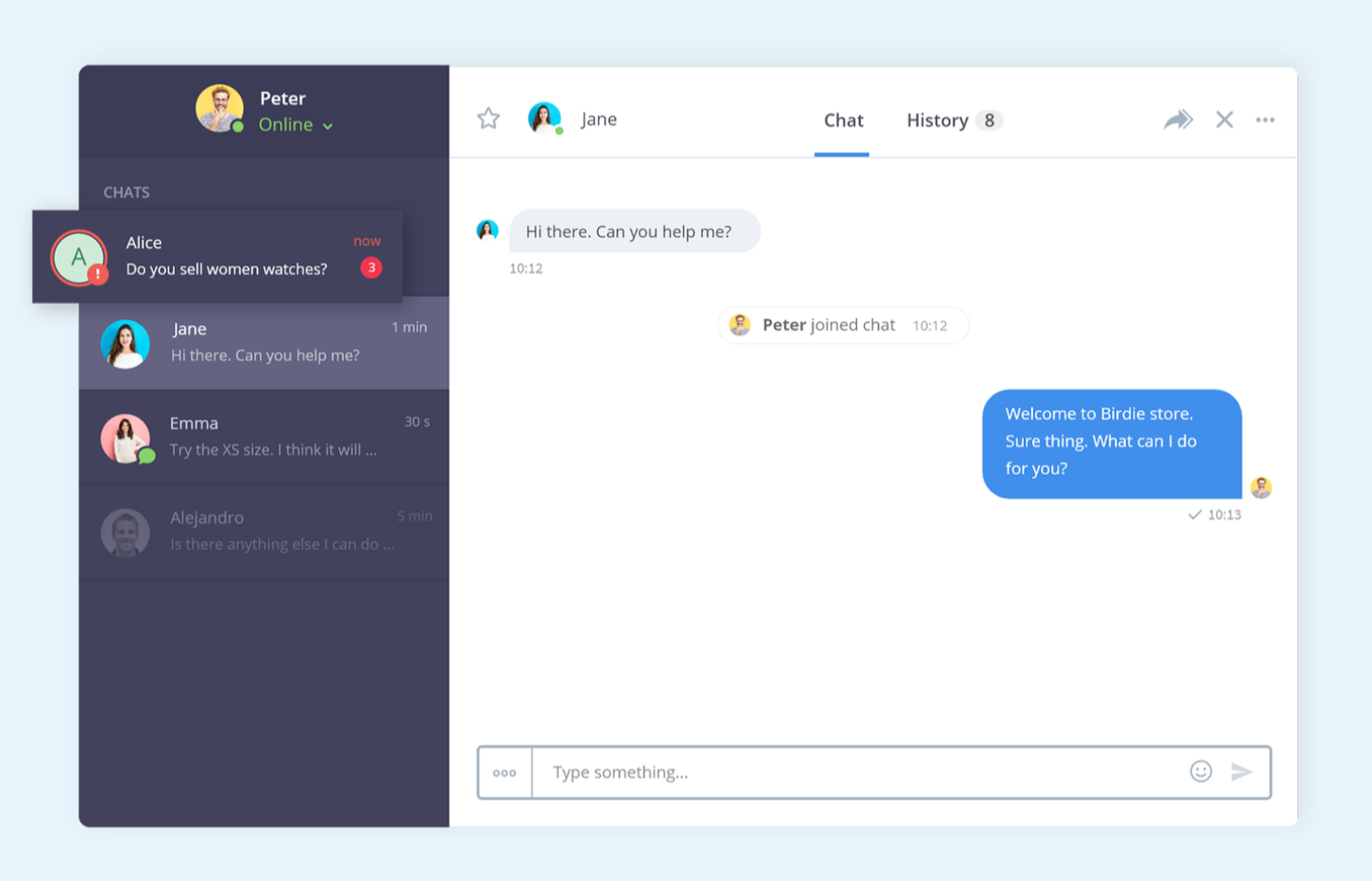 When using the service, you'll be able to access conversation history and improve customer experience. API documentation allows you to explore visitor details and find the right approach to prospects.
Benefits of this live chat tool:
a free plan;
tags;
conversations history;
customizable chat widget;
multichannel chats on a single dashboard;
contact form in chat to receive personal data;
live chat mobile app.
Pricing: The platform has free and paid plans. A free plan covers one user, 100 conversations monthly, and a conversation history (available for 14 days). The cheapest paid plan will cost you $25.5 monthly for three agents, unlimited conversations, conversation history, tags, and office hours.
Olark
Olark can help reach several business goals with live chat: generate leads, drive sales, or ensure better service. The service's main features include customization, automation, and reporting. It'll take you a couple of minutes to customize live chat based on your brand requirements and add it to your website. By adjusting colors, shape, and position of your chatbox, you can increase engagement with your company. Choose a background, chatbox position, shape, and chat widget corners.
With Olark, you can communicate with prospects in real-time. Live chat analytics will adjust your approach to customers and ensure high customer satisfaction.
Consider gathering information about prospects before starting a chat with them. This way, you'll be aware of leads' problems and will be able to come up with a relevant solution. Send prospects chatbox forms. Ask about points that are crucial for your team: email, team size, problem, needs, etc. Use the drag-and-drop editor to design these forms.
Benefits of this live chat software:
a customizable chatbox;
live chat transcripts;
custom chatbox forms;
real-time communication with prospects and clients;
chat history;
agent groups;
advanced reporting;
targeted chat.
Pricing: Olark has a 14-day free trial. If you want to use the platform longer, consider buying a paid plan. It includes unlimited chat history, a customizable chatbox, real-time reporting, and targeted chat for $29 monthly per seat.
PureChat
PureChat empowers you to improve the quality of communication with prospects and drive conversions. This live chat software has an intuitive interface, customizable chatbox, and reporting. With a convenient editor, you can modify the chat widget based on your preferences. To find out what works with customers, you can access chat historical transcripts. This way, you'll stay updated on customers' problems and will be ready for further questions.
If your customer support agents receive many FAQs on repeat, consider setting up canned responses to quickly and accurately reply to these inquiries.
Benefits of this live chat tool:
a free trial;
advanced widget customization;
chat history transcripts;
chat notifications;
canned responses.
Pricing: PureChat offers a 30-day free trial. Once you decide that it's a great fit, consider buying a paid plan. For $49 per month, you'll get four users, unlimited chats, advanced widget customization, unlimited chat history transcripts, canned responses, and chat notifications.
Wrapping up
Since there is much information to consider about live chat platforms, choosing fast can be challenging. That's why we've decided to provide you with a table of each software's main features. Let's check out.
| | | | | | |
| --- | --- | --- | --- | --- | --- |
| Live chat software | Free plan | Pricing starts from | Chat history | Canned responses | Integrations |
| SendPulse | + | Based on the number of subscribers | + | + | + |
| LiveChat | – | $49/monthly | + | + | + |
| Tidio | + | $29/monthly | + | + | + |
| LiveAgent | – | $15/monthly | + | + | + |
| Brevo | + | $15/monthly | + | + | + |
| Freshworks | – | $18/monthly | + | + | + |
| Intercom | – | $74/monthly (if paid annually) | + | + | + |
| SmartSupp | + | $25.5/monthly | + | + | + |
| Olark | – | $29/monthly | + | + | + |
| PureChat | – | $49/monthly | + | + | + |
Improved customer experience, better trust, and fewer customer problems are the results you can obtain when implementing live chat on your website. More prospects will convert into customers and bring you higher revenue.
If you are looking for reliable and affordable software, consider using SendPulse and enjoy all the benefits of live chat for free.