Are you looking for a Constant Contact alternative that offers more features at a lower cost? If so, you're in the right place. In this post, we will discuss some of the top free and paid Constant Contact alternatives that can skyrocket your email marketing. Let's get started!
Why look for Constant Contact alternatives
Constant Contact is email marketing software designed to provide and monitor email marketing efforts, create subscription forms, and utilize Facebook, Instagram, and Twitter for your business goals. This platform offers you many basic features, like a drag-and-drop email builder, a vast email template library, and the possibility to post directly to social media channels.
However, some of the advanced settings are incomplete or even missing. If you're hesitating about what service to settle on, pricing isn't the only factor to take into account. Among the reasons why users are looking for Constant Contact alternatives are the following:
No free plan. For people who have just launched their business and want to test some email marketing services and choose the best one, Constant Contact does not provide such an opportunity. Depending on the place of your residency, you can be eligible for a discount of one free month off your billing cycle.
Prices are based on the number of contacts stored and not the number of emails sent. This can be far from optimal for any business with a rapidly growing mailing list.
Incomplete A/B testing. It's fair to state that Constant Contact does have limited A/B testing, but all you can do is test subject lines against each other. But this is not an option if you want to test two different versions of emails, whether in terms of content or design.
Absence of a suppression list feature. In a nutshell, it's a list of subscribers that don't want to receive your communications anymore and chose to opt out. In Constant Contact, you have to block users manually, so they don't accidentally get an unwanted email.
Software is dated in terms of personalization, which is limited to the subject line and email greeting. There are a number of other constraints when it comes to tuning in your emails. For example, no image display option for email subscription forms is available. Furthermore, you can only preview a desktop version, as the in-app mobile preview feature is absent.
All in all, the cons list above isn't complete, but perhaps it has already made you wonder whether there are other services with more advanced functionality or even free alternatives to Constant Contact. The good news is — there are! Let's explore them in detail!
The list of alternatives to Constant Contact
In this section, you will find a selection of Constant Contact alternative services that are in no way inferior, but rather ​​surpass its functionality.
SendPulse
SendPulse is one of the free alternatives to Constant Contact. It's a multichannel platform that offers email, push notifications, chatbots, and SMS. With this software, you can easily collect your users' data with free subscription forms, upload a file with email addresses, or even import your mailing list from another email marketing platform.
By using the drag-and-drop email builder, you can create outstanding email campaigns. Otherwise, you are free to choose from 130+ email templates and personalize them in any way you like.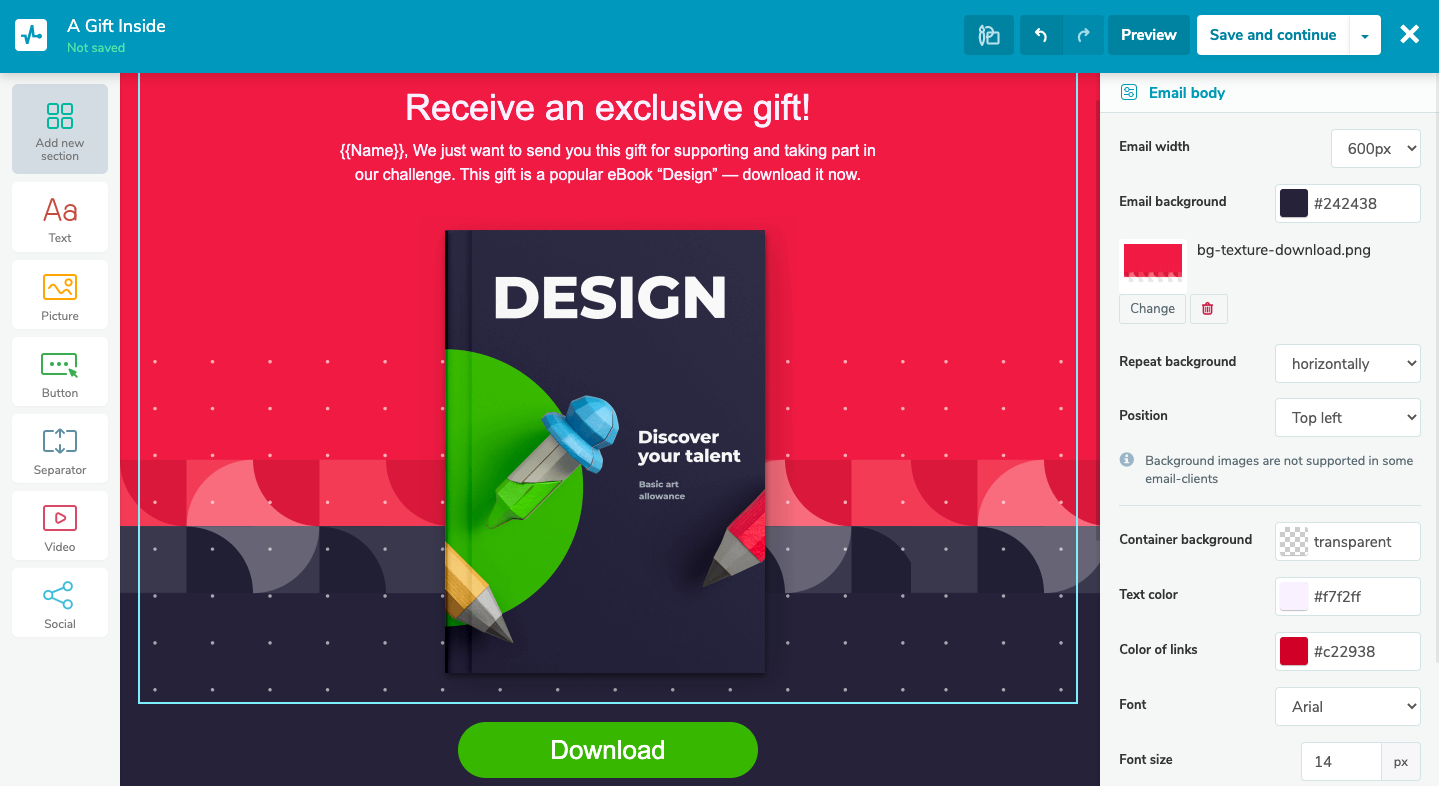 The platform also allows you to tailor your emails by addressing your recipient by their name or sending an email in a language they speak. A neat feature in SendPulse is that your emails will be adaptive to all screen sizes. With SendPulse's built-in spam checker, you can make sure that your emails will be delivered without getting blacklisted.
This cheap email marketing service is packed with plenty of automation and analytics tools. Just like that, you can gather your click-through and unsubscribe rates, do A/B testing, collect error or delivery statistics, and so on. Other key features are the email address verifier and segmentation possibilities included in the free plan.
SendPulse's core features include the following:
user-friendly email builder and 130+ email templates;
an integrated spam checker;
multilingual 24/7 support;
segmentation according to different variables;
diverse personalization options;
a wide range of analytics tools, e.g., campaign statistics, geographic statistics, etc.
built-in sales CRM;
A/B testing to choose the optimum email subject line and body.
Pricing: SendPulse offers a free plan to get started for up to 500 subscribers and 15,000 emails per month. The Standard subscription starts at $6.40/month. Another option is to pay as you go, namely paying for a certain number of campaigns throughout the year.
Moosend
Moosend is one of the cheapest email marketing services with lots to offer. This software allows you to create responsive email newsletters, automate marketing campaigns, and measure engagement with A/B testing. When it comes to Moosend's drag-and-drop email builder, it has the scope for adding advanced elements like timers, videos, GIFs, and more to boost your CTR.
In addition, the email marketing provider offers advanced segmentation and personalization features and flexible automation workflows. A sophisticated personalization option in Moosend is the so-called Weather Based Recommendations, which can be perfect, for example, for fashion and clothing retailers. The company uses real-time weather data, so when it's time to send out a newsletter, the customers will receive the most appropriate upsell or cross-sell email based on the weather conditions in their area.
Here is an overview of the most important Moosend features:
audience segmentation based on customers' behavior;
advanced marketing automation for personalized content;
A/B testing to measure engagement;
real-time reporting and analytics to monitor performance;
more than 40 free and eye-catching templates to choose from;
integrations with Stock Photos, Facebook, Giphy, and more for outstanding visuals.
Pricing: Moosend offers 30 days free trial. The Pro plan starts at $7/month on an annual basis. The price may vary depending on the number of subscribers. There is also a possibility to buy email credits instead of a plan.
Sendinblue
Sendinblue is another Constant Contact alternative. It's an all-in-one sales and digital marketing toolbox that is equipped with a robust email marketing service. Alongside a drag-and-drop editor and an extensive email template library, you also get GDPR compliance. The service also enables transactional emails. This means that you can email an individual recipient following a commercial transaction or specific action performed by that person.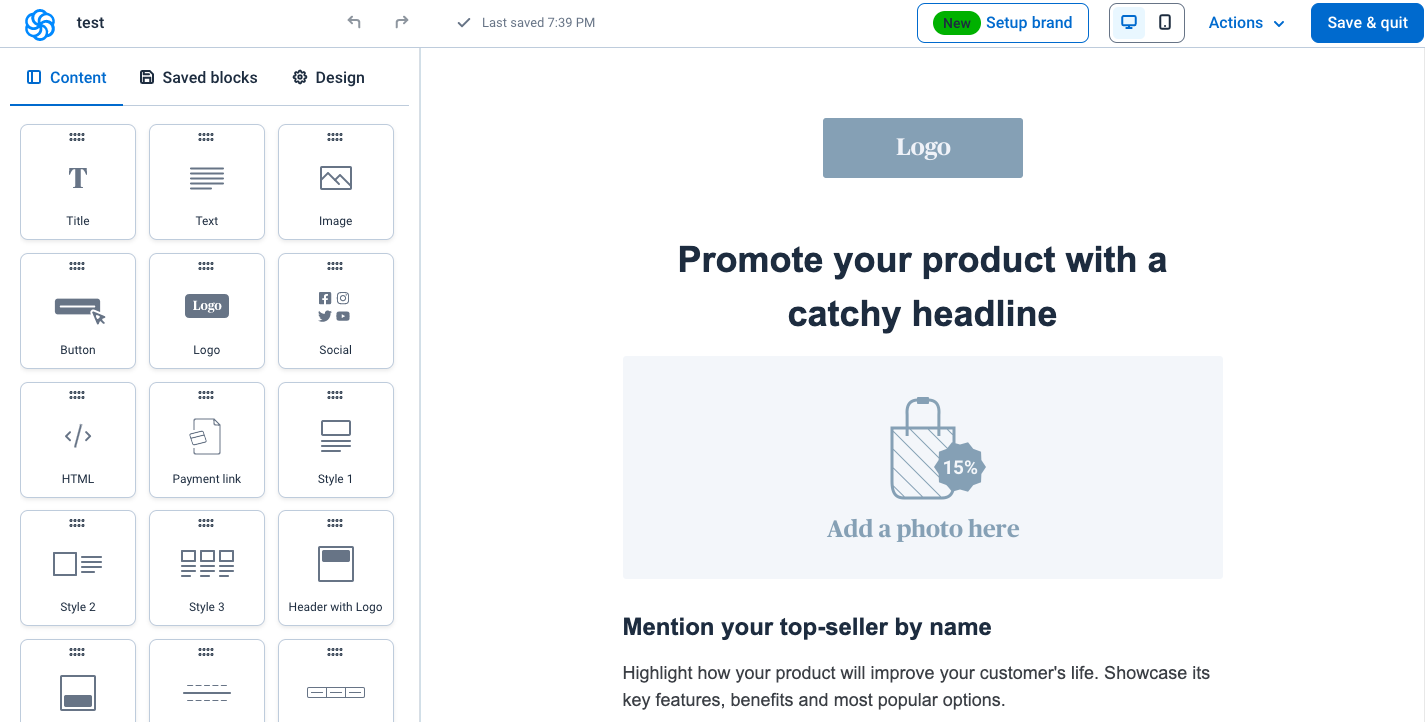 Another thing that makes Sendinblue a great Constant Contact alternative is the pricing based on the number of emails sent, not contacts stored. This might be a factor to consider if you have a growing number of prospects who subscribe to your email campaigns.
This service also allows you to adapt very flexibly to the behavior of your customers on the site using Sendinblue Tracker. It brings customization to another level, as this feature creates custom workflows based on visits and actions to specific pages. Just like that, you can send a tailored email to your contacts based on their visit to a specific category.
Here is a list of the main features you can get using Sendinblue:
advanced email personalization options, like showing products of specific colors;
segmentation based on specific criteria for a more targeted approach;
"Send at the Best Time" algorithm to predict the send time with the highest likelihood of engagement for each contact;
Sendinblue Tracker for custom workflows based on users' behavior;
pricing based not on the number of contacts but on emails sent.
Pricing: there is a free plan with a limitation of 300 emails per day. The next most affordable pre-paid plan costs $25/month. All plans include unlimited contact storage.
HubSpot
HubSpot is a platform for marketing sales packed with advanced features. It's also one of the free alternatives to Constant Contact. The service offers a complete suite of marketing products with free CRM, including a free email marketing tool. HubSpot provides a range of possibilities in terms of personalization and triggers, email templates, and customization options.
With this service, you can craft professional email campaigns that display perfectly on any device. You may start with goal-based email templates or choose from other free templates. Everything is fully customizable, including CTAs and branding. Moreover, the service is powered by its CRM to help you tailor emails to each subscriber. Based on any information in the contact record, HubSpot will produce the most relevant subject lines, links, and CTAs.
Here are all the main features at a glance:
drag-and-drop editor with a huge selection of templates;
A/B testing and deep analytics tools;
tailored emails based on your customers' data;
customizable autoresponders and automation workflows.
Pricing: there is a selection of free tools, including email software, that lets you send up to 2,000 emails per month. A Starter plan will cost you $30 per month, billed yearly.
Mailchimp
Mailchimp is one of the best platforms for email marketing, with several useful integrations and smart features. This Constant Contact alternative presents up-to-date email templates and an email editor to nail any newsletter campaign. An outstanding point is an AI-powered Creative Assistant that helps you build eye-catching emails that look great on any gadget. In addition, Mailchimp provides such tools as Dynamic Content to send a single email that shows different content depending on your subscribers' interests and preferences.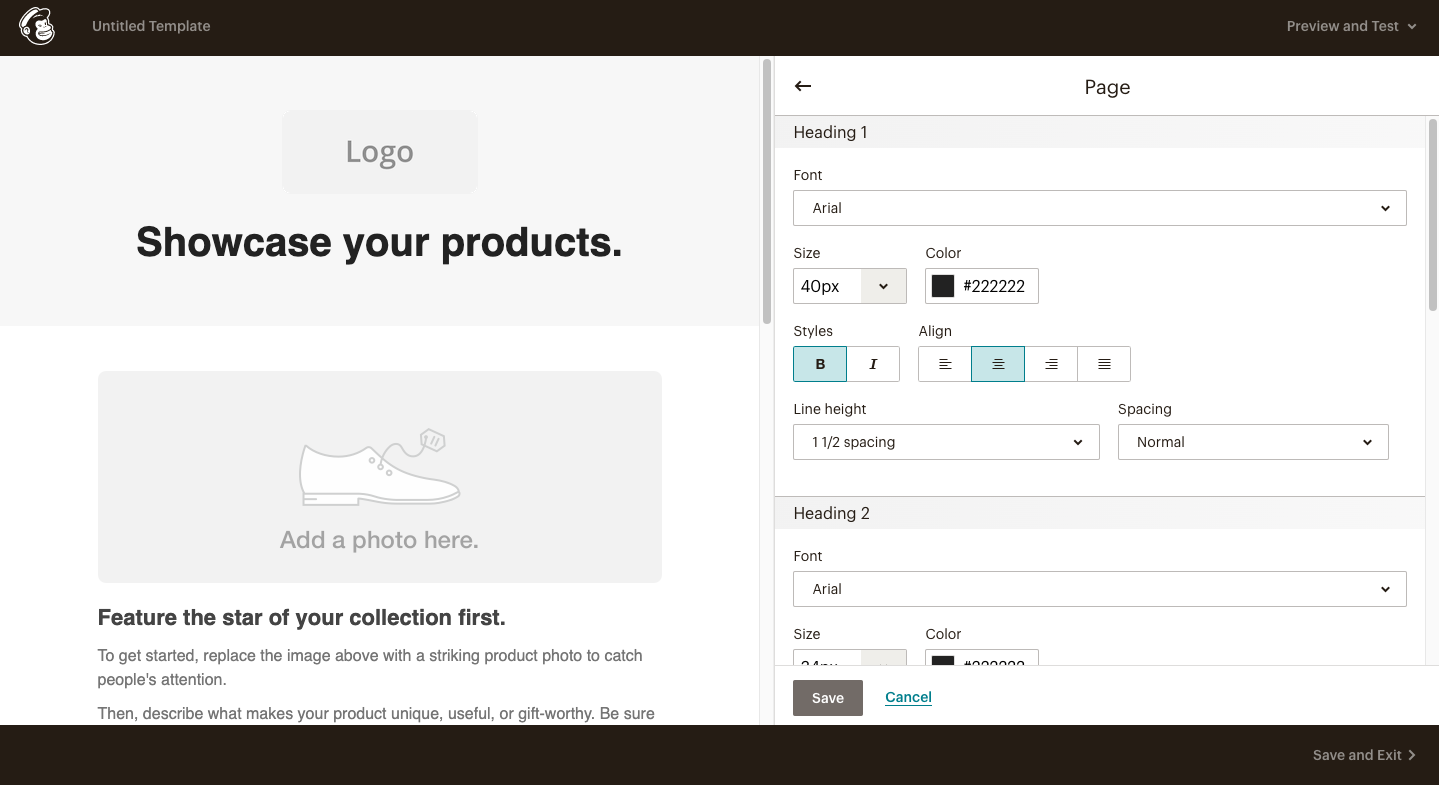 This software is packed with smart analytics and recommendation features to take your email newsletters to the next level. If you want specific observations and tips on how to improve, Mailchimp equips you with its Content Optimizer. It analyzes millions of data points from top-performing email campaigns and makes personalized suggestions to improve copy, imagery, and layout.
Here is what this Constant Contact alternative has to offer:
advanced A/B testing to test up to 3 email newsletters, or multivariate testing to have a look at maximum 8 campaign variations;
predictive insights and Content Optimizer;
Creative Assistant for unique email templates or a possibility to code one yourself;
segmentation tools based on customers' behavior and interests.
Pricing: Mailchimp provides a free plan with a limitation of 1,000 emails per month. The next most affordable plan is $13/month for 5,000 emails. It's also worth noting that Mailchimp counts one subscriber in several lists as multiple subscribers.
ActiveCampaign
ActiveCampaign is an automation platform and an alternative to Constant Contact for advanced marketers or anyone looking for granular-level segmentation. The service lets you tag your audience according to different variables and split them into groups. The good news is, with ActiveCampaign, you can create as many groups as you want, for example, people who open your emails, date subscribed, products purchased, and so on.
This software gives a lot of control over the types of emails you can send. It allows you to broadcast emails, send triggered or targeted emails, and reach out with auto-responses. ActiveCampaign has a built-in sales CRM system and integrates with a number of other services. Their drag-and-drop email builder lets you create beautiful campaigns in a few clicks. You will also get access to advances reporting and measuring tools to get deep insights.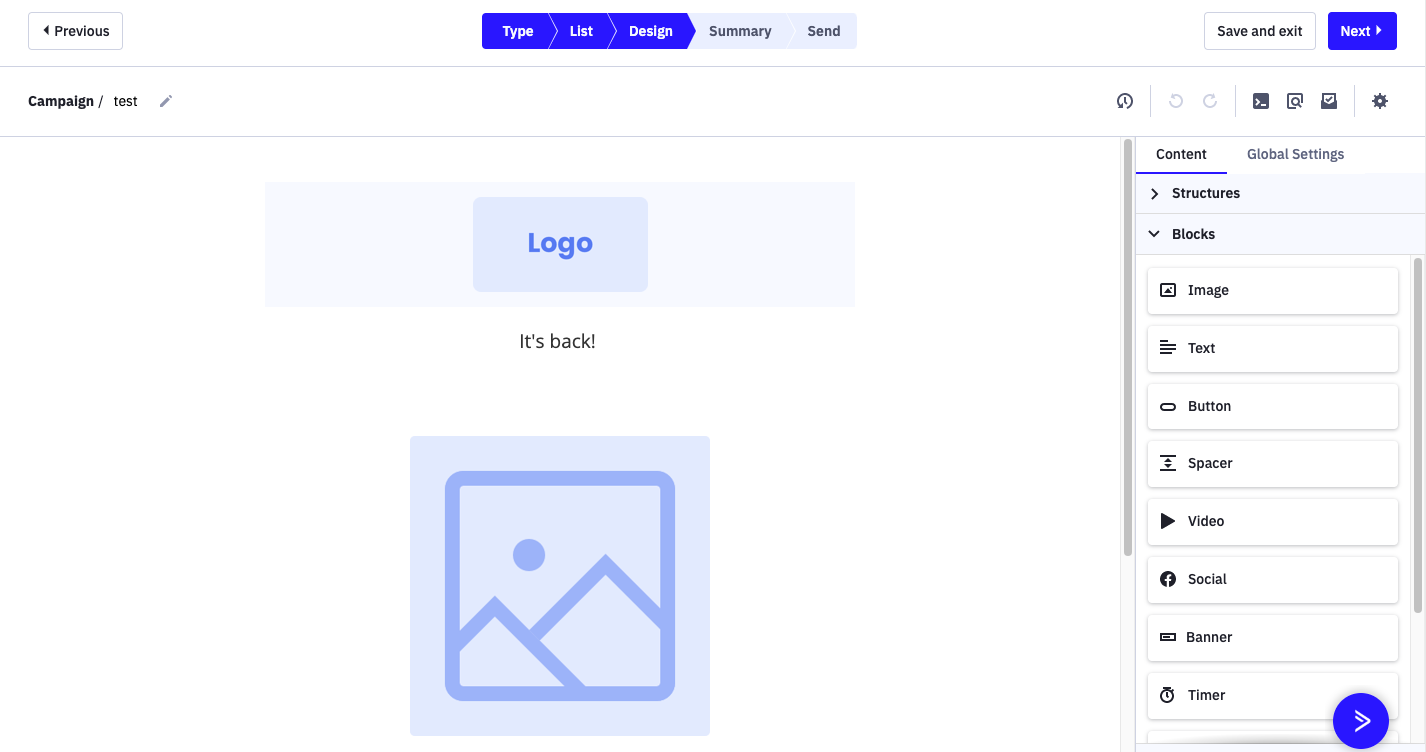 Here is a brief summary of the most important Active Campaign features:
advanced options for complex workflows and sales funnels;
granular-level segmentation using an unlimited number of tags;
a built-in sales CRM feature and 870+ integrations;
a convenient drag-and-drop email builder and a template library;
split testing and other reporting tools.
Pricing: the most affordable plan starts at $29/month. There is a free trial available.
Benchmark
Benchmark is a robust email marketing platform powered by AI tools that is a free alternative to Constant Contact. With this service, you can easily turn your email vision into reality by dragging and dropping feature blocks and images into place. If you have coding skills, you'll have plenty of options in a code editor with a live preview. Moreover, using the RSS email option, you can automatically notify your audience about any updates.
With Smart Content, you can break writer's block in favor of fresh ideas or a fresh take on an old topic. This cheap email marketing service enables A/B testing to make data-backed decisions about your email marketing strategy. Its email automation lets you tailor emails according to your subscribers' needs or interests. Benchmark has other cool features like different integrations, direct photo editing, and nine supported languages.
Here are the most useful features in the overview:
basic trigger-based and behavior-based emails;
essential personalization tools;
A/B testing, Inbox Checker, and reporting features;
intuitive drag-and-drop editor and a template library;
RSS email option;
Smart Content and Smart Sending AI tools.
Pricing: Benchmark offers a free plan with a limitation of 3,500 emails/month. The Lite plan starts at $8/month for the same number of emails, including additional features.
GetResponce
If you're a small business searching for a cheaper Constant Contact alternative, GetResponse is another marketing solution. It is feature-packed software to get started with email campaigns and make use of a wide selection of optimization tools and customization options. You can effortlessly create newsletters, autoresponders, transactional, and perfectly timed emails. There is a useful feature for bloggers, namely an automated blog digest, that allows you to increase your blog's reach and share posts via email and on social media.
Using the platform, you can trigger action-based automated emails to engage your audience and even run spam testing. In addition to a drag-and-drop editor and template selection, you can easily enhance your emails with free stock photos and GIFs. GetResponce provides you with segmentation options such as custom segments based on specific criteria, dynamic content, and a timing tool.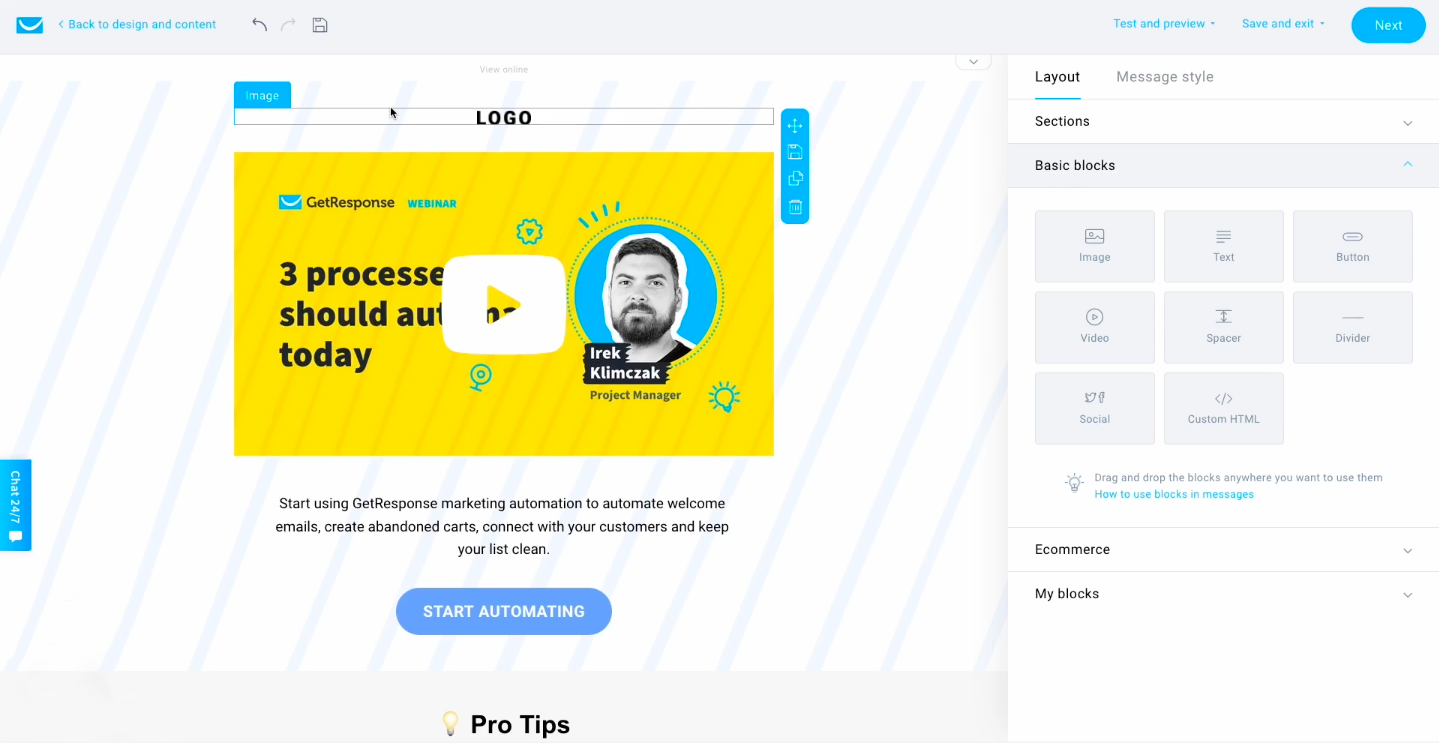 Here is a quick overview of the main GetResponce features:
drag-and-drop editor with free access to stock photos and GIFs;
different types of emails based on your business goals;
eCommerce integrations with plural services;
A/B testing and analytics.
Pricing: a free plan allows you to send 2,500 newsletters per month to up to 500 contacts. The next subscription option starts at €13.12/month for 1,000 contacts.
EmailOctopus
EmailOctopus is a fully-fledged and cheap email marketing service that offers all essentials to get started with your email marketing campaigns, including a drag-and-drop email editor and pre-designed templates. There is also a possibility to create your own layouts by importing HTML templates. This Constant Contact alternative provides resources to welcome your subscribers with email sequences. Besides, you can make full use of automation and set email campaigns on autopilot.
With EmailOctopus, you can segment your audience with the data in custom contact fields. The service allows you to tag subscribers based on location, age, gender, or preferences. In addition, the software lets you monitor the progress in real-time.
This is what EmailOctopus offers as an email marketing platform:
pre-designed as well as HTML templates;
different email sequences with an autopilot option;
highly targeted emails due to custom fields and tags;
handy analytics tools, bounce/complaint tracking;
direct integration with AWS accounts.
Pricing: a Starter plan is free and is limited to 2,500 subscribers and 10,000 emails per month. The Pro plan starts at $8/month, depending on the number of your subscribers.
MailerLite
MailerLite is another free alternative to Constant Contact. It's an email marketing provider and website builder for businesses of all sizes. This service offers drag-and-drop builders, a rich-text editor, templates, and several helpful email marketing tools. What's more, you can integrate eCommerce platforms or monetize your newsletter by selling subscriptions through Stripe on MailerLite landing pages.
Using MailerLite, you can set up RSS campaigns to notify your audience about new content and auto-resend campaigns to nurture relationships. With segmentation and tagging, you'll deliver relevant content. The service also provides you with an app to monitor and do analytics on the go.
Here are some essential MailerLite features at a glance:
drag-and-drop and custom HTML editor;
paid newsletters;
RSS and auto-resent campaigns;
integration with Google Drive;
many personalization and segmentation opportunities;
A/B testing, reporting dashboard, and more.
Pricing: MailerLite offers a free plan for up to 1,000 subscribers and 12,000 monthly emails. The Growing Business plan is $9/month for the same number of subscribers, but with unlimited monthly emails.
The bottom line
To sum up, check out the comparison of the top 10 most feature-rich still cheapest platforms for email services.
| | | | | | |
| --- | --- | --- | --- | --- | --- |
| Email service | Best for the industry | Free trial | Free plan | Starting price | Unique feature |
| SendPulse | Small, mid-size, and large businesses, eCommerce, startups, online course creators | Yes | Yes | Free or $6.40/month | Email verifier, spam checker, contact tags |
| Moosend | eCommerce, SaaS, publishers, bloggers, agencies | Yes | No | $7/month | Email credits |
| Sendinblue | Small businesses, eCommerce, startups, agencies | Yes | Yes | Free or $25/month | Unlimited contact storage |
| HubSpot | Small and medium-sized businesses | Yes | Yes | Free or $30/month | CRM customization |
| Mailchimp | Small businesses, agencies, freelancers | Yes | Yes | Free or $13/month | Content Optimizer |
| ActiveCampaign | Small and mid-sized businesses | Yes | No | $29/month | Advanced tag segmentation |
| Benchmark | SMEs, NPOs | Yes | Yes | Free or $8/month | AL-powered Smart Content |
| GetResponce | Small, medium and large-sized companies, bloggers | Yes | Yes | Free or €13.12/month | Spam testing |
| EmailOctopus | Entrepreneurs, small and mid-sized businesses | Yes | Yes | Free or $8/month | AWS accounts integration |
| MailerLite | Small and mid-sized businesses, enterprises | Yes | Yes | Free or $9/month | Integration with Google Drive |
Such platforms as SendPulse, for example, offer way more marketing possibilities at a more affordable price than the established Constant Contact. By evaluating all pros and cons, jumpstart your email marketing with the most suitable software.