Extending Gmail's functionality with additional plugins can transform this mailbox service into a multifunctional tool. Gmail Сhrome extensions allow convenient teamwork, planning, email status tracking, as well as encrypting your confidential messages right from your Gmail account. Most of these plugins are free, so you might want to give them all a try.
However, keep in mind that adding many Gmail extensions simultaneously may significantly slow down your browser. So, choose only the best Gmail extensions that you need right now.

Best Gmail extensions for planning
Make it a rule to discuss work issues in your email account, not in messengers. With the help of planning extensions, you can quickly transfer tasks from an email to a to-do list in one click. Below are five popular chrome extensions for planning.
Being one of the best Gmail extensions, Trello helps you stay on top of your busy workflow. With this tool, all the important information is kept in separate cards. You can share access to these cards with other team members, move them within boards, and label them. Also, this Gmail extension allows you to transform your emails into ready-made cards. In Trello, you can manage your cards right from your email account. Gmail will notify you about tasks that are still in to-do lists and you will be able to track their progress.
Trello functionality is available in two versions. The free one provides access to all the functions, with a file attachment limit of 10MB, and allows you to create a maximum of 10 boards. The business version is more suitable for large companies because it allows you to create unlimited amounts of boards, expands the limit to 250MB for attached files, as well as increases the capabilities of board admins. There is also the possibility to synchronize Trello with other services with the business version.
Pros: You can instantly add information from your emails to boards and share access to them with other team members.
Cons: For projects and tasks that require maximum control and thorough tracking, Trello's functionality may not be enough.
In terms of functionality, the Asana add-on is quite similar to Trello — it's job is to help you arrange information and manage tasks but it has a more simple interface. Just like Trello, this Gmail extension allows you to create tasks and to-do lists from messages right in your Gmail account. You can further share them with your team, set deadlines, and add necessary notes.
Pros: It is convenient for those who have already used the Asana app for planning before.
Cons: It can be uncomfortable to use the add-on for managing many projects simultaneously or for dealing with multi-step projects.
Todoist is a popular task management tool for Gmail. This extension allows you to schedule tasks and sort them out according to your projects. For example, you can group separate tasks based on the same end goal. New tasks and projects can be added as lists, which makes this tool ideal for personal use and a bit less convenient for teamwork. With the help of this extension for Gmail, you can refill your list right from your emails.
A free version is available, though you can purchase a premium account to manage up to several hundreds of projects and with up to 50 team members. One more convenient function in the paid version is the ability to set up notifications — you will get a push message or an email reminding you about urgent tasks.
Pros: Simple and convenient interface; thanks to the Todoist Karma system you can monitor your progress through colorful, easy to read graphs.
Cons: Limited functionality, making it less convenient for task planning compared to Asana or Trello.
Another tool from our list of the best Gmail Chrome extensions helps you:
schedule emails to be sent
track email delivery
set follow-up reminders
create email templates
collaborate with team members in real-time
plan tasks
turn emails into task cards
automate work processes
track work efficiency
synchronize with other task planners
We classified Gmelius extension as a planner because its planning functions are the primary reason why Gmail users install this plugin. The service offers a 14-day demo. When the trial ends, you can either pay for the full version or keep using the free option but with limited functionality. The latter option will include only one Kanban board, email tracking, and the possibility to add up to 10 notes per month.
Pros: A large variety of useful functions from one plugin.
Cons: After two weeks of the free trial, a majority of functions are limited to only the paid version.
This Gmail Chrome extension is useful for those who want to clean up their Gmail inbox. With the help of this plugin, you can turn emails into tasks, group them into projects, prioritize them, and track your progress. The extension also allows you to schedule emails you need to send later.
A free version is available for personal use only. To work with several accounts and to collaborate with team members, you need to pay an additional fee.
Pros: This extension will help you keep up with tasks that you get via email.
Cons: Limited functionality in the free version.
Best Gmail extensions for working with outgoing emails
With Gmail, you can hardly create any efficient email flows. However, with the help of special plugins, you can make your work with them much more comfortable.
Have you ever had to import contacts from one email account to another? If yes, you most likely agree that this process should be automated. This extension can help you export your Gmail contacts to your SendPulse account with one click. It is convenient for marketers that use Gmail for communication with customers and partners, but use SendPulse for their bulk emails.
Pros: The extension is free. No longer waste time on importing contacts manually.
Cons: You will still have to spend a few minutes to understand how it all works.
With this Gmail Chrome extension, you can track email delivery status and collect click statistics. All of the useful information is shown with color indicators: white for unopened emails, purple for opened, and green for those that were opened and clicked. This Gmail extension is 100% free with no service watermarks or logos.
Pros: It's free and it has no limitations in terms of time and amount of emails.
Cons: If you have other Gmail email trackers installed, you risk encountering a plugin conflict.
With the help of this extension, you can easily create a professional signature for emails.
Simply choose a signature template and customize it until you're satisfied. This plugin also allows you to add your name, phone number, fragments from social media profiles, website address, photo, or logo. A free trial is available for 14 days. To get full access to the signature generator, you'll have to purchase a professional account.
Pros: You can generate customized signatures.
Cons: You get full access to signature templates only on a paid version.
This extension for Gmail lets you know when and how many times your email was opened by a recipient. You can set your tracking preferences and activate tracking only when you need it. The information will be displayed with the help of checkmarks in your outbox so you will not have to open every email.
The extension is available for the majority of popular browsers, such as Google Chrome, Firefox, and Opera. The pro version contains additional services such as daily reports, click tracking, and reminders about unopened emails.
Pros: You will always be updated about the status of the emails you send.
Cons: Having limited functionality, the extension allows you to cope with a single task.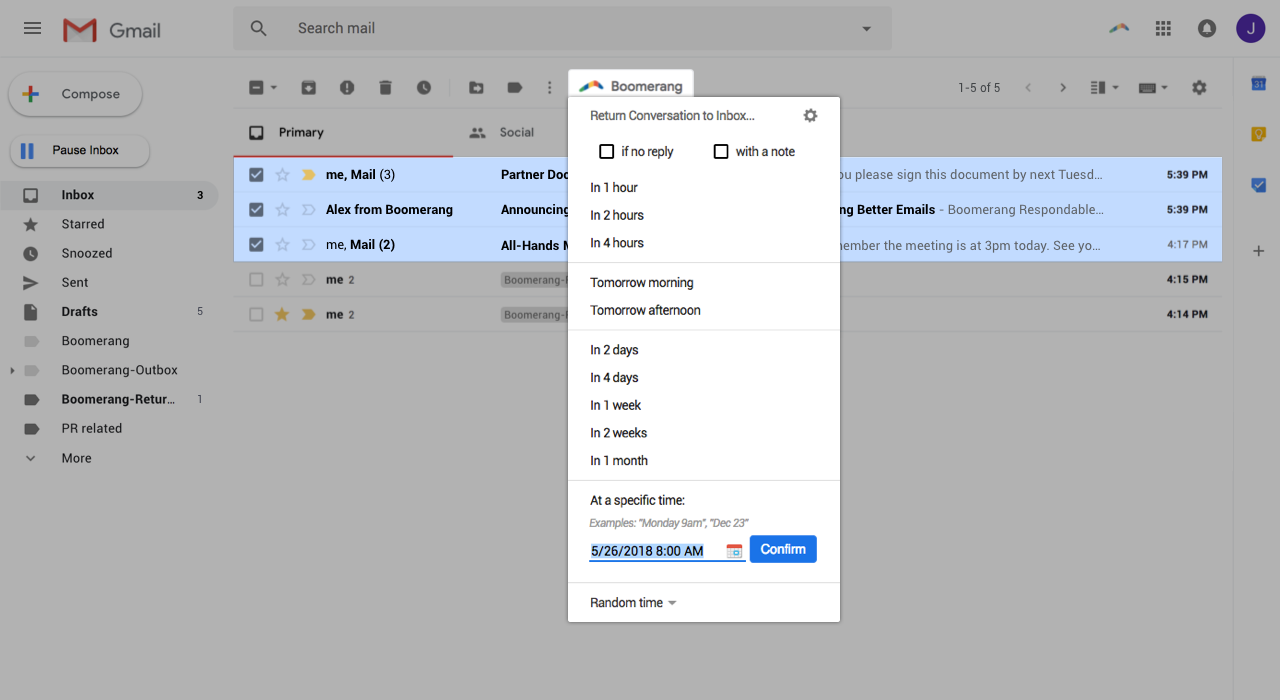 This plugin is useful for those who need to schedule emails, for example when communicating with partners or customers living in a different time zone. It allows you to set a specific date and time for your email to be sent to a recipient. Whenever some of your emails are not replied to within a certain timeframe, Boomerang will remind you about them. The extension works well in any browser.
Pros: A useful feature of email scheduling.
Cons: The same feature is available in other multifunctional extensions.
Marketers will definitely appreciate the set of tools offered by Yesware, one of the best Gmail extensions. With this plugin, you can monitor sent emails, get reports about their delivery, open, and click rates. Additionally, the extension allows you to conduct split tests and gives you access to email analytics.
Pros: A bunch of useful tools for marketers.
Cons: To use the extension, you have to sign up for a paid plan.
Nowadays people rarely get emails with attachments, as any information is now shared via cloud services or virtual drives. However, if you ever happened to send an email with the wrong attachment, you will appreciate the functionality of this Gmail extension. With Digify, you can not only monitor who opened your email, but also unsend or delete attached files anytime.
Pros: You get full control of attachments in sent emails.
Cons: This extension only works with email attachments.
It is a multifunctional extension with a convenient planner, allowing you to turn emails into tasks. Its possibilities include scheduling emails to be sent automatically. Apart from that, this extension can track email opening and clicking.
Pros: A number of useful features in one plugin.
Cons: To use the full version, you need to sign up for a paid plan.
Best Gmail extensions for working with incoming emails
The topic of cleaning up the chaos in your inbox has already been covered so many times in numerous articles and books. One of the proven solutions for inbox chaos is installing plugins that help sort everything and even put the flow of new emails on hold temporarily.
The majority of extensions for Gmail are designed for working with text. But what if you need the template of an email you received? Install this free plugin and save emails in PNG, PDF, HTML formats or as ready-made templates in your SendPulse account. You can make up your own collection of effective email layouts based on the received emails. Save emails to your SendPulse account, then edit them with a drag and drop editor. No HTML knowledge is necessary to edit or create beautiful email templates to send with SendPulse.
Pros: You can save email templates of interest and easily customize them.
Cons: To remove the watermark, you need to sign up with the service.
This plugin can be classified as a planner because it helps enhance efficiency. As soon as you have it, you can block the flow of incoming emails so that nothing distracts you from your tasks. The extension also allows you to set exceptions by selecting contacts that will not be put on hold. In this way, you will not miss any important messages. With this Gmail extension, you will be 10 times more focused. Inbox Pause is available in most browsers.
Pros: Free extension for maximum concentration.
Cons: There is still a risk of missing important messages when your incoming emails are on pause.
One more way to boost productivity is to stay away from your inbox and stop checking it every two minutes. It is especially relevant for those who are constantly distracted by new incoming messages. With the help of this Gmail extension, you can control and manage your inbox outside of your Gmail account. You will get notifications about new emails and be able to delete, mark them as spam, or archive emails right from your browser.
Pros: The extension helps you not get distracted by incoming emails.
Cons: Messages will still come to your inbox, so you may be partially distracted anyway.
Sometimes, when we receive emails from new customers or business partners, we try to find more information about them, for example through their social media accounts. The Discoverly Gmail Chrome extension provides an easier solution by displaying the social media profiles that are linked to the particular email. This means that you will instantly see a person's profiles on Facebook, Instagram, Twitter, and other social media platforms right in your inbox.
Pros: Knowing more about the person who is emailing you, you can adjust your communication style.
Cons: The plugin is available only for Google Chrome.
Best Gmail extensions for working with documents
These plugins make your routine work with business documents easier and significantly save your time. They allow you to sign documents, create invoices, and pay right from your Gmail account.
If you regularly receive documents to be signed via email, you know how inconvenient it can be to print these documents, sign, scan, and send them back again. HelloSign makes this process much easier. With this extension, you can sign documents online quickly with little effort. However, the free version is limited to only three documents per month. Getting more is possible if you upgrade to a paid subscription.
Pros: Signing business documents right in your Gmail account quickly and easily.
Cons: Limited free version.
This tool helps you create invoices online, enabling you to do financial operations on-the-go and track their status right in your Gmail. Your customers will be able to transfer payment the same way, but only if they install QuickBooks.
Pros: Working with invoices is easier and quicker.
Cons: An online banking system is still more reliable.
Best Gmail extensions for security
Additional plugins can help you secure your email from attacks and encrypt your messages, making Gmail a safe channel for sending important documents and passwords. Password Alert is one of them.
Have you ever wondered whether your Gmail account is safe? It is always a good idea to further secure your account to protect it from any kind of fraud. Google offers a variety of free plugins, one of them being Password Alert, which is considered one of the best extensions for Gmail due to its security functions, such as protection from phishing attacks. Whenever someone uses your login and password from an unknown device, you are immediately notified, and have an opportunity to quickly change your password and report about the attack.
Pros: The extension is safe, reliable, and completely free.
Cons: It offers a single feature.
Best extensions for improving the Gmail interface
With the help of these tools, you can personalize your mailbox interface and make it more convenient to use. For example, you can change buttons or add some new ones.
The standard design of Gmail doesn't always suit everyone. If you want to change something, you should try the extension created by the former Gmail designer Michael Leggett. With its help, you can remove the "Search" panel from the upper right corner, drag the "Compose" button to the lower part on the right, or even remove the Gmail logo if you wish. The plugin works on Chrome and Firefox.
Pros: Free tool to customize the design of your email client.
Cons: You might need some time to get used to the new layout.
You might get irritated when a message with a link from the outside web page opens some unknown email client by default. With Send for Gmail plugin, you can be sure that this will no longer happen. From now on, the link "mail to" will activate Gmail. Moreover, there is a special button on the toolbar for sending necessary content via Gmail in one click.
Pros: You will not waste time closing unknown email clients.
Cons: You will have to spend some time in settings to change a default domain.
Conclusion
Gmail extensions transform Google's email client into a simple and usable tool. However, their functionality is still not enough to comprehensively solve all the issues a digital marketer has. For example, those who work with email campaigns will definitely need a tool for creating a sequence of customized follow-up templates, filtering data using various parameters, setting preferences, and collecting statistics. In this case, the best tool to consider is SendPulse.