Marketing analytics is studying a brand's performance to gain insights into buying behavior and the current situation on the market. It lets companies optimize their ROI and improve the effectiveness of promotional campaigns.
In the article, we explain what marketing analytics is and why it is essential, highlight its types and steps to study it effectively. Also, we describe the 3 best tools that can help you collect and manage your analytics.
Why is marketing analytics important?
According to Adobe Experience, 78% of B2B marketers track the impact of their promotional campaigns on companies' revenue, and this percentage is growing. It proves that measuring and studying marketing analytics plays a vital role in business development.
You can identify problems with your existing promotional strategy and improve them immediately. It lets companies save money and time from ineffective advertising initiatives and avoid overspending. You can spend these resources on more successful promotions and, in such a way, boost your company.
Also, a thorough analysis of your marketing performance provides insights into consumers' behavior, current trends, competition, market changes, etc. Knowledge of this data can help you create a well-defined promotional strategy. You will be able to forecast the results of your future marketing campaigns and make better data-driven decisions.
Moreover, studying analytics can help you make promotional messages more personalized. You will know the buying patterns, needs, preferences, and pains of your target audience, so you can make your ads more relevant. It can help you attract more clients, increase consumers' brand awareness, provide amazing experiences and improve their satisfaction and loyalty.
Now you understand why marketing analytics is essential in optimizing your business performance. Let's go further to discover its types and their peculiarities.
Types of Marketing Analytics
Marketing Evolution states that 32% of companies believe that marketing analytics is the most important factor in optimizing their future promotional strategies. Discover marketing analytics types and how to use them effectively to improve your performance below.
Descriptive analytics. This type aims to explain what happened with the company's marketing campaigns and why. Descriptive analytics uses real-time and historical data to measure the success of your promotions and define the roadblocks to better performance.
Predictive analytics. Marketers need this type to forecast a future market situation. Predictive analytics uses the findings of the descriptive analysis and empowers it with insights into current trends. It often involves machine learning to make data-informed guesses about the success of the forthcoming campaigns.
Prescriptive analytics. This type aims to identify the most effective scenario for future marketing performance and determine how to reach it. Prescriptive analytics uses historical data and future forecasts, combines this information, and defines a few variants of possible development. Then marketers choose the best course for the company and identify the steps to follow it successfully.
Use all types of marketing analytics to find new ways to improve your promotional campaigns. We explain what to start from and how to do it easily in the next section.
How to get started with marketing analytics?
Starting with marketing analytics may seem difficult for some companies. However, it is not so. We provide a step-by-step guide on how to improve your performance using marketing analytics below.
Set up your goals. Firstly, you need to understand what metrics you are going to focus on. Identify short-term and long-term targets, such as increasing brand awareness, raising the number of sales, building strong relations with consumers, driving more revenue from specific products, etc. You will use these goals as benchmarks. Then define your current ROI and estimate the expected one.
Collect historical data. You need to gather as much analytics about your marketing performance as possible. Focus on metrics that you have prioritized during the previous step but do not omit other ones as they can be useful. Conduct the descriptive analysis to understand the success of your campaigns, find roadblocks to your existing strategy and think about the ways to improve them.
Build a future strategy. Firstly, you should conduct a predictive analysis based on the collected data and consider possible improvements. You can choose analytical tools to make this task easier. Then, conduct a prescriptive analysis and discover new ways to increase the effectiveness of your marketing strategy. Use all this information to decide how you can strengthen your strategy and launch a promotional campaign.
Use organic reach. You do not need to spend huge amounts of money to make your promotions effective. Empower your paid advertising with a strong strategy for reaching consumers organically. Use relevant keywords while posting on your website and hashtags for social media to help more people discover your brand. Track the performance and make organic growth an integral part of your marketing strategy.
Analyze the performance. It is vital to gain insights into the effectiveness of your promotion during the whole campaign. Track the performance over time and identify the most successful periods. You can segment consumers according to certain factors and find out the trends in the behavior of different groups.
Optimize your strategy. Now you understand the roadblocks with your current strategy, so it is time to improve it. Discover more about new trends in the industry and the cutting-edge products of your competitors. Try to become the leader in the sphere and use thorough prescriptive analysis to help you with it.
Many companies use analytical tools to conduct marketing analysis faster and make it more accurate. In the next section, we describe the top 3 ones that can help you gain insights and improve the performance of your promotions.
3 Best Marketing Analytics Tools
Nowadays, it is not necessary to track the effectiveness of your campaigns and analyze them manually. Many tools that can help you streamline processes and increase the accuracy of your analysis. Continue reading to find out more about them.
TapClicks
This service lets you track a market situation and your competitors' performance to improve the effectiveness of your promotional campaigns. You can automate data collection and reporting with TapClicks' artificial intelligence. Also, this cloud-based tool provides many visualization options for you to increase the effectiveness of your management. Discover more about its features below.
Data collection. TapClicks lets you collect information about your company's performance and group it based on the defined parameters. It provides customizable tags for better data segmentation. You can scale information about your performance and analyze its progress anytime during the campaign.
Workflow automation. You can automate and optimize routine processes based on the pre-set rules. Save your employees' time using automatically created and assigned tasks and transfer orders from CRM systems immediately.
Custom metrics. You can define the most important metrics based on your company's goals. Also, TapClicks allows marketers to create KPIs to track promotional campaigns' performance and provide relevant information to the stakeholders.
Analytics and reports on marketing performance. This service provides a wide range of opportunities for data analysis. You can use pre-built visualizations and a library of widgets to study your marketing performance. There is an opportunity for omnichannel reporting with customizable dashboards and automated reports that are easy to scale. Also, you can audit your website's success and track your rank and keywords effectiveness.
Competitive analysis. TapClicks lets you compare your marketing positioning with your competitors' and helps discover the weak points in your promotional campaigns. It provides insights into other brands' keyword conversions, and lets companies monitor the success of their ads' A/B testings.
Integrations. This service can integrate with more than 1400 platforms. You can use Excel, PDF, Email, PowerPoint, and Word to automate your marketing analysis and create reports in different formats.
Pricing is discussed individually. A 14-day free trial is available.
Look at the screenshot below. Here you can discover the users' analytics in TapClicks. The service provides insights into paid search metrics and social KPIs. Also, you can find out more about roles, data profiles, client groups, and many other aspects of buyers' analytics.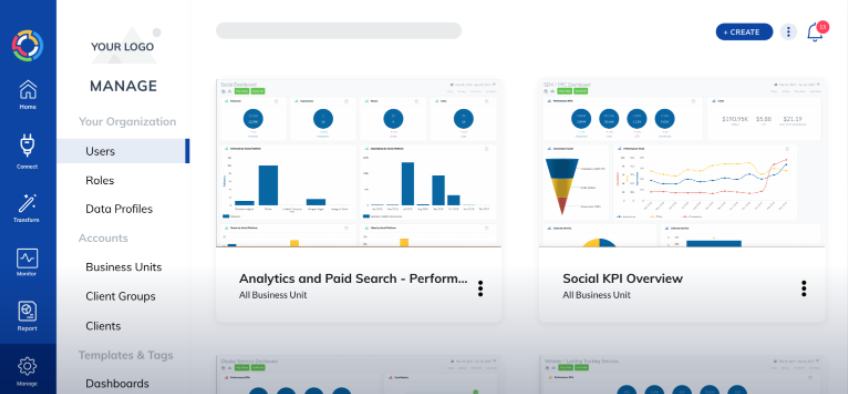 Improvado
This service is mostly focused on providing amazing customer experiences to empower your marketing campaigns. It lets you collect data in real-time, analyze it using customizable metrics, gain cross-channel analytics and discover new ways to improve your promotions. We describe more of Improvado's features below.
Data collection. You can gather omnichannel information in one platform and organize it the way you need. This service provides automated data mapping and lets you scale it to gain more insights into your marketing performance. You can view the data within the dashboard, manage it in the warehouse, download and visualize it.
Standardized metrics. Improvado lets you create customizable metrics and unify them across different marketing channels. You can collect standardized insights into your marketing performance and define the peculiarities of your consumers' behavior.
Analytics and reporting. This service allows you to track the success of your campaigns across different channels. It shows changes in your performance immediately and provides real-time insights on how to improve it. Also, Improvado can create automated reports and visualize data in the way you want using customizable dashboards.
Integrations. Improvado connects with almost every marketing tool. You can integrate it with ad tech platforms, such as Facebook and Google Ads, website analytics, SEO, marketing automation, and bulk email services. Also, you can connect Improvado with any CRM your company uses.
Pricing is discussed individually.
Below there is a performance marketing dashboard in Improvado. In this tab, you can discover more about transactions, revenue, and the cost of your promotions. Also, the service lets you filter the data based on the source, project, region, and date.
Woopra
This service lets you build reports, visualize information, collect high-quality analytics, and study customer journeys to optimize your marketing campaigns. It can connect with marketing automation tools and platforms that let companies improve their promotions, such as Google Ads, Marketo, Salesforce, etc. Discover more about Woopra's features below.
Data collection and segmentation. This platform allows businesses to study the influence of every touchpoint on their buyers' experience and satisfaction. You can create dynamic segments of the audience based on consumers' behavior and demographics to provide more personalized experiences. Also, Woopra gains insights on buyers' retention to help you improve the roadblocks and increase clients' lifetime value.
Customer journey studying. You can visualize the users' path through your website and promotional campaigns to discover consumers' needs and expectations. Use this data to improve your interactions, drive engagement and increase buyers' retention. Also, customer journey studying provides you insights into the performance of your promotional campaigns. You can identify the ads that attract new customers and the ones that persuade clients to purchase again.
Analytics. Woopra provides real-time data about your marketing performance. You can discover the features that interest clients the most and track the results based on multiple dimensions. Also, this service lets you analyze the growth of any metric over time and helps define bugs in your campaigns immediately.
Reporting. You can track the most important metrics and discover how to improve them using Woopra's reports. This platform lets you create behavioral cohorts, gain insights about consumers' lifetime value and define at-risk users.
Pricing:
Core plan — free. You can do 500K actions every month and get core analytics.
Startup plan — 349$ per month. There are 14 days of a free trial. This plan lets you do 1 million actions every month and get advanced analytics.
Pro plan — 999$ per month. There are 14 days of a free trial. You can do 5 million actions per month, get premium support and use automation to streamline your processes.
Enterprise plan — pricing is discussed individually. It provides 50 million actions every month, data warehouse synchronization, and dedicated support.
There is a cohort reports tab in Woopra. Here you can gain insights into clients' behavior over time. Also, it lets you track the revenue and its connection with consumers' trends during their lifecycle.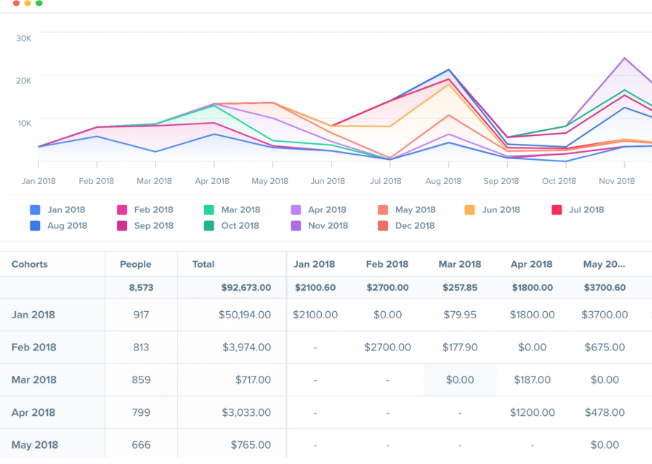 Congrats, now you understand what marketing analytics is and why it is essential, know its types, and the ways to get started using them easily. Choose the service that suits your business perfectly from the top 3 ones and work with it to optimize your promotions.
Last Updated: 22.03.2023