Salesforce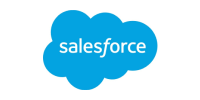 Salesforce is a cloud-based customer relationship management system for all types of businesses. It allows to monitor customer information in one place to acquire more leads. Use Salesforce to automate your marketing processes, manage sales, relationships and customer service; track sales leads' path in their buyer's journey; conduct marketing campaigns, follow your sales deals and analyze performance. The platform has products for sales to encourage leads to make a purchase, for service — to perform customer care, for marketing — to engage subscribers and personalize the interaction, for commerce — to improve the shopper experience, for collaboration — to organize the work of your team in one place. Use Salesforce to rocket your sales team productivity.
Why integrate Salesforce with SendPulse?
Integrating Salesforce with SendPulse, you won't have to spend your time on this tedious adding email addresses from your CRM to a new mailing list. Now Zapier does this job for you. After the integration is set up, every new lead in Salesforce will be automatically added to SendPulse mailing list as a new subscriber. Thus, you can start implementing your email marketing strategy immediately. Inform and educate new leads, send them relevant content and provide with the best user experience ever with the help of Salesforce to SendPulse integration!
How do you connect Salesforce to SendPulse?
Integrating Salesforce with SendPulse unites these two simple tools to benefit your business. Just follow these steps: 
Create Salesforce account
Create a new mailing list in your SendPulse account 
Make Salesforce to SendPulse zap using Zapier with SendPulse integration
Set the kind of interaction you want between these two platforms
Set the trigger email you want to send to your contacts
See our Knowledge Base to learn more about Zapier integration.
If you have any questions on how to connect Salesforce to SendPulse with the help of Zapier, please feel free to contact us.