How to launch an automated SMS flow
Set a series of messages according to each scenario

Add subscriber

Special date

Contact webhook

Change variable

Starting a flow with a custom event

Create a deal

Build a flow for every possible scenario

Create a relevant SMS campaign using ready-made elements:

Filter

Action

Goal

SMS
Build a flow for every possible scenario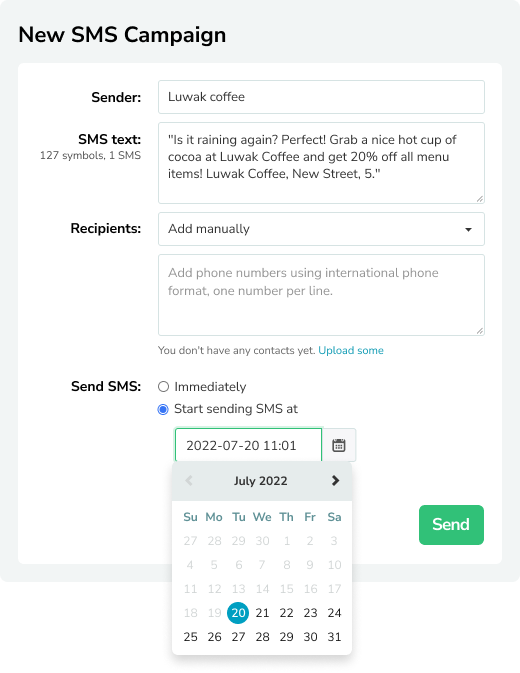 Type in your text
Select the most convenient time zone, date, and time
Click "Send" and launch your campaign
Use SendPulse's features to send SMS campaigns
Automated flow
Create automated SMS, email, chatbot, and web push campaigns to track user actions every step of the way. Our drag-and-drop builder allows you to craft professional templates quickly and easily.
Bulk SMS campaigns
Choose the best time to send an unlimited number of SMS messages that can remind your subscribers about upcoming events, welcome flows, order confirmations, abandoned cart notifications, event invitations, etc.
SMS scheduling
Set a limit on the number of SMS messages sent during the selected time to reduce your customer support team's workload and maintain stability when processing lots of customer requests.
Personalization
Make your messages more personalized and increase user loyalty by sending campaigns in different languages ​​using variables.
Audience segmentation
Boost your conversions using built-in real-time segmentation features to group your audience based on user activity.
Prompt delivery
Send messages in real time or schedule them for later to interact with customers anytime and share vital information – time zone difference is out of the picture.
Users read 98% of all delivered SMS messages