New ideas for the content is an evergreen topic. The Internet is full of tips on how to overcome your creative crisis and where to find new thoughts. That being said, all these tips are the same: check forums, twitter, read comments, etc. It is useful but it appears to be not enough sometimes.  
In this post, I'll try to describe few outstanding methods that can help you to find new ideas even when the inspiration isn't there.
Simple ways
Quora / Reddit / Stack exchange
These three sites are a question-and-answer platforms where you can find a lot of users asking interesting questions along with a lot of experts, professionals, and influencers answering them.
All of these platforms have a broad range of subjects and extremely large audience. For instance, according to SimilarWeb, Quora has 468,1 millions of visits per month.
Just type some query from your niche into the search box and get thousands of questions, which means thousands of topics for your blog posts. Besides, you can use good answers as a background for your article. (Please, pretend I didn't say that.)
Quick tip: after publishing your post that is based on the question from Quora, you can leave a link to it just in the discussion. If your tips are useful, site administration probably won't consider it as a promotion. You'll get a promotion, though!
Reddit — social news aggregation, web content rating, and discussion website. It has 542 million monthly visitors, ranking as the #4 most visited website in the U.S. There are a lot of interesting topics from tech to literature, along with really dumb but somehow funny jokes.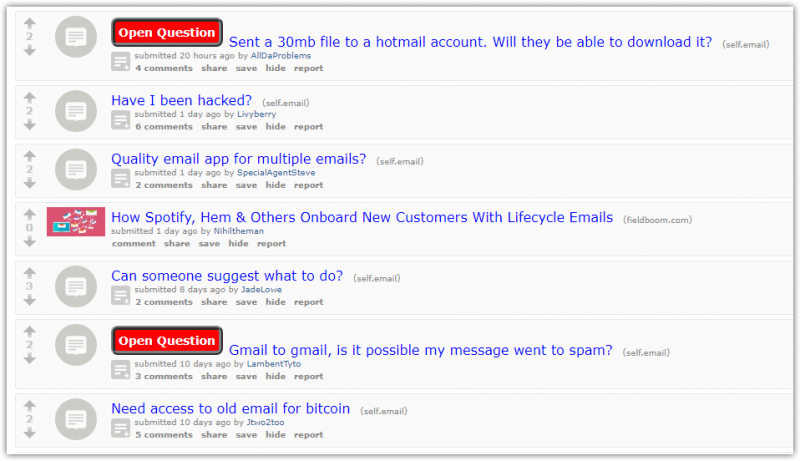 Stack exchange — question-and-answer site with 240 millions of visits per month. There you can find a lot of computer programming questions, and everything that is related to Internet and technology.
Serpstat search questions
Another way to find topics people want to read is to use Serpstat's search questions feature. It gathers all questions people ask at Google, Amazon, and YouTube in real time. It means that people want to know this information so you can write the article about it, and be a hero who saves everyone from this ignorance!
If you click on the "Only questions" button, as in the first screenshot, you will get such a list:
Difficult topics
Some say that link building as we know it is dead. Well, maybe not yet, but it's dying right now giving way to content marketing. It means that Internet is full of articles on how to find opportunities for outreach and how to get natural links. At the same time, it's difficult to find a good article on how to measure effectiveness from outbound content marketing and how to track ROI, for instance. Why? Because it's difficult!
There are a lot of trends like voice search, machine learning, artificial intelligence. People always swoop in the trending topics quickly so there are a lot of similar articles about it. But all those articles look like "Voice search is important. You need to use more natural language". It's obvious, isn't it?
My tip is: track the trends and always try to find difficult aspects of the subject. Sure, someone will write about it eventually but you can be the first who takes up a challenge! So read existing articles and find controversial issues to write about.
Where to find topics for the difficult content
Ask colleagues what they would like to read.

Think what you would like to know and what information is not enough on the web.

Follow the trends, reveal difficult topics in your niche.
Difficult ways
Conference as a source of topics
This method is quite complicated for several reasons:
You need to go to the conference.

To attend all the reports on your topic.

To write down all the questions that the speaker has missed and all things you would like to clarify.

To write down all the questions of the audience.

Not to be afraid to communicate with people.

To ask visitors for an opinion on the reports, and what else they would like to learn.

To filter out all the received information.
As a result of such trip, you will learn new things, get acquainted with people, collect dozens of topics that interest your audience. Besides, you can create a material based on the reports or you can interview speakers, and then turn it into content.
Share negative experiences
This way is great because:
this is 100% unique content;

the number of articles about failures is several times smaller than the number of successful cases;

people are happy to read about the failures to avoid them in their own business (

and to gloat

);

people usually share such stories.
I tried to find stories of failure by different queries, and there are really only a few of them. Mostly, there were abstract tips without the real examples.
There are only a few people that have the guts to tell how they made a mistake and fixed it, and almost nobody can write about total fail.
You can turn it to your advantage by launching a rubric with a collection of failures on your blog. Readers will love you for sharing valuable experience and being so open with them.
What's next?
Now spread the word! Let more people know about your post by promoting it. Most simple and efficient ways are:
Share it on social media accounts and relevant communities.
Ask colleagues/friends from the area to share it through their channels too.

Send a newsletter with the new posts on a blog.
Ask your partners to add your post to the newsletter.
So keep searching, implement your ideas, and significant traffic growth won't be long in coming!