Content intelligence is using a service integrating machine learning and AI that allows marketing teams to conduct content discovery, research, and monitor competitors. It helps companies successfully communicate their marketing message, reach prospects, identify the most effective types of content, and boost conversions.
In this article, we'll unveil the importance of content intelligence and the 3 best tools. We'll also show how to select the right content intelligence tool.
Why is content intelligence important?
Since the number of blogs, webinars, influencers, and online courses is constantly increasing, businesses need to find the most effective and fast ways to reach their target audiences and draw their attention. Each article, blog post, post on social media, or webinar is a chance to attract prospects and convert them. That's why it's vital to create quality and informative pieces of content. With content intelligence, you can receive insights into customers' content preferences. It provides a clear understanding of the best content marketing strategy for your potential clients by using competitor data and conducting a comprehensive research.
Besides a full understanding of your audience, AI empowers you to
analyze content for style, tone of voice, and other metrics that influence buyer decisions;
create customer-centric content;
receive insights into various types of content and clients' responses toward them;
predict the effectiveness of your content strategy;
share quality, appealing, and engaging content that drives attention.
To sum it up, content intelligence enables you to effectively reach prospective customers, develop engaging marketing content, and identify the most powerful strategy for your company. Content intelligence allows you to avoid privacy concerns and collect the necessary information for your marketing team.
Now that you know the benefits of AI, it's time to find out how to select the right content intelligence tool to ensure all the necessary information and analysis of your content.
How to choose a content intelligence tool?
With the quick change in technology, the success of your content strategy depends on the tool you use. Since the effectiveness of your content directly influences your conversions and revenue, we need to uncover the steps to choose the most suitable platform for reaching your long-term goals. Let's dig deeper into this topic.
Identify the main issues of your content strategy. Although AI-powered platforms can help you with content creation, they are still more effective for research and analysis. That's why for the maximum effectiveness of the tool, you need to provide your business data. Provide the tool with your company's challenges and the problems you want to solve. This information will help the platform identify patterns and connections. Later, you'll be able to use this information to your advantage: improve your content strategy, reach more customers, and boost conversions.
Explore several content intelligence tools and their features. Since the number of companies that use machine learning is still low, you need to explore the available platforms in detail. Conduct short research to find out the features and the value they provide. Align these features with your business goals. Content intelligence tools might vary. Some of them help manage content, while others create it. Depending on your objectives, you need to find the right tool. These services cover multiple functions, such as using big data for content analysis, creating automated content, or making word suggestions. We recommend you choose a platform specializing in specific tasks you need to complete. It will help your team avoid work overload.
Analyze the way these services manage data. Your next step includes analyzing how the tools gather, use, and store data. Make sure that these platforms align with your business policies and customer expectations. Next, consider the data you need for your content strategy to maximize this resource. As AI tools leverage various information sources to make predictions and analyses, you need to choose carefully.
Decide on the features needed. To avoid task overload, pay attention to the platform's features. You should figure out which of the available features your team can manage. This way, the tool will suit your workflow and existing strategy. Focus on the primary features your business needs to receive value.
Outline the plan of action. Before using the platform, you need to clearly understand what to do and how to attain it. For this purpose, consider developing a step-by-step plan. With its help, you'll understand how to install and use the tool. Make sure to include the training for your employees in your plan of action since it will influence your future success or failure. When creating an outline, cover the most valuable features, the most complex features, and the platform's problematic features. The plan will help your team apply useful functions and avoid unnecessary ones.
Try out the chosen platform. Once you finish all the previous steps, it's time to test the chosen AI software. First of all, check if the needed features work properly. Afterward, test the service by using your workflow. Finally, consider making notes to identify bugs.
Now that you know how to identify the most appropriate AI-powered platform for your marketing team, it's time to review the 3 best tools. We've gathered the most powerful platforms based on their features, user experience, results, and pricing.
3 Best Content Intelligence Tools
In this section, we'll provide the 3 tools to help you develop content that meets your customers' needs and requirements. Hope that one of them will empower you to create high-converting content and increase your revenue.
Optimizely
Optimizely is a perfect solution if you plan to create high-performing content, run experiments at scale, and improve your commerce business. The service provides two options: content marketing and content management. Content marketing platform enables you to schedule campaigns and collaborate across teams. Custom and intelligent workflows allow you to create appealing and quality content for your website or social media.
To ensure the best customer experience, the platform enables you to run tests. By conducting experiments, you can collect customer insights, generate quality content, and improve the experience with your company. An easy-to-use WYSIWYG visual editor helps change your site if it doesn't meet visitors' expectations. This way, you can improve user experience and drive conversions.
Below you can see how to search the content in Optimizely.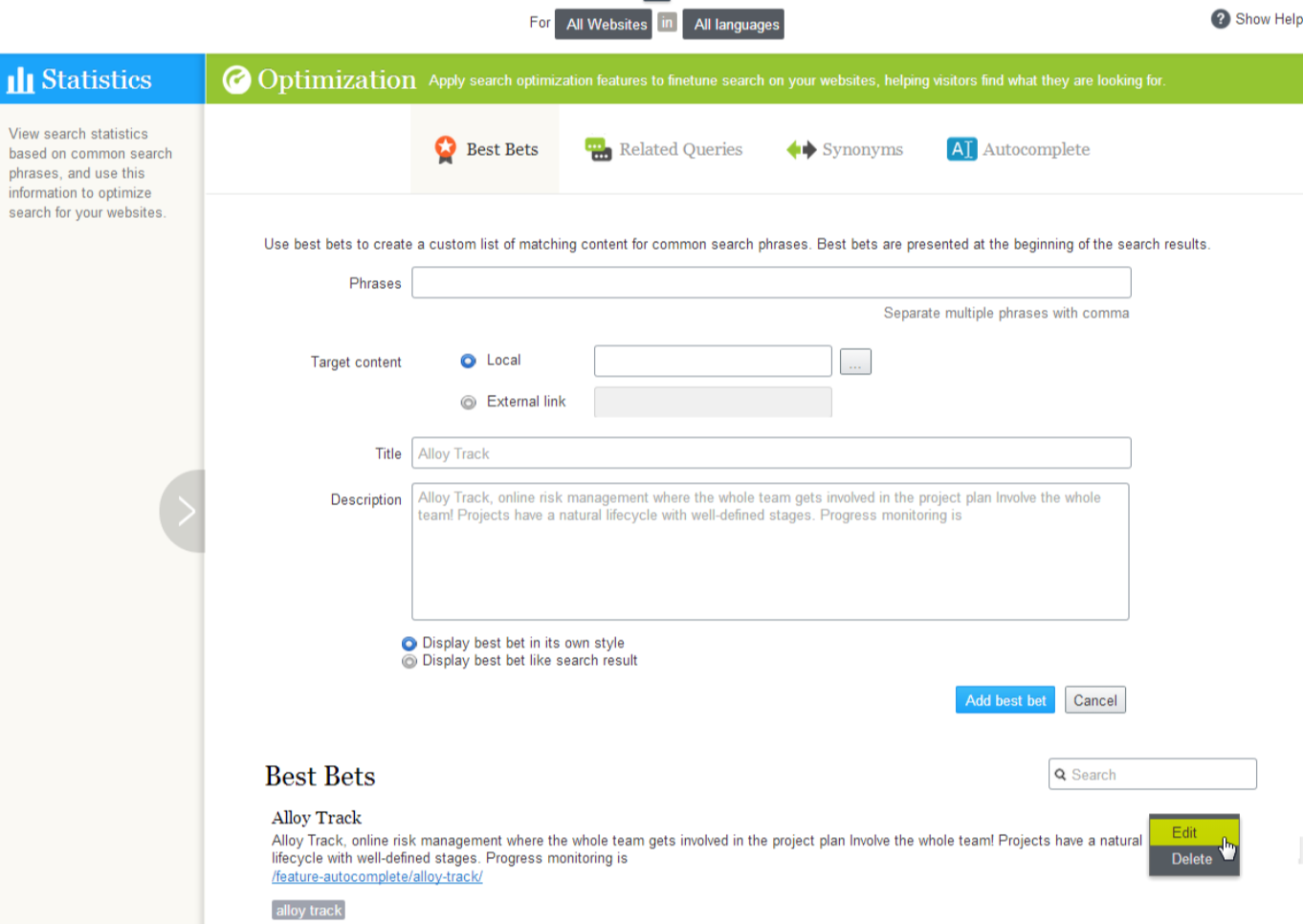 Free plan: An intuitive, easy-to-use project management tool for small marketing teams.
Paid plan: Start at $79/month per user for dynamic intake forms, request dashboard, smart routing rules, etc.
BuzzSumo
BuzzSumo is a multifunctional AI content intelligence platform that enables you to perform the following tasks: content discovery, content research, influencers search, and monitoring. With the platform's content ideas generator, you can easily find evergreen and trending headlines for your content. You need to browse topics, trends, and forums to get the required results. The service allows you to identify up-to-date trends and timeless classics.
This content intelligence tool provides data ranging from 24 hours to five years. Consider finding the topic for your future article by exploring the high-demand keywords. Besides, you can look through the top-performing content and check its subheadings and structure to identify effective patterns.
Explore questions on forums. By reviewing the questions, you'll be able to get fresh ideas for your future topics and provide readers with value. After you create relevant content, BuzzSumo helps you identify the most effective channels for your target audience. This way, you'll be able to improve user engagement.
Before creating any piece of content, every company needs to conduct research. BuzzSumo allows you to scan billions of articles and social posts to identify patterns and gain insights. After using a special filter, you receive content formats that resonate with your audience.
Below is an example of how to search for high-performing content on the web with BuzzSumo.
Free plan: 30-day free trial.
Paid plan: Start at $99/month for unlimited monthly searches, one year of data, 5 users, 5 alerts, and 50 exports/month.
Curata
Curata is a platform for content curation. The tool provides you with a wide selection of published content available online. The platform searches the web for highly relevant outcomes using keywords, authors, and bookmarked or shared content. As a result, you can find the top-performing articles and blog posts within your industry and identify similarities. This way, you'll be able to find out the reasons customers prefer specific pieces of content. You can use this knowledge to your advantage when creating content for your website or blog.
Curata organizes, annotates, and creates content to improve your company's credibility and reach customers. With a self-learning recommendation engine, you can receive content listed based on relevancy. After creating articles, you can publish and promote them through the preferred marketing channels. The platform helps you schedule and automatically post content.
In the screenshot below, you can see how you can review hundreds of articles in Curata.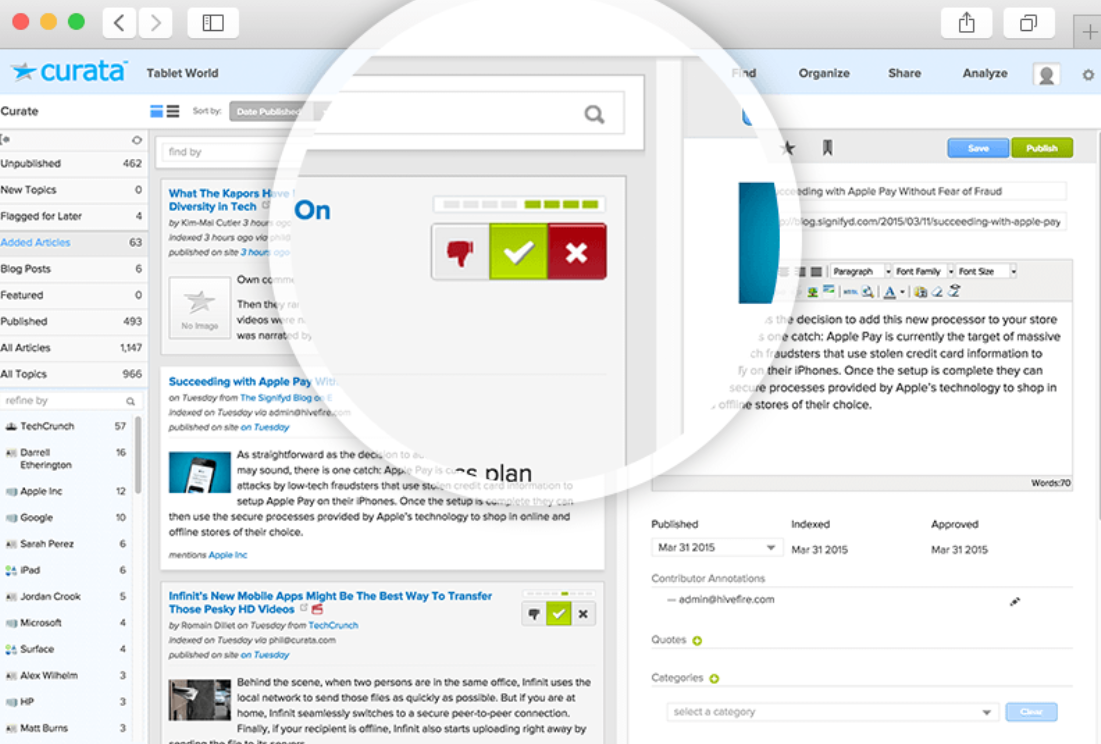 Free plan: -.
Paid plan: Contact customer support for pricing information.
Congrats, now you have the 3 best platforms to choose from for a successful content strategy. Hope that information above will be useful for your marketing and content team.
References:
This article defines the term and unveils how content intelligence works.
In this article, you'll find benefits and content intelligence tools.
Last Updated: 20.02.2023