IP address
IP address
The IP address is a unique address in the network, which is necessary for finding, transferring and receiving information from one computer (crosspoint) to another.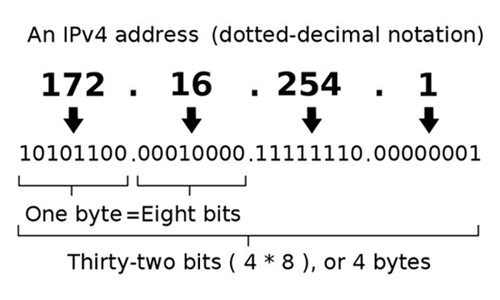 A crosspoint is any device that has the ability to connect to the network.
The IP address itself exists in any networks, even consisting of a pair of computers, created on the basis of Wi Fi, or a network of a large enterprise. Each computer, without exceptions, has its own unique IP-address, if there is a connection to the network. Each of the computers in the network is related to IP address, moreover, there can't be two devices in one network with identical IP addresses. But in different networks IP addresses can coincide. 
The centralized allocation of IP addresses begins with the request of the Internet provider to the national centers. After that, the received range of addresses is distributed  among the customers. Customers can also become Internet service providers, in their turn, distributing the received IP addresses between their customers. 
This method of IP address allocation implies the ability to find out the physical location of a computer with a unique IP address, for this purpose, it is enough to send data to the higher network level and so from one provider to another provider until the data arrives at the destination computer from which this information was requested.
The range of IP addresses is allocated to the provider on a free basis, but here, as everywhere, appropriate control is needed. The provider that secured them after a certain period of time must confirm their direct use, so that there is no downtime.
Also searched with "IP address"
Cross-selling - Cross-selling is a method of sales, according to which a buyer is offered to buy other products, complementing the first...
Lead generation - Lead generation is building of consumers database who are interested in your product/service, or those, who are suitable for the right segment of target audience through various marketing practices...
Phishing - Phishing is network fraud...
Geolocation - Geolocation helps to identify the actual geographic location of objects, such as mobile devices, or any terminals connected to the internet...
B2B marketing - B2B marketing B2B marketing ( Business to Business) It is the type of informational and economic interaction, classified according to the type of interacting entities, in this case they are legal bodies who work not for the ordinary ultimate consumer, but for the same companies, i...
---
Rate this article about "IP address"
If you are interested in "IP address" you might be interested in our bulk email service.
---
Try SendPulse today for free