Custom-Coded Template
If you don't want to use ready-made templates, then you can import your own custom HTML code to create a unique custom-coded email template.
SendPulse enables you to create email templates using four methods: "My Templates and Import," "Layout Template Editor," "Existing Design Templates," and "HTML editor." To create a custom-coded template, use the method "My Templates and Import." 
In the tab "My Templates and Import" you can choose one of these three options
Upload a file of any type: HTML, zip, rar, or 7z. The file size should be less than 5Mb. The images and the HTML file must be in the archive root directory.
Import from a URL.
Paste the HTML code.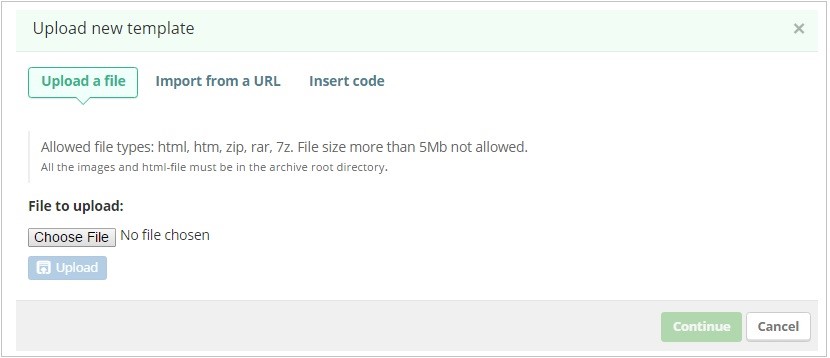 Only those templates that meet the following demands will be correctly displayed to every email client. 
Use table layout.
Insert a style sheet using inline style. Don't save the separate style sheet file with a .css extension.
For every block element, specify the font style (font size, font family, line height etc.).
The size of the letter shouldn't exceed 100 kB.
Please note that a significant part of the style attributes do not work with some email clients.
Also searched with "Custom-Coded Template"
Drag-and-Drop Editor - text picture button separator video social media checkout Tips to create a template...
Email signature - 1...
Email template - email templates will give you an opportunity to produce campaigns quicker, because the underlying code is already written; in order to save time and not to rewrite the whole email for hundreds times, you can just add links, copy, images to an existing one and send to your subscribers; building an email template you can be sure that the email will have the same look and you will not have to worry about possible mistakes with the formatting; using an email template, the brand correspondence will be preserved, especially if many logos and graphics in your marketing is used, since it will be difficult to create them for hundreds times; email templates can contain content substitutes, such as e-marketing, links, unique codes of special offers, and the name and surname of the client...
Scheduled email - Send email during non-working hours...
Split-testing - A/B testing was invented to predict the metrics of your mailings...
Rate this article about "Custom-Coded Template"
Try SendPulse today for free
If you are interested in "Custom-Coded Template" you might be interested in our bulk email service.
Sign Up