Clicks
Clicks
In SendPulse, you can track the number of unique clicks when your subscribers:
open your email;
click on separate links; 
click on the image of your email campaign; and
view attachments. 
Marketers track the number of clicks in every email because it is an opportunity to analyze results and improve the email marketing strategy. To see the statistics, click the "My campaigns" tab, choose a campaign, and go to "Campaign statistics." Here you can find the information about how many people opened your email. In "Campaign statistics" you will also see the "Clicks map" tab where you will have an opportunity to take a look at which links work best in the email. You can see what this looks like in the example below. The unique clicks of each link are located in small green blocks.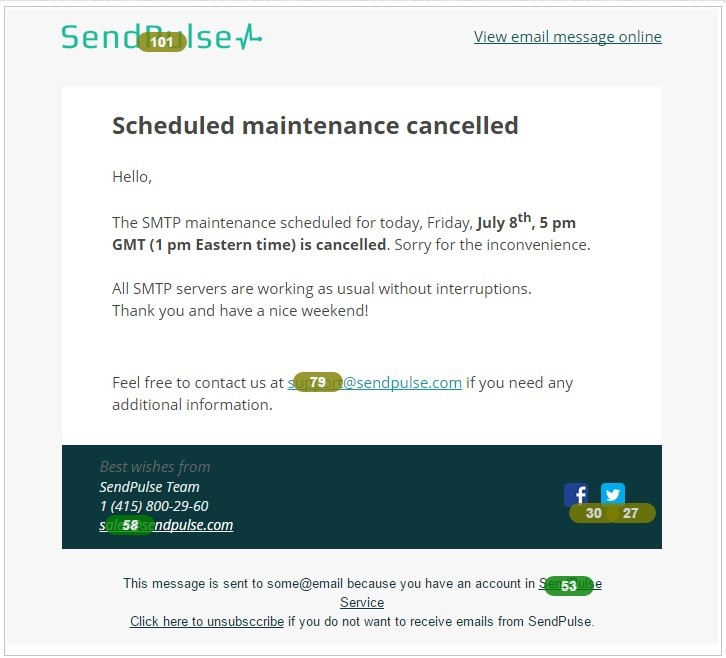 By analyzing how many people actually click on particular links, you can find out:
which calls-to-action are more effective;
which images your subscribers prefer;
what to use best: images, videos, or GIFs; and
if it is really a good idea to attach files to your emails, and so on.
Also searched with "Clicks"
Newsletter - Newsletter is one of the forms of email marketing, performed as an informative email, which includes up-to-date information on promotions, new products, events, commercial offers...
Reactivation Email - A reactivation email is sent in situation where the subscriber hasn't opened your emails for a long period of time...
Confirmation email - Confirmation email is an automated email which is sent to a lead after they subscribe to your list...
GetResponse - The most popular mailing service in the world...
Click-Through Rate - The click-through rate is the quantitative relation between users who clicked on a particular link and the total number of subscribers the letter was sent to...
Rate this article about "Clicks"
Try SendPulse today for free
If you are interested in "Clicks" you might be interested in our bulk email service.
Sign Up