Clicks
Clicks
In SendPulse, you can track the number of unique clicks when your subscribers:
open your email;
click on separate links; 
click on the image of your email campaign; and
view attachments. 
Marketers track the number of clicks in every email because it is an opportunity to analyze results and improve the email marketing strategy. To see the statistics, click the "My campaigns" tab, choose a campaign, and go to "Campaign statistics." Here you can find the information about how many people opened your email. In "Campaign statistics" you will also see the "Clicks map" tab where you will have an opportunity to take a look at which links work best in the email. You can see what this looks like in the example below. The unique clicks of each link are located in small green blocks.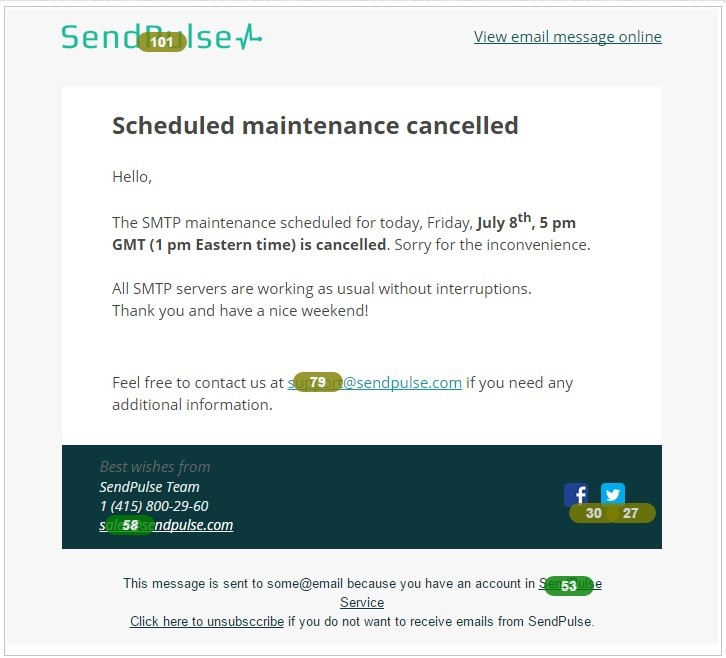 By analyzing how many people actually click on particular links, you can find out:
which calls-to-action are more effective;
which images your subscribers prefer;
what to use best: images, videos, or GIFs; and
if it is really a good idea to attach files to your emails, and so on.
Also searched with "Clicks"
Analytics - Analytics are a feature that helps you evaluate the effectiveness of your campaign...
Drip email campaign - Provide relevant content; Use email distribution as a tool for communication with subscribers; Orientation is not on how much time has passed since the first contact with a potential client, but on his actions...
Phishing - Phishing is network fraud...
Conversion - Conversion is the ratio of the number of visitors who have completed any target action inspired by advertisers, marketers, merchants, and content creators to the total number of visitors to the site...
User Agent - When it comes to email marketing, the user agent serves as an important source of information about operating systems, browsers, and devices, which subscribers use to open emails...
Rate this article about "Clicks"
Try SendPulse today for free
If you are interested in "Clicks" you might be interested in our bulk email service.
Sign Up