Clicks
Clicks
In SendPulse, you can track the number of unique clicks when your subscribers:
open your email;
click on separate links; 
click on the image of your email campaign; and
view attachments. 
Marketers track the number of clicks in every email because it is an opportunity to analyze results and improve the email marketing strategy. To see the statistics, click the "My campaigns" tab, choose a campaign, and go to "Campaign statistics." Here you can find the information about how many people opened your email. In "Campaign statistics" you will also see the "Clicks map" tab where you will have an opportunity to take a look at which links work best in the email. You can see what this looks like in the example below. The unique clicks of each link are located in small green blocks.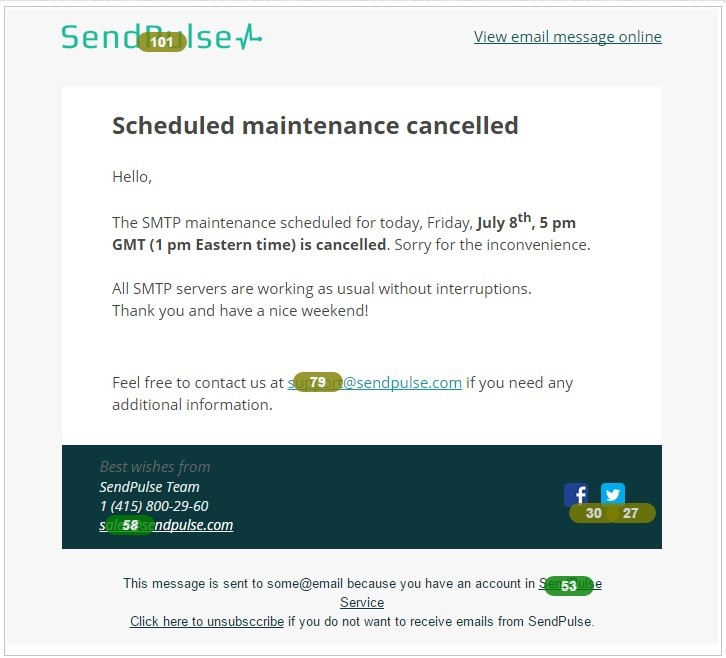 By analyzing how many people actually click on particular links, you can find out:
which calls-to-action are more effective;
which images your subscribers prefer;
what to use best: images, videos, or GIFs; and
if it is really a good idea to attach files to your emails, and so on.
Also searched with "Clicks"
Triggered email - Triggered email is an email sent to the authorized  person, depending on his behaviour on your website...
Email Client - Email Client is a program or web application that is designed to receive, write, send, and keep your email messages...
Personalization - Personalization is a way to tailor content so it becomes relevant to different subscribers...
Responsive email - Responsive email is the effective way to increase email open rate...
Opt-in - Opt-in is one of the ways for companies to shape their mailing list for further marketing...
If you are interested in "Clicks" you might be interested in our bulk email service.
---
Try SendPulse today for free