Facebook Lead Ads is a kind of advertisement on Facebook used to collect contact information from the target audience. It is presented as an ordinary news post in the feed and contains a call to action button. Clicking this button opens a form where leads can enter their names, email addresses, and phone numbers. Such ads allow increasing conversion as the users are not transferred to any third party services; everything is done in a couple of clicks right on Facebook.
Facebook Lead Ads setup
Follow these steps to set up your advertising campaign:
On the "Campaigns" tab, click "Create" or "Create Ad."

Start creating a new campaign.
Set the marketing objective to "Lead generation."

Write the campaign name and click "Set Up Ad Account."

Specify the account country, currency, and time zone, then click "Continue."

Create the "Ad Set Name" and select a page to promote.

Configure the target audience.

Configure the placement of the ad.

Depending on the objectives and the type of ad, it can be demonstrated on Facebook, Instagram, Audience Network or Messenger, in feed, stories or Marketplace. To configure a custom ad placement, click "Edit Placement."

Set up budget and schedule and click "Continue."

Now it's time to create the ad. Select the format among suggested carrousel, single picture, single video, or slideshow. We will proceed with a single picture example.
Add an image or video, headline, description, and a call to action. You can see a preview of the ad on the right, to check how it will look in different placements.

Create an instant form where leads will leave their contacts.

This form opens to users on clicking the call to action button, often with the pre-filled fields. Leads can change their data before submitting the form.

Enter the name and choose the type of the form.

Fill in the headline, add an image, and layout — the information visible to a lead when the form opens. There is also a preview on the right.

Next, select what contact information you want to receive from the leads. The choice of data is quite big, but the easiest and most efficient way is to gather names and email addresses.

Add the privacy policy URL. This is required as you are going to collect personal data and people providing it will want to know how you will store and process it.

After, set up the "Thank You" screen which leads will see after they submit their contacts to you.

Save the instant form.

Click "Confirm."

That's it, the ad for collecting leads' contact information is ready. As soon as users submit forms with their data, you can find it on "Facebook Ads Manager" → "Campaigns" → "Ad Sets" → "Ads." To download the contacts, click "Leads (Form)." After that, you will be able to import the data into your CRM or email service provider.
SendPulse Integration setup
Before setting up the integration, you would probably like to know what it is needed for. Well, it's not a necessary thing, but it will make your life more comfortable.
The main advantage of the integration is that it saves you a lot of time. How? Without integration, once you receive the leads' contacts, you need to download the data from the Facebook Ads account onto your PC and import the contacts into the email service provider. After that, the leads will appear in your mailing list.
After you set up the integration, you are no longer concerned with this procedure. Only a few minutes are needed for the contact information to automatically appear in the mailing list after the leads submit the instant form. In addition to email addresses, data from all other fields of the instant form is transmitted. The data will be added to the mailing list as additional variables.
So, follow these five simple steps to set up the integration:
Click "Facebook Leads."

Select a Facebook page you want to integrate with SendPulse and click "Next."

Select a mailing list.
Click "Subscribe."

The checkmark at the mailing list will switch to green.
Ready! Now the leads' contacts will be transferred into your mailing list automatically.
Emojis are removed from names while transferring data to SendPulse mailing lists. For example, if a client adds the name "Ron 🎭" in an instant form, the name "Ron" will be displayed in a SendPulse mailing list.
You can also easily disable integrations which are not relevant anymore. The steps are the same as for enabling it, but at the end click "Unsubscribe."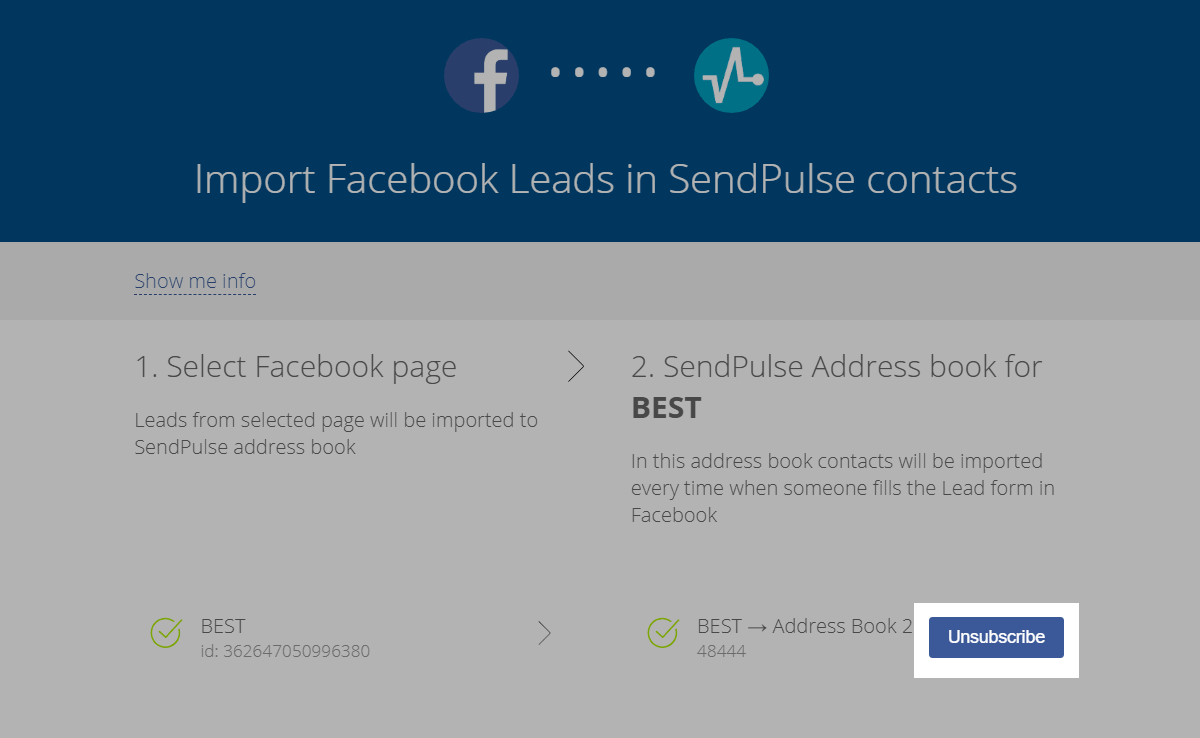 Since you should move leads' contacts manually every day, the integration can save hours if you spend just a few minutes on setting it up.
This integration is completely free for SendPulse users. Create an account today and give it a try.
Last Updated: 2019-09-24