How to Set up the SendPulse and 13Chats Integration
13Chats is a service for creating pop-ups or online chat widgets. You can choose an appropriate design, customize the script for displaying the widget, and convert website visitors into customers by chatting online or launching a Facebook chatbot.
With this integration, you can export your users' data to SendPulse mailing lists, launch personalized bulk email and SMS campaigns, and customize email flows for various scenarios.
How to Connect the Integration
Sign in to your 13Chats account and select the project you want to set up the integration for. Go to the project settings in the "Integrations" tab.
Under SendPulse, click Connect.
In the authorization window that opens, enter your SendPulse username and password and click Log in.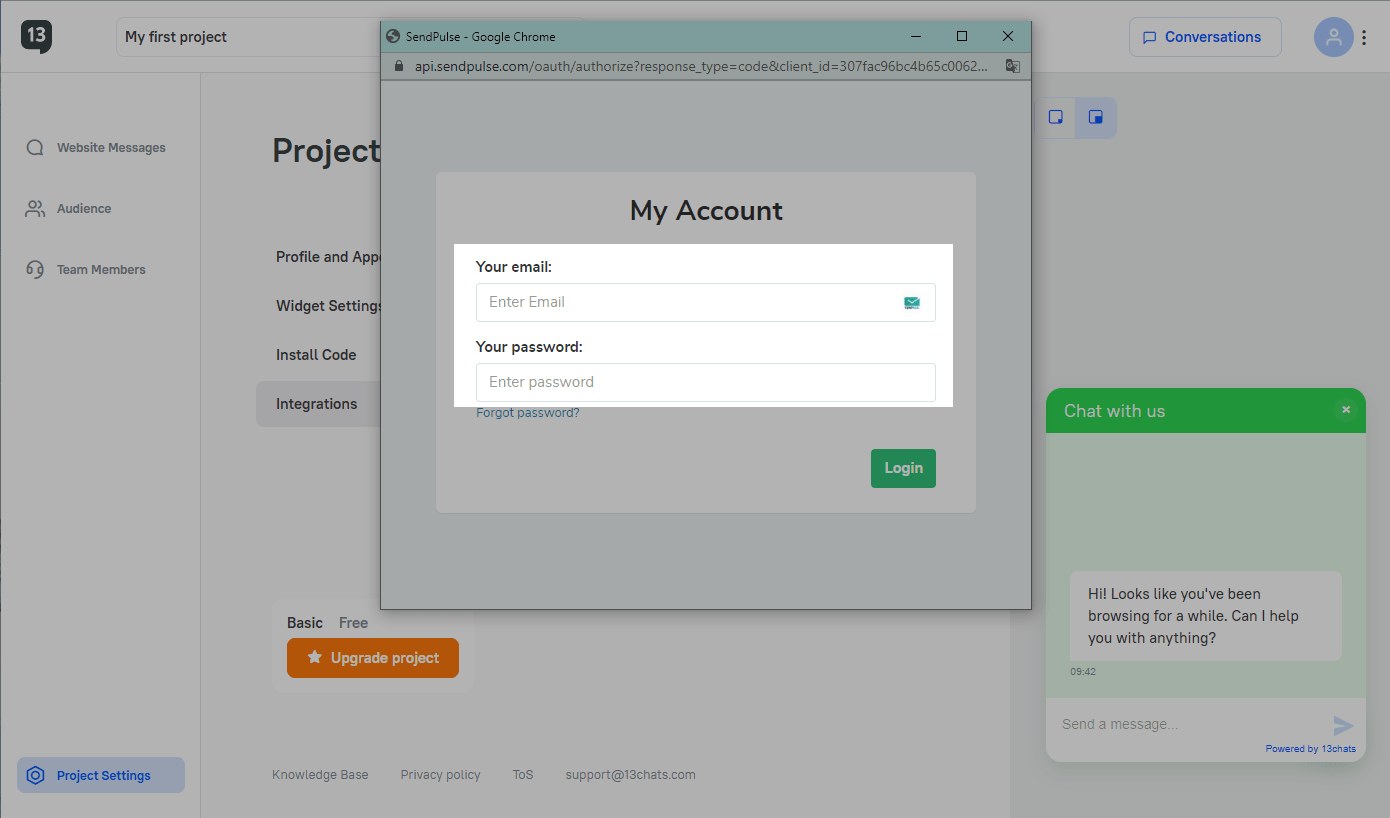 How to Set up Auto-sync
You can set up auto-sync so that contacts, along with variables and tags from your 13Chats Audience, will automatically go to the selected SendPulse mailing list.
Please note that you can only transfer contacts with an email address. Auto-sync of new and existing contacts triggers every 10 minutes.
Go to "Project Settings" > "Integrations." Under the connected integration, choose where to transfer contacts — to a new or existing mailing list.
If you need to update data for previously transferred contacts, check the "Export existing contacts to SendPulse" checkbox.
Click Save.
To change the mailing list you want to transfer contacts to, click Change next to the selected mailing list.
How to Export Contacts Manually
You can also export contacts manually at any convenient time.
Click on the arrow next to the integration status and select "Start a manual sync" from the drop-down list.
After starting a manual export, all contacts from your Audience will be transferred to the selected mailing list in the background.
Last Updated: 27.07.2023