How to Create an Automated Flow from a Ready-Made Template
You can use ready-made automated flow templates with scenarios configured according to flow categories. Ready-made templates include flow start events and email and SMS templates and have a pre-built flow structure with the "Filter," "Action," and "Condition" elements. All you have to do is select a category and substitute the existing flow data with your own.
Let's talk about how to select and create an automated flow using a template.
Choose Your Template
Find the Template Catalog
To select ready-made templates when creating a flow in "Automation360" > "Dashboard," click Create flow.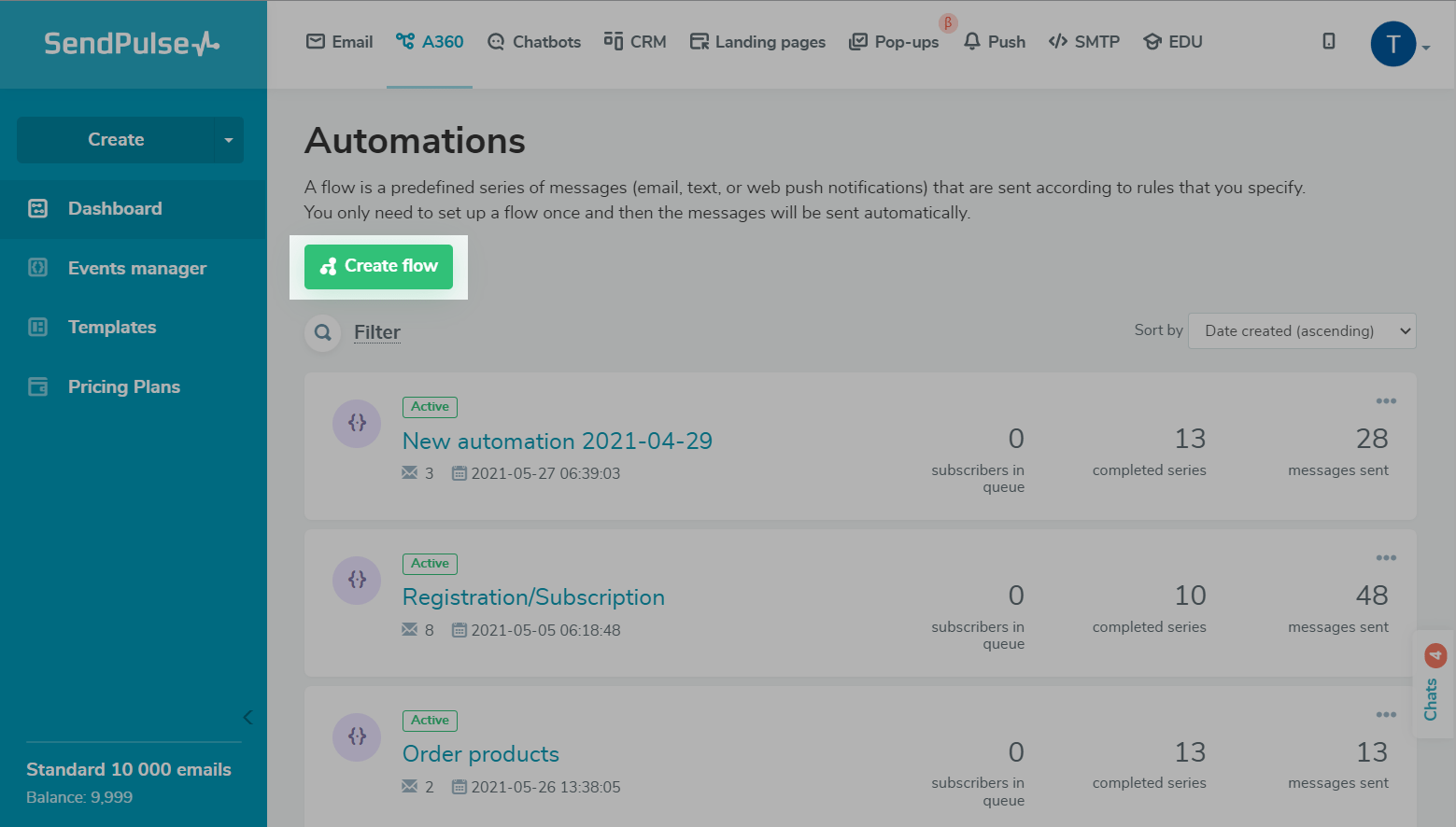 Select the "Templates" option.
You can also go directly to "Automation360" > "Templates."
Choose Your Category
Select a template category ("Education," "eCommerce," "Tourism," or "CRM").
Education
You can use templates from the "Education" category to communicate with participants of your courses, seminars, and workshops. These flows can be a good choice for business schools, development centers, and training companies.
You can choose from the "Registration/subscription," "Subscribe to get a bonus," "4 Video Lessons," "Subscribers' Reactivation," and "Registration for a seminar" flow templates.
eCommerce
Use templates from "eCommerce" to reduce cart abandonment, increase repeat sales, and get product feedback.
You can choose from the "Buyer reactivation," "Feedback after purchase," "Abandoned cart," and "Review+Upsell" flow templates.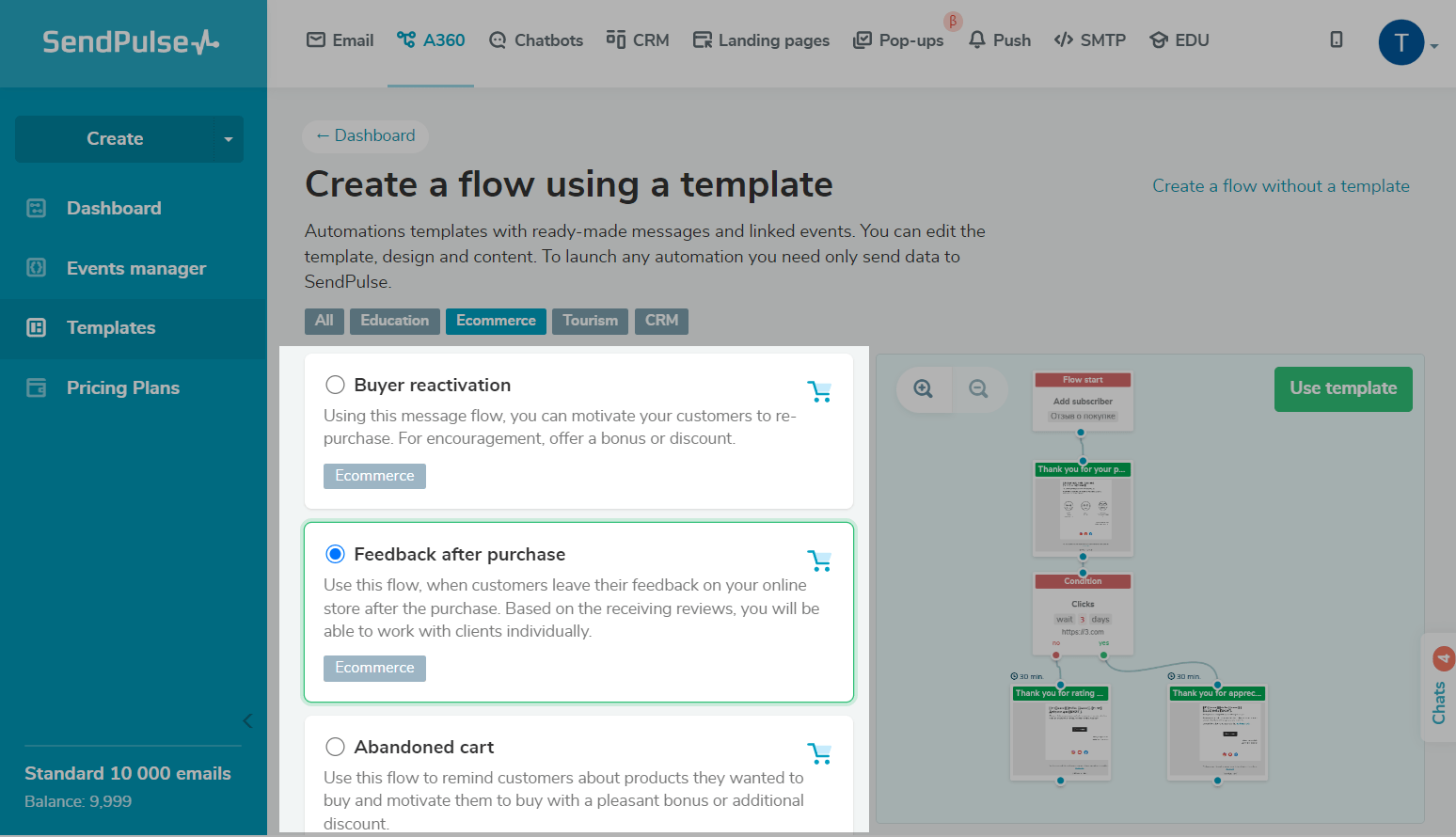 Tourism
To send a campaign to users applying for a travel tour, use templates from "Tourism."
You can choose from the "Application for a tour to Thailand," "Application for a tour to India," and "Application for a tour to Bali" flow templates.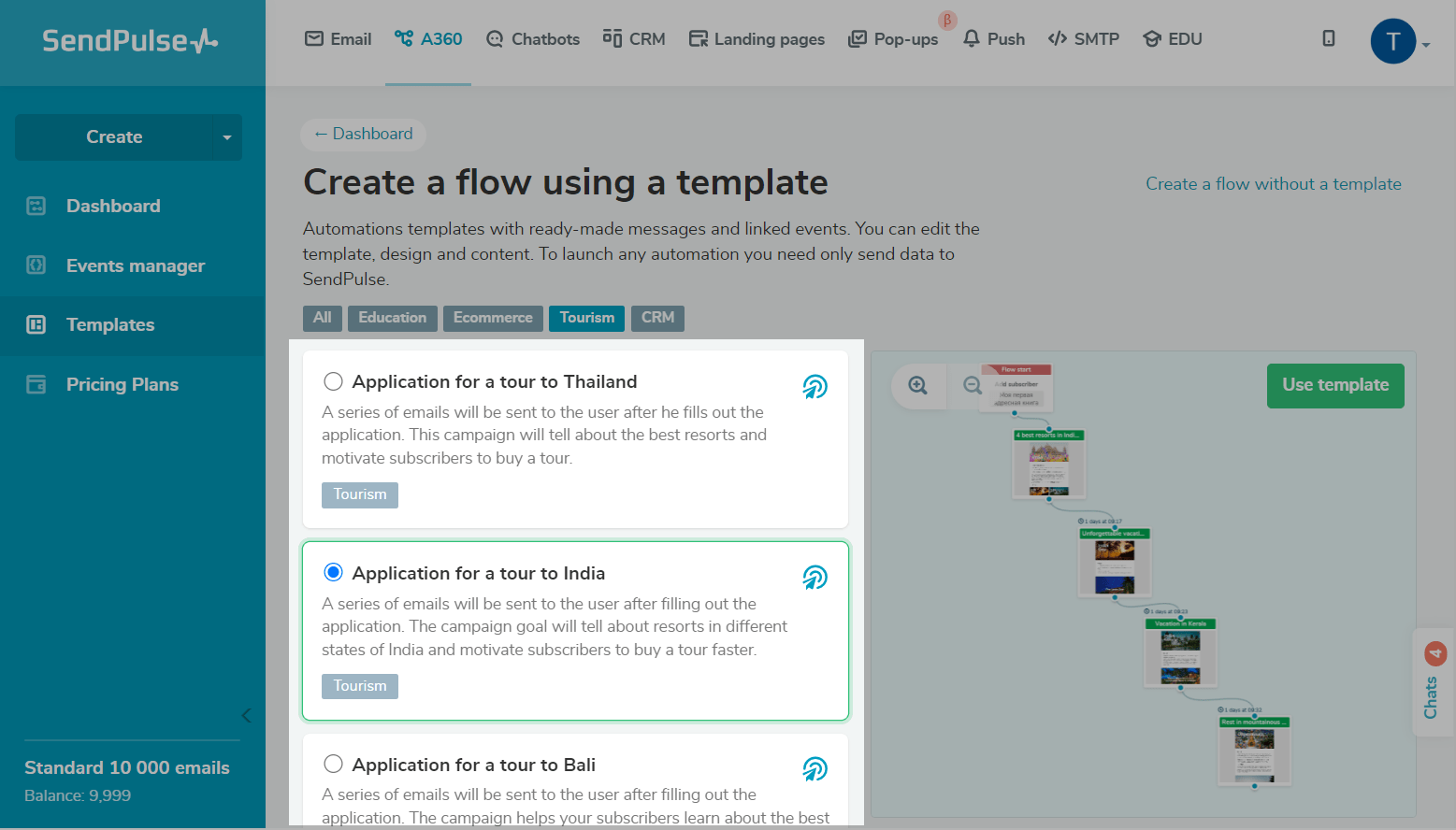 CRM
Use templates to integrate with SendPulse's CRM system. New deal and deal status change are the start events of all flows. With the help of these templates, you can send automated campaigns during different stages of communication with your clients.
When setting up your automated flow, ensure that statuses in the flow coincide with deal statuses in your selected automation.
Choose a flow based on the following cases:
For products, select "Order in progress," "Order processed," "Order sent," or "Review of the purchase."
For events, select "Registration for the event," "Payment reminder," "The event is paid," or "Event reminder."
Choose Your Flow
Select a flow, and click Use template.
Edit Flow Data
In the flow builder, type in your automated flow's name and sender email address and name, and select your unsubscribe page from the drop-down list and the unsubscribe form's language.
You can also select an unsubscription category for contacts and add UTM tags. In the "Advanced options" subsection, you can add your preferred sending days and time.
Click Apply.
Go through flow elements you'd like to edit (change element settings or add your content), including headers, text, and images. To edit an element, click it.
You can also add your own elements, rearrange them, or delete the existing ones.
You can only change your flow start event once when creating it. In the "Email" and "SMS" elements, don't forget to add your own links and variables, and in the "Filter" and "Condition" elements, make sure to track the existing data. Read more: Automation 360 Elements (blocks).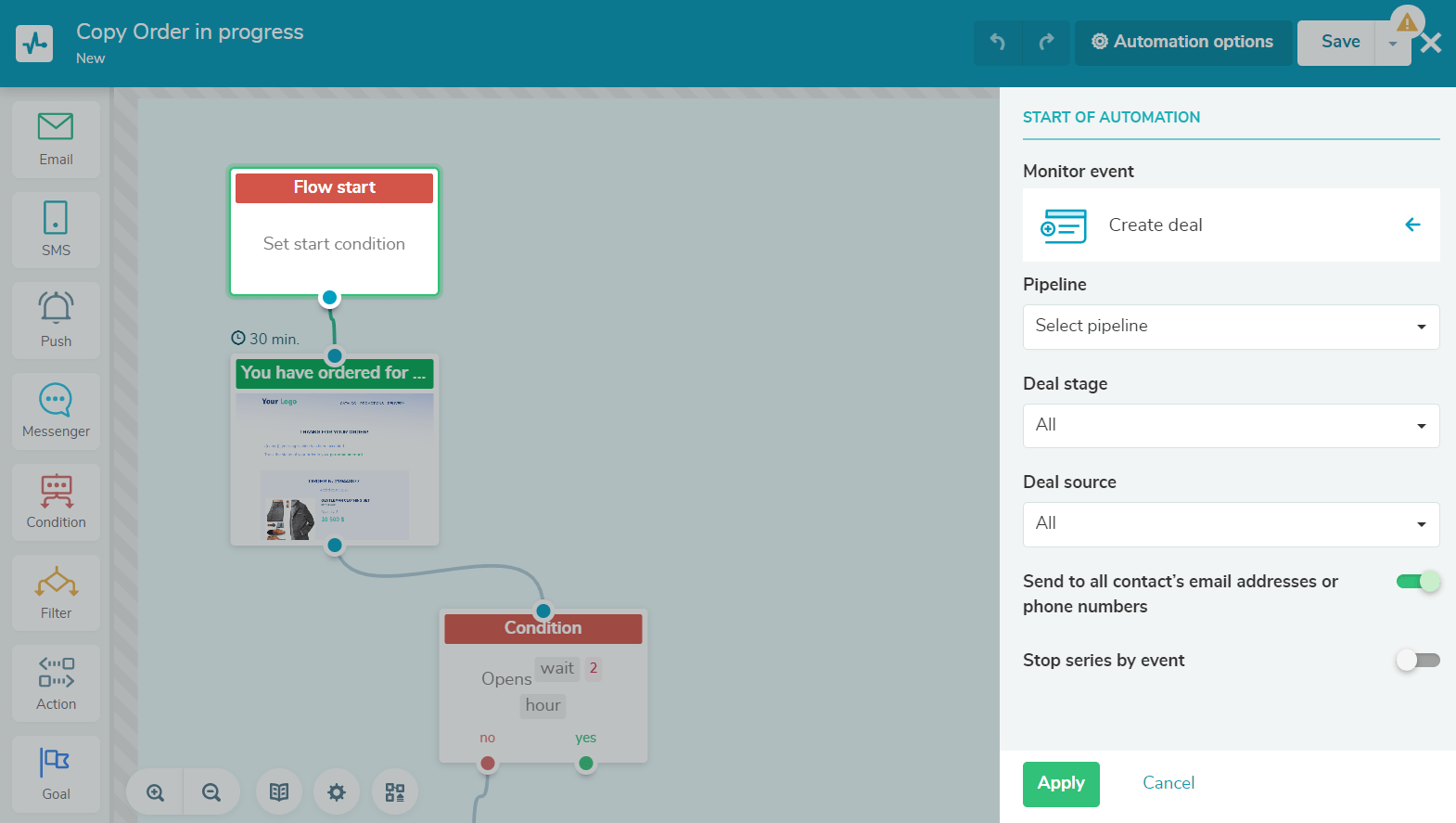 For the "Email" element, you can choose another ready-made template. To replace your template, click Delete template. Then, click Select Template, go to the "Service templates" tab, and select a new template.
Read also: How to Create Dynamic Emails Triggered by Events Using Pre-made SendPulse Templates.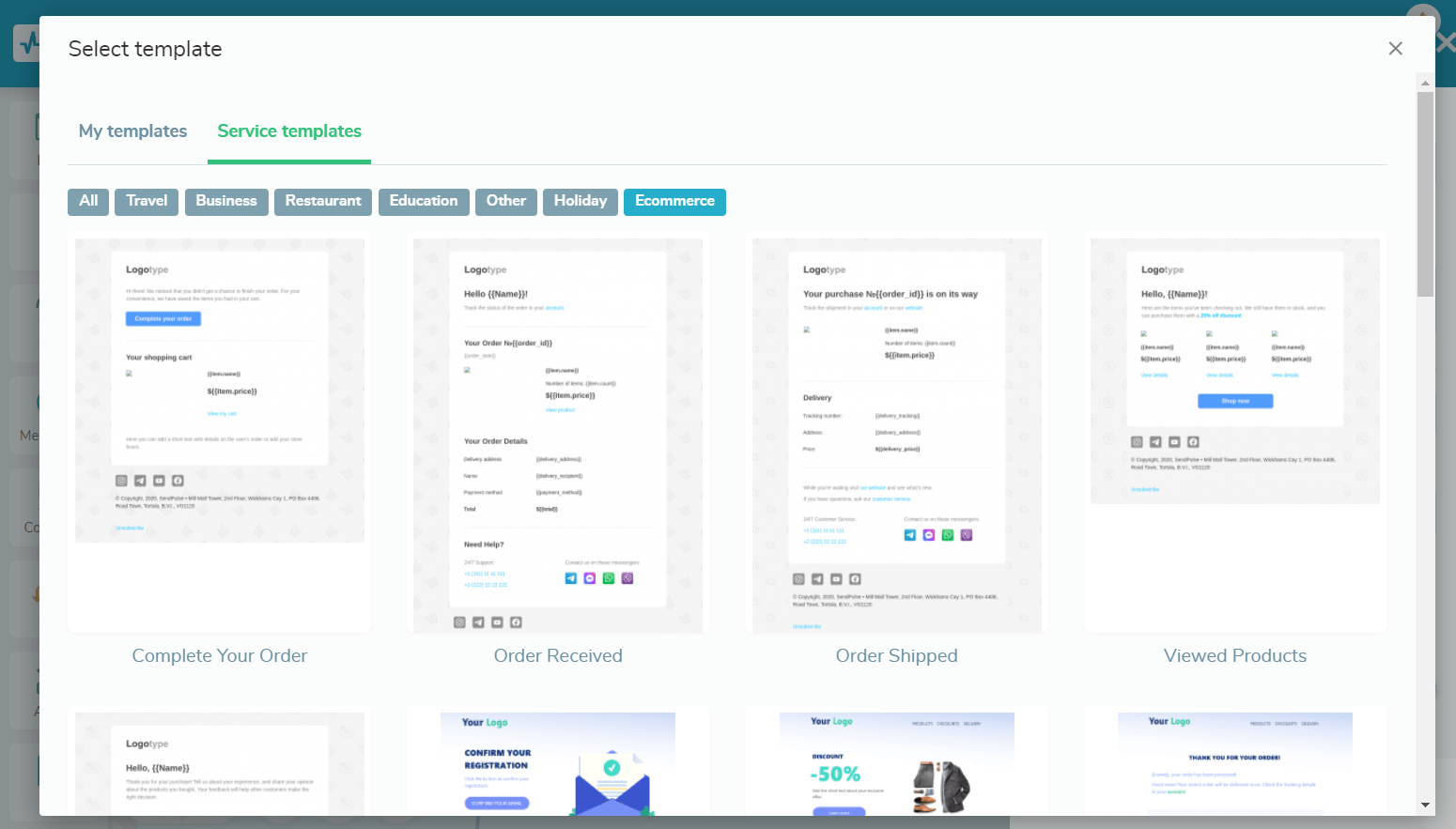 Last Updated: 29.03.2023