As of March 4, 2020, new rules for sending messages to Facebook Messenger are in effect, so not all information in this article is relevant.
What is newsletter messaging?
Newsletter messaging is called "Subscription messaging" in Facebook's terminology— it is allowed in specific use cases, and gives a business or developer the ability to send regular content to a person with Messenger. A user may opt-out of receiving newsletter messages from a Facebook page (Page) at any time.
Required Permissions
To send Newsletter-type messages, the Page admin must submit their bot for review in Page settings. Once a Page is approved, any app linked to the Page may send subscription messages on the Page's behalf using the Send API's NON_PROMOTIONAL_SUBSCRIPTION message tag to anyone who begins a conversation with the Page. Check how Facebook defines conversation entry points here.
Eligible Uses for Newsletter Messaging
Facebook documentation specifies Newsletter campaign categories and defines their criteria:
News: Integrations whose primary purpose is to inform people about recent or important events, or provide information about topics like sports, finance, business, real estate, weather, traffic, politics, government, non-profit organizations, religion, celebrities, and entertainment.
Productivity: Integrations whose primary purpose is to enable people to manage their personal productivity with tasks, such as managing calendar events, receiving reminders, and paying bills.
Personal trackers: Integrations that enable people to receive and monitor information about themselves in topics such as fitness, health, wellness, and finance.
Newsletter Messaging Guidelines
The following guidelines apply to usage of the newsletter messaging:
Subscription content may be sent outside of the 24-hour messaging window that applies to the promo category.
Promotional content is prohibited.
Newsletter messaging is only intended for specific information. Businesses and developers need to indicate which category their newsletter falls under when they submit their Messenger integration request.
If a user responds to a newsletter message via an eligible action, the conversation will be considered promo category (which is labeled "standard" in Facebook documentation) and hence will have to comply with policies applicable to this type of message.
Applying to Send Newsletter Messages
Here is how page admins can apply to send newsletter messages:
Go to Page Settings and open the Messenger Platform tab.
Scroll down to "Subscription Messaging" in the "Advanced Messaging Settings" section, click the "Request" button.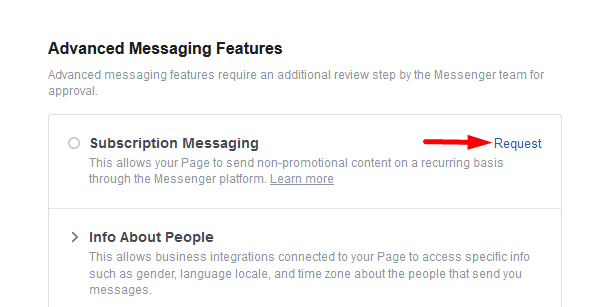 The page admin must specify the messaging category and provide the following information:
A short screencast showing how the conversation with the bot begins and examples of subscription messages that the bot will send. Use a screen recording tool like Amazing Screen Recorder, upload the video to a Google Drive or use a file sharing service, such as Dropmefiles and provide a file link in a comment box in the form: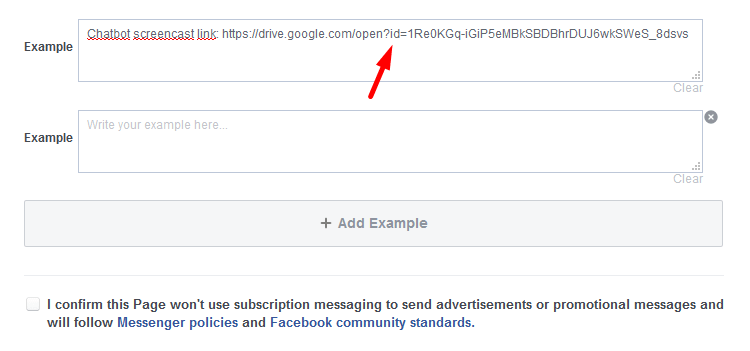 The Page admin must specify which of the three eligible subscription messaging use cases applies to the bot.
A confirmation that the bot will only send non-promotional content, and will abide by all Facebook Platform policies and community standards.
A sample message and a brief description of how the bot will use subscription messaging.
Confirm that you will not use the bot to send commercial campaigns and that you will not violate Facebook standards, click Save Draft.
After you saved the draft, return to Advanced Messaging Features.
Click the ">" button to expand the "Info About People" menu.
Specify what clients' personal information you will be collecting and for what purpose.
Click "Request" to confirm the necessary information category.
Clicking on "Request" will open a box where the page admin must explain the purpose of collecting this data category.
Provide an explanation and click "Save Draft"
Request all the necessary categories of information that you will be collecting and click "Submit for review".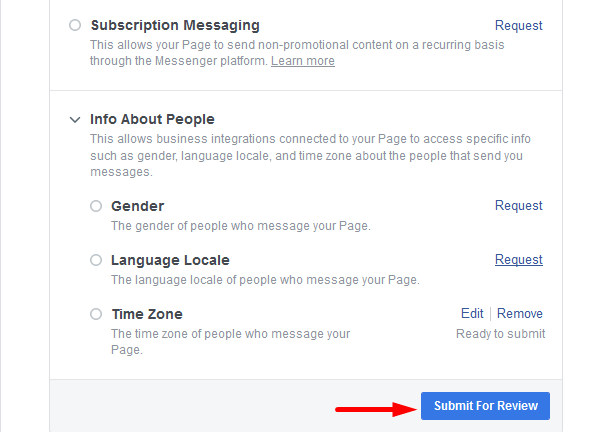 The review process is manual, so it may take Facebook administration up to five days to finalize it.
Last Updated: 01.04.2022