In this article, let's take a look at what kind of sending limits WhatsApp has, where to find your current limit and rating, and how to increase your level.
What are the Limits for WhatsApp?
WhatsApp has limits for sending messages to users based on a tier system:
Tier 1: Allows you to send messages to 1,000 unique customers in a rolling 24-hour period.
Tier 2: Allows you to send messages to 10,000 unique customers in a rolling 24-hour period.
Tier 3: Allows you to send messages to 100,000 unique customers in a rolling 24-hour period.
Every account starts at tier 1 after registering a phone number.
You can find information on where to check your current limit in the "Message Limit" section.
How to Increase Your Sender Level
To increase your tier, you need to meet the following conditions:
Keep your quality score above medium.
Send 2 times the number of messages alloted in your current daily limit within the last 7 days.
Let's consider an example. Imagine that you're currently in tier 1 with a limit of 1,000 unique recipients per 24 hours. If you send a message to more than 2,000 recipients in 7 days, and you have a good reputation, then you will automatically be upgraded to tier 2 and can send messages to up to 10,000 unique users per 24 hour period.
Once an account reaches this threshold, it will be moved to the next tier. It will take at least 48 hours to be able to move to the next tier. To do so, you will need to send your daily limit of messages consecutively for two days at a minimum.
You can find information on how to maintain a high level of quality in your account in the "Quality Score" section.
Where to Find Information in Your Facebook Account
You can check your phone number status, quality score, and sending limits for your WhatsApp Business account in your Facebook Business account.
Go to Business settings > Accounts > WhatsApp Accounts. Select your WhatsApp account, and click WhatsApp Manager in the "Settings" tab.
Quality Indicator
In the "Quality Rating" column you can check your current account quality score.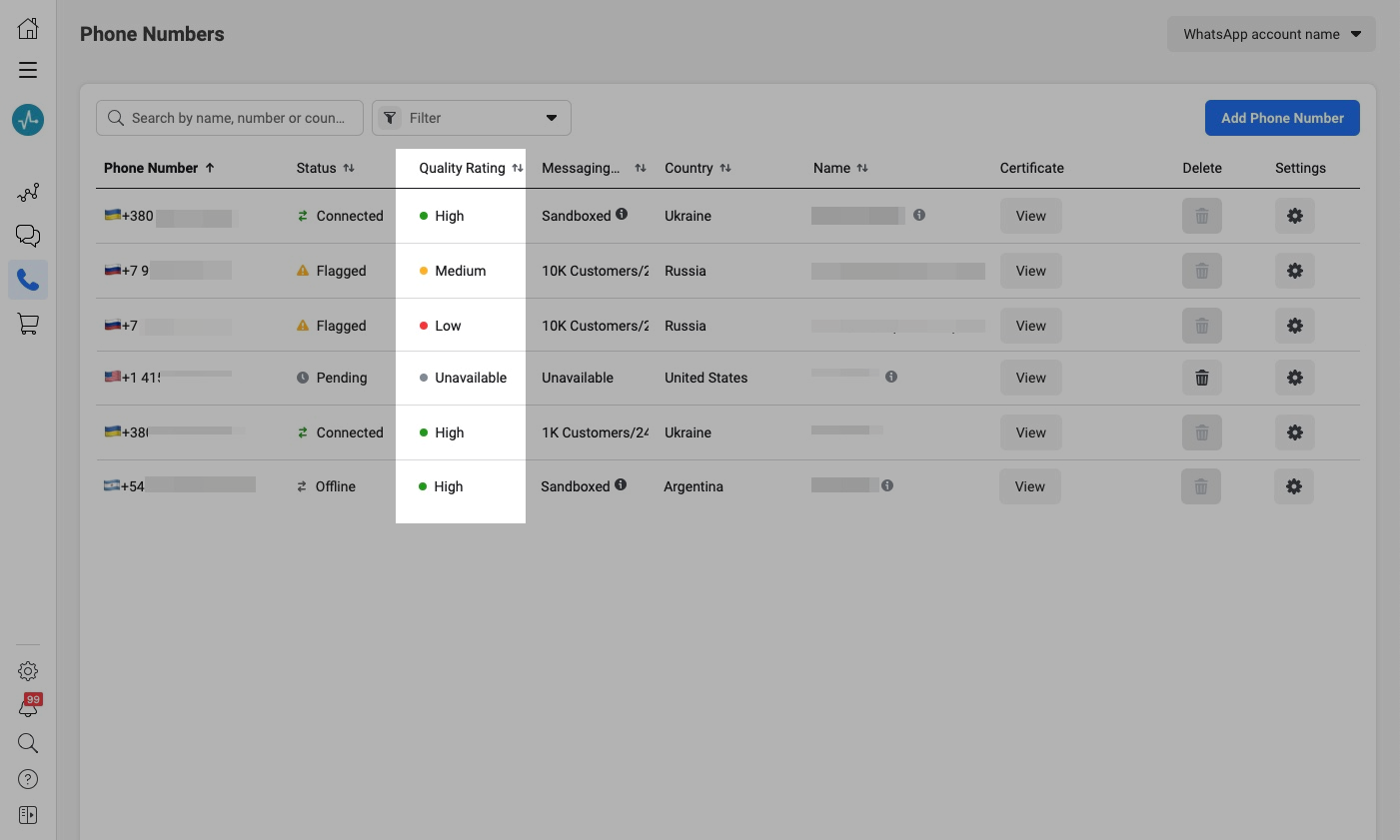 The account quality indicator can have the following statuses:
High quality (High) - green status;
Medium quality (Medium) - yellow status;
Low quality (Low) - red status.
If the quality of your phone number changes or becomes low, you will receive an alert via your email address and in Business Manager and your account will be marked as "Flagged" or "Restricted". You will also receive a notification in the SendPulse interface.
Message Sending Limit
In the "Messaging" column, you can see your current messaging limits.
Phone Status
In the "Status" column you can check the status of your sender phone number:
Connected - when your phone number works correctly, the phone is linked to your account and connected to the WhatsApp Business API environment.
Pending - when your account is not verified, and the certificate is unavailable, or the number is connected to another WhatsApp account.
Offline - when your business name is confirmed, there is a certificate to connect to the WhatsApp Business API environment, but there is no connection.
Flagged - when there were mass complaints about campaigns from this number and your rating is "Medium" or "Low."
You need to pay attention to this status because there is an increased risk that the account will be blocked from sending messages. When a sender's phone number has this status, its level cannot be upgraded.
Restricted - when the number reaches current level limits. This status is temporary and is updated after 24 hours.
Last Updated: 13.01.2022