Zoho CRM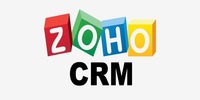 Zoho CRM is a powerful software that makes multichannel communication with the prospects and customers real. It is performed via email, phone, live chat and social media. You are informed every time your prospect browses your website, reads an email from you or engages some other way with your brand. The essential features of Zoho CRM include marketing automation, sales force automation, customer support and service, CRM analytics, detailed reports. With Zoho, you can easily get the picture of your sales cycle and speed it up basing on the trend predictions, conversions and deals closed. Besides, Zoho helps to capture every visitor of your website, score leads, make them convert and build trustful relationships. 
Why integrate Zoho CRM with SendPulse?
Integrating Zoho CRM with SendPulse, you won't have to spend hours copying contacts and data about them from Zoho to SendPulse manually. After you set up the integration, every new lead acquired in Zoho will be automatically subscribed to your SendPulse mailing list which you created while configuring the integration. This way, you will be able to market new leads immediately.
How do you connect Zoho CRM to SendPulse?
Integrating Zapier with SendPulse unites these two simple tools to benefit your business. Just follow these steps: 
Create Zoho CRM account
Create a new mailing list in your SendPulse account 
Make Zoho CRM to SendPulse zap using Zapier with SendPulse integration
Set the kind of interaction you want between these two platforms
Set the trigger email you want to send to your contacts
See our Knowledge Base to learn more about Zapier integration.
If you have any questions on how to connect Zoho CRM to SendPulse with the help of Zapier, please feel free to contact us.