amoCRM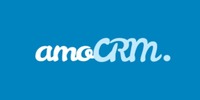 amoCRM is a cloud-hosted software for lead and sales management that fits all types of businesses. The platform allows to generate leads from different channels including a live chat and social media. Log with business cards, easily contact with the clients, identify and deal with the churn rate, keep customers engaged by nurturing, store the history of all the contacts and leads, classify and filter clients by categories to target specific segments, import contacts into CSV and XLS files, manage your workflow, create a to-do list and custom tasks, track the performance of your department, generate sales reports.
Why integrate amoCRM with SendPulse?
Integrating amoCRM with SendPulse, you won't have to manually export new contacts from amoCRM to SendPulse because Zapier will do this tedious work for you. Once a new contact is added to amoCRM, they will join your SendPulse mailing list as new subscribers automatically. This integration will help you market new leads, inform and educate them without much effort.
How do you connect amoCRM to SendPulse?
Integrating amoCRM with SendPulse unites these two simple tools to benefit your business. Just follow these steps: 
Create amoCRM account
Create a new mailing list in your SendPulse account
Make amoCRM to SendPulse zap using Zapier with SendPulse integration
Set the kind of interaction you want between these two platforms
Set the trigger email you want to send to your contacts
See our Knowledge Base to learn more about Zapier integration.
If you have any questions on how to connect amoCRM with SendPulse with the help of Zapier, please feel free to contact us.