Website monetization
Earn money by sending web push notifications
Start earning
Powered by PushPush.io
Web push notifications
Web push is a marketing channel used to notify subscribers about news, discounts, and sales
Our statistics show that 44% of website visitors click "Allow" and subscribe for web push notifications.
If you already have a list of web push subscribers, you can monetize your website using web push campaigns.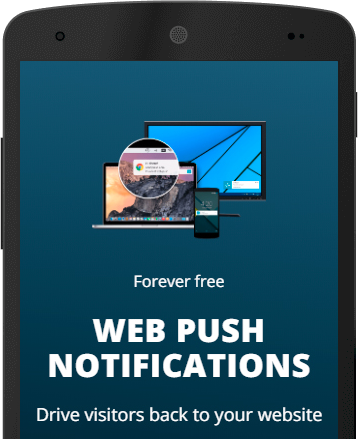 How to monetize your website with web push technology
Allow advertisers to send web push ads to your subscribers
Enable sending web push ads to your subscribers

Activate the advertising system in your personal account and choose websites that the web push ads will be delivered to.

Set up the sending frequency for web push ads

Indicate the frequency at which subscribers will receive advertising messages through web push: low — twice a week, medium — once a day, high — more than twice a day.

Make money sending web push ads

Web push ads are customized
and geo-targeted. You gain money on a per click basis — every time a subscriber clicks on such advertisement.
Web push quality check
Accurate selection of advertisers to ensure low unsubscribe rate
Web push ads undergo quality and topic checks before being delivered to subscribers.
In the settings for each website, you can choose what type of ad content your subscribers will receive from advertisers.
What can you promote with web push ads
Web push notifications are a universal ad format used to announce upcoming sales and discounts, inform subscribers about the latest news and articles, promote useful checklists, and other content.
Website monetization models for web push ads
We work with advertisers using CPC and CPM pricing models. The cost per click or impression is not fixed; it is determined based on the results of an auction among advertisers.
CPC, or cost per click
The cost an advertiser pays for each link click by a subscriber.
CPM, or cost per mille
The cost an advertiser pays for one thousand views of a web push ad.
Analyze the performance of web push ads
Statistics on web push ads for each website as well as the amount of earned money are available in your account.

Bring in new users and get a percentage of their revenue
The Referral Program is powered by the service partner PushPush.io. Every participant of the monetization system gets a unique link for referring users to SendPulse. When new users sign up through your link, they become your referrals. If your referrals use the monetization system, you regularly receive 7% of their revenue.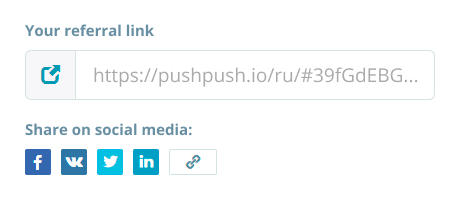 Choose the preferred method to withdraw earned money
You can store the earned money on your ad campaign balance in your account. You can also transfer it to a bank card, WebMoney wallet or PayPal account depending on the country you live in. There are two withdrawal options:
Automatic
Earned money is withdrawn once a week.
Manual
Earned money is withdrawn at your request.

Monetize your website with web push notifications
Sign Up