Established in 2005, YouTube has gone a long way from a simple online video-sharing platform to the world's most popular video-sharing social network and the second largest search engine on the internet. According to Hootsuite, the site gets 14.3 billion visits per month, second only to Google (45.4 billion), which makes it a serious competitor for the commonly used Facebook, Instagram, Amazon, and more.
Video content and large audiences are not the only reasons for YouTube's popularity: the platform has become a powerful tool for online marketing as well. Increasing brand awareness, promoting various products and services, driving high-quality leads, and boosting sales are only a few benefits businesses can get from actively posting content on YouTube.
However, with thousands of videos uploaded to the platform every second, it's been really tough to gain the top rankings right from the first try. Even if the content is EATable, relevant, and high-quality, it's still not guaranteed to be shown up by YouTube algorithms. And that's where a powerful SEO strategy for YouTube comes into play!
In this post, we'll discuss what YouTube SEO is and how it works. We'll also uncover some proven ways to improve content visibility and develop a competitive, engaging channel on YouTube.
What is YouTube SEO?
Similar to regular SEO, YouTube search engine optimization is the process of improving videos, playlists, and channels to get higher rankings in YouTube's organic search results for a specific query.
YouTube SEO is an excellent alternative to various paid campaigns, as it helps you access the giant source of high-quality leads through organic traffic. Optimized videos can drive viewers years after the content goes live if set up correctly. And, most importantly, this traffic is completely free of charge.

How does the YouTube algorithm work?
According to YouTube Creators, the platform briefly explains the search algorithms' performance. The YouTube ranking factors include how well the title, description, and video content match the viewer's query.
YouTube also emphasizes that the key point for its ranking algorithms is audience engagement. It entirely depends on how users interact with your video content:
watching preferences;
average watch time;
subscription performance;
likes, dislikes, and video comments;
"not interested" markups, CTRs, end screen clicks, number of shares, and more.
Basically, the main recommendation YouTube gives is to make content more catchy for your target audience by analyzing the performance given in the Analytics section. So, the more engagement videos drive, the better visibility they have as a result.
How to optimize YouTube videos and obtain the top rankings
Having learned the basic information on how YouTube algorithms work, it's the best time to start optimizing your video content in practice. Below are some YouTube SEO best practices that can help you grab a sweet SERP spot.

Conduct keyword research to uncover queries to target
Keyword targeting has always been considered the "heart" of any SEO, regardless of the platform or search engine. Knowing how much search volume each query has helps better understand which of those can potentially generate more traffic to a video.
However, unlike traditional optimization for Google, YouTube SEO doesn't have an official keyword research tool. Luckily, various third-party tools can help you discover the best keywords in your target niche:
These tools have a wide range of functions for effective keyword research and can provide add-on insights on the related niches you might want to cover in your upcoming videos for YouTube.
Here's a detailed video explaining how to conduct YouTube keyword research with Ahrefs Keywords Explorer:
Determine search intent of your target audience
Another critical aspect that all top SEO experts highly recognize is identifying the search intent, also known as keyword intent. Basically, that stands for the reason why users search for a certain query on YouTube and is an extremely valuable factor that matters when developing an effective YouTube SEO strategy.
You simply won't rank if you don't deliver the right type of article that Google expects to see for a query.
And the quote is completely true for all search engines. The easiest way to get information about the search intent is by analyzing content of the first five ranking results for the target query. To exclude the geo- and user-targeting, we recommend using the "incognito" reviewing, or in case you want to hook users from a certain region, use a VPN with the location you want to rank.
Ideally, this process should be conducted in the planning stage before the video is actually produced. This will help creators maximize engagement rates and encourage their audience to interact with videos through likes, comments, and shares. All of this would help your content rank higher.
For example, when people search videos on "how to make a Shopify store," they probably expect to discover a step-by-step tutorial. This is exactly the kind of content the YouTube search engine ranks high. Thus, if your video is to compete with them, it should have the same format.
Master on-page video optimization
Traditionally, on-page optimization covers the following aspects of a YouTube video:
Title. It is the first and most notable factor that matters for ranking algorithms. It should be created targeting a certain query and contain the most relevant, high-volume keyword that fully matches the viewer's search intent.
Description. It contains a general overview of what the video is about, some useful sources to websites or statistics, and other relevant resources that might be interesting for users.
Tags. On YouTube, video tags are the keywords that help you give more context to your video and can greatly enhance visibility. For best performance, it's recommended to use simple and high-volume keywords, which are straightforward and most descriptive for your video.
Thumbnail. It plays an essential role in hooking potential viewers and forms the first impression about your video in users before they click on it. It should accurately describe the topic and drive interest toward your content.
Each parameter matters for search algorithms and end consumers, helping you improve the CTR and drive more traffic to your content.
According to Briggsby, over 90% of top-ranking videos on YouTube included at least part of a target keyword in their title. Additionally, keywords are a so-called "language" for algorithms, allowing them to better analyze content and show it to the most relevant audience.
To maximize the SEO efforts, keep the title under 60 characters. One common mistake newbies on YouTube make is overlooking the video description. However, this part greatly contributes to video ranking.
Here's an example of a title that catches the viewer's attention with the emoji and includes the keyword query "top products to sell in July 2022." The video also has an attention-grabbing thumbnail that hooks the audience.
Leverage in-video optimization practices for YouTube
While the previous tip has some common points with traditional optimization for search engines, in-video improvements are specifically focused on YouTube. Basically, these cover all the add-on opportunities that might help you increase the retention rate and improve the viewer's user experience.
Closed captions and more languages
Initially designed for people with hearing impairments, this feature has now been reconsidered as an advanced option for video accessibility. According to multiple publishers, as much as 85% of video views happen with the sound off, so video captioning can be an excellent way to help viewers review content under any circumstances.
Although YouTube does a decent job at automatically transporting content, it's far from being perfect. Thus, to ensure high-quality subtitles to your video, it's better to upload the script manually.
Also, by uploading the subtitles not only in English but in the other languages your target audience may use, you can significantly enlarge the audience pool and help people consume your content by easily overcoming language boundaries.
Here's a detailed video on how to add captions to YouTube videos:
Cards
These are the shortcuts for content that might be relevant to viewers as they watch your video on YouTube. Its primary goal is to improve audience interaction through various actions, such as following an external link, switching to another video or playlist, answering a poll, visiting a channel, etc.
Here's how Chloe Ting uses cards at the end of her workout video to invite viewers to check out the rest of her content.
End screens
Similar to cards, end screens are the so-called CTAs for YouTube, which helps viewers decide what they can do next. Typically, it can introduce content from a similar category or link to your channel for other interactions. However, make sure to add the end screens during the post-production process, leaving blank sections where the "next video" and "channel" buttons will be placed.
Here's an example of a company showcasing its logo as the end screen to increase brand awareness.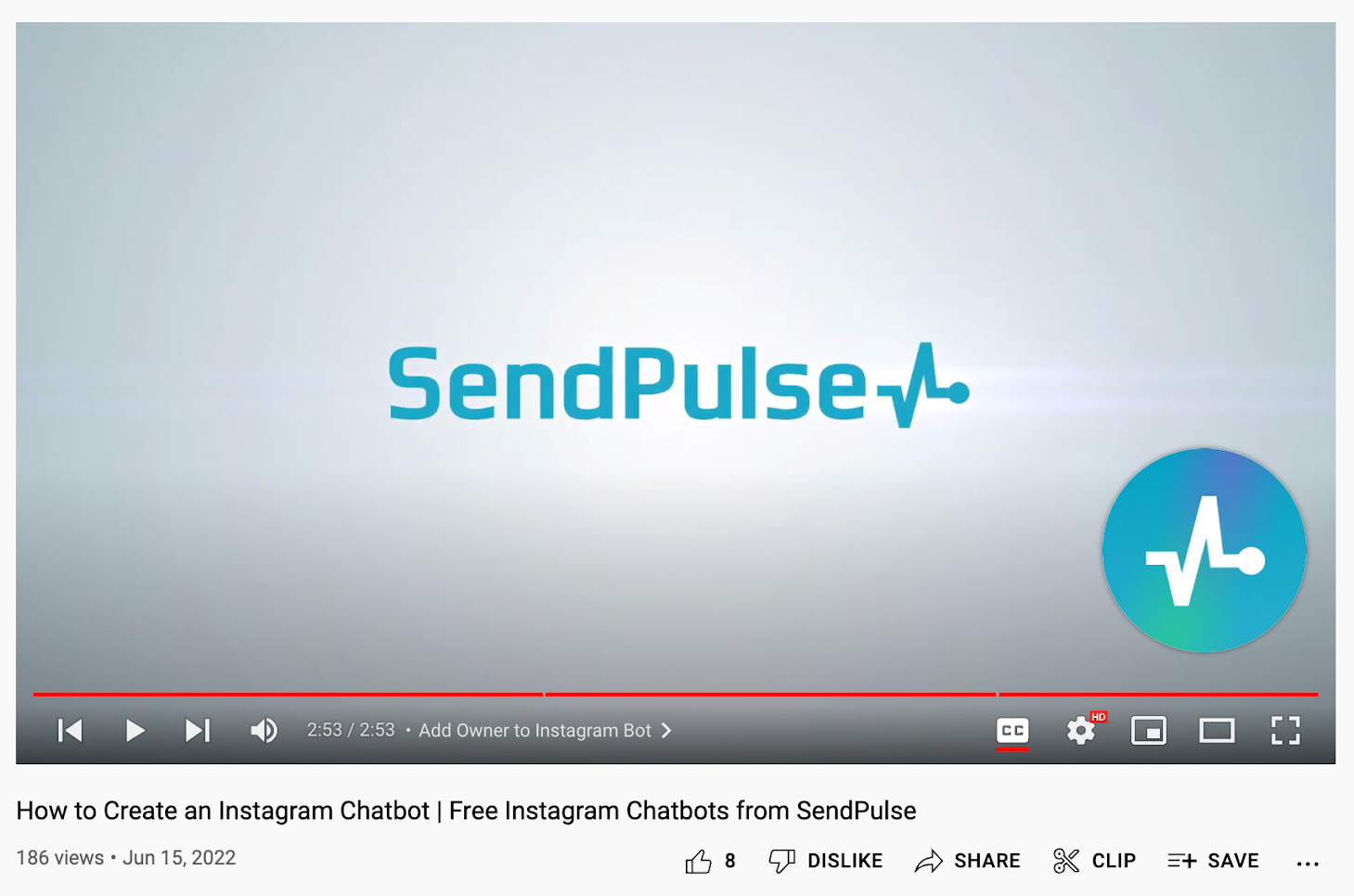 Overall, in-video optimizations can make your videos more user-focused and drive much more interactions, which is undoubtedly a good sign for the YouTube ranking algorithms.
Don't stop optimizing your video after publishing
Once you hit "publish," the first 24-48 hours can make or break the performance of your YouTube video. Therefore, use this time to maximize your video promotion and boost its ranking.
Here are some proven YouTube search engine optimization hacks that you can use to improve your video views.
Interact with your audience through comments
Regardless of the social network you use, it's always been critical to stay on the same wavelength with your audience, and responding to comments will surely work! What is more, according to YouTube, video viewers that receive the "heart" or response to their comments are three times more likely to click on it and continue interacting with the channel.
Thus, make sure to interact with your audience by using the YouTube Community Tab.
Promote your video
Got your video live? Tell your audience about that! Apart from sharing it through the post directly on YouTube, you can utilize the SendPulse email service to send out reminders about a new video published on your YouTube channel.

It's also great to leave the link on other social platforms you're actively using and create references to the YouTube video on your website. This will drive more traffic from other sources and help you build great momentum for gaining the top-ranking positions on SERP.
For example, Ahrefs has dedicated a whole section on their website to promoting their new YouTube videos.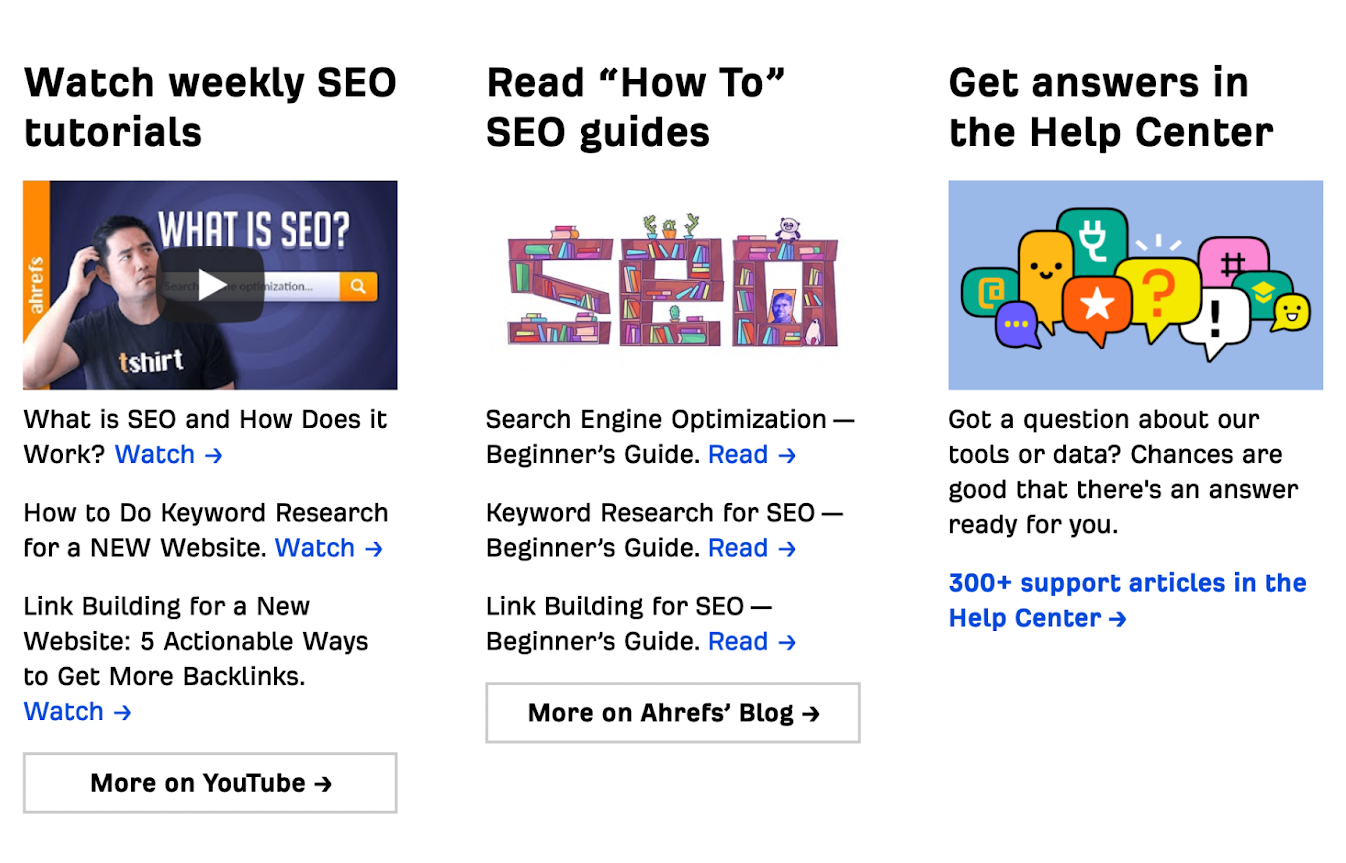 Invest in paid ads
If you haven't built your audience pool yet but want to actively develop your YouTube channel, try to drive it through Google ads. Choose the most engaging video that you think has all the chances to go viral and set up the ad campaign to drive your first leads that can potentially grow in your audience. The accessibility and cheap rates of ads make them an excellent starting point for your channel on YouTube.
Determine the best time for publishing a new video
Make sure to analyze real-time analytics to identify the time when your audience is most active. This way, you'll ensure that the maximum possible number of your subscribers would see your newly-published content.
If you are still not sure about the perfect publication time, here are the results of HubSpot's research on this matter:
Conclusion
YouTube SEO is a proven method to increase the visibility and performance of your content. From a technical perspective, it's fairly easy and implies optimizing your titles, descriptions, and tags. Some of the advanced options like subtitles, timing, relevant cards, and others can make your video ideally optimized for the search algorithms and hop on the top rankings for the preferred queries.
However, the most challenging aspect of SEO for YouTube is to hook your audience and make your video content engaging till the last seconds of it. Give a try the hacks above, keep yourself in the loop about the latest YouTube SEO trends, and you'll be the king!
In case you are looking for a modern tool to promote your YouTube videos, consider using SendPulse. We offer a variety of great products that can greatly contribute to the success of your YouTube promotions strategy.