If you want to create instant and personalized experiences for your customers, WhatsApp marketing is the way to go. Send automated replies, provide support, even outside of your working hours, and ensure that your message won't get lost in their inbox.
WhatsApp marketing tools are absolute time-savers — they help companies answer customer questions and resolve issues quicker. Chatbots can combine consistency with a personal approach, preventing real agents from getting weary.
To start using WhatsApp for marketing, you need to get access to the WhatsApp Business API. The most stress-free way to do it is to choose an official solution provider, so here is a guide that will help you find the right one for your business. All of the WhatsApp marketing software products from our list have great reviews, so you can't go wrong choosing any of them. Let's take a closer look!
Also, make sure to check out our YouTube channel for some tips on integrating WhatsApp into your marketing strategy.
WhatsApp marketing tool #1. SendPulse
The wait is over — our integration with the WhatsApp Business API is now live! We've created a set of tools to help you get new subscribers, build chatbots, and send bulk messages without having to do the legwork. SendPulse is now an official WhatsApp Business solution provider, so you can be sure that your data and account will be safe.
Our WhatsApp marketing software is a good fit for businesses both big and small, entrepreneurs, marketers, and anyone looking for a reliable way to connect with their audience. If you plan to collaborate with your team, just invite them to your SendPulse account. There, you can distribute chats and work simultaneously from different devices.

So, what's inside? You can start by creating a subscription widget and adding it to your website — you need to collect opt-ins to be able to send messages on WhatsApp. Getting your users' consent is one of the key steps. You can also import your existing WhatsApp subscribers with one click.
Your next step is to create a chatbot. In our drag-and-drop editor, you can design the conversational architecture of your bot from scratch by creating triggers and auto-replies. Our builder is intuitive and code-free, and our Knowledge Base contains useful guides, so it's unlikely that you'll get stuck. We also provide onboarding support and are there for you 24/7 online!
You can also initiate a chat with users by sending them pre-made and personalized message templates along with media or documents. If you respond to your customers within 24 hours of receiving their message, you can do it for free, and you don't have to use templates. Also, engage your subscribers and invite them to interact with your brand on WhatsApp by adding CTA buttons and list buttons to your messages.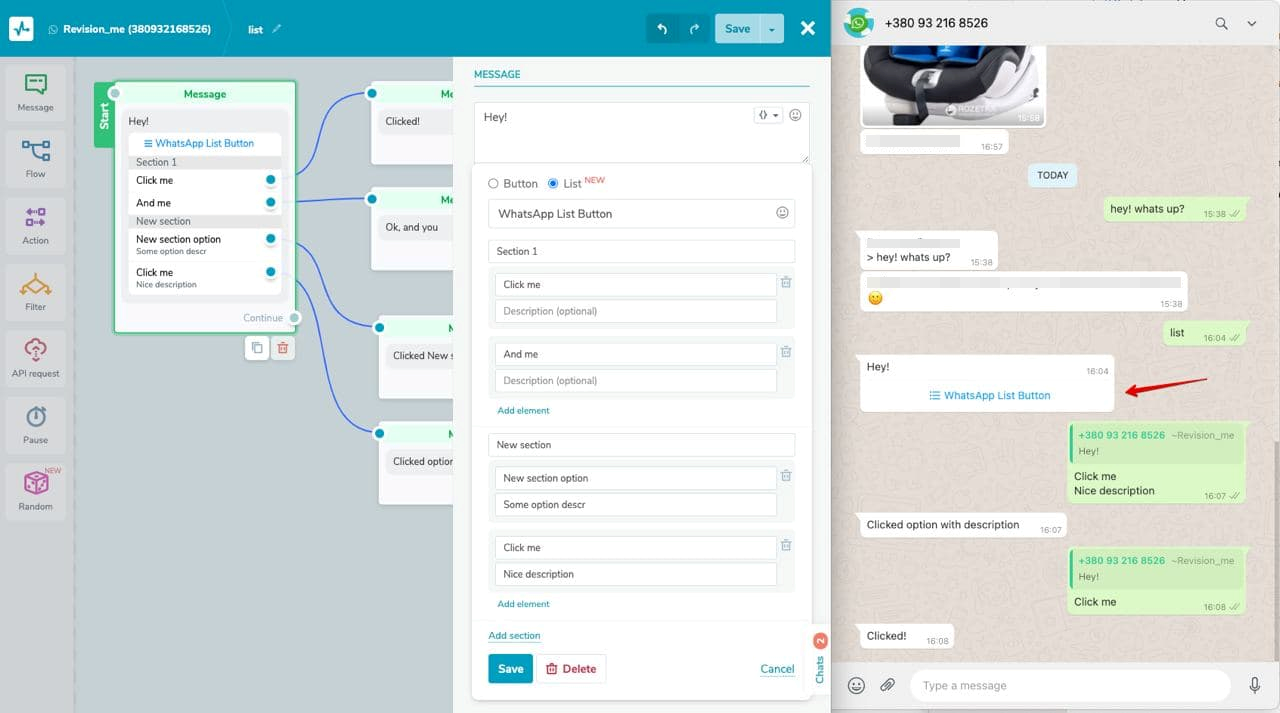 Segment recipients by subscription date, variables, tags, chatbot flow participation, and the types of campaigns they receive. Never skip this step — irrelevant or impersonal messages can easily make people unsubscribe.
The campaign analytics tool shows you how many messages were delivered, opened, and how many total users interacted with your bot. These statistics will help you polish your copy and tweak your WhatsApp strategy to yield more success.
The best part about choosing SendPulse is that it's a multichannel platform! We offer an ecosystem where you can manage everything from one place:
We also provide an open API, so you can integrate a WhatsApp channel into your existing CRM, analytics system, or any other platform your company uses. In addition, SendPulse offers a Chatbot mobile app, which enables you to manage your chatbots from your smartphone! With our app, you can see who's messaging your brand and how your real and virtual agents are performing.
There are no setup fees — you only pay for messages sent outside of the 24-hour window. The price is country-dependent; for the USA, it is $0.0135 per message. To use the chatbot builder and other advanced features for WhatsApp messages, you need to purchase a plan for high volume sending in messengers — plans start at $7.88 per month and depend on how many bot subscribers you have.

WhatsApp marketing tool #2. Trengo
Trengo is another feature-rich multichannel platform that helps you manage all your conversations in one central inbox — you can even answer emails and voice calls. It's possible to add any popular channel to Trengo, but we'll keep our focus on WhatsApp for now.
Your inbox will be connected with the official WhatsApp Business API via one of the verified WhatsApp partners Trengo supports. This tool allows you to work with your team and assign conversations in one click. You can also add internal comments to the chats to help your team members pick up where you left off.
Thanks to the website widget, you can add a WhatsApp chat button to your website to let your website visitors start a conversation with your business without taking extra steps.
With this WhatsApp marketing software, you can build code-free chatbots to automate your communications and route clients to your agents or help center. Customizable auto-replies will also help you keep your users happy without having to be online. They can be used across all the channels you connect to Trengo.
Another helpful feature is quick replies — they ease the burden on your agents. Human agents can still answer customers' questions manually and provide personalized support without having to type the same phrases over and over again. You can also connect Trengo with your CRM system, website, or any other software to exchange information between multiple solutions.
All of the necessary information about a customer is available right inside of your inbox — it works like a built-in CRM. The more channels you connect, the easier it is for your agents to see the context. Trengo's team provides detailed support on a personal level and is open to suggestions.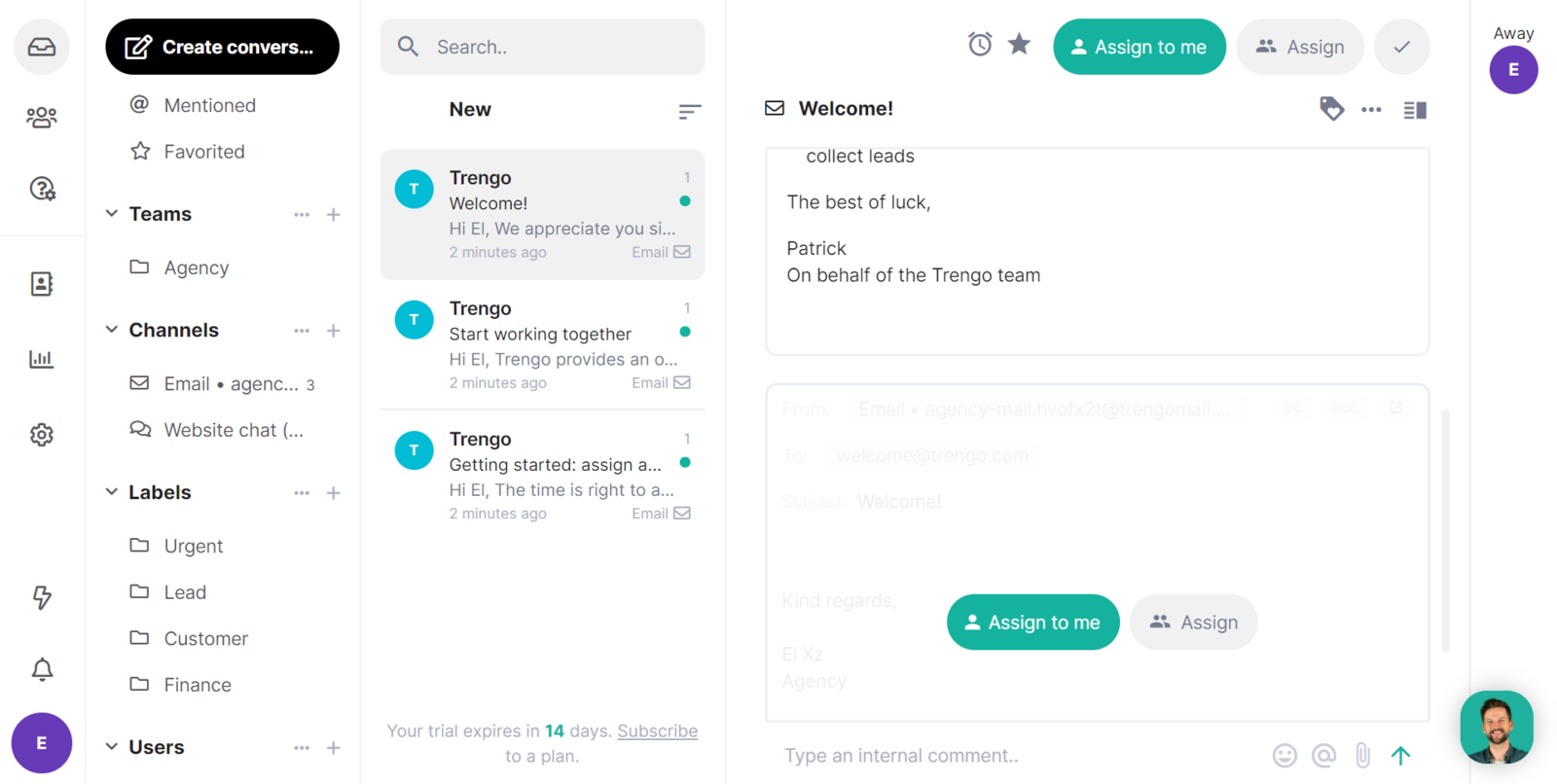 Trengo has a fully functional mobile app to keep you in the loop at all times. It makes the platform stand out because its competitors usually offer desktop-only solutions. We recommend paying attention to Trengo if you and your team work remotely and are constantly on the go.
The platform has a 14-day free trial. There are no gated features — you can try the tool as it is. Trengo costs $53 per agent, billed monthly. You can save 22% by choosing annual billing. There is also an enterprise solution for $89 per agent per month.
WhatsApp marketing tool #3. Twilio
Twilio is one of the most popular application programming interface (API) providers for communication services, so it can serve as WhatsApp marketing software for all possible use cases and businesses of all sizes.
Let's see some examples of what can be build or executed through Twilio's APIs. With Twilio, you can:
customize chatbot templates, add intelligent assistants, and integrate hand-offs to live agents;
сreate and manage WhatsApp message templates with automated approval status;
get real-time delivery insights with engagement metrics;
reduce your workload with quick replies, logic-based menus, and call to action buttons;
send and receive images, audio, PDFs, and locations via WhatsApp;
scale your communications as you go with Twilio's limitless built-in tools and integrations.
One thing to note is it's not a code-free platform, but don't get scared just yet. If you don't have advanced coding skills, there are still two ways you can utilize Twilio and bring your communications to the next level.
The first way is to use Twilio Studio. It's a drag-and-drop builder mode — you can create a chatbot for WhatsApp or any other automation using templates and custom code. It takes some getting used to, and minimal coding skills are needed, but it's still more approachable than any other tool of this level. Anyone from your team can tune in and collaborate!
The second way to use this WhatsApp marketing software is by inviting a professional. It doesn't have to be a team of developers working for you full-time — you can hire a Twilio API engineer as a freelancer.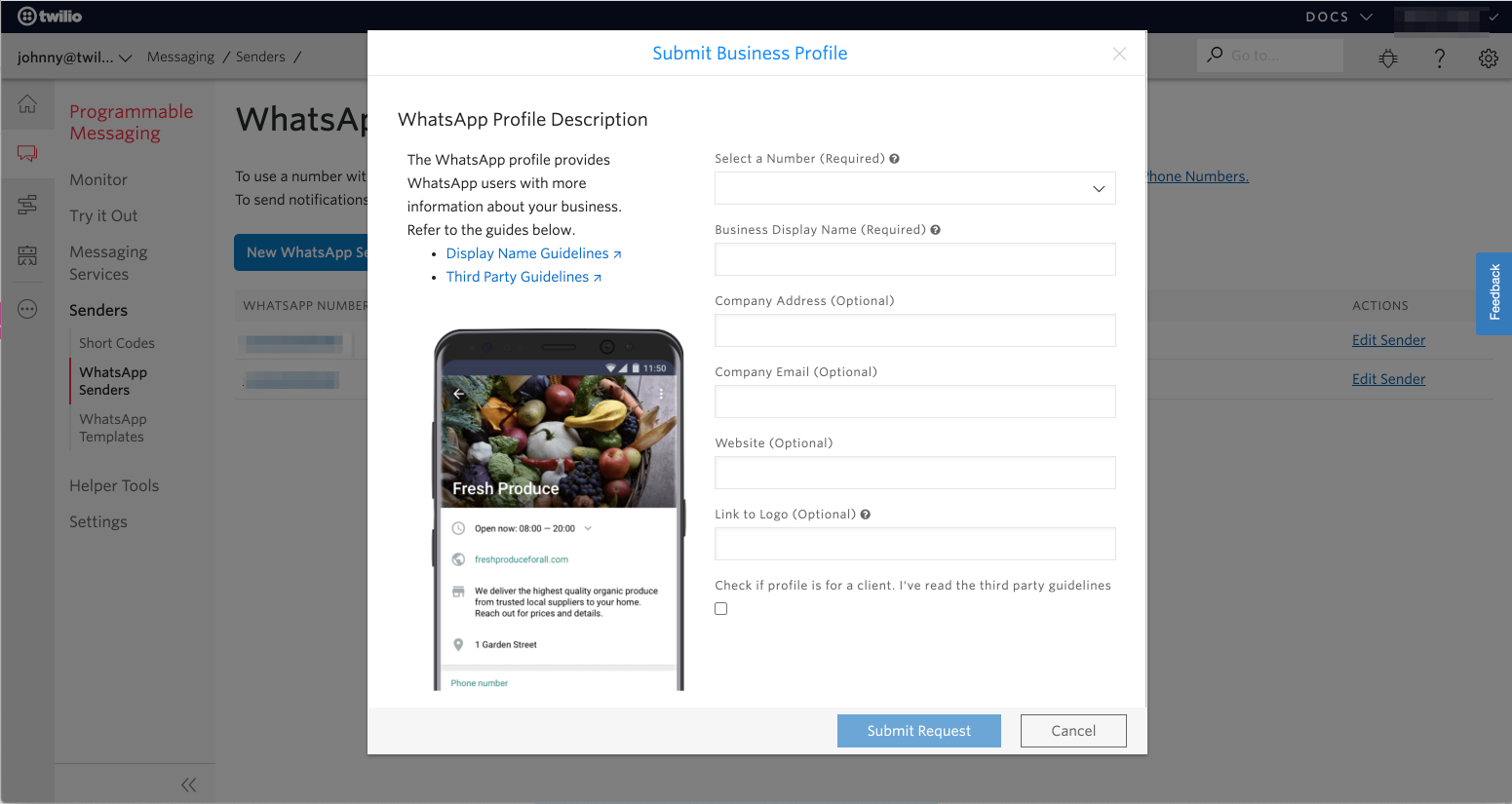 Twilio provides step-by-step onboarding support, documentation, tools, and resources to help its users get the most out of the platform. It offers enterprise-grade security and reliability along with a constantly updated list of reliable agencies that can build the right solution for your business.
At the time of writing, the platform has a special offer — a 90-day free trial, during which you can access the WhatsApp Business API and explore Twilio's potential.
This WhatsApp marketing tool has a pay-as-you-go pricing strategy. You'll end up paying $0.0135 per message. Special pricing for conversational customer care is available — contact the Twilio sales to learn more.
WhatsApp marketing tool #4. Sparkcentral
Sparkcentral by Hootsuite is a complete customer care platform that can cover your key communication channels, such as WhatsApp, Instagram, Twitter, Telegram, SMS, and so on. With this tool, you can manage all your social media accounts and customer service channels with ease.
Sparkcentral is created for companies with a messaging-first strategy to help them deal with high message volume. You can see all of your active channels in one place — there is no need to jump from one window to another. There is a unified queue of social inquiries and comments your brand receives. You can filter and prioritize them based on their content, urgency, and importance.
The platform offers many ways to keep your WhatsApp communications with customers efficient and personalized, by allowing you to:
create automations, quick replies, buttons, and auto-responders;
send pre-approved message templates to notify and inform your users about the latest updates from your brand;
use skill-based routing to send customers to the best-equipped agents;
build and connect custom chatbots as your virtual agents;
create and update in-depth customer segments;
let your team members set their availability status;
set customer service level targets;
send customer satisfaction surveys.
The tool has impressive functionality and a surprisingly clean and user-friendly interface. Customer data is pulled from different sources so that agents can access it in one click before jumping into a conversation. Sparkcentral allows you to integrate your favorite bot platform and CRM. Additionally, there are advanced settings you can use for seamless switching between real and virtual agents.
You can also collaborate with your team members, distribute tasks, and assign chats to prevent overload — thanks to the internal messaging feature. In our opinion, it's one of the greatest features and literally a life-saver for big teams working remotely.
With Sparkcentral, you get to create your own knowledge base, which stores pre-written responses that can be sent to customers. Every team member can create a personal collection of responses, in addition to using the main library.
Sparkcentral supports more than 60 languages, and it's great news for businesses with a multinational audience. When a customer sends you a message, Sparkcentral automatically detects the user's language. Another great strength of this tool is the great onboarding and 24/7 customer support and guidance you get from Hootsuite's team.
Sparkcentral integrates with Oracle CRM, Microsoft Dynamics 365, Salesforce, Zendesk, Zoho CRM, and many other platforms. Hootsuite provides training in the form of documentation, demos, live calls, chats, and webinars. You can learn more about adding WhatsApp to Sparkcentral from Hootsuite Help Center.
It's important to understand that this is an enterprise-level 360 solution. The price can be too steep if you have a small volume of social media interaction. It's a tool for big or actively growing businesses ready to scale up rather than companies just starting to work on their social media presence.
Hootsuite offers custom pricing, based on your needs. You can contact their sales team to calculate how much Sparkcentral will cost for your business.
WhatsApp marketing tool #5. Wati
Wati is another top WhatsApp marketing software, but it's WhatsApp-only — you can't use it for other channels. It makes this tool way easier to switch to, and you don't need to pay extra for features you don't use.
Wati has just enough functionality, an intuitive interface, and attentive customer service team who's always ready to help. You can make your business run much more efficiently in just a few days by using Wati to:
build and integrate an intelligent code-free chatbot;
provide multi-agent customer support on WhatsApp;
design your own WhatsApp chat widget to add to your website;
analyze your chat volume, response rate, and agents' performance;
filter and segment your contacts;
add additional information about your clients and their projects;
learn from onboarding videos as you explore the tool further;
tag chats to assign them and solve clients' problems faster;
create and upload templates in a few clicks;
easily access your dashboard from your mobile phone;
integrate Wati with your CRM, Zapier, WooCommerce, HubSpot, and other tools.
With this WhatsApp marketing tool, you can facilitate the purchase process and always remain available for your users. Moreover, it's easy to control how individual agents are performing and see how your chat volume changes day by day.
Wati offers a 7-day trial and doesn't have any setup fees. The platform offers two versions: one is plug-and-play and another is for developers. A code-free version costs $40 a month, billed annually. There are many optional add-ons available.
WhatsApp marketing tool #6. Landbot
Landbot positions itself as the most intuitive no-code chatbot builder, but it also offers you a multi-agent inbox, and a notifications and campaign manager. It's a powerful platform where you can find a pre-made customizable bot to suit your specific needs.
With Landbot's solution for WhatsApp, you can drastically change the way you communicate with your customers online and:
send pre-approved template messages;
build your bot from scratch or use pre-designed templates;
personalize your bot with conditional logic and formulas;
use variables to collect data;
create quick replies to save time;
reply to your customers while seeing their context;
send out segmented campaigns using filters based on data collected by your bot;
simplify bot-to-human hand-offs;
assign conversations to specific agents;
connect the platform to your favorite apps such as Salesforce, Slack, and Zapier;
analyze your message delivery and opens statistics.
The platform has a user-friendly design and a state-of-the-art onboarding process — you don't need any specific skills to work with it.
Landbot has a number of support materials to help you easily build your bot and start using it right away. Also, Landbot has a list of certified agencies that can create something special and highly-converting for you.
You can start with a 5-day free trial, during which you can explore Landbot Pro's features. Great functionality and design come at a higher price — be prepared to pay $95 a month for a Pro plan and $83 a month for a WhatsApp add-on.
WhatsApp marketing tool #7. 360dialog by respond.io
360dialog is a simple and affordable WhatsApp marketing tool you can start using right away. This integration lets you respond to WhatsApp messages directly from the respond.io platform. It has everything you need to start messaging your customers and receive their questions and requests at scale.
The software works equally well for companies of all sizes. With 360dialog, you get unlimited inbound and outbound 24-hour session messages. The whole sign up process is explained on their website, so you won't run into any difficulties there. In the company's blog, you'll find guides containing more information on how to get started.
Template messages are billed at the WhatsApp standard rate — it's $0.014 for recipients in the USA. This WhatsApp marketing tool is free forever for up to 100 contacts, and after 100 contacts there are paid plans available, starting at $15 a month with a current discount. The regular price is $29 a month and up, depending on the size of your contact list.
One more thing
You might be tempted to try tools that promise you simple fixes and just send bulk messages — no questions asked. But, they often are not GDPR-compliant and, even more often, fraudulent. We recommend trusting no one but official WhatsApp partners — you don't want to risk your business account and your customers' data. Also, it's very easy to get blocked for spam with a less-than-ideal WhatsApp solution.
Conversational marketing is an excellent way to cut through the noise and develop a new connection with your audience on the least cluttered channels. Its rules are less calcified than other channels. You can experiment with your tone of voice and create one-of-a-kind activities for your audience or provide support around the clock.
If you are just getting started, try our WhatsApp marketing software — it's intuitive and requires very little learning. You'll get to know the main principles of creating chatbots and templates without diving into technical details. And yes, you don't have to pay anything for the 24-hour session messages you send!