With the WhatsApp Business API, staying at your customers' fingertips and fitting the mold has never been easier. Messaging a company to ask for product advice or report an issue is as easy as texting your mom or friend (not least because these chats can literally stand next to each other).
If your audience actively uses WhatsApp, it's time to play the angles and stay in touch with them. And believe us: answering customers' FAQs is not even the most powerful benefit of WhatsApp chatbots by far.
In this post, we will talk about WhatsApp business automation and what's in it for you, review some excellent use cases, and walk you through the process of emulating our examples for your company.
What is WhatsApp business automation, and why is it useful?
Broadly speaking, WhatsApp business automation is a way of serving more customers faster without having to actually be there and do it manually. Most often, it requires you to predefine your average conversation with a client and provide pre-set automated replies when dealing with inquiries that don't call for human involvement.
Dive deeper into WhatsApp marketing and how to integrate it into your strategy.
Integrating WhatsApp automation for business does not just improve your customer service response time. If you're in for the long haul, automating your communication with customers will also beef up customer satisfaction, build customer trust and confidence in your brand, and win over far more clients. And that is not even the full list of the perks that WhatsApp business automation can bring you.

Benefits of WhatsApp automation for business
Reducing your spendings each time you need to attract new clients does not seem so unattainable anymore. If a significant part of your audience includes active WhatsApp users, coming to grips with WhatsApp automation for business can provide you with some mighty benefits.
By adopting WhatsApp business automation practices, you can:
automate your whole WhatsApp marketing campaigns using chatbots;
help your customer service agents prioritize user inquiries;
let automated solutions take over whenever a human touch is not required;
make sure users progress down your sales funnel to close more deals;
stay in touch with your clients outside work hours to provide a premium user experience;
save the money you would otherwise have to invest in coping with more customers;
offer customer support using WhatsApp in various languages in case you have an international audience;
gain an advantage in your competitive landscape thanks to minimized wait times.
You are not the only one trying to engage more customers and probably not the only one offering a good product either. However, automating your customer interactions can leave a striking imprint on how you tackle a rush of new clients and retain them. So, implementing WhatsApp business automation is the way to go if you want to avoid turning your whole company into customer support reps.
WhatsApp business automation use cases and how to DIY them
Here, we will give you some pointers on the customer touchpoints you can seamlessly automate and overhaul the WhatsApp business automation process so that you can reproduce it for your company.
Delve into more sales automation tools and strategies to sell more without hiring extra managers.
Greeting new clients
Your chatbot welcome message is the first customer touchpoint that needs to go smoothly. With WhatsApp automation for business, you won't have to worry about not replying on time or losing track of all the "Hello" messages you need to respond to. Have a look at GGM's automated welcome message to get the hang of how you can implement this technique:
Craft a multi-purpose welcome message that reflects your brand personality and is able to engage a customer from the first seconds of your communication. WhatsApp business automation will be on your side here as it enables you to greet your customers instantly and set the tone of your conversation.
The best part about all this is that it cannot be any easier to implement. With SendPulse's WhatsApp chatbot builder, all you need to do is log in, connect your bot, choose the "Welcome message" trigger, and click "Edit the flow" to proceed.
You can type in or paste your welcome message text into the "Message" element and add variables and emoji as needed.
Preparing your quick replies and FAQ section
Setting up the FAQ button to help users get prompt answers to their most common questions is another aspect that WhatsApp automation for business can help you integrate. Your clients can get instant solutions to their problems without having to wait for customer service agents to get back to them.
Here is how Burberry adopts this feature to help customers resolve their issues faster:
Another option is to add quick replies to customers' most common inquiries. Other than that, you can add both buttons and quick replies if you have an extensive FAQ section.
Just like with any other WhatsApp business automation practice, creating FAQ buttons is a no-brainer. The best time to do this is probably right after creating your welcome message.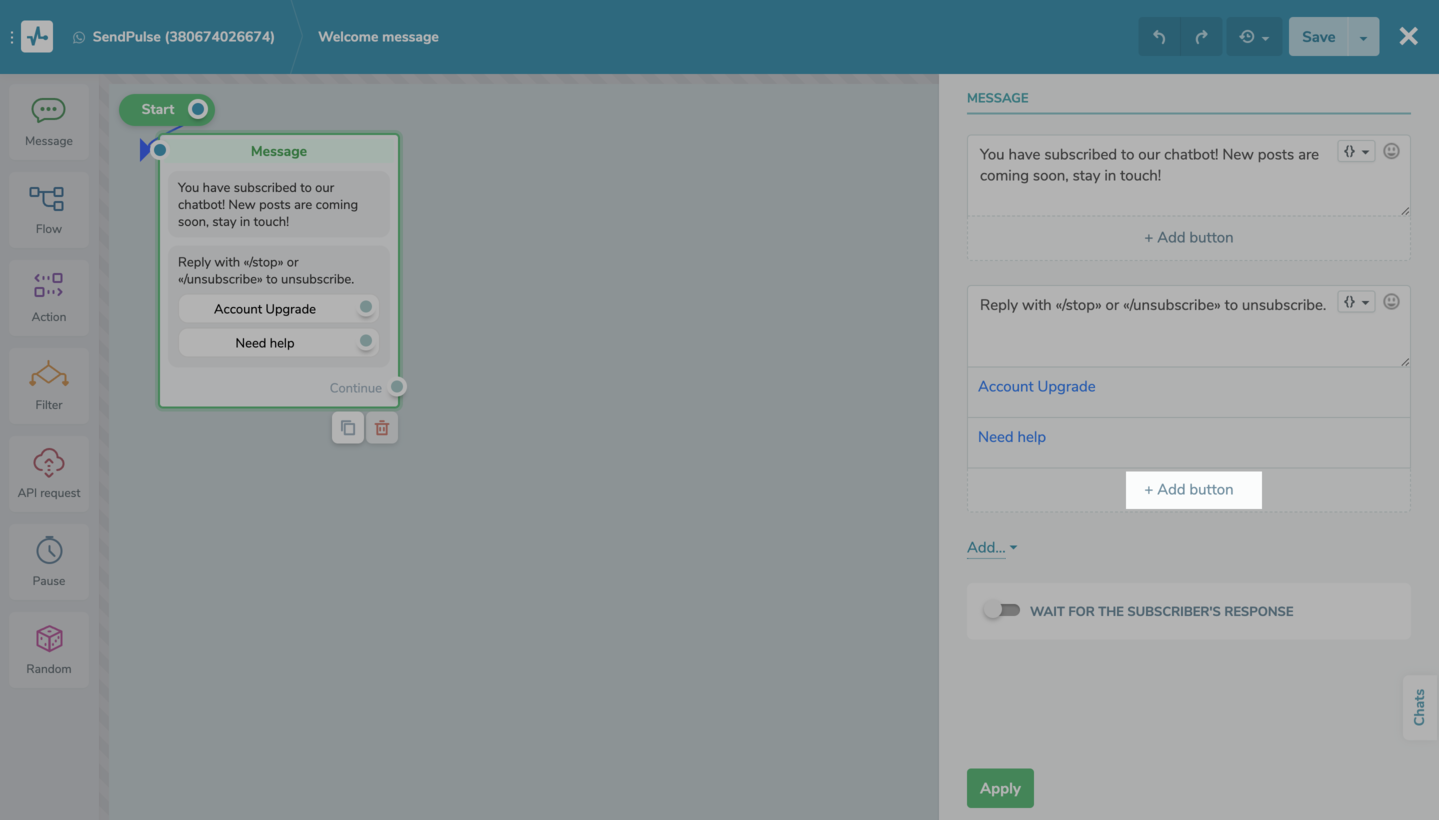 Just open your chatbot welcome message flow, go to the necessary message, click "Add button," and enter your button text.
Launching your chatbot using an event
You can start a chatbot flow that will be triggered by a particular event without having to monitor it yourself. Say, a customer just placed an order that needs confirmation, or they want to know if their package was shipped — these events will trigger your WhatsApp chatbot, and it will send your pre-designed message automatically. Here is how Myntra implements this WhatsApp business automation feature:
With SendPulse's WhatsApp business automation features, you are able to create your own event triggers using which you will launch your chatbot flow. Click "Create a new trigger," select the "A360 Event" trigger type, and choose an existing event.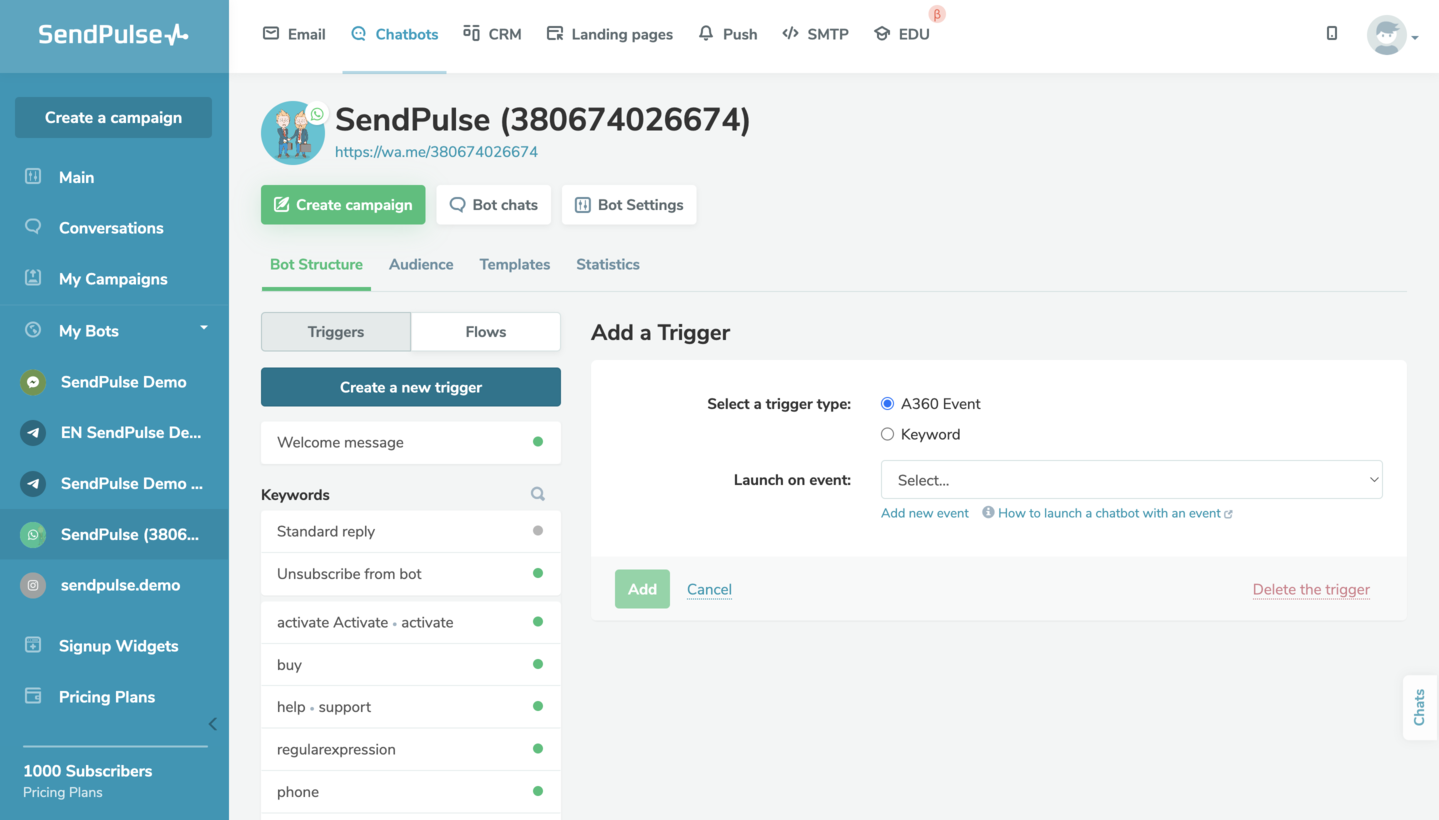 To create a custom event, click "Add new event," and you will be redirected to the "Automations" tab, where you can add your custom event.
Go to our Knowledge Base article to explore how to launch your chatbot using an event in more detail.
Informing customers about new discounts and special offers
Leverage a chatbot to keep your customers current with all your recent discounts and special offers. This is an excellent alternative to your discount emails and a way to get your point across in fewer words. You can take the example below as your inspiration and create a sales promotion campaign using WhatsApp.
Other than that, you can encourage your customers to subscribe to your social media profiles and share your posts to get a discount. And it really is not that difficult. Check out how your WhatsApp chatbot flow with a discount offer can look like:
You can also use WhatsApp automation for business to assign tags to your users based on their interaction with your chatbot elements and wait for their response. Just drag and drop the necessary elements to the workspace, and create your own automated chatbot flow!
Check out our Knowledge Base article for more in-depth recommendations on creating an automated WhatsApp chatbot flow.
Adding product cards to your chatbot
If you want to close more deals using WhatsApp automation for business, adding product cards might be just what you're looking for. Configure your product catalog in Facebook Commerce Manager to add your cards and convince users to buy from you. Here is how this can look like in your WhatsApp chatbot:
Use SendPulse's WhatsApp chatbot builder to add product cards. Simply drag the "Message" element to the workspace, click "Add," and select "Product."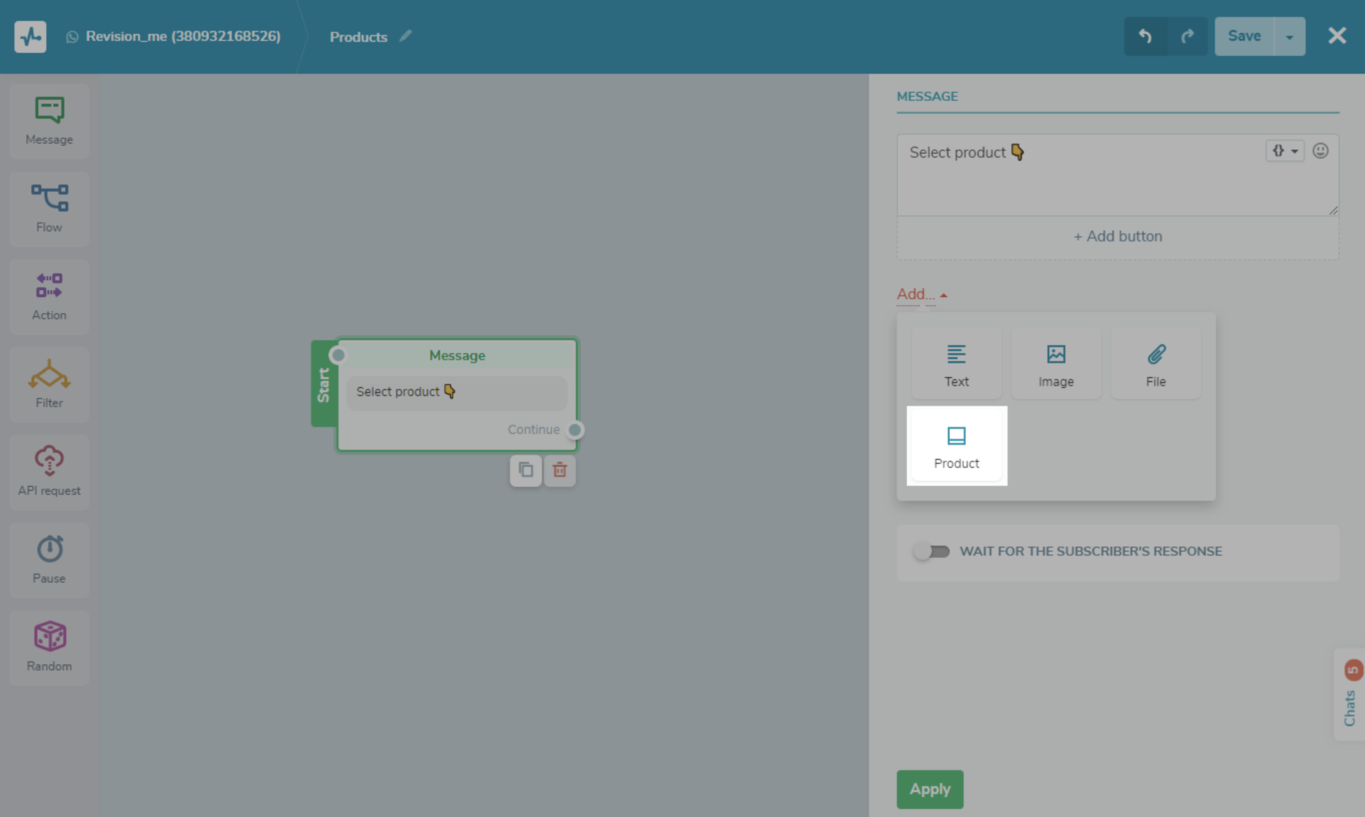 Afterward, you need to go to Facebook Commerce Manager and find your Catalog ID in the "Assets" tab to include your product cards.
Read our Knowledge Base article to go over the whole process of adding product cards to your WhatsApp chatbot and see how it is displayed to users.
Sending timely reminders
Be there for your customers to motivate them to move down your sales funnel. This way, you will stay in touch with them and make sure your busy clients do not forget to complete their order, pay at the delivery, attend your event, or any other necessary action they need to perform. Take a look at the example below to see how you can integrate this WhatsApp business automation feature:
Alternatively, you can remind your customers to leave a review of your product after purchasing it. To do this, go to the "Chatbots" tab in your SendPulse account, and click "Create campaign."
Here, you can segment your customers or send a reminder to your entire audience while also typing your text anew or choosing a template.
The bottom line
And now you're all set to implement WhatsApp automation for business! You can try our WhatsApp chatbot builder to emulate the use cases mentioned in this post and so much more! Leverage our pre-designed message templates, distribute chats among your team members, track your analytics, and streamline your whole sales funnel!