In today's fast-paced world, companies are constantly looking for more efficient ways to communicate with their customers. And here is where messengers come into play. WhatsApp, for example, is a potent tool for businesses that has surpassed two billion monthly active users.
There are two solutions for businesses of different sizes — WhatsApp Business App and WhatsApp Business API. This post will dwell on the latter, providing a complete overview of the tool and the best practices for sending WhatsApp API messages.
What is WhatsApp Business API?
WhatsApp Business API is a programmable interface that allows businesses to communicate with their customers on the WhatsApp platform in a more efficient and automated manner. With its help, you can send and receive messages, automate responses, create chatbots, and provide customer support on a larger scale. Ultimately, businesses can ensure a convenient communication channel and higher customer satisfaction.
How is WhatsApp Business API different from WhatsApp Business App?
WhatsApp API and WhatsApp Business App are two products designed for different business needs. While the WhatsApp Business App caters to small businesses, WhatsApp API is specifically built for businesses that require scalability. Unlike the WhatsApp Business App, WhatsApp API is suitable for bulk messages and provides such features as automated message triggers through integrations and APIs, multiple logins, and a support dashboard.
Moreover, WhatsApp for Business API comes with advanced chat automation capabilities and does not have an app or front-end interface. Instead, it needs to be integrated directly into business software. It's noteworthy that WhatsApp API can only be accessed through WhatsApp Business Solution Providers (BSP).
Top features of WhatsApp Business API
WhatsApp for Business API offers a wide range of features to enhance customer engagement on the platform. With integrations to tools like CRM, analytics, and third-party apps, businesses can streamline their workflows and automate their communication. Additionally, WhatsApp API offers a Green Tick, indicating that the WhatsApp Business profile is verified, immediately looking more trustworthy.
Businesses can send bulk messages to stay in touch with their clients. This feature can be useful for marketing campaigns, promotional offers, or transactional notifications to a large number of customers.
In addition, with WhatsApp Business API, you can use message templates. They are pre-approved messages that businesses can use to send specific types of messages, such as appointment reminders, order confirmations, and shipping updates. These templates can be customized with dynamic variables like customer name, order ID, and date and time.
The platform also supports WhatsApp chatbots and interactive messages, providing businesses with innovative ways to engage with customers. Furthermore, companies can grant multi-agent access for customer support, enabling multiple team members to respond to customer inquiries simultaneously. Overall, WhatsApp Business API is a powerful tool for businesses that want to establish an effective and scalable communication channel with their customers on the WhatsApp platform.
Getting started with WhatsApp Business API
WhatsApp API is not available for direct access, so businesses must rely on external services. This approach helps to combat spammers, which is easier to achieve by controlling the companies with API access. Setting up WhatsApp Business API involves a few important steps:
Choose a BSP. WhatsApp has a list of authorized services that provide businesses with the necessary infrastructure, tools, and support to use the WhatsApp Business API. You can choose a BSP depending on your needs and budget.
Register your phone number. The phone number you want to use for your business must be registered with WhatsApp.
Set up a Facebook Business Manager account. It is a key step to gain access to WhatsApp Business API since the Facebook Business Manager account allows you to manage all your Facebook assets, including WhatsApp.
Verify your Facebook Business Manager account. Verification involves providing Facebook with documentation that proves your company's identity and location.
Set up your WhatsApp Business API account. Once you have completed the above steps, contact your BSP to configure your settings, such as message templates.
Get your message templates approved. Before you can use template messages, they must be approved by WhatsApp. You'll need to submit your templates to WhatsApp for review.
After your account is set up and your templates are approved, you can start using the WhatsApp Business API. It is important to note that the above steps may vary depending on your BSP and the specific requirements of your business.
Apart from the setting up and verification processes mentioned earlier, there are some other aspects that you might want to know.
Besides template messages, WhatsApp separates session messages — messages that businesses can send to customers during an active 24-hour session window after a customer or a business has initiated contact. During this session window, companies can send customers unlimited messages without additional charges. Once the session window expires, companies should use approved message templates or pay for message charges for each message sent.
So, if you're a large business and your customer base consists of 300 or more active users, WhatsApp Business API might be the right choice for you. Let's look deeper at some customer engagement platforms to get started.
WhatsApp Business API service providers
Since not all platforms offer all the functionalities that the API can deliver, even if they are certified, it's important to scrutinize the BSP's features before choosing the one for you. Here, we'll examine some of them more closely.
SendPulse
SendPulse is an official WhatsApp Business API provider. The platform offers a variety of tools, including chatbots, subscription widgets, message templates, and analytics, to help businesses streamline their WhatsApp communication and improve customer engagement. Additionally, SendPulse's open API allows companies to integrate WhatsApp with their CRM, analytics system, or other projects.
Coming closer to SendPulse's integration with WhatsApp Business API, you can benefit in several ways. SendPulse supports multiple devices, enabling your team to access WhatsApp from anywhere. This means you can work as a team by assigning chat responsibilities to different members and inviting new users to your account.
SendPulse also makes it possible to use template messages, and send bulk or triggered messages on WhatsApp without restrictions. Another upside is direct integration with the ChatGPT AI model. Just like that, your bot will communicate with subscribers in a human-like manner. The service also provides a comprehensive omnichannel approach to customer engagement and offers email, SMS campaigns, and web push notifications.
Pricing: For your convenience, your business gets the first 1,000 sessions per month for free, regardless of whether they are business-initiated or user-initiated. Also, the service hosts your phone number free of charge. However, the exact price for the first reply to a user's message and the first template message will depend on the destination region.
Twilio
Twilio is a customizable omnichannel platform that supports VoIP, phone calls, messaging, WhatsApp, and emails. As a Facebook-specialized marketing partner, it offers a high message delivery rate and lots of scalability potential.
This service for WhatsApp Business API enables you to utilize a one-way API for sending WhatsApp messages such as alerts, promotions, and marketing messages. Additionally, it offers customer support options and conversational commerce, allowing better engagement with your customers. Twilio also provides real-time analytics on message delivery and performance, allowing you to track the success of your messaging campaigns. Using this platform, you can benefit from a wide range of integrated applications and platforms.
While Twilio might be a decent option for your business, there are several aspects to be taken into account. New users without any technical background may find the user interface overwhelming and confusing. Moreover, Twilio encourages customers to use the phone numbers provided by Twilio to access the WhatsApp Business API, which may not be suitable for everyone. Non-Twilio phone numbers can be used, but certain requirements apply.
Pricing: Twilio doesn't offer a free plan or flat rate but a pay-as-you-go model. Depending on the destination country, you'll be charged a minimum of $0.0042 to send a WhatsApp template message and $0.005 for WhatsApp session messages.
360dialog
If you're looking for a WhatsApp Business API solution provider that offers efficient onboarding, high message delivery rates, and easy integration, 360dialog is a great option to consider. 360dialog provides a full-fledged messaging solution and is an authorized provider of WhatsApp Business API, which caters to businesses of various sizes, sectors, and industries. This WhatsApp marketing tool combines analytics and ROI tracking, team inboxes, CRM integration, marketing automation, and sales intelligence in one platform.
With their streamlined onboarding process, you can set up an account in just a few minutes, making it quick and easy to start. 360dialog seamlessly integrates with various applications and CRM systems. This means you can easily connect your WhatsApp chatbot with other tools you use to manage your business operations. To top it off, 360dialog offers cost-effective pricing with a flat fee structure, making it easy to budget for your messaging needs.
At the same time, 360dialog's customer support is fairly limited, as they do not offer 24/7 support, and customer assistance can only be accessed via email. Similarly, there are no real-time session reports available. This can make it challenging to keep track of ongoing conversations with customers, and it may require additional manual effort to monitor and manage these interactions.
Pricing: 360dialog offers three plans to choose from. The most affordable one is only for API and is €49/month. It's worth noting that there is an additional service fee starting from €10. The service doesn't charge any extra cost per session message or conversation.
Yellow.ai
Yellow.ai is another distinctive WhatsApp Business API provider that automates business communication and sales. It is a comprehensive solution that enables businesses to manage their entire sales process on WhatsApp, including chat conversations, browsing catalogs, placing orders, processing payments, tracking orders, and so on.
Yellow.ai can seamlessly integrate with various applications, such as CRM, billing, and invoicing software. In case of emergencies or complex queries, the bot smoothly transitions to a live agent to assist.
You can offer your customers the flexibility to choose from different pre-built payment gateways. The service will come in handy if you want to upsell or cross-sell. You can easily boost your sales orders by suggesting similar or relevant products to your customers at the right time. Yellow.ai allows you to target the right customer segment with personalized promotions and conduct conversational surveys to optimize your funnel and improve your offerings.
Pricing: Yellow.ai doesn't display its plans on a website, so you should request a quote. However, a free trial is available.
MessageBird
MessageBird is an omnichannel communication platform that helps businesses easily integrate WhatsApp into their existing communication strategy. You can send notifications and alerts to customers directly through the WhatsApp platform, keeping them informed about important updates, order statuses, and other critical information. In addition to its powerful functionality, the MessageBird WhatsApp Business API fully complies with WhatsApp's policies and guidelines.
This BSP doesn't require any coding skills to build automated replies and chatbots on WhatsApp. You can also leverage a range of advanced features, such as image sharing, location and file sharing, customizable buttons, and more. In addition, MessageBird provides one-time password delivery to enable users to verify their identity via multifactor authentication. If you are a retailer, your customers will be able to make purchases directly from WhatsApp. On the downside, some users have reported unreliable support.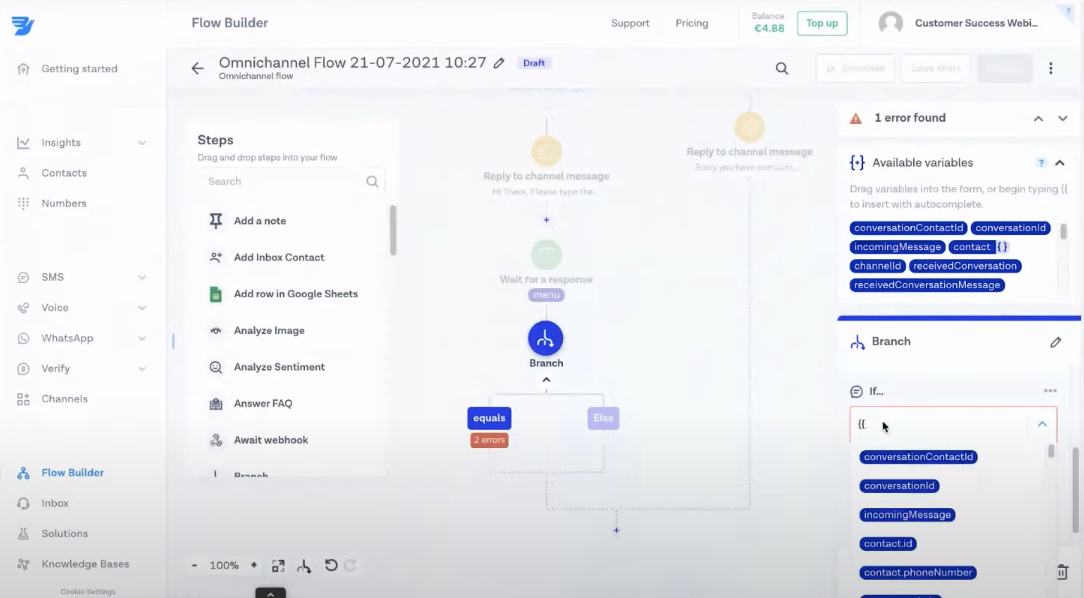 Pricing: MessageBird offers flexible pricing plans for its WhatsApp Business API based on the number of messages sent and received each month. The pay-as-you-go option starts at $0.0147 per message for the United States. The first 1,000 messages are free from processing fees, which start at $0.005 per message.
3Dolphins.ai
3Dolphins.ai is another omnichannel customer engagement platform that offers a wide range of features for businesses to connect with customers on WhatsApp and other channels. The service enables businesses to send automated messages using WhatsApp Business API, including welcome messages, order confirmations, and more. The platform uses advanced conversational AI to understand and respond to real-time customer inquiries, even when agents are unavailable.
3Dolphins.ai offers pre-built message templates for various scenarios, such as order tracking, appointment scheduling, etc. Various personalization options are available and can be implemented based on customers' preferences and behavior. 3Dolphins.ai provides detailed analytics and reporting on customer interactions, allowing businesses to measure and optimize their WhatsApp engagement strategy.
Besides, the platform supports multiple languages, allowing businesses to communicate with customers in their preferred language. It's worth noting that setting up and integrating 3Dolphins.ai with existing systems and workflows can be complex and may require technical expertise.
Pricing: The service provides a 14-day free trial; however, WhatsApp for Business API is not included. Monthly subscriptions start at $150, including 1,000 free WhatsApp conversion sessions. For WhatsApp conversation-based pricing, you'll need to request a quote.
SleekFlow
SleekFlow is a WhatsApp Business API provider that offers a range of features for better communication via this messenger. It's a great solution for teams, as the service provides unlimited multiple simultaneous logins. This means there is no need to create a group chat for every customer, as team members in different locations and time zones can access the same chatbox and participate in the conversation.
There are pre-approved templates that businesses can use to send messages to customers. It's a quick way to provide accurate responses to common queries. You can send promotional WhatsApp messages to over 256 users simultaneously and target specific groups of contacts using labels to customize content. Each recipient will receive personalized messages containing campaign details.
SleekFlow enables businesses to automate certain tasks, such as sending order confirmation messages, appointment reminders, and follow-up messages, to save time and improve efficiency. Also, it integrates with various third-party CRM systems, ticketing systems, and chatbots.
Pricing: This messaging API for WhatsApp Business offers three plans and a custom option for enterprises. A free plan is suitable for communication on Facebook, Instagram, and other social channels. The Pro plan includes WhatsApp and starts at $79/month. You'll get 1,000 free WhatsApp conversations and a Green tick for eligible WhatsApp Business accounts.
Charles
Charles is another player in conversational commerce, enabling brands to connect with their customers through messaging apps like WhatsApp. The platform offers comprehensive tools to help businesses build and execute successful messaging campaigns using WhatsApp Business API. Its template editor can help you create rich text messages that include images, videos, PDFs, and dynamic content like emojis, quick reply buttons, and lists.
Charles segments audiences based on various criteria, like order count, order dates, products, product categories, tags, custom properties, and so on. This ensures that messages are targeted and relevant to each audience segment. To ensure that campaigns are effective, this service offers a testing feature that allows businesses to send messages to one or more people before sending them to the entire audience.
With performance tracking and analytics features, you'll be able to measure open rates, click-through rates, and revenue per recipient. This is achieved through Google Analytics integration, which allows businesses to include UTM parameters in their campaign links. Overall, Charles is an effective and efficient solution for companies looking to leverage messaging platforms like WhatsApp for marketing and customer engagement purposes.
Pricing: Charles does not publicly disclose the pricing for their WhatsApp Business API solution. However, interested businesses can contact Charles directly to request a quote based on their specific needs and requirements.
The bottom line
WhatsApp Business API and BSPs have revolutionized how businesses communicate and build customer relationships.
While some BSPs belong to the segment of more expensive platforms, services like SendPulse are equal in functionality and suitable for both enterprises and startups without a technical background. Test it out today and start enhancing your customer communication strategy!