When it comes to building a website, average users think only seasoned programmers are able to do that. In this entry, we'll bust this myth and offer to check our website builder comparison, so you won't have to puzzle yourself over which platform to choose for your business.
Why use a website builder
To help you decide whether to use a website builder or not, check out the following benefits such services provide:
You need neither coding nor web designing skills. Website builders use drag-and-drop technology, so you can arrange your content without having to write or edit any piece of code. Besides, with website builders, you can choose from the pre-designed templates and themes, customizing them further to your taste and needs.
You can edit your website from any computer. Since website builders are online-based, all you need to do is log into your account and start editing and publishing your content at any time or place.
You save money. Even though free website builders do charge money for some premium features, paid options are still more affordable than a team of programming professionals.
With countless website building options, the question arises: Which platform to choose? Check out some steps to take before you pick your best website builder.
How to choose a website builder
Decide on your budget
Think of the strategic needs of your business to figure out how much money you can spend on a website. Typically, website builders provide basic features for free, yet they may charge money for premium features like advanced SEO options, code injection, or your branding. Keep in mind that even while using a free website builder, you will also need to invest in website maintenance like domain registration, image copyright, or hosting.
Choose the priorities of your business
Consider which options you want your website to perform and how you want it to look like. Say, you need a portfolio website, so you'll probably look for a tool which offers a number of themes and advanced drag-and-drop design options for the media you're going to publish. In case you want an online store, you'll expect the platform to ensure the eCommerce features, like payment and shipping options, lots of online storage space, ability to create discounts, abandoned cart emails, and others.
Mind the integration and compatibility options
Check whether the software has built-in options to connect with social media, analytics tools, music, and video apps. Remember, the users are going to check your website from their cell phones as well as from their computers, so look for a builder with mobile responsiveness options.
Check whether you can customize
Finding a builder with an intuitive and user-friendly interface is half the battle. A useful website building platform provides you with enough templates and themes to choose from, allows you to customize them by adding or changing the text, colors, and fonts, or even basic elements of the layout.
Look for customer support
Check whether you can contact anyone in case you're stuck with a particular problem while using the platform. At the stage of studying the service, pay attention to whether there's an introductory tour or a list of FAQ. Apart from this, check out how you can reach the technical support: through a live chat, email or users forum.
Now that you know where to begin crafting your website, we'll show how to do it with a website builder comparison of five popular platforms: Readymag, Wix, Squarespace, Instapage, and Weebly.
Cost: Free for basic plans, $16 a month for landing pages and personal websites, $64 a month for complex projects, and custom plans tailored to your extra needs.
The interface of this service is quite easy to work with as a sidebar with editing and design tools appears when you click the element you want to edit.
Despite a highly-intuitive design, this platform offers a 12-step walkthrough guide across the platform. Create an account, choose from the templates and themes the platform offers, and start filling your web page with content. Before you publish your creation, customize the title of your project, its description, and the link to it.
With Readymag, you'll be able to choose among 1500+ fonts or upload your own. The platform also allows its users to create their own templates or embed a custom piece of code to a project. To make a website even more interactive, the service offers four forms of animations – on load, scroll, click, or hover – and an array of special effects. Readymag provides a free option of making your website visible for search engines; however, you'll need to upgrade to a paid plan to map a custom domain and manage the white label or privacy settings. Moreover, you can unpublish your content at any time and export it to PDF or HTML.
Here's a webpage we've created using Readymag:
Cost: Free plan includes unlimited pages, drag and drop editor, secure hosting, 500MB storage, and mobile-friendly interface. For more advanced options, there are premium plans available, which cost from $4.50 to $24.50 a month.
The interface includes two sidebars with both general and advanced settings. Just pick an element and start editing it.
Choose what kind of website you want and decide how you want to create it. First, Wix offers you to answer some basic questions so that its Artificial Intelligence (AI) algorithm will generate a website tailored up to your needs. Alternatively, create a website on your own using templates, drag and drop editor, and numerous design features. Wix will offer you over 500 templates for business (online store, restaurants, tourism), blogs, landing pages, and so on.
The platform is considered one of the best website builders as it offers a super intuitive interface with an autosave, numerous text, images, and layout design options. Additionally, you can connect your website to domain provided by the service or to your domain, set up basic and advanced SEO capabilities, such as web-page titles, meta-descriptions, alt text options, link with Google Search Console, and others.
We used Wix to create a blog homepage with our latest articles.
Cost: Although Squarespace doesn't provide free plans, you can use a 14-day free trial to test and study the service. The platform offers four pricing packages from $16 to $46 a month. As a part of the package, this builder provides its users with a free website hosting and a custom domain name.
The platform offers a minimalistic interface where you'll need to click the '+' symbol on your right to see what you can add to the page and how you can edit it.
Start out with previewing and selecting the templates Squarespace offers. You can also get inspired by how other users build their websites with the help of these templates. Build your page by adding content blocks with the drag and drop editor and filling them with any necessary information. With the following service, you'll also get access to designer templates, web builder, unlimited pages, galleries, storage, as well as website metrics.
We used Squarespace to create a personal blog.
Cost: The service doesn't provide a free plan either, yet it offers a two-week free trial. There are two types of pricing plans: core and enterprise. The core plan costs $99 a month and includes over 40 integrations, unlimited A/B testing, mobile responsive builder, conversion analytics, custom code editing, over 200 responsive templates, and many more. The enterprise plan is customly priced and is tailored up to your specific needs.
The platform boasts of its convenient interface with a menu bar above the project you are working on.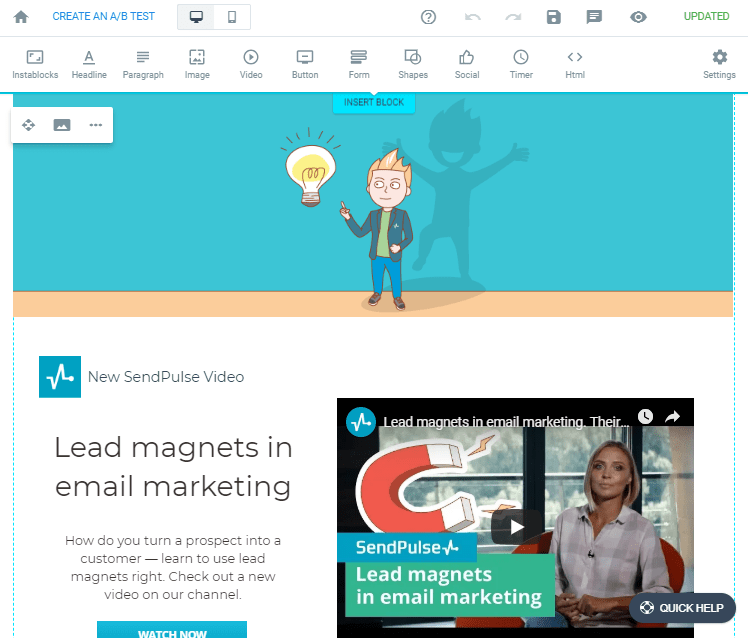 Instapage offers its users over a hundred of templates and all necessary widgets worked up specifically for landing pages. To analyze and optimize the landing pages you create, the service includes A/B testing options, the ability to connect the web page to your Google Analytics account, or track the conversions right from through platform's analytics. Instapage also offers integrations with Drupal, Facebook, and WordPress.
Here's how the webpage we created with Instapage looks like:
Cost: Apart from a free plan, Weebly offers five pricing plans, ranging from $7 to $55 a month. Depending on your pricing plan, Weebly grants various levels of design options, on-site search, password protection, storage, and many more.
The service also provides some valuable choices for an online store, such as a number of store products, shipping and tax calculator, use of discount codes, gift cards, checkout domain, and abandoned cart emails. There is a menu bar on the left with all available tools; however, you'll hardly find the preview button here.
Here's a website we managed to create with Weebly: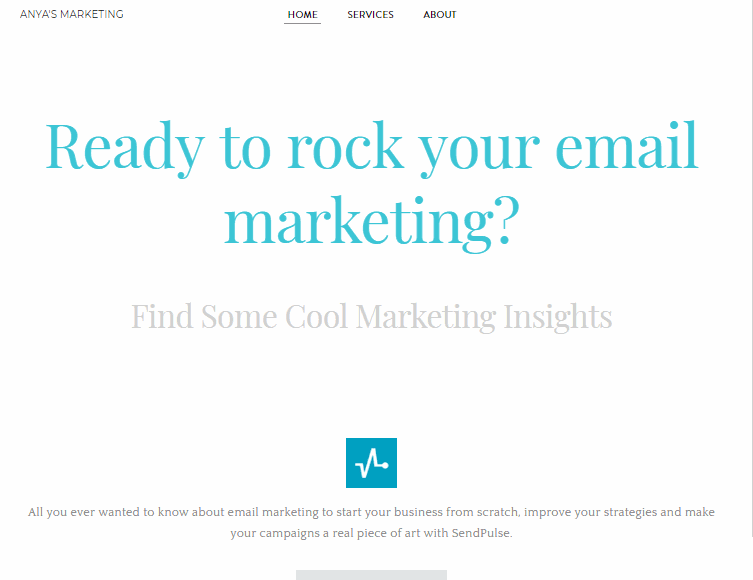 Website builder comparison footnotes
Having tried the above-mentioned platforms, we've prepared a website builder comparison table with their most essential features, so you could choose your winner.
Readymag
Wix
Squarespace
Instapage
Weebly
Free plans
+
+
–
Free 2-week trial
–
Free 2-week trial
+
Domain and hosting
Possibility to set a custom domain or use a subdomain. Projects are hosted both on pre-arranged and own servers.
Free subdomain and hosting. Custom domains available for premium users.
Free hosting and domain names.
Free subdomain hosting. Custom domains available for premium users.
Free subdomain hosting. Custom domains available for premium users.
Custom coding
+
+
+
+
+
Number of templates
30+
500+
60+
200+
40+
SEO settings
You can specify the title for your page, add meta description and keywords. There is also a possibility to customize URLs for each page.
You can edit meta tags — page title and description, — change the page URL, add keywords as well as allow or disallow search engines to show your page in search results.
You can add the title and description for your page, connect your website with Search Console to add keywords from it. There is also a possibility to prevent Google from indexing your page.
You can customize the page title, keywords, meta description, and Favicon. You can also hide the page from search engines.
You can edit and customize meta titles and descriptions, change page URLs, and use Google Search Console.
We hope this post has helped you pick the right website builder and encouraged you to try hand at creating your own website. Good luck on your beginnings and remember to use SendPulse to connect with the leads you've got from your new website! 😉