Using website builders, small businesses can improve their online presence and boost their sales while saving money on expensive and cumbersome solutions offered by large web development companies. These tools make it easy to create a website, optimize its content, and customize its interface. As too many options are available, selecting the best website builder might be tricky unless you know what to look for. In this post, we've outlined the main reasons to use website builders for small businesses and compared some widely-used options.
What is a website builder?
Many business owners ask themselves: "What is a website builder?" It's a platform with drag-and-drop functionality that allows creating a website without coding skills.
Website builders can be used for creating multi-page sites, standalone landing pages, blogs, eCommerce stores, etc. They often include collections of customizable templates and themes, web hosting, domain registration, and SEO tools. Many website builders also support third-party integrations and allow you to add plugins and widgets to your website.
Benefits of using website builders for a small business
Website builders allow you to save time, as you won't need to hire an in-house website development team to code the website from scratch. The key advantages of platforms for building websites include the following:
Drag-and-drop functionality. Website builders are specifically made to cut coding entirely out of the site creation process — you select the required website elements from the pre-build library of blocks and then choose the overall look and feel that match your brand.
Hosting and custom domains. You can save time and hassle by managing your hosting, domain, and website from one platform.
Responsive templates. Hiring a web designer to adapt the desktop version of your website for tablet and mobile could be costly. However, most website builders offer responsive templates, so you can be sure that your site is mobile-friendly.
SEO tools. SSL certificates, keywords, alt tags, meta titles, redirects, etc., are all important SEO factors influencing the performance of your website. Good website builders minimize the amount of work you need to do and sometimes literally walk you through the process, telling you exactly what to put and where.
In most cases, you are required to pay for a monthly or annual subscription to get access to all the features; however, some website builders also offer free versions.
How to choose the best website builder
When choosing the right platform to build your website, you need to remember that there is no one-size-fits-all solution. Some platforms are better suited for eCommerce, while others are designed mainly for landing pages and personal sites.
There are a few important steps to take and factors to consider when selecting the best website builder for your needs.
Decide on your budget
Think of the strategic needs of your business to figure out how much money you can spend on a website. Typically, website builders provide basic features for free, yet they may charge money for premium features like advanced SEO options, code injection, or your branding. Remember that even while using a free website builder, you may also need to invest in website maintenance, like domain registration, image copyright, or hosting.
Choose the priorities of your business
Consider which options you want your website to perform and what you want it to look like. Say, you need a portfolio website, so you'll probably look for a tool that offers several themes and advanced drag-and-drop design options for the media you publish.
Suppose you want to create an online store. In that case, you'll expect the platform to ensure eCommerce features, such as payment and shipping options, lots of online storage space, the ability to create discounts and launch abandoned cart emails.
Mind the integration and compatibility options
Check whether the software has built-in options to connect with social media, analytics tools, music, and video apps. Remember, the users will navigate your website from their smartphones and computers, so look for a responsive website builder for mobile-friendly, cross-browser compatible, and fully flexible pages.
Check whether you can customize
Finding a website builder for your small business with an intuitive and user-friendly interface is half the battle. A helpful platform to build websites provides you with enough templates and themes to choose from and allows you to customize them by adding or changing the text, colors, fonts, or even entire layout elements.
Look for customer support
Check whether you can contact anyone in case you're stuck with a particular issue while using the website-building platform. When studying the service, pay attention to whether there's an onboarding tour or a list of FAQs. Apart from this, check out how you can reach customer support: through a live chat, email, or user forum.
Top platforms to build a website
Now that you know where to start building your website, we'll show you a website builder comparison of ten popular platforms for small businesses that want to improve their online visibility and boost their sales by using convenient tools.
SendPulse
SendPulse is an all-in-one platform that provides multiple marketing products to help companies scale up their businesses. With this service, you can use high-quality tools for email marketing automation, creating online courses, building chatbots, storing and managing customer data in a free CRM system, and making multi-page sites as well.
Being one of the best website builders, SendPulse allows you to create your website from scratch using the drag-and-drop builder or choose a pre-designed template and customize it to suit your needs.
The platform to build a website includes all the essential tools you may need:
Drag-and-drop editor. This feature makes designing a mobile-optimized website extremely easy. The platform also offers carefully curated, customizable templates divided into several categories.
Multi-channel subscription widgets. Add pre-built subscription widgets that allow your visitors to choose the preferred communication channel — email, chatbot, or SMS.
Map widget. Set up a Google Map on your site and customize its appearance to your liking to let your customers know where to find you.
Integration of different payment gateways. You can integrate PayPal, Stripe, WayForPay, Fondy, Liqpay, or other payment systems into your website for easy worldwide selling.
Analytics and in-built SEO tools. Add Google Analytics to your website to analyze traffic and visitors' activity and be able to collect additional statistics. You also get the SEO capabilities you need to optimize your website for better search visibility.
Complete set of marketing tools. SendPulse combines intuitive site-building features with an advanced marketing suite that lets you send emails, set up chatbots, launch SMS campaigns, and more.
24/7 customer support and s self-service knowledge base. Customers can get help day and night in real time or troubleshoot at their own pace.
Pricing: SendPulse offers a free pricing plan for its website builder, and it allows publishing 1 website with up to 50 pages on a domain offered by the platform. Paid plans start from $6.40 per month, allowing you to publish more sites without the SendPulse logo on a custom domain. Paid plans offer you payments, countdown, FAQ section, and other perks.
You can
create a free account
now to try this and other SendPulse tools for as long as you want. No credit card required. Upgrade when or if you need it.
Wix
What makes Wix one of the best website builder for small businesses is that it has an intuitive interface and a wide choice of tools that will come in handy for designers, photographers, and other creative professionals. However, this drag-and-drop tool is hardly suitable for building complex eCommerce websites with short page load times. You can use various free templates to build a website in a few clicks. In addition, it features a collection of add-ons.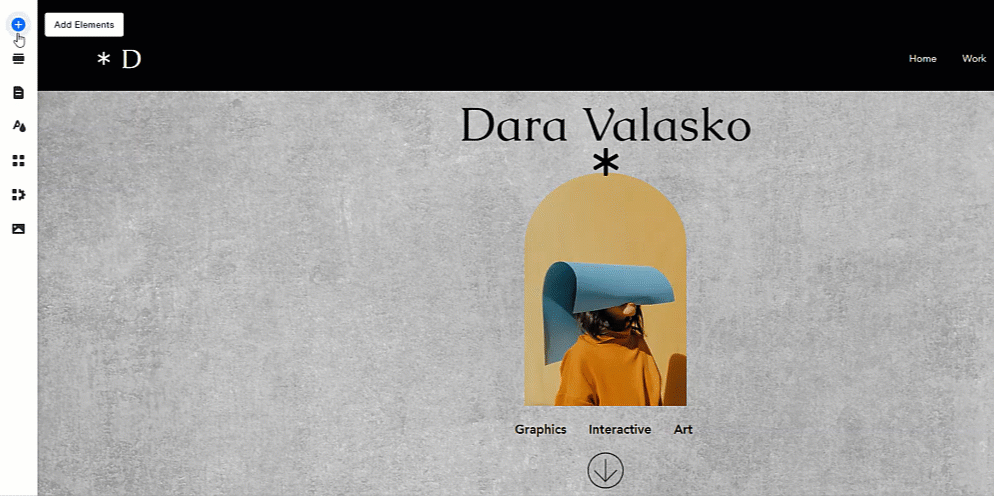 Marketing professionals and specialists from the entertainment industry often use this website builder. Let's see what makes this tool stand out:
900+ free website templates. Choose the template that is best suited for your industry and business size.
Enterprise-grade security. As Wix is often used for large-scale projects, it utilizes the most modern security approaches, so you can be sure that your business data and visitors' information is protected.
Ability to create eCommerce stores. With Wix, you can integrate secure payment getaways and design well-optimized product pages.
Many add-ons available. Benefit from over 250 apps available that would allow you to create contact forms, push-ups, etc.
Extensive knowledge base. Wix offers great guides on how to use the tool. Moreover, being one of the most popular website builders, you can find numerous tutorials on Wix online.
Pricing: There is a Basic version of the Wix website builder available for $4.50 per month that allows you to create a simple site without access to Google Analytics and the possibility to connect a custom domain. Plans with more advanced features start from $8.50 per month.
Zyro
What makes Zyro one of the best platforms to build a website is that it has everything a small business may ever need to build and host a website. There is no need to write a single line of code, as the service has a set of automated tools.
Zyro stands out for its excellent customer support and a choice of design tools. Here are some other benefits that Zyro's customers would enjoy:
Free hosting. Clients can get a free domain and generous discount offers.
30-day money-back guarantee. You can use a 30-day money-back guarantee to get a refund if you need a more complex solution.
Ability to add a blog to your website. You can post news about your company, share your expertise, and connect with your audience more deeply.
Integration of 70 payment options. You can easily create an eCommerce store with this website builder.
Pricing: The platform offers you two pricing plans — Website for $3.99 per month and Business for $6.89 per month. Every plan comes with an SSL certificate, SEO, blogging, and branding tools.
GoDaddy
GoDaddy is a domain register and web hosting company offering a website creation tool. This all-in-one solution facilitates building and managing websites from a single device.
Being one of the most widely-used options on this website builder list, GoDaddy has a drag-and-drop UI, which makes it suitable for users with little to no experience. And here is what makes it website builder so popular:
More than 100 templates. With GoDaddy, you can enjoy a streamlined website-building process. Using convenient templates, you can build websites in a few clicks.
Ability to create a design from scratch. The site builder also allows you to create custom solutions. Thanks to the available digital marketing tools, you can boost your engagement rates.
Great marketing and SEO tools integrated. It boasts an impressive choice of marketing tools, which allows you to create a website that will generate a lot of traffic.
Unlimited storage and monthly data transfers. So you can be sure that all of your website data will be backed up and won't disappear in case of downtime.
Pricing: GoDaddy offers a free plan for the simplest sites. For more complex business-building functionality, you can choose from four other paid plans ranging from $9.99 to $29.99 monthly.
HubSpot
The company is well-known for developing inbound marketing, sales, and customer service software. HubSpot also offers a drag-and-drop website builder. This solution enables you to build pro-level websites with a high engagement rate. Using the platform, you can control your site's content and get invaluable insights for launching effective marketing campaigns.
Here are some of the main features that make this tool good for small businesses:
Pre-made themes. All the themes are made by design experts with usability in mind. Just choose the one that works for your niche and customize it to your needs.
Modern security tools. Advanced security options like SSL, WAF, global CDN, and malware detection tools ensure that all the data processed through your website is protected.
Drag-and-drop editor. Choose the theme from a collection of templates and designs and preview edits in real time.
Pricing: You can get started with HubSpot's website builder for free, with premium versions of these tools available starting at $23 per month. Paid plans come with payments, SEO recommendations, pre-built modules and styles, smart content, and other features.
Pixpa
If you look at any comparison of website builders used by creative professionals, you will notice that Pixpa mainly caters to the needs of photographers, designers, and digital artists. It allows you to build a professional-looking website with a visually-appealing design and add to it a blog, an eCommerce store, or a gallery.
Using this platform, you can build a site with a set of powerful tools that will help you scale up your business:
Drag-and-drop editor. You can change your gallery layout, embed videos on any theme instead of images, add sections and move them around the page to get the website structure you want.
Code customization capabilities. You can customize CSS and HTML code to make your site more unique or use various templates to create a responsive site.
Integrated eCommerce tools. You can add a lot of product details right in the editor. It's easy to add information about licensing or usage, offer downloadable content to your site visitors, and add SEO elements to each product page. What's important, you won't be charged any commissions on your sales.
24/7 customer support. Pixpa offers 24/7 customer support via email or live chat, so you'll always be able to address any issues that may arise.
Pricing: Pixpa offers a 15-day free trial. Then, you need to choose one of the paid options that range from $4.80 to $20 per month when billed annually. The Basic plan allows you to create a site with a maximum of five pages or galleries and add up to 100 gallery images to it.
Squarespace
Whether you are looking for the best website builder for mobile users or a solution for creating sites that can be viewed from desktop devices, Squarespace can be what you need. With its tools, you can build a site with a stylish, modern-looking design. It has a visually-appealing interface and can be compared to Wix in terms of usability and ease of use.
This platform will come in handy for photographers and digital artists. Using it, you can create basic and more complex eCommerce sites. This website builder includes the following features:
Pre-built payouts and customizable templates. All the designs support major content types and have been crafted by professional designers.
Code customization capabilities. The Business plan allows you to customize the code and improve the usability of your platform by adding handy features.
eCommerce plugin. Squarespace offers plugins for creating product pages and integrating some payment gateways.
Built-in mobile websites. All design templates are responsive and are displayed in the right way on all devices.
Pricing: Squarespace has clearly defined pricing plans ranging from $16 to $49 per month when paid annually. The platform also offers a 14-day free trial. Keep in mind that the cheapest Squarespace plan doesn't include any features to create an eCommerce store.
Weebly
If you are looking for the best responsive website builder with in-built digital marketing tools, Weebly is the perfect option to consider. This platform has everything you might ever need to launch effective marketing campaigns. Weebly powers more than 530K domains all over the world. You can select the most suitable name for your blog and make it more engaging by adding text and pictures.
Here are the main reasons why individuals and companies keep choosing Weebly:
No technical skills required. This service caters to the needs of users who don't have a technical background and strong coding skills. Weebly has a collection of templates and detailed developer documentation.
Integrated SEO tools. It has convenient SEO tools for those wanting to reach their target audience.
Website performance tracking tools. Using its native app, you can track your site's performance regardless of your location.
High page loading time. Weebly automatically optimizes your page loading time to maximize the number of conversions.
Pricing: Weebly has several plans ranging from $0 to $26 per month when billed annually. The Free plan is suitable only for basic websites — keep in mind that with this plan, you'll have Square ads on your site. Starting from the Personal plan, you connect a custom domain.
Shopify
If you take a look at any website platform comparison, you will understand why Shopify is always among them. It is a perfect option for companies that want to go digital by creating an eCommerce website. It has convenient appointment scheduling tools and allows you to create a site with a blog, a map marking your location, contact info, and other useful information. You can add any number of products to your store and enjoy 24/7 support.
Here are the reasons why customers love Shopify:
70+ themes. All the theme templates are designed with the needs of the eCommerce business in mind.
Marketing and SEO tools. It supports the integration with thousands of services and has a convenient dashboard.
100+ payment options. You can integrate the most popular payment gateways to accept payments from any country.
Multichannel selling. With Shopify, you can track sales from different channels from one unified dashboard.
Pricing: The cost of a website builder varies based on the number of features, tools, apps, support options, and more. Plans range from $24 to $299 per month billed yearly. There are also some alternative solutions and 3-day free trial.
Webflow
Webflow offers a product that targets designers who want to create a fully functional site on their own but require more design freedom than traditional website builders. You can build fully-responsive websites and customize their mobile versions. Also, with this website builder, you don't need to use your own hosting provider.
You can use this platform to create a business website, portfolio, or blog and benefit from the following advantages:
Extensive collection of website templates. Thanks to the collection of pre-designed sliders, tabs, and other elements, you can quickly improve the functionality of your website. Webflow has an excellent collection of templates with various visual effects, animations, and other website design elements.
Ability to customize source code. Webflow allows you to edit HTML5, CSS, and JavaScript code to build a custom platform that fully meets your needs.
Numerous hosting options. This site builder lets you choose between hosting options such as Amazon Web Services and Fastly.
Integration with third-party plugins. Thanks to Webflow's integration with Zapier, you can use tools like Slack, Asana, and other third-party tools.
Pricing: Since Webflow markets itself as a more sophisticated website builder offering users greater creative control, its prices can get pretty expensive. Using the platform, you have to deal with three sets of plans: "Site," "eCommerce," and "Workspace," ranging from $0 to $212 per month if billed yearly.
Website builder comparison chart
Now that you know more about the most popular options, it's time to select a site builder that suits your needs best. Below is a website builder comparison chart to help you make an informed choice.
| | | | | | |
| --- | --- | --- | --- | --- | --- |
| Website builder | Free plan | Domain and hosting | Code customization | SEO tools | Templates |
| SendPulse | Yes | Free domain, SSL certificate, and streamlined domain verification using Facebook Business Manager. | Yes | Basic SEO tools, Google Analytics integration. | You can customize content, pictures, color palettes, and text style of professionally-designed 13+ templates. |
| Wix | No | Free subdomain and hosting. Custom domain names for premium subscribers. | Yes | Custom meta tags and page URLs. Users can block search engines from indexing pages. | 500+ |
| Zyro | No | Free domain and web hosting are included in all subscription plans. | Allows editing CSS styles. | AI-based content generator. | A collection of conveniently organized website templates. |
| GoDaddy | Yes | Web hosting with a free domain. | Lets you add your HTML, CSS, and JavaScript code to your website. | SEO services cost extra. | 200+ |
| HubSpot | Yes | Custom domains and premium hosting. | Allows editing HTML code. | Free SEO tools. | 419 website templates |
| Pixpa | No | Uses Amazon web services for cloud hosting. | Customizable HTML and CSS. | Limited SEO tools. | 131 |
| Squarespace | No | Free hosting and domain names. | Yes | Custom title and description. Users can integrate a site with Search Console to use keywords from it. | 60+ |
| Weebly | Yes | Free subdomain hosting. Custom domain names for premium subscribers. | Yes | Customizable meta titles, descriptions, and URLs. | 40+ |
| Shopify | No | Domain name and hosting. | Custom HTML and CSS code. | In-built SEO tools. | 70+ |
| Webflow | Yes | Allows adding up to 50 custom domains to a site. Fully managed hosting. | Editable HTML5, CSS, and JavaScript code. | Premium SEO tools. | 1500+ |
Select the best option for your needs that will help you scale up your business and improve your online presence. While choosing the right tool, make sure to consider the size of your company, your budget, and short- and long-term goals.