It is so hard to grab visitors' attention in the world of information overflow, attention span as long as the shortest TikTok video, and way too many distractions. Marketers do not compete with each other: they have to win over the entire internet to make themselves noticed.
Pop-ups are currently running the marketing strategies when it comes to catching users' attention. Everyone uses them to broaden their mailing list, encourage the first purchase with a discount, or make visitors stay just for a bit longer. And they work — the average conversion rate is around 3%, and if you managed to create a top-performing one, you could hook 10% of the website visitors.
Text and image pop-ups are a regular thing now. However, you can spice things up with a video pop-up. What is it? Keep reading and find out. We also collected some benefits of video pop-ups and the best content ideas.
What are video pop-ups?
Video pop-ups are small windows with embedded videos. Any action can trigger the box: visitor opening the website, engaging with some part of the screen, leaving the tab, or closing it. You are the one to choose the trigger.
Learn more about pop-ups from our Glossary!
A video can take up the entire space of a pop-up or become a box inside the box. You can also choose between auto-play and click-play, with or without the sound.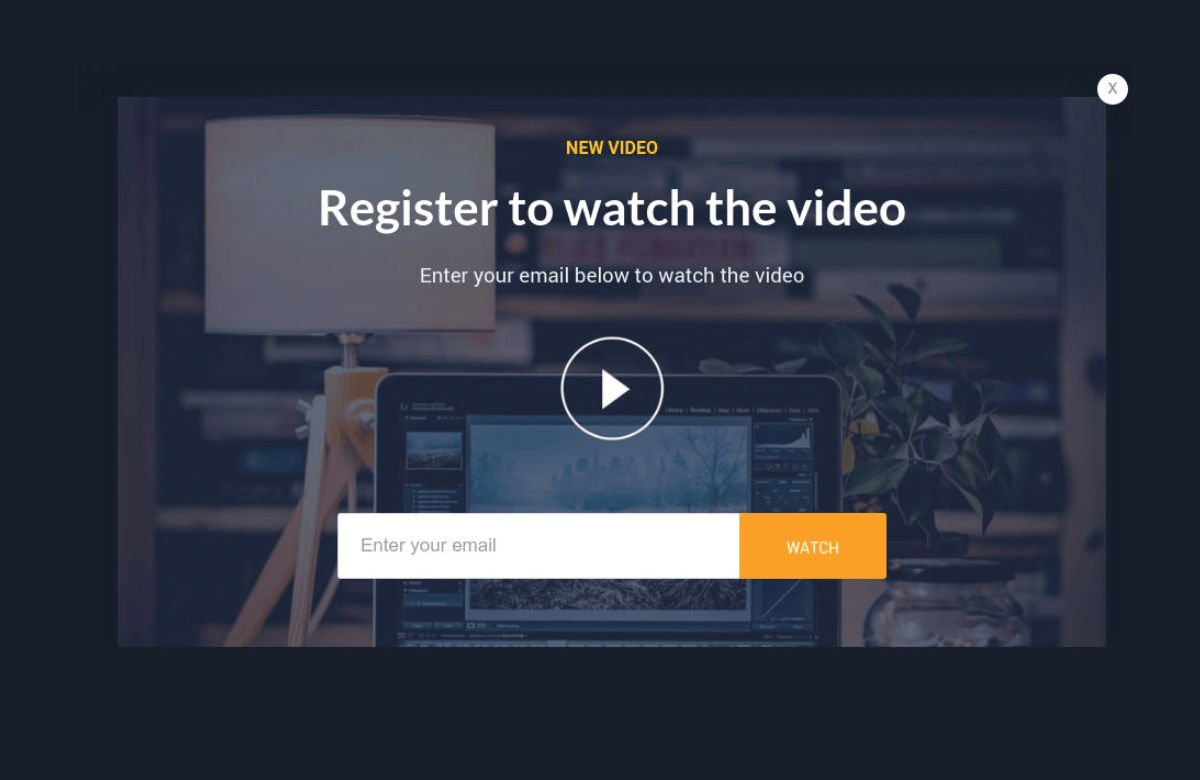 Benefits of video pop-ups
Video pop-ups offer numerous benefits that motivate companies to invest in them. They help your SEO, user engagement, and brand reputation. How? Let's explore.

Increase average session duration
Average session duration is taken into account by search engine algorithms. They believe that the longer a person stays on your page, the more interesting and relevant it is, and will, therefore, give it some extra points.
Users usually spend more time watching a video than they need time reading about a new discount to boost your duration significantly. Statistics show that people spend on average 2.6 times more time on pages containing videos than on pages without them. Thus, in this aspect, video pop-ups are definitely worth investing in.
Discover some strategies that will help you improve your video marketing.
Boost conversions
According to Sumo, 10% of top-performing pop-ups, on average, boost the conversion rate by about 9.28%. Pop-ups and video pop-ups, in particular, are a great way to grab website visitors' attention and make that final push to the conversion. You can not ignore a pop-up. However, you do have to make sure that the first three seconds of your video are catchy to turn an annoying pop-up into a great insight or opportunity.
Enhance trust
Video pop-ups allow you to show the face of your company, the people behind the product, service, or this pop-up. Visitors will get the chance to see them smile in the picture and see their movements and emotions and hear their voices. All of it makes a business more human-like and induces a feeling of trust. Thus, 81% of marketers report that they see the positive impact of videos on sales.
Instantly educate visitors
Consumers are 131% more likely to purchase from a brand that has provided educational content at the early stage of interaction. These pop-ups offer you case studies, checklists, or webinars if you give away your email. Many people do not take it; why?
Find out how to create more content with less effort by repurposing it.
They are not sure about the quality of the promised information, and you can not really pack something interesting and deep into a small text pop-up. Video pop-ups are a great solution to this problem. You can give a small glimpse into the study, drop some exciting insights, and let visitors judge for themselves but make a more informed decision.
Adhere to people's preference for videos
YouTube is the second most visited social media, and TikTok managed to become the most popular destination on the internet, surpassing Google and Facebook. What is similar between these two platforms? Yes, you are right. Their main content is videos.
People genuinely like watching something (especially if it is short), and 9 out of 10 consumers want to see more videos from the brands they interact with. Video pop-ups can meet consumers' preferences halfway, and visual learners will appreciate the effort even more.

Ideas on what videos to include in your pop-ups
Video pop-ups do require some more creativity than regular text and graphic pop-ups. At the same time, there is so much more than you can offer in a video. Let's take a closer look at some video pop-ups ideas.
Video pop-up idea #1 Add your YouTube videos to promote your channel
Suppose you have a YouTube channel with more information about your company or products. In that case, a video pop-up is the best way to showcase it and continue the conversation on this viral social media channel. People are more likely to watch a video about your company than read an article, so you should definitely showcase your channel if you have one.
Discover how to use YouTube to successfully generate leads.
It is effortless to embed a YouTube video in a pop-up too! You just need to copy and paste the link, and here's how the video pop-up with the YouTube video embedded looks:
Video pop-up idea #2 Include a behind the scenes video
Let users know how you produce the goods and what work stands behind every piece. You can go into detail about the manufacturing, highlight the quality of your materials, vocalize your mission, and show how you treat workers. Customers appreciate such information and warm up to your product and brand.
Video pop-up idea #3 Offer video presentations to your new product or service
When it comes to products and services, the rule of "show, not tell" works the best. Pictures are fine, but if the customer can see all the angles, the product in motion or work, or see every step of the service performance, the images can not withstand the competition in the slightest.
So get your retained customers excited about the new product as soon as they return to your website. It may work with newcomers, too, but returning ones are the most likely to pay attention. Here's an example of how WisePops introduces their new editor with the help of a video pop-up:
Video pop-up idea #4 Showcase video customer testimonials
Customer testimonials are a great way to create trust. People need social proof, and they value it as much as price or great customer service. If those are people who do not just write a comment and hide under an anonymous profile but speak on behalf of your company, you will definitely win more trust points.
Video customer testimonials are also quite short, so they will look well in a pop-up.
Video pop-up idea #5 Add an explainer video
Explainer videos help your customers understand how exactly your product works, where they will be able to use them, and what problems it solves. In this type of video, you will be able to justify their purchase with more details than any landing page or product description can manage. At the same time, it will be much easier and require no effort to comprehend the information compared to a huge plain text.
Here's an example of a brand offering video pop-ups with a detailed explanation on how to use their camera for the best results:
Video pop-up idea #6 Include a video with answers to FAQ
A lot of purchases do not happen because of the lack of information: what currencies do they accept? How much is their delivery? Do they deliver to my country? What is the return policy? If the person is very new and has little trust yet, not knowing the answers will definitely prevent them from buying.
Yet, if you answer the most asked question clearly and shortly with a video pop-up, you will diffuse the last bits of their uncertainty and be more likely to win their purchase.
Video pop-up idea #7 Add a video about your company and its recent news
As of now, people care about the brands as much as they care about the products that they offer. For instance, you could get any chocolate, but you buy ethically sourced one, even though it is more expensive because you want to support a sustainable business and feel a bit better about yourself.
A video pop-up is a great way to show the people's side of your business and tell more about your culture and vision. It turns you into a meaningful brand rather than one more goods producer.
Here's an example of a pop-up with the video where the founder of WordPress, Matt Mullenweg, elaborates on his vision for the company and challenges the company faces:
Video pop-up idea #8 Create holiday videos to interact with your audience
Holidays are the days when people feel happier, freer, and more generous. It is the time of bonding with the world over a celebration and being excited about buying and giving presents. Make sure that you are a part of this excitement, happiness, and spirit with a holiday video pop-up. It will, once again, make your business more human and build trust. People also like celebrations and greetings in general, so make them feel a bit fuzzier with sincere congratulations and cheers.
Conclusion
Video pop-ups are a relatively new strategy to get the advantage of it sooner than anyone. They will help you with SEO, trust, and conversions, as well as deliver people more content in a form that is preferable and easier to understand.
Pop-ups actually give you a lot of room for creativity. You can use different pop-ups for different pages and types of users: for example, newcomers will love to see customer testimonials and learn more about your brand, customers that are almost at the end of the buying journey will appreciate the FAQs, and returning customers will be excited to learn about new products.
And if you're looking for a website to embed your video pop-up to, you can build one with our intuitive drag and drop site builder — make sure to give it a try for free!