When asked how they'd most like to learn about a product or service, 69% of consumers said they'd prefer to watch a short video instead of an infographic or an article. So, it's certain now: long text-based emails are falling out of fashion. Video is the new king.
In this post, we'll learn the ins and outs of the skillful and impactful use of video in email marketing. We'll also talk about how to embed videos in emails so that they will capture attention right away. Plus, we'll see how popular brands use video email marketing to stay on top of their game.

The advantages of using videos in emails
Making a video does require quite a bit of hustle: you need to gather a team, summon a muse to create an interesting concept, write a script, find the right equipment, then shoot hundreds of scenes, choose the best ones and bring them together in a 60-second frame.
So, what do you get in return? For starters, it brings a higher click-through rate, open rate, and conversion rate. Using video in an email is an invitation to click the play button. It attracts the recipient's attention and creates intrigue. If you use videos, it takes much less time to get your message across compared to creating a ton of educational text-based content.
Facts and numbers say it all. Let's begin with the most exciting one — ROI. Marketers are asked every year if video gives them a positive return on investment, and they are increasingly saying yes.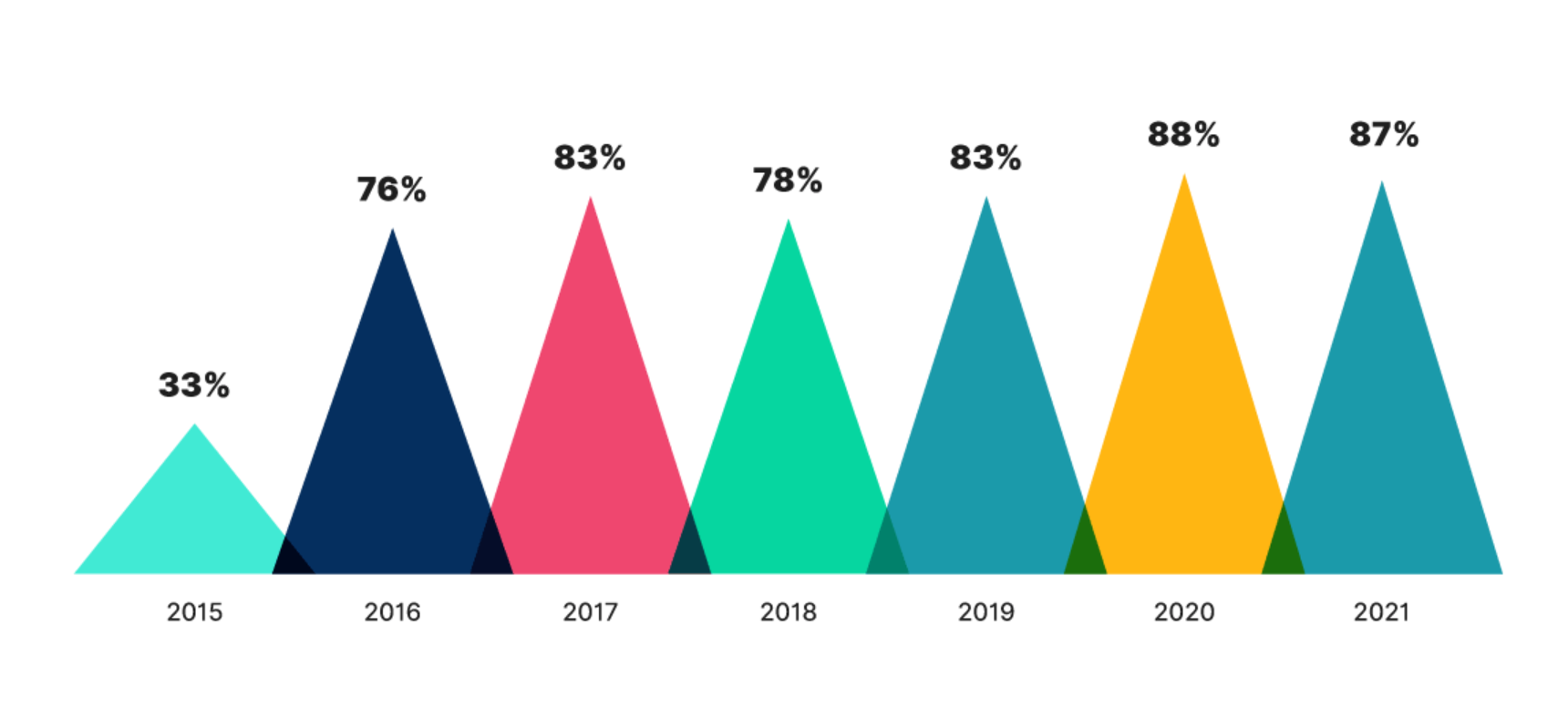 People binge-watch videos every day, and there is no reason you shouldn't jump into this game. 78% of marketers say video has directly helped them increase sales. Interestingly enough, the coronavirus pandemic made the video industry boom. 47% of marketers and business owners said video marketing has become a necessity with all of the new challenges relating to the pandemic.
The number of marketers associating video with a reduced number of support calls is growing slowly but steadily:
And what about customers? They certainly gravitate towards the most engaging form of content. 84% of consumers say that they've been convinced to buy a product or service by watching a brand's video. Also, it turns out that people are twice as likely to share content with their friends if it's a video.
Let's sum up the benefits. Video is a great medium for marketers, sales representatives, and business owners, but you need to think strategically when you invest your time and resources into it. You can learn more about that from our post on video marketing strategies and practices.

Things to consider when you're making a video
Now you need a little creativity and time to produce your video. Let's list some basics that will help you get more views and stimulate customers' interest.
Relevancy
Always create relevant videos. Think about your target audience and what content would be interesting for them, do not copy some trendy formats just because your competitors use them. Maybe, they're losing their money, and you just don't know about it yet. Stick to what you're confident your target audience wants.
Brevity
The optimal length of a promotional video is from 30 to 90 seconds. If the video is too long, it's better to divide it into several parts and send them as an email series. The first seconds of the video should be the most engaging, interesting, and intriguing, otherwise, your users will lose interest and leave.
Personalization
If you want to tap into the emotional side of your audience, showing a real person is better than using generic icons and flat graphics. But if you plan to dive deep into the technical details of your project, simple vector animations will work just fine. Just make sure you address the exact issues your customers are struggling with.
Title-to-content correspondence
Respect your subscribers — forget about using clickbait to attract their attention. If your subscriber opens the video and realizes that it has nothing to do with its title, their trust in you will disappear. After that, they will not interact with your content.
Visual consistency
Your videos should be easily recognizable and in alignment with your overall style. You can guarantee that by hiring a professional full-time employee instead of handing out production tasks to different freelancers every time you need visual content.
Optimization
If you decide to upload your videos to YouTube, add a description to it. Try to squeeze the most important things and keywords in the first three sentences of the text. Be sure to add tags and choose the right category for your video. YouTube's algorithm analyzes all the information to understand the content of the video and then recommends it to users based on their previous requests and watch history.
How to insert a video into an email
Let's sort things out to avoid any ambiguity. Embedding videos is not supported by most of the popular email clients. And for good reason! Otherwise, we would receive tons of annoying spam videos every day.
Instead, what marketers do, is use an image with a clickable play button that links to a landing page containing the whole video and a CTA button. Basically, you just insert a thumbnail with a play button on it. It's a preview of your video imitating a ready-to-go video player. The play button is not a real button, it's a link that takes users to your resource. You can completely omit it and just add a CTA button and name it "Watch now" or "Play."
Why only send an image linking to your video? The size of your email remains small, yet you encourage your audience to watch your video and visit your website. Also, you have a chance to establish personal contact and explain difficult things about your product in simple terms.
You can easily insert a video into an email in SendPulse using our drag-and-drop editor:
Now, let's look at an example. Flywheel puts the play button in the center of their thumbnail. The button is a clickable link that takes users to the company's website where they can watch a three-minute educational video. The CTA button below the description has the same purpose.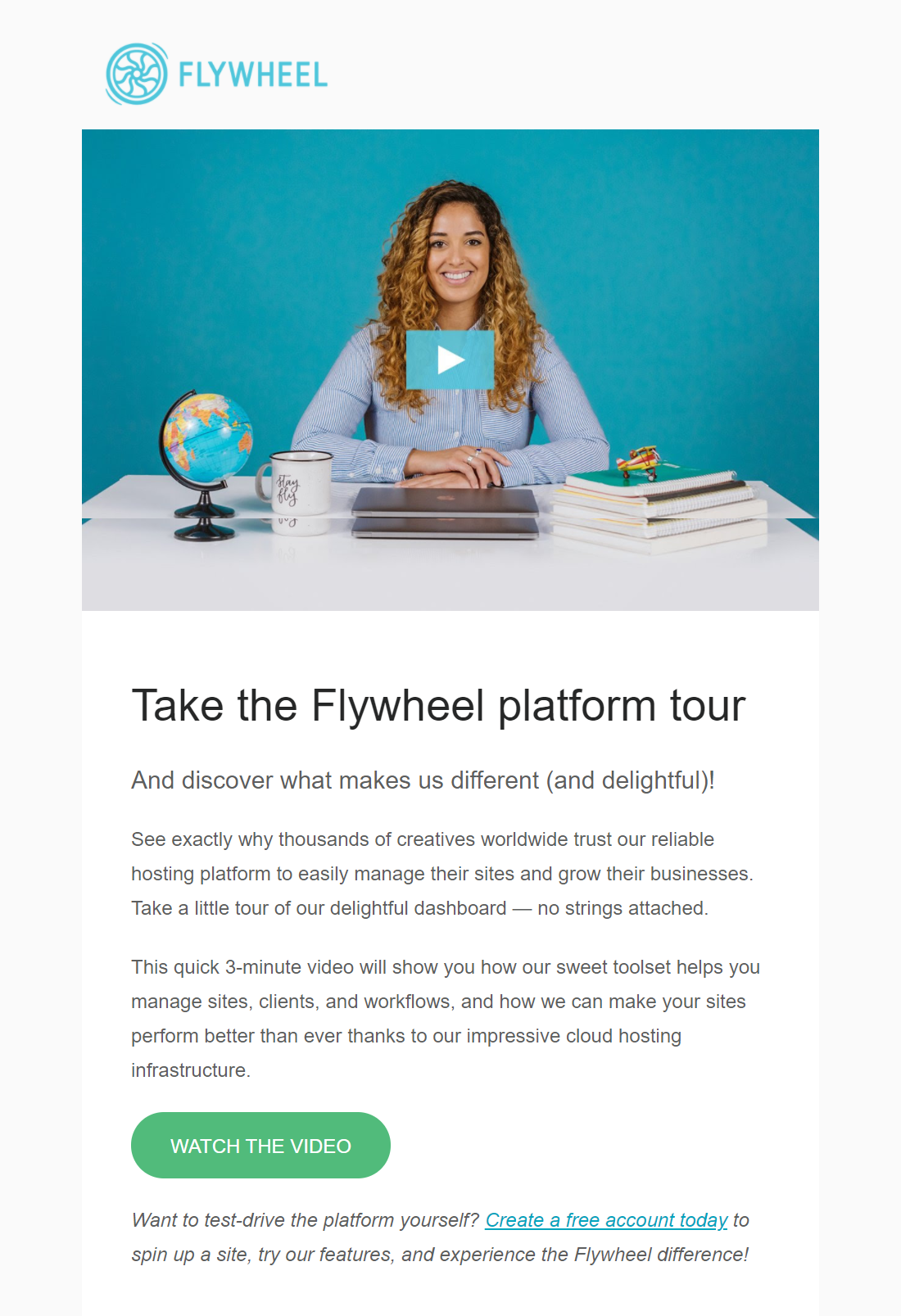 Pay attention to how their landing page is designed. Under the video, you'll find another CTA button that invites users to start their demo and explore the product.
Examples of video content in emails
Now that we know how to embed videos in emails, let's look for some inspiration and check out how different companies use eye-catching video content to gain subscribers' trust, improve product knowledge, and boost engagement.
Onboarding videos
The first impression is the most important one, and there's no second chance. This is why we suggest greeting your new subscribers with a short onboarding video instead of a generic text-based welcome email. It's an opportunity to establish a personal connection right away and demonstrate the human face behind your business.
The co-founder of Sendspark shows exactly how it can be done with the help of their service:
Educational videos
If you want to explain something to your subscribers or demonstrate how your tool or platform works, adding video content to your email will hit the spot. People don't like monotonous text or oversaturated infographics, so video is the way to go if you want to explain a new concept or demonstrate your tools at work.
This is exactly what The Futur, an online design academy, does with their videos. They use email to promote their video content and keep in touch with their audience. After clicking on the CTA button, users can watch their latest video and learn more about visual communication.
Video series
Tease your audience and spark their interest by delivering unique video content in small portions. Your customers will develop the habit of checking emails from your brand more often. Also, it helps build up anticipation and create long-term engagement. Integrate related products or features into every episode letting your users learn about your product gradually.
GIFs
If you want to make your emails funnier and more down to earth, forget about bulky videos and try inserting GIFs instead. Just make sure this format corresponds with your brand's general style and tone of voice. GIFs are great if you talk to teenagers, millennials, or just a diverse, open-minded audience. They inject life and animation into the paragraphs of text.
Windscribe VPN chose a rather playful and somewhat crazy approach, and the GIFs look really great in that context:
Announcement videos
It's always better to deliver news, good or bad, in person. You can achieve that by recording video announcements to strengthen the bond between your customers and your brand. There's something beautiful in the imperfections of self-recorded videos, so you can use your small budget to your advantage — announcements look even more trust-worthy that way.
Here is how Airbnb announced their pandemic-related initiatives:
Promotional videos
This type of video content is one of the pillars of eCommerce. People like to know what they're about to buy, and it's your task to showcase your product in its full glory.
Sephora uses video content to teach their audience the latest makeup trends and inspire them to buy and experiment with their new products confidently.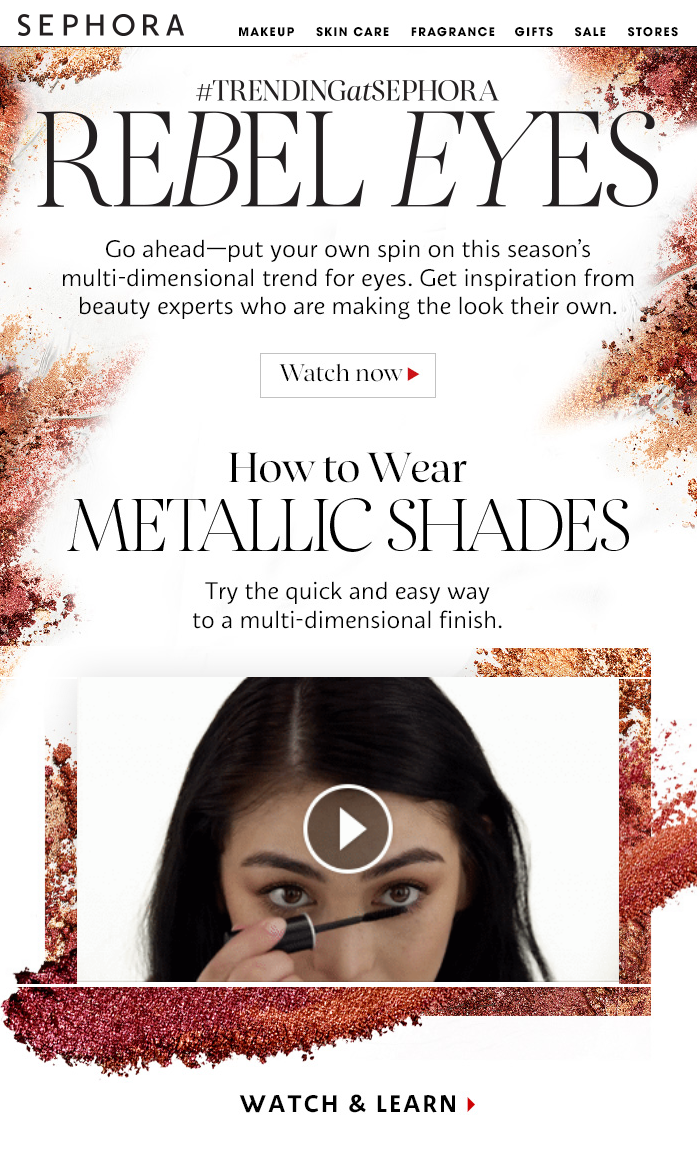 Behind-the-scenes videos
There's something magical about looking behind the curtain and watching people create what you love. Give your customers the chance to be amazed and show them how their favorite product is made.
If you offer a digital product, show your users what happens in your office and what your team is up to. The main idea is the same: put your viewers in touch with your business, and you will increase their emotional engagement and loyalty to your brand.
For instance, Lush gives their subscribers the opportunity to watch the production of their cosmetics line by just clicking the thumbnail:
Testimonials
Ask your customers to record short testimonials instead of generic, faceless reviews, and you'll be surprised how many people actually like being recognized and are ready to help others. You can use these videos as short case studies and share them with your leads.
Here is an example of how Wistia includes video testimonials in their welcome emails. The video in the email below walks the subscriber through a happy customer's story — the speaker is a small-business owner using Wistia to achieve their commercial goals.
Entertaining videos
Not everything is about sales and products, right? Sometimes your leads and customers just want to relax, savor the moment, and celebrate life. You can support and share this mood by sending them entertaining video emails related to a specific holiday.
Harry's launched a video email marketing campaign called "Save the stout" on Saint Patrick's Day. The video was encouraging men to prevent beer loss by shaving regularly:
Last but not least
Keep in mind that some of your subscribers may have visual or hearing impairments. Also, some users might have a poor internet connection or a broken pair of headphones. You don't want to leave them frustrated, so always give your users an alternative. Place a description under every video and make sure subtitles are available, especially if you have a multilingual audience.
Video email marketing is fun, and you don't need a fortune to get started. You can record simple welcome videos or testimonials right in your office — just make sure the lighting is bright enough and the room is quiet.
Follow the trends and use videos in your emails to increase your email marketing metrics and keep your audience engaged. You can tailor emails with video in SendPulse in no time, so grab a free account and try it now!