Pop-ups and interactive forms have become irreplaceable digital marketing assets for engaging website visitors, collecting data, and creating more personalized user experiences. Typeform stands out as one of the most popular platforms for these purposes, as it allows businesses to create different types of customizable forms and integrate them into their websites and email communication.
However, there's no such thing as a one-size-fits-all solution. Typeform is a relatively expensive tool, and it has a few drawbacks and limitations that might not align with some companies' goals and requirements. To find an ideal solution for your business, it's worth exploring different Typeform alternatives. Some of them offer more budget-friendly prices, while others provide unique features that cater to specific use cases or industries. In this post, we'll share the top ten options, along with their functionality and pricing, to help you make the right call.
But before jumping straight to the list, let's take a closer look at what Typeform is.
Typeform features
Typeform provides versatile tools for creating online forms for various purposes — from capturing leads and asking for feedback to conducting marketing surveys, all without the need to write a single line of code.
To better understand what Typeform is, here's a rundown of its key features:
Drag-and-drop builder. The platform offers a user-friendly interface with much flexibility for designing online forms from scratch. You can easily adjust the style and colors to your liking.
Pre-built templates. From customer success to education, there are many pre-made form templates to choose from, all of which are customizable. They are conveniently categorized by activity, popularity, role, and type, so you can easily find a great match for your needs.
Question types. There's a multitude of question types to choose from, including phone numbers, text boxes, opinion scales, and ranking, so that you can collect diverse information based on your goals.
Conditional logic. By setting up logic rules, you can create dynamic forms that can change based on the user's previous answers.
Integrations. The platform integrates well with popular apps and services like Slack, Calendly, Google Analytics, Salesforce, etc. You can also connect it with Zapier to expand your capabilities even further.
Sure, all these features make it one of the best form-building tools available on the market, but it does have a few downsides — so, let's see what's causing users to look for better Typeform alternatives.
Typeform downsides
There are several issues driving users towards Typeform competitors, so let's explore some common factors shaping this trend:
Limited free plan. Some advanced features, integrations, and higher usage limits are only available for higher-tier plans.
High cost. Typeform pricing can be a deterrent, especially for those on a tight budget. Its basic plans lack necessary follow-up, branding, and analytics features. Plus, removing the Typeform logo requires the middle tier, which costs $50/month. Likewise, you'll need to upgrade to collect more than ten monthly responses.
Fewer customization options. While Typeform does offer customization, it's not as extensive as some of its competitors. The platform maintains a uniform style across all its forms, and there's no option to include any custom coding. It might be too limiting if you're looking to create a more unique, on-brand online form that seamlessly integrates into your website.
Limited access to customer support. Free and Basic plan users can only rely on the platform's help center, which offers solutions to common queries and a standard contact form for individual support. There is no live chat option available, so it may take longer to receive the necessary assistance.
Apart from high Typeform pricing and limited features, some users state that the platform lacks basic caching functionality. Many Typeform reviews also mention that the user interface lags when they try to create long and complex forms.

Clearly, these are solid reasons to look for an alternative to Typeform. So, what form-building tools can you consider?
Top Typeform alternatives
Let's review some of the best platforms that can be the Typeform alternative you're looking for.
SendPulse
SendPulse is more than just an online form and pop-up builder; it is an all-in-one marketing automation platform that helps companies communicate, engage, nurture, and manage their audience.
SendPulse's pop-up builder comes with over 50 form templates that you can fully customize to your needs. These templates include lead capture and registration forms, NPS widgets, and promotional pop-ups, among many others. You can change every form you create to match your brand, as you have complete control over various elements, including images, videos, and fonts.
As a form-building tool, it lets you set different display conditions for any pop-up you create. Essentially, these conditions determine where and when your pop-up shows up. You can configure them to appear on any specific website page or trigger them when users click, intend to exit your page, etc.
This Typeform alternative offers many integrations with popular CRM, CMS, and eCommerce systems. Moreover, leads that fill out your form can be automatically routed to SendPulse's CRM and mailing lists, letting you better manage your contacts and nurture relationships with them.
As a Typeform alternative, SendPulse offers the following features:
intuitive and user-friendly builder;
mobile-friendly and responsive templates;
numerous display conditions;
A/B testing;
webhooks to transfer data;
online payments through PayPal, Stripe, Mercado Pago, and Flutterwave;
integrations with popular tools;
data sync with built-in CRM and email service;
a wide variety of comprehensive marketing, automation, and sales tools;
24/7 customer support in multiple languages for all users.
Pricing: You can use SendPulse for free if you have less than 10,000 unique website visitors per month. Plus, it includes up to 30 published pop-ups on up to three websites. For more visitors and some advanced features, you'll need to opt for a paid plan, which starts at $6.40/month.
Wisepops
Wisepops is another Typeform alternative designed to help businesses engage with their prospects and customers via targeted pop-ups. The platform offers a drag-and-drop editor that allows you to create a form from scratch without any coding knowledge.
Additionally, Wisepops comes loaded with pre-made templates that cover every stage of the customer journey. You can find surveys, spin-to-win forms, and video pop-ups, among many others, and easily adjust them to your design needs. The platform enables you to customize colors, texts, and styles and add effects, images, and fields.
It also offers vast integration capabilities to simplify your access to popular email marketing tools, CRM platforms, and other helpful solutions.
As a Typeform alternative, Wisepops provides the following features:
no-code builder;
extensive design capabilities;
100+ ready-to-use templates;
40+ targeting and segmentation options;
powerful integrations;
customer support via email or live chat.
Pricing: There is no free plan or trial period available. Depending on your monthly pageviews, you can choose from several paid plans starting at around $42/month if billed annually.
Picreel
Picreel is a conversion optimization and lead generation tool that lets you create and launch highly targeted pop-ups. Its gallery counts a vast number of customizable templates sorted into various categories. They cover many use cases; for instance, website owners can capture leads, offer time-limited discounts, request feedback, etc. Alternatively, you can create a form from scratch with an easy-to-use builder that supports adding custom HTML and CSS code.
Besides, it's a plug-and-play solution that integrates seamlessly with many CRMs and other marketing tools.
As a Typeform alternative, Picreel offers the following features:
100+ pre-made templates;
HTML or CSS mode;
advanced targeting;
A/B testing;
plenty of integrations;
real-time visits, impressions, and conversions;
customer support via phone, chat, and email.
Pricing: Piercel offers a free plan for up to 5,000 monthly visitors. Its paid plan costs $9.99/month if billed annually for 10,000 monthly visitors.
Popupsmart
Popupsmart is an effective and valuable tool for businesses looking to generate leads and more targeted page traffic. This platform provides a selection of pre-designed templates you can use for a quick start and freely modify their fonts, colors, and other details to ensure they align perfectly with your brand. Moreover, users with coding expertise can set up different display effects using CSS.
With more than 18 targeting options, this alternative to Typeform lets you set up a pop-up based on almost every user behavior pattern you can think of. It can also instantly transfer the captured data to some CRM and email marketing services available for integration.
As a Typeform alternative, Popupsmart offers the following features:
no-code builder;
smart-mode targeting;
prefilled fields;
no branding;
compatibility with SEO and GDPR;
customer support via email and phone, depending on your plan.
Pricing: You can use Popupsmart for free to create one pop-up, add one website, and get up to 5,000 pageviews monthly. Unlimited pop-ups and 100,000 pageviews are available with the Basic plan, which costs $32.5/month if billed annually.
Hello Bar
Hello Bar is a platform suitable for website owners, digital marketers, bloggers, and other professionals who seek to improve their lead generation. Thanks to a user-friendly and clutter-free builder, this Typeform alternative makes it very easy to get started.
The platform lets you choose a goal for your pop-up, which may include collecting email addresses, promoting offers, making announcements, driving traffic to specific pages, etc. With Hello Bar, you can select from pre-made templates and customize them by adjusting fonts, colors, backgrounds, buttons, etc. Also, there's a convenient Design Assistant tool available that lets you automatically detect and match the pop-up template to your site's colors, fonts, and styling.
Besides, this platform allows you to set up your targeting rules. You can add one or more rules for your form's display and specify whether users must meet all or some of them for the form to appear.
Hello Bar offers a few integrations with email marketing software, CRM, and CMS.
As a Typeform alternative, Hello Bar provides the following features:
pre-built themes;
plethora of customization options;
automated design assistant;
A/B testing;
customizable targeting rules;
email service and Zapier integrations;
basic or priority customer support, depending on your plan.
Pricing: A free plan lets you create unlimited pop-ups but restrict their views to 5,000 per month. To unlock advanced features like A/B testing, more views, or branding capabilities, you need to upgrade to a paid plan ranging from $29 to $99 monthly.
Wufoo
Another noteworthy alternative to Typeform is Wufoo. It's commonly used to generate various online forms through its visual builder, including surveys, contact, payment, event registration forms, etc. There are tons of customization options available with this platform, including form background colors, typography, logo, and more, which will allow you to align your form with your brand aesthetics.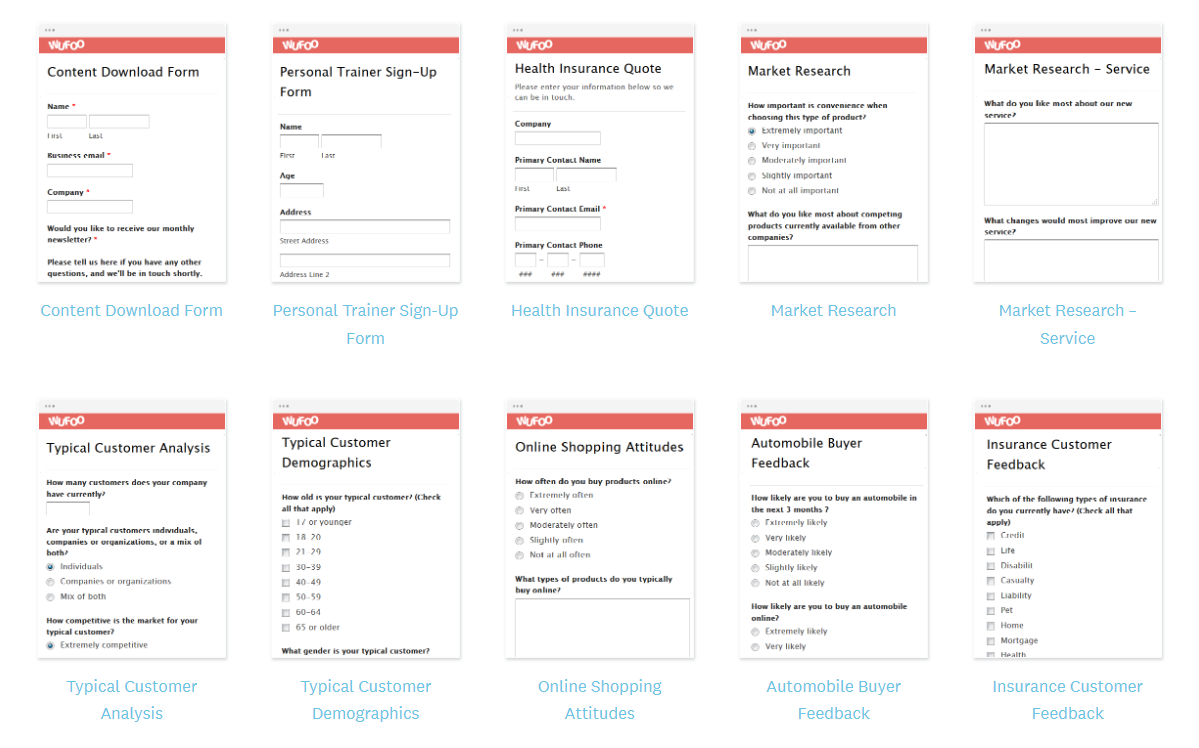 This platform offers WordPress users a convenient plugin to embed their forms on their websites seamlessly. Thanks to various integrations, users can also automatically transfer captured data to CRM and marketing automation systems.
As a Typeform alternative, Wufoo offers the following features:
no-code builder;
400+ ready-to-go templates;
custom CSS;
file uploads;
branching and logic;
online payments through PayPal, Square, Stripe, etc.;
various integrations;
customer support via email, which is prioritized based on your plan.
Pricing: Wufoo offers a free plan limited to five forms and 100 monthly form submissions. For unlimited forms and at least 5,000 monthly form submissions, you'll need to upgrade to the Professional plan for $29/month.
Formstack
Formstack is workflow automation software that doubles as a code-free form builder. There are over 300 form templates for nonprofits, education, healthcare, and other industries. All of them are customizable — you can rearrange, add, or remove form fields and modify fonts, colors, backgrounds, animations, and buttons.
This platform also allows you to configure conditional logic to personalize your user's experience with your forms, as it will automatically show or hide fields based on user input.
If you want to get your form in front of your social media audience or email subscribers, you can easily share it in your posts or newsletters. Besides, this platform offers access to over 260 third-party integrations.
As a Typeform alternative, Formstack offers the following features:
drag-and-drop builder;
template library;
CSS tools;
field prefill;
conditional logic;
hassle-free migration from other services;
online payments via Paypal, Stripe, WePay, and more;
customer support through tickets.
Pricing: Formstack offers a 14-day free trial. To continue creating forms with this service, you will need a paid plan starting at $50/month for 20 forms and 1,000 submissions per form.
Cognito Forms
Cognito Forms is a low-code form-building platform that caters to various industries like human resources, education, healthcare, nonprofits, etc. It offers over 100 templates you can browse by type, industry, and features, making it easier to find the form that suits your specific needs. You can customize your form appearance, fine-tune its colors, background, fonts, buttons, and more, or use the Chameleon Mode option when the form is published to identify and apply the styles of your page to it.
Users of this Typeform alternative can also collect online payments and set up advanced conditional logic to build smart forms that, for instance, can do complex calculations for you.
As a Typeform alternative, Cognito Forms offers the following features:
pre-made templates;
CSS styling;
multi-page forms with a progress bar;
conditional logic;
calculations;
webhooks;
file uploads;
online payments through PayPal, Stripe, Square, or a credit card;
customer support via submitting a ticket or email.
Pricing: A free plan is available — you can get up to 500 monthly submissions before having to switch to a paid plan, ranging from $15 to $99 per month.
Gravity Forms
Gravity Forms is an alternative to Typeform focused on businesses running their websites on WordPress. It has a visual builder that lets you drag one of the 30+ pre-defined fields and drop it into your form. If your form turns out long or complex, you can break it down into multiple sections or pages. Although you'll be short on style options with this builder, you can use custom CSS to tweak your form.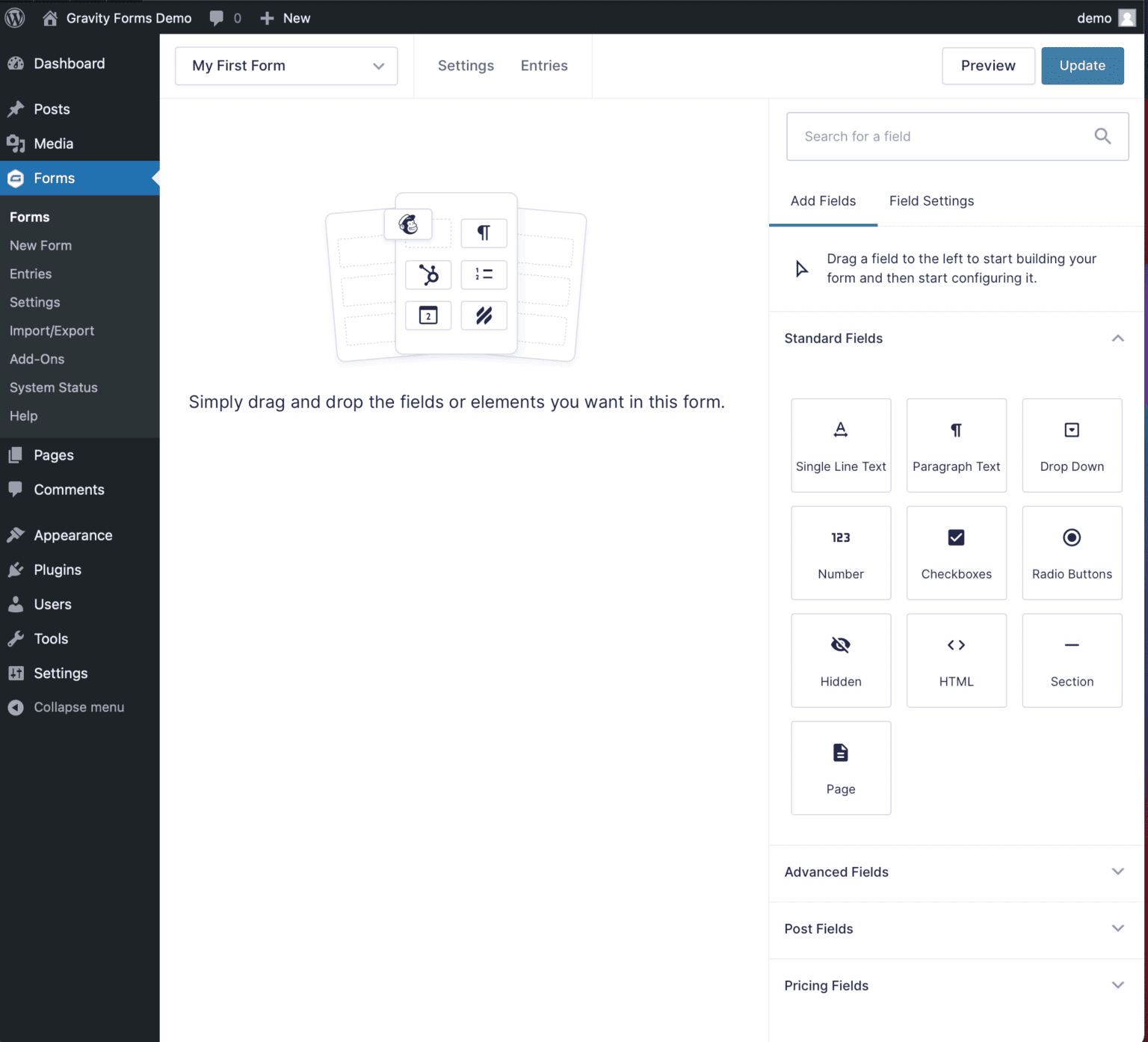 This platform offers conditional logic for configuring your form to show or hide fields, sections, pages, or the submit button, depending on what a visitor types or chooses. Besides, you can let your visitors upload files when submitting your form and collect online payments via different payment gateways.
As a Typeform alternative, Gravity Forms offers the following features:
pre-defined CSS styles;
multi-page forms;
file uploads;
conditional logic;
dynamic field values;
webhooks and API access;
online payments through PayPal, Square, Stripe, 2Checkout, etc.;
add-ons and integrations;
different customer support options differ based on your plan.
Pricing: The platform doesn't have a free plan or trial. To continue using its features, you must choose between three paid plans starting at $59/year for one site and basic add-ons.
Formsite
Formsite is a platform for professionals looking to craft contact forms, online surveys, and polls. This platform offers you an impressive template library with over 250 options. You can create a new form by choosing a pre-made template and fine-tune its appearance with built-in field styles and color schemes. Also, you can further customize it by incorporating your own CSS, which Formsite supports.
With this platform, you can set up input validation, secure the data submitted by users through encryption, and collect payments via different platforms.
As a Typeform alternative, Formsite offers the following features:
drag-and-drop builder;
customizable form templates;
custom CSS styles;
conditional logic;
file uploads;
calculations based on user input;
online payments through Stripe, PayPal, Braintree, etc.;
various integrations;
customer support via tickets.
Pricing: Formsite offers a limited free plan and a 14-day trial. Paid plans range from $25 to $250 and include from five to 1,000 forms.
Conclusion
In this post, we've compared some significant Typeform alternatives in terms of their form-building capabilities. Here's a quick overview to give you an idea of your best options:
| | | | | |
| --- | --- | --- | --- | --- |
| Platform | Free plan | Pricing starts from | Monthly limits on the cheapest plan | G2 review score |
| SendPulse | + | $6.4/month | 10,000 unique visitors | 4.6 |
| Wisepops | – | $42/month | 50,000 pageviews | 3.8 |
| Picreel | + | $9,99/month | 10,000 visitors | 4.5 |
| Popupsmart | + | $32.5/ month | 100,000 pageviews | 4.2 |
| Hello Bar | + | $29/month | 50,000 views | 3.5 |
| Wufoo | + | $14/month | 1,000 submissions | 4.2 |
| Formstack | – | $50/month | 1,000 submissions per form | 4.4 |
| Cognito Forms | + | $15/month | 2,000 submissions | 4.5 |
| Gravity Forms | – | $59/year | no information | 4.7 |
| Formsite | – | $25/month | 50 submissions | 4.4 |
Once you create a form and collect new leads, you have to think about a way to nurture them. With SendPulse, you get an all-in-one platform that can replace 10+ marketing tools to build long-lasting relationships with your audience and grow your business without breaking the bank — create a free account today and try them all yourself!