To communicate and interact with customers, most businesses employ various marketing and transactional emails. The latter is crucial for creating positive user experiences and establishing trust. Read on to learn what transactional emails are, how they differ from marketing campaigns, and what types most companies should send.
What are transactional emails?
A transactional email is a personalized email sent to a person in response to a specific interaction initiated by that person. These emails contain information personalized to the user and include such messages as subscription confirmations, account updates, order notifications, etc.
The difference between transactional and marketing emails
Comparing transactional with marketing emails reveals more than just recipient numbers as the distinction.
Marketing emails typically target groups of individuals, aiming to nurture recipients and persuade them to take specific actions, such as making a purchase, signing up for an event, or engaging with a business in other ways. They usually contain promotional content, like discounts and special offers. Transactional emails, quite the opposite, are initiated by a particular recipient's action that a company should address with highly relevant content.
A common marketing email example is a flash sale campaign. Companies send these emails in batches to all recipients, including limited-time promotions or discounts, to drive sales through straight-to-the-point CTA buttons.
A transactional email example would be a password reset email. It is usually triggered automatically when a user requests to change their password. Although password reset emails share a uniform template, their content is unique to each recipient.
Another significant difference lies in email regulations. Transactional emails can be sent to customers regardless of their subscription status, whereas marketing emails should only be sent to subscribed customers who consent to receive the company's communications. Unlike traditional marketing campaigns, transactional emails do not require an unsubscribe link.
Transactional email best practices
To ensure effective delivery of your transactional emails to customers, it is essential to keep certain points in mind. Consider implementing the following transactional email best practices:
Use a dedicated email address. Differentiate transactional emails from marketing emails by sending them from an exclusive email address and domain reserved solely for transactional messages. This approach reduces deliverability issues.
Enable immediate delivery. Send transactional emails promptly after customers take action to capture their attention while they are engaged with your brand.
Consider responsive design. Given that many subscribers read emails on mobile devices, ensure your emails are mobile-friendly and adapt well to various screen sizes.
Craft concise subject lines. Create straightforward subject lines that summarize your email content. Also, ensure that the subject line of your transactional email is brief and can be fully read.
Prioritize information. Avoid lengthy introductions and present crucial content at the beginning of your transactional emails. For instance, if you send a tracking number, ensure it is prominently visible and clickable.
Enable replies. Avoid using "no reply" email addresses. Some customers may have questions or concerns, so ensure their responses are answered. Alternatively, provide other contact options, such as a phone number or chatbot.
These are general guidelines for creating transactional emails. More specific approaches may apply when crafting different types of transactional emails.
Various types of transactional emails
Transactional emails can vary depending on the specific situation. Nevertheless, there are several standard types that businesses can utilize in various everyday scenarios. Let's explore them along with some transactional email examples.
Order confirmations
Order confirmation emails are automated messages sent to customers immediately after they complete a purchase on an eCommerce website. These emails should be concise, assuring customers of a successful transaction. Typically, they include the order summary, shipping information, and customer contact details. Some companies also incorporate additional information, such as estimated shipping times and order status links.
For instance, Crocs effectively uses a transactional email to inform customers about their successfully placed orders. The email contains the order number, date, and shipping address, along with a convenient CTA for direct communication with the brand.

Shipping updates
To minimize customer service inquiries, it is crucial to keep your clients informed throughout the shipping process. Typically, notifications like this contain shipping details and a tracking link, contributing to an improved overall shopping experience for customers.
For example, Cometeer sends transactional emails to notify customers of any potential delays. These emails also provide reassuring information about product quality, along with a clear CTA button for contacting customer support.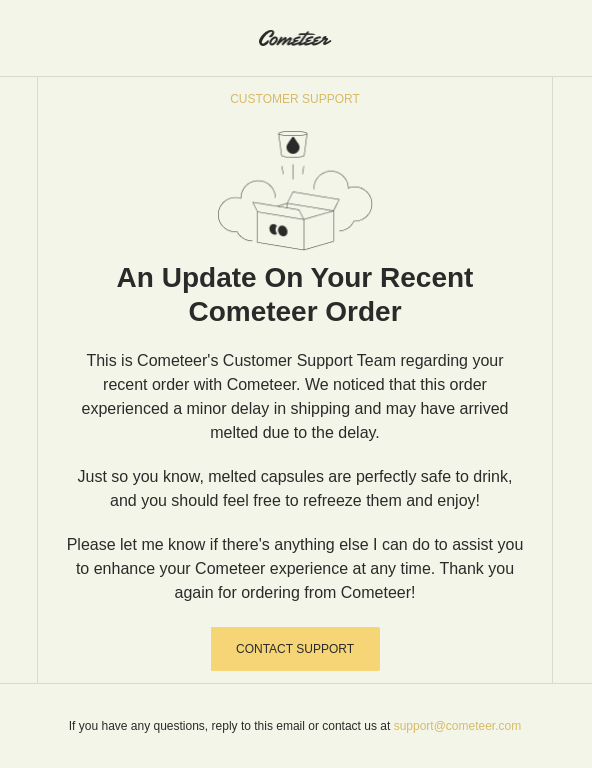 Account alerts
These are automated messages sent to account holders to notify them of significant account-related activities. Typically triggered by specific actions or changes in the user's account, these emails aim to keep the account holder well-informed, ensuring the security of their account. Oftent, they provide information on resetting passwords and securing the account.
For example, Google and other services send emails to confirm that it was the account owner who made some changes. They also provide an option to check the activities if they look suspicious.
Customer service request updates
Transactional emails, in this case, refer to automated messages sent to customers in response to their inquiries or service requests. These emails serve to provide timely updates on the customer request status, thereby enhancing communication and ensuring customers are kept informed about the progress of their support or service-related issues.
Here's how Canyon notifies its customers about successful customer requests. The email includes a unique case number for easy reference and provides alternative options for customers to explore possible solutions, including a direct link to a comprehensive FAQ page.
Each type of transactional email serves a unique purpose in enhancing the overall customer experience. Every eCommerce business can leverage these emails in various ways to align with their branding and tone of voice.
How to create and send transactional emails with SendPulse
Using SendPulse's SMTP service, you can quickly and easily create and send transactional emails. Let's take a closer look at how to get started.
Configure your sending domain
Once you've completed and had your user profile approved, you can set up the SMTP server. At this stage, you should configure a sending domain for your transactional emails. This involves adding DKIM and SPF records to authenticate the sender, as well as a CNAME record to enable email tracking from your own domain.
Set up a trigger event
To send transactional emails, you need to choose the action that will trigger your message — a so-called event. You can do it in our "Event manager" by selecting a predefined event or creating a custom one.
For each event you create, you can add and edit variables to be used in your messages.
Create an automated flow
To create your flow, go to the "Automation 360" section. Choose the created event for your "Flow start" elements, and then continue your flow with the "Email" block. For it, you'll need to add a previously created email template.
You can stop here or use more elements to build a sophisticated flow for following up with customers.
Final thoughts
Transactional emails are pivotal in today's customer experience, contributing significantly to higher customer satisfaction and increased long-term sales. To start, compile a list of transactional emails you intend to integrate into your brand's broader email communication strategy. And when it comes to bringing your strategy to life, rely on SendPulse.
Equipped with the right tools, SendPulse can help you engage customers with to-the-point transactional emails delivered just on time. Moreover, you can have all your marketing communications under one roof since the platform allows you to send bulk emails, SMS messages, and chatbot campaigns as well. Give it a try today!