In 2013 The Radicati Group reported that approximately 4.9 billion people would use email services in 2017. Incredible numbers, aren't they? Today, email marketing is still one of the most effective channels to communicate with clients. This strategy should be used to its maximum advantage in any business.
Professional email marketers help to collect email addresses, build lists, and increase the number of contacts as well as keep them updated. No doubt, it's continual and scrutinous work. But the quality of the email list defines if the marketing strategy is going to be successful or disastrous.
In this article, you are going to learn actionable ways to collect email addresses from website users. You'll also discover the methods which popular brands use to attract potential subscribers to their newsletters.
Prior to Building the List
If you want to achieve stellar results and high conversion rates from an email campaign, you should first get each user's permission to send them emails. And only then, deliver relevant content.
However, a lot of marketers make the same critical mistake: they just try to get more and more email addresses, sometimes using dubious methods of collection without concern about whether the users are even interested.
In any case, a long email list will not bring the desired results if the subscribers mark the newsletter as spam. The emails will bother them because they have not subscribed to it. Besides, sending emails without the user's permission is illegal.
Email marketing is more of a marathon that involves the use of strategy rather than a short sprint. Always think about the eventual results, and do not sacrifice the quality of email addresses for their quantity. Without quality addresses, launching an email marketing campaign will be of no use.
How to Build an Email List
Subscription Forms on a Website
If you have decided to do email marketing right, the easiest and most important thing is to set a subscription form on your website. We recommend putting it in either a footer or a header of your website — it depends on the design, your requirements and tastes.
Mabel's Labels decided to put a subscription form in the footer. Then, for further personalization of the newsletter, they have the subscriber enter their first and last names.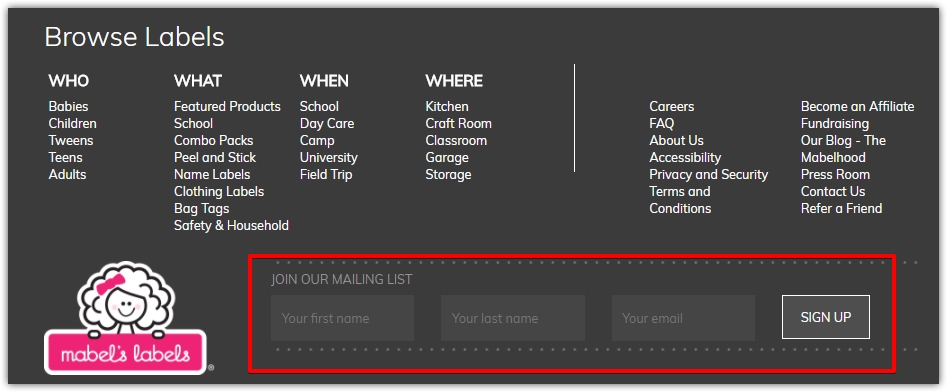 A Pop-Up Form
Let's be honest: pop-ups irritate users. You never know when they will appear. But pop-up forms help to double the number of subscribers to a website.
Let users look through the content of your website first — at least for several seconds — and then activate the pop-up. You can also present some special offer, discount, coupon, free shipping or valuable content.
For example, the company Figleaves offers a 10% discount off a new subscriber's first order. And it is stated in the form what users will receive if they subscribe to the newsletter.
Social Media
Include your social media activity in your strategy for building email lists. You can put a subscription form on your Facebook page as another way for subscribers to interact with your brand.
Look at how Mud Pie placed a newsletter form on their official Facebook page:
Landing Page
Research from Marketing Land shows that using landing pages for building your email base increases conversions by 50%.
Your landing page has to be as clear and simple for users as possible. Set a call-to-action button and try to answer all the questions that could potentially arise. This approach helps to dispel any possible doubts about the subscription.
Cooking website Forkly is a good example of a simple and informative landing page. In exchange for the user's email address, Forkly helps the user discover the nearest food and restaurants that match their needs.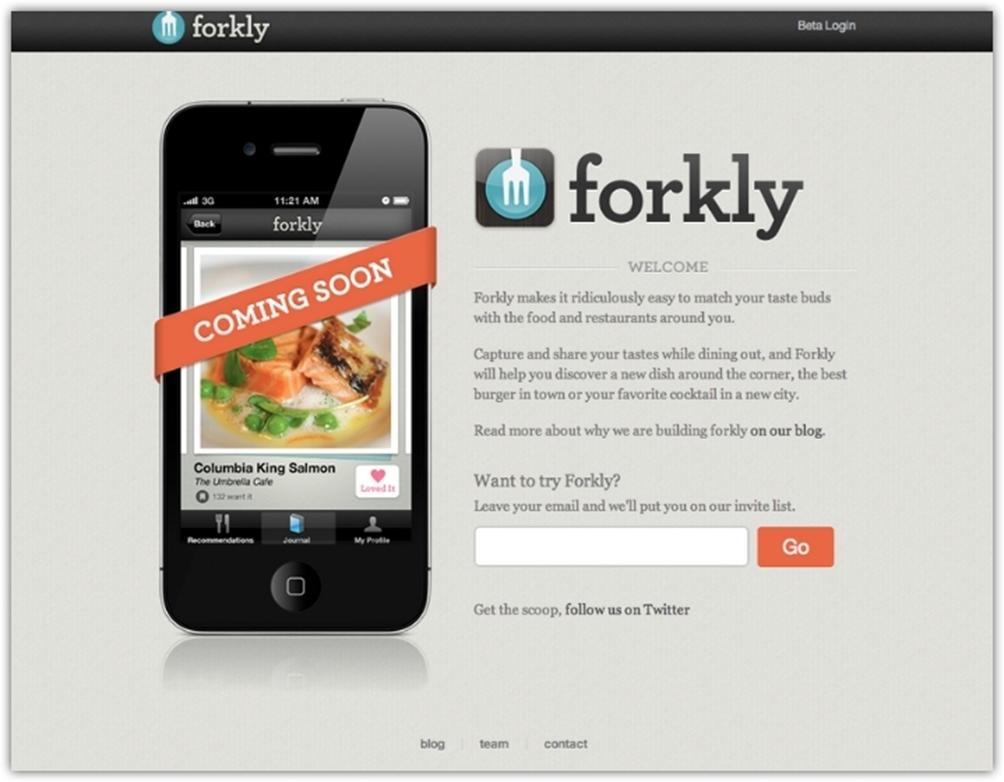 Online Events
You can suggest to potential subscribers that they take part in webinars, giveaways and contests — not all of them will be able to attend or even win a prize, but you will still have their emails.
Here is the pop-up form on Nile Patel's website. This form creates a sense of urgency with the phrase "The webinar starts in 11 minutes and 30 seconds," and a user can watch the countdown. If the user cannot attend the webinar on that exact day, they can just choose another date, which encourages subscribing for more valuable knowledge.
Another great psychological trick lies in the design of closing this pop-up. To close it, the user has to click the "No thanks, I don't want more traffic" link, which implies that the user will not achieve any success if they don't subscribe to the webinar.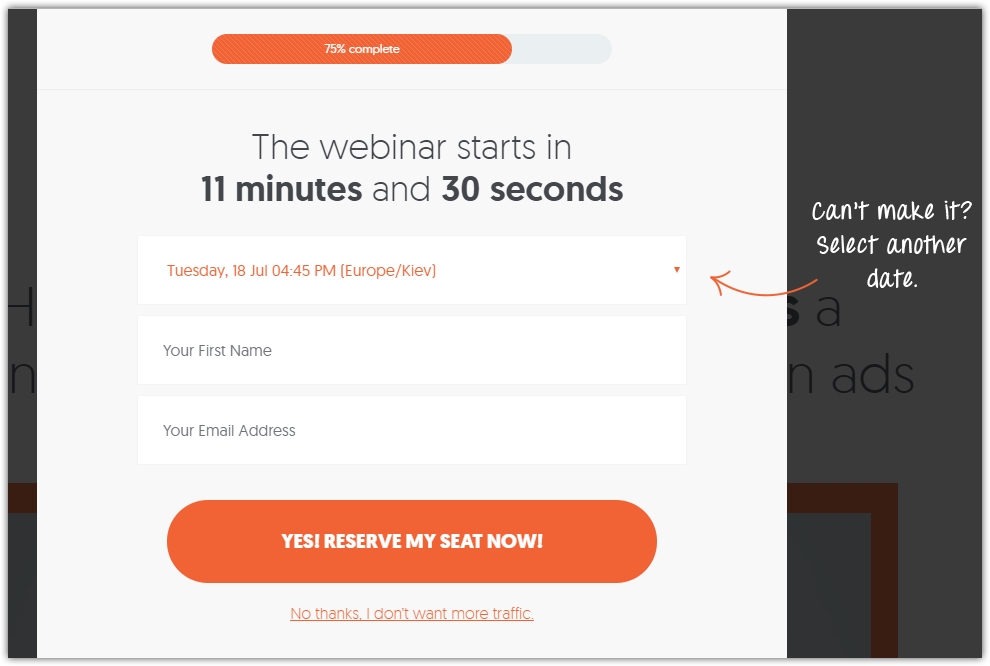 Offline events
Collecting email addresses is a viable marketing activity even outside the Internet community. If you organize a conference or a seminar, or you have a store, collect addresses via a form to fill out. However, always let people decide if they want to receive newsletters from you and mark it on the form.
Another idea is to offer a discount card to your customers in the store. They will need to provide the necessary information on the form to get it.
Within several days — ideally, on the same day as you get a new subscriber — send them a welcome email. Suggest they choose the desired frequency and content of your newsletter, tell them about perks of being a subscriber and give them the option to unsubscribe — it's a must. Never delay a welcome email. Otherwise, your newbie subscribers will forget about you and mark your emails as spam. You certainly don't want that.
Additionally, all printed material comes in handy in promoting your newsletter. Print QR-codes on flyers, booklets, business cards and even packages — then your target audience can scan the code, go to a landing page with information about you or a possible lead magnet and a subscription form, and subscribe to the newsletter.
How to Collect the Email Addresses Even More Effectively
Don't Hide a Subscription Form
To make the subscription process easier, set the subscription form on the main page of your website. Your users won't have to waste their time looking for it.
Different variants are possible. For example, look at how online organic cosmetics retailer Birdy Botanical put the newsletter form on their platforms.
On the website
In the blog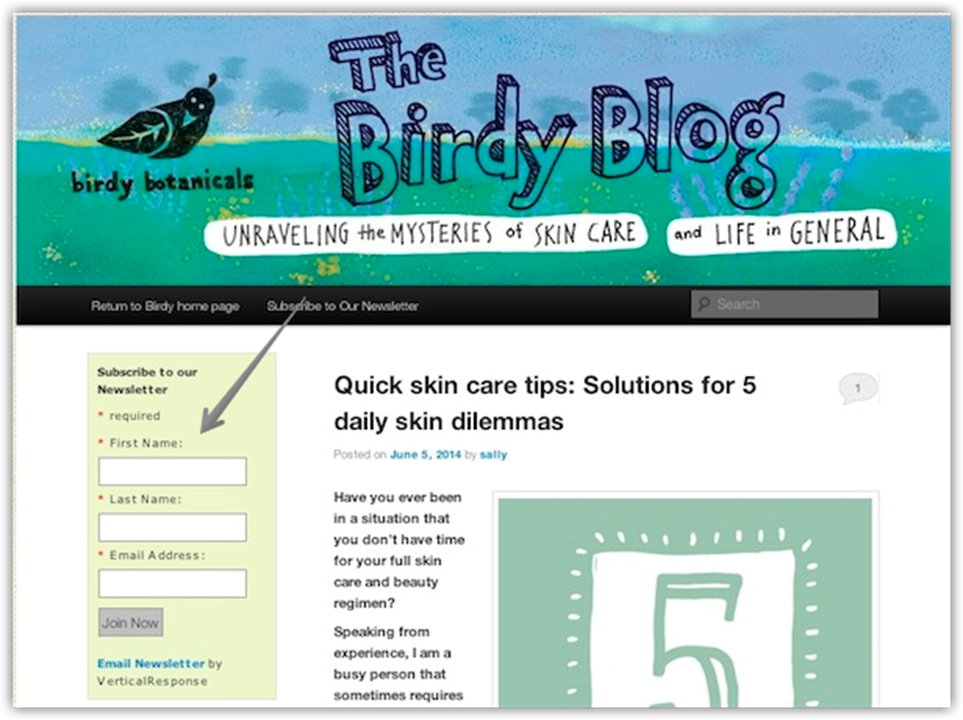 On the Facebook page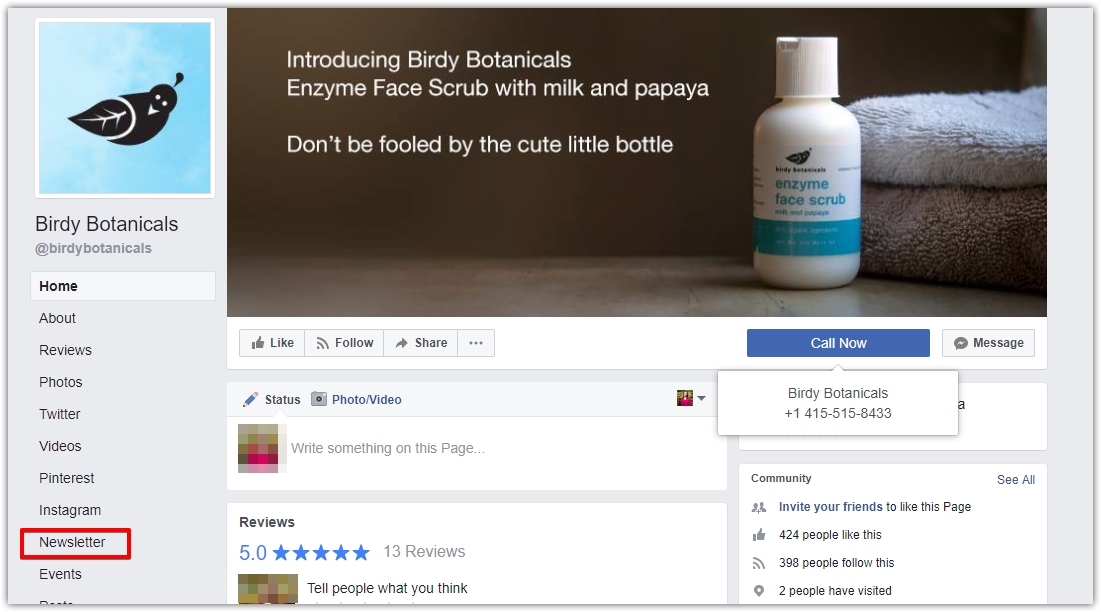 Michael Kors set the sign-up form at the footer of the main page. It's a great idea too, because users will definitely find it while browsing the website.
Offer lead magnets
Just a "Leave your email address" plea is no longer enough to get new subscribers. It has been overused and will not persuade people to share their personal information so you can intrude in their lives.
In order not to be too desperate about building your email list, offer something valuable in return. Your audience has to feel there is something in it for them. Depending on the specialty of your business and your subscribers' interests, a lead magnet can be a coupon for a discount, free shipping, an eBook, a checklist, a cheat sheet, educational courses or videos, for example. This list is limited only by your own imagination and abilities.
Remember that a perfect lead magnet:
Is valuable;
Is relevant;
Is sent directly after the subscription form is completed.
Here is one more excellent example from Mud Pie. They created a special subscription page on their website where they offer free shipping for the first order, updates about new products, and access to exclusive sales in exchange for email addresses. The best thing is that Mud Pie calls their subscribers "Mud Pie Insiders" which sounds more inclusive.
To create a lead magnet, you don't need to struggle over a new piece of content. If you offer quality and useful information, just convert it into another format and offer it in exchange for an email address. For instance, a good idea is to transform your articles and blog entries into a PDF eBook.
MarketingProfs asks their readers to sign up to continue reading about a particular topic of interest. A user has to enter their email address into the subscription form or sign up via a popular social media account.
Use Social Proof
Most people like to follow the crowd. If they see that thousands of users have decided to subscribe to your newsletter, they will be more likely to do the same. This is called the method of social proof, and that's how it works — "it is popular with others, so I have to try it as well."
To use this method, you need to mention how many people already follow your newsletter.
Tim Urban's Wait But Why blog uses both social proof and a tiny bit of humor to attract new readers. Moreover, the number increases with new incoming subscribers.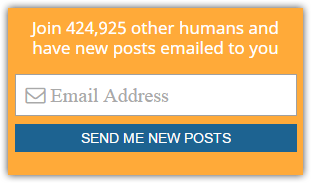 Suggest Taking a Quiz or a Test
There is something attractive about quizzes and tests because they let people know something new and interesting about themselves. The Internet is flooded with a variety of different quizzes, even for a picky user: from "What type of email marketer are you?" to "What pizza topping are you?"
Take advantage of people's vanity and suggest they take a quiz and receive the results in their email. GemStone created a thematic quiz called "Which gemstone suits you?"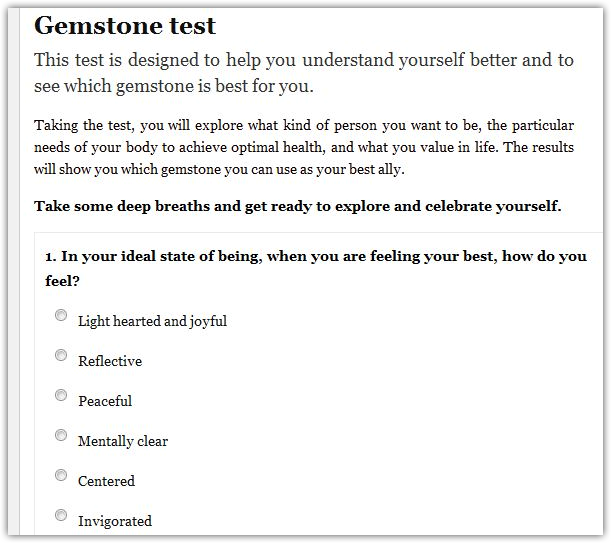 There are 10 questions in the quiz and the 11th asks a user to leave an email address to get the result.
In addition to the result, the subscriber is also prompted to tell other people about their gemstone by adding a free widget to a blog or website.
So in an out-of-the-box way, GemStone gets new subscribers and entertains the target audience.
Request the Most Important Information
As a rule, people don't like to reveal too much personal information about themselves, as this makes them feel vulnerable and extra exposed.
That's why it's sensible to ask only necessary information for basic personalization of the newsletters — first name and email address. More fields in a sign-up form mean that fewer people would be likely to fill them in.
Use these effective tips to increase your email address lists and get maximum conversion. Register in SendPulse to send successful email campaigns!