We all feel increasingly time-pressed with deadlines looming and intimidating to-do lists. Lucky for us, there are methods to regain control of your time and increase productivity without burning out.
However, don't get confused; time-management techniques are not about rationalizing and dehumanizing every aspect of your life. In fact, it's the opposite. You can tame your schedule and work more efficiently while building up side-projects and living your life to the fullest. Let's find out how.

What is time management?
Time management is a blanket term for various techniques, tools, and strategies. It offers you the means to structure and control your workflow and other activities. Key time-management strategies and principles, such as scheduling and goal-setting, result in better performance, together with a greater sense of well-being.
While hustle culture tends to glamorize all-nighters, time-management techniques help you break out of the vicious cycle of sleep deprivation — a chronic sleep-restricted state. It's about working smarter, not harder.
Why is time management important?
Nearly half of Americans experience "time famine" — having too much to do and not enough time to do it. Time famine hinders performance, raises stress hormone levels, and keeps you unsatisfied with your work. Time management helps alleviate this pressure and boost your productivity in any area.
The importance of time management for teamwork
Time management for teams means making measurable progress and integrating diverse expertise. It's easier to avoid any bottlenecks if everything is scheduled, discussed, and prioritized.
Constant breaks, endless meetings, calls, and task-switching — these are the most common time killers in any corporate environment. But they can creep in at small agencies too. Time management will help you fight back and redistribute time, responsibilities, and intellectual resources properly within your team.
The importance of time management for freelancers and entrepreneurs
Self-imposed deadlines can be tricky to meet. You can use time-management tools to gain more confidence, find the right work pace, and stay motivated. Time management can also be used to prevent burnout. Being self-employed means having more pressure and responsibility: there is no steady paycheck, no benefits, no team behind you, and no predictable schedule. With time-management skills comes flexibility, discipline, and balance — qualities that every independent worker needs.
The importance of time management for learning and self-development
Making room for lectures, online courses, and workshops is no easy task. The benefits of time management are such that you will find a balance between learning and day-to-day life.
Committing to a standard learning session after a full day at work is already tough, but do not abandon it — just try to explore other options. With time management, for example, you can split that session or change the timing. Do not be afraid to experiment with scheduling.

Let's take a closer look at some time-management principles, techniques, and strategies to help you juggle different tasks without losing your sanity.
The key principles of time management
Procrastination and lack of organization have many faces. Recognize them all with these universal time-management principles. These are the first steps towards getting a grip on time. You can incorporate some of them into your workflow in the form of various tools, apps, and software.
Check our list of time-management do's to get started:
Be specific about your plans and goals. It's hard to manage time if you don't have a deadline to meet or a milestone to reach. This is especially true for entrepreneurs and freelancers. Specify the "who," "when," and "where" for all of your goals. The more solid your plan is, the harder it will be to deviate from it.
Prioritize tasks and projects. Write out every single task you need to accomplish, then split them into three categories: monthly, weekly, and daily tasks. It will give you context and perspective as you work on your plan.
Keep plans on your phone, not in your head. Replace chaotic sticky notes and notes on your hand with a planner of your choice, for example, Google Calendar. Writing things down remains the most reliable way to keep track of them. With a moderate amount of notifications, you won't miss anything.
Use your creative phase wisely. Find out when you're the most creative and hold this time sacred. Keep yourself free from any distractions. Use silent mode and an app blocker to channel your focus.
Make fewer decisions. The decision-making process consumes energy and causes mental exhaustion, namely "decision fatigue." To reply to an email or to leave it hanging? Pondering such trivial things rarely pays off in the end. Eliminate non-essential choices by coming up with a set of rules.
Trust and delegate. Learn to make your requests crystal clear and communicate your needs openly. Methods of Nonviolent Communication might be helpful in establishing effective and respectful relationships in your workplace.
There are also a few don'ts to bear in mind:
Don't multitask. Your productivity drops by 40% when you spread yourself thin. The hazards of multitasking are real, so always concentrate on one action.
Don't reply to emails immediately. If your work doesn't imply responding to emergencies, you will be better off checking emails only two-three times a day.
Don't say "Yes" to everything. When you're already overloaded, every "yes" either means working after-hours or saying no to something potentially more important in the future.
Don't overdo it. Always leave yourself time to recharge, even if it's not on your to-do list. Don't burn the candle at both ends. After all, some observations show that even robots and computers procrastinate sometimes.
8 popular time-management techniques
Here are the most popular and efficient time-management techniques you need to know. Give them a try and find out what fits your personality and workstyle best.
Kanban
Virtual boards and cards help you visualize your work and track a project as it moves through different stages. One quick glance at the board should be enough to check your current progress. With a digital version, performance metrics are transparent: you can extract data on productivity and time spent on individual parts of your project.
There's no need to use a specific app — by now, many platforms include Kanban boards in their standard toolkits. Templates are easy to arrange, rename, and fill out.
Boards reflect existing workflows, and cards represent tasks. The board itself can be quite simple, but you can create a hierarchy between different boards for big projects. Instead of a long and unstructured list, you get a clean table divided into "To-do," "In progress," "On hold/Testing," and "Done."
The Eisenhower Matrix
This time-management technique helps you decide on and prioritize tasks by urgency and importance. With the Eisenhower Matrix, it's easy to detect less urgent tasks and delegate or postpone them.
A typical Eisenhower Matrix looks like this: four bright, contrast quadrants, sometimes accompanied by the scale of urgency and importance.
Sorting tasks by urgency and importance creates four categories:
Important and urgent = do it first.
Important but not urgent = schedule it.
Urgent but unimportant = delegate it.
Not urgent and unimportant = drop it.
The Pomodoro technique
Use a timer to break your work into intervals, 25 minutes each, separated by short breaks. Immerse yourself in the task and work until the Pomodoro rings. Take a longer break after four chunks of work time. This technique works great for people with a short attention span.
You can go 100% authentic and buy a real tomato-shaped kitchen timer or use a Pomodoro timer in the form of an app — there are plenty to choose from.
Some people don't like enforced breaks and prefer to go non-stop to keep the flow. If you are one of them, you may want to look at the next technique.
The Flowtime technique
Commit to one task only, record the time when you start working on it. Don't use a timer; take breaks when you need them. This requires more discipline than the Pomodoro time-management technique because you have to distinguish tiredness from the inability to concentrate.
Pick any tracker that you like, or even reach for a good old pen and paper. But an online-version is better because it's always honest and transparent.

Record your end time, break time, and work time. Time tracking will help you find the most and the least productive phases of your day, as well as your average attention span.
Timeboxing
This time-management technique suggests allocating a fixed chunk of time for a task in advance and then completing the task within that time frame. Timeboxing is a cure for procrastination because it creates urgency.
Differentiate tasks using colors to be able to grasp the big picture instantly.
One timebox can take 20 minutes or even three weeks. At the end of the timebox, the work should be done. If not, review the process and find the exact reasons you missed any deadlines. Timeboxing works well with any planner where you can mark your calendar.
Time blocking
Unlike timeboxing, this method imposes the necessity to perform the task, not a deadline for it. By blocking off a certain number of hours, you dedicate all this time to one task. No other activities are allowed; leave them for later.
Time blocking makes your schedule look less chaotic; periods of time are well-defined.
It's a simple yet powerful time-management technique, especially when there are too many distractions around your home office. This way, you can set aside your personal time, even for leisure. Let your family or coworkers know when they can reach out to you again.
Bullet journal
Track everything in one notebook. A typical bullet journal usually includes a calendar and a to-do list, long-term plans, monthly plans, weekly schedules, spreadsheets, bar charts, and more. It's a more meticulous but exciting way to organize tasks than a simple table.
It doesn't have to be a literal notebook. You can sync a digital version across devices and add some highlights, ideas, and even drawings during the day.
With a customizable digital bullet journal, you can experiment with different layouts and generate charts based on your activity. It's an infinite organization system to collect your thoughts, goals, ideas, and plans.
Eat the frog
Another procrastination-killer. This time-management technique is all about "eating" the hardest or the most important task of the day first. Turn it into a habit, and you'll be surprised by how focused your mental resources become. This technique makes you experience a win and keeps you motivated for the rest of the day.
This time-management term was coined in 2001 by the acclaimed speaker and bestselling author, Brian Tracy. He described this and other techniques in his book "Eat That Frog! Twenty-One Great Ways to Stop Procrastinating and Get More Done in Less Time."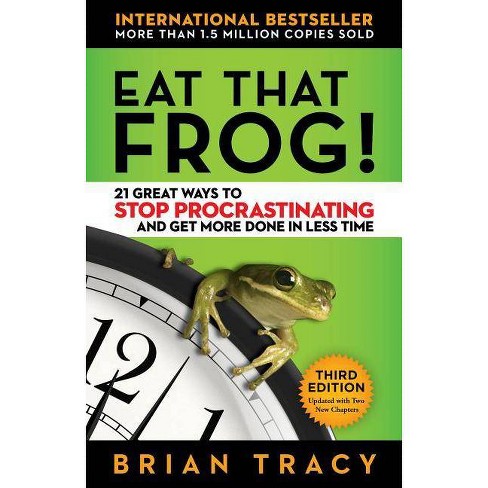 Some people also use the "Eat the flies first" principle, which means starting out with the smallest task to get an initial sense of accomplishment.
Time-management tools for routine work
"Less is more" should be your motto when it comes to social media apps, but time-management tools actually turn this principle upside down. You can use more smart apps and end up spending less time in front of your screen.

Asana
Asana simplifies team-based work management, keeps workflows running smoothly, and provides great productivity tools, like Kanban boards, timelines, trackers. You can manage all of your projects with this one collaboration tool. Asana integrates with Slack, Google Drive, Outlook, Gmail, Zoom, Microsoft Teams, and more.
The nice thing about Asana is that everything is within reach — no extra clicks or taps. You can easily switch from a board view to a calendar or timeline. Work on many projects at the same time, while keeping your workspace clean and tidy.
Asana has many other perks:
conversations to kick off projects, discuss tasks, or brainstorm ideas;
advanced search and reporting;
priority custom fields and status updates;
advanced integrations with Salesforce, Adobe Creative Cloud, Tableau, Power BI;
the CSV importer makes it easy to import data into any project;
Gmail add-on to sync and use Asana directly from your inbox.
Asana offers four pricing plans and a free 30-days trial:
Basic for individuals or small teams. Free forever.
Premium for teams and agencies. $10.99 per user per month billed annually, $13.49 billed monthly.
Business for teams and companies. $24.99 per user per month billed annually, $30.49 billed monthly.
Enterprise for large companies. Contact sales to check the exact price.
Monday
Monday is a powerful workspace platform that adapts to any need and automates routine operations. It's a good fit for all processes and industries. The platform provides flexible project management options, seamless communication, and various time-management tools. Monday can become your company organizer working full-time.
Start out by creating a new, fully customizable board. Then add drag-and-drop building blocks — Monday apps, which work as extensions of the platform.
Replace all the routines with code-free automations and keep deliverables and deadlines in sight. And don't forget to integrate your favorite Dropbox, Slack, MS Teams, Zapier, Zoom, Google Drive, ApiX-Drive, SaveMyLeads, and other tools.
Monday suggests ready-to-go customizable templates for different businesses:
software development;
IT;
marketing;
design;
construction;
sales;
HR.
Monday has four pricing plans and a free 14-day trial:
Basic for up to three users. $8 per user per month billed annually, $10 billed monthly.
Standard for teams and agencies. $10 per user per month billed annually, $12 billed monthly.
Pro for teams and companies. $16 per user per month billed annually, $20 billed monthly.
Enterprise for large companies. Contact sales to check the exact price.
Freedcamp
Freedcamp gives unlimited storage for any number of projects to your whole team. It is not strictly work-oriented; you can use the platform to manage your personal plans. Kanban boards, charts, trackers, milestones — Freedcamp has it all.
Freedcamp provides some premium extras, like an issue tracker, CRM, invoices, project templates, wiki editing, private cloud, two-factor authentication, lightning-fast support, and more. Freedcamp connects with tools like Zapier, Dropbox, Google Drive, One Drive.
Freedcamp has four pricing plans and a free 14-day trial:
Free for individuals and teams. Free forever.
Minimalist for teams and agencies. $1.49 per user per month billed annually, $2.49 billed monthly.
Business for teams and companies. $7.49 per user per month billed annually, $8.99 billed monthly.
Enterprise for large companies. From $16.99. Contact sales to check the exact price.
ProofHub
ProofHub helps you plan, collaborate, organize, and deliver projects. The platform provides a frictionless user experience and communication. You can visualize workflows, prioritize tasks, assign roles, and more.
Instead of endless email threads, use discussion topics. Make sure to explore all the calendar features, like recurring tasks, automatic reminders, and multiple views. And try out getting detailed project reports in a single click.
Some additional features are:
almost no learning curve;
conversations and quick group chats;
private task lists, files, and discussions;
project templates and request forms;
integrations with Freshbooks, Google Calendar, iCal, Box, Dropbox, Google Drive, and OneDrive.
ProofHub has no per-user fee, a 14-days free trial, and simple fixed-price plans:
Essential for individuals and teams. $45 per month billed annually, $50 billed monthly.
Ultimate control for teams and agencies. $89 per month billed annually, $99 billed monthly.
GoodDay
GoodDay is a work management platform that brings together the best tools for precise planning, project, and product management. Set your business goals, develop strategies, follow the process, and analyze your progress.
Build your perfect workspace using a tree-like hierarchy and spice it up with custom templates, statuses, fields, and tags. GoodDay supports Agile strategies and allows you to work in sprints, create Scrum points, and use advanced Agile board view.
GoodDay has three pricing plans:
Free for up to 15 users, no charge.
Professional for up to 250 users. $4 per user per month billed annually, $6 billed monthly.
Enterprise for unlimited number of users. Contact sales to calculate the price.
Time-management tools for planning
Todoist
Todoist is a friendly task manager that helps you keep things under control. It provides a clear view of everything that needs to be done without overwhelming you. The interface is absolutely intuitive and supportive.
Recently, Todoist added Boards to its list of features, and now the platform promises to become your second (and more reliable) brain. It provides a powerful and simple organization framework for work and life "without the complexity and cost of other apps."
Indeed, it has a lot to offer:
ready-made templates for different goals;
subtasks;
productivity trends;
reminders;
full personalization;
connections with your email, calendar, and files;
automatic backups;
labels and filters.
Todoist offers three pricing plans:
Free for starters.
Premium for pros at $3 per month, billed annually and $4 billed monthly.
Business for teams at $5 per user per month, billed annually and $6 billed monthly.
Evernote
Evernote is a powerful tool that helps you keep, find, and arrange ideas, plans, and notes. You can add images, audio, scans, PDFs, and documents to your notes. It has a variety of formatting tools to express your way of thinking.
Here's how notes in Evernote look:
More pros of this tool include:
real-time suggestions;
background sync and automated app updates;
a clean, modern interface.
Evernote gives you a 14-day free trial, then you can choose one of the three plans:
Basic for up to two devices is free forever.
Premium for an unlimited number of devices costs $7.99 per month.
Business for more administrative and management features costs $14.99 per month.
Elisi
Elisi is a simple cross-device bullet journal app that is always with you. The app has mobile and desktop versions. With Elisi, you can instantly make task arrangements, track activities and expenses, create lists, save quick notes. It also reflects your new habits and reminds you to follow them.
Here's how the Elisi's interface looks:
You can use the app for free.
Time-management tools to stay focused
HazeOver
HazeOver helps you get rid of distractions and focus on your current task by shading all background windows that you don't need at the moment. You can turn it on and off at any time. The downside is that this app is only available for MacOS.
You can try HazeOver for free. The full version costs $9.99.
Write!
Write! is a text editor for distraction-free writing. Unique features: a clutter-free interface, dark mode, configurable autocomplete, an intelligent spellchecker. But the most important option is its focus mode — you can fade out all paragraphs except for the one you are working on.
Split your workflow into writing sessions, share your work in one click, and back up all your texts to Secure Cloud. The cherry on top: you can give your texts a professional look by choosing one of the text styles. The app is available for both Windows and MacOS.
Write! costs $24.95. You can get a full refund with a 7-day money-back guarantee.
Time tracking tools
Toggl Track
Toggl Track provides effortless time tracking and reporting. Available online, offline, or on-the-go. Toggl was created for individuals and small teams as well as large companies.
As we mentioned before, this app can be employed for the timeflow or Pomodoro techniques. But, you can use it as an advanced calendar too. Generate reports, share, and discuss your work process with team members and clients.
Toggl generously suggests a 30-day free trial and four pricing plans:
Free for up to five users. Free forever.
Starter for small teams. $9 per user per month billed annually, $10 billed monthly.
Premium for multiple teams. $18 per user per month billed annually, $20 billed monthly.
Enterprise for complex organizations with custom pricing.
Timely
Timely captures your workflow and AI to draft accurate timesheets based on that data. The app helps create an infallible timeline of your day. As for the teamwork, Timely provides real-time KPI tracking and 1000+ integration options. This tool makes progress visible but respects everyone's privacy.
Timely has a 14-day free trial and four pricing plans:
Starter for up to three teams. $8 per user per month billed annually, $10 billed monthly.
Premium for unlimited teams. $14 per user per month billed annually, $18 billed monthly.
Unlimited for unlimited teams and features. $20 per user per month billed annually, $26 billed monthly.
Enterprise for complex organizations with custom pricing.
Clockify
Clockify is a popular free time tracker and timesheet app for teams. It tracks productivity, attendance, billable hours and visualizes them in the form of dashboards, statuses, and charts. The platform also provides over 40 integration options and its own servers for maximum security. The Clockify interface looks clean and clinical, with no extra buttons.
The app is free. You can add an unlimited number of users.
Everyday time-savers
Blinkist
Blinkist provides summaries of top non-fiction in an easily digestible format. Read or listen to the key ideas from bestsellers in about 15 minutes on any device. It also features exclusive shows, podcasts, and full-length audiobooks.
Blinkist offers a 7-days free trial, gift cards, and two pricing plans:
Premium for individuals at $7.49 per month billed annually, $14.99 billed monthly.
Premium for teams with a price that depends on the number of users.
Pocket
Pocket is a useful tool to save any type of content: articles, videos, and materials from any publication, page, or application. It is the best solution if you don't want to be trapped in the chaos of bookmarks.
There are two ways to use Pocket:
Free with all essentials. Free forever.
Premium with all essentials plus an ad-free interface and more features. $4.99 per month, $44.99 annually.
If This Then That
IFTTT creates secure connections between your apps and devices. Turn off your lights with one tap on your phone, order a pizza by simply entering your smart home, get your voice assistant to send emails, and more. 650+ brands and services already use IFTTT to securely connect to each other.
IFTTT offers two pricing plans:
For individuals with custom prices.
For business prices start from $199 per year.
How to implement time-management strategies in your life
Start small, and do not forget to have fun along the way. You don't necessarily have to stuff all your daily activities into Google Calendar or jump up from your chair every time the Pomodoro timer goes off. The best time-management technique is the least stressful one.
Communication with customers can also be very time-consuming. Ease the pain and create convincing emails in minutes using ready-made adaptive templates by SendPulse. Want to go a step further and make something unique? Creating your own email template from scratch will take less than half an hour.