Plain text is simply not enough. Sometimes, you need to put emphasis on a certain word or prioritize one idea over another, and that's when Telegram text formatting comes in handy. Make your messages and posts more readable and expressive — here's how.

Overview of Telegram text formatting options
Telegram has a few basic built-in formatting options that aren't exactly easy to find. Also, there are simple shortcuts to make your message look the way you intend.
First, let's see what's available:
There are six different Telegram font styles — spoiler, bold, italic, monospace, strikethrough, and underline. Spoiler is a relatively new feature allowing you to conceal part of your message, which is great for sharing information that some of your readers may not want to read. Also, there is an option of adding a hyperlink.
Telegram doesn't allow you to change the font itself — only its style. In the following sections, we'll show you a few workarounds for that.
Telegram formatting helps you highlight keywords and set off commands or quotations:
Now, we'll show you how formatting text in Telegram works.
How to format text in Telegram
Let's go through all of the essential Telegram font tricks, one method at a time.
The built-in Telegram panel
This is the easiest way to play with your Telegram font style, and it works on both desktop and mobile.
To access the panel, select the text you want to format. Then, click on the three-dot menu in the top right corner if you use Android. In iOS, right-click the text and choose "B/U." And in the desktop version, right-click the text and choose "Formatting."
After that, you'll be able to change the style of your selected text or turn it into a hyperlink. Also, nothing is stopping you from combining different font styles.
Hotkeys for Telegram formatting
These simple hotkeys will help you make your text look more professional in no time. They are not Telegram-specific — you can use most of them in other programs and apps when working with text.
Here's the list of options you have:
to hide your text, select it and press Ctrl (Cmd) + Shift + P on your keyboard;
to make your Telegram text bold, select the text and press Ctrl (Cmd) + B on your keyboard;
to use italics in Telegram, select the text and press Ctrl (Cmd) + I;
to apply Telegram strikethrough text formatting, select the text and press Ctrl (Cmd) + Shift + X;
to underline your text, select it and press Ctrl (Cmd) + U;
to make your Telegram font monospaced, select the text and press Ctrl (Cmd) + Shift + M.
You can also add a link using hotkeys — select the text and press Ctrl (Cmd) + K.
When inserting a hyperlink, you can remove the preview to give your message a cleaner look before sending it.
Special characters for formatting text in Telegram
Using special characters is a less obvious way to change your Telegram font style, but it's still more convenient than going the extra mile and copy-pasting a text from another app.
Insert special characters when you write your message, and it'll be formatted automatically when you send it:
enclose your text in double asterisks to make it bold: **text** → text
enclose your text in double underscore symbols to make it italic: __text__ → text
enclose your text in triple backquote symbols to make it monospaced: "`text"` → text
enclose your text in double tilde characters to make it strikethrough: ~~text~~ → text
enclose your text in double vertical bars to make it hidden: ||text|| →
Here's how your Telegram text becomes bold:
Advanced way to share formulas and pieces of code on Telegram
Monospaced text is great for highlighting a piece of code, number, address, or a formula in your text. But did you know that it's also easier to copy? Thanks to another Telegram feature, you can click on any monospaced text, and it'll be immediately copied to your clipboard. Use this formatting option to share important data with your subscribers faster.
How to do Telegram formatting in the web version
If other options aren't available, your last resort is to use Telegram Markdown — it's a third-party bot that allows you to turn a "raw" text with HTML tags into a nice formatted text, which you can just copy. No worries, you won't need to code anything. It works like this:
Remember that you always need to use an opening and a closing tag with your text in between, just like in our examples. Here are the most useful HTML tags for Telegram text formatting in Markdown:
your text — bold;
your text — italics;
your text — underlined;
your text — strikethrough.
And here's the result you get:
Is it the most convenient way? Probably, not. But it's a simple alternative if, for some reason, you can't use the methods we've described earlier. With the help of this bot, you can format big paragraphs of text by simply adding the right HTML tags where you want them to be.
How to use trendy fonts on Telegram
It's all well and good, but what if you want to get a bit more expressive with your Telegram messaging? This is where Telegram font generators kick in. The messenger itself doesn't offer a rich variety of fonts, but it does allow you to copy-paste formatted text from other sources.
For instance, these typefaces are all the rage on social media right now, and they will definitely make your Telegram messages or bio description stand out.
These are just some styles that Telegram supports and that are guaranteed to be displayed correctly. There are countless fonts and styles that you can try — just keep in mind that some symbols may not be shown as intended, so always test them before including them in your messages.
The best part is that you don't even need to install a special keyboard or app to get access to these and other fancy fonts. Simply head to your search bar and type in the name of your desired style plus "font generator." This is the best way to find relevant fonts and styles, as each font generator offers a slightly different set of options.
Quicktools by Picsart is one of the most popular font generators out there, and it's super intuitive to use. Just add the text you want to format, preview it in different styles, and copy the version that appeals to you the most.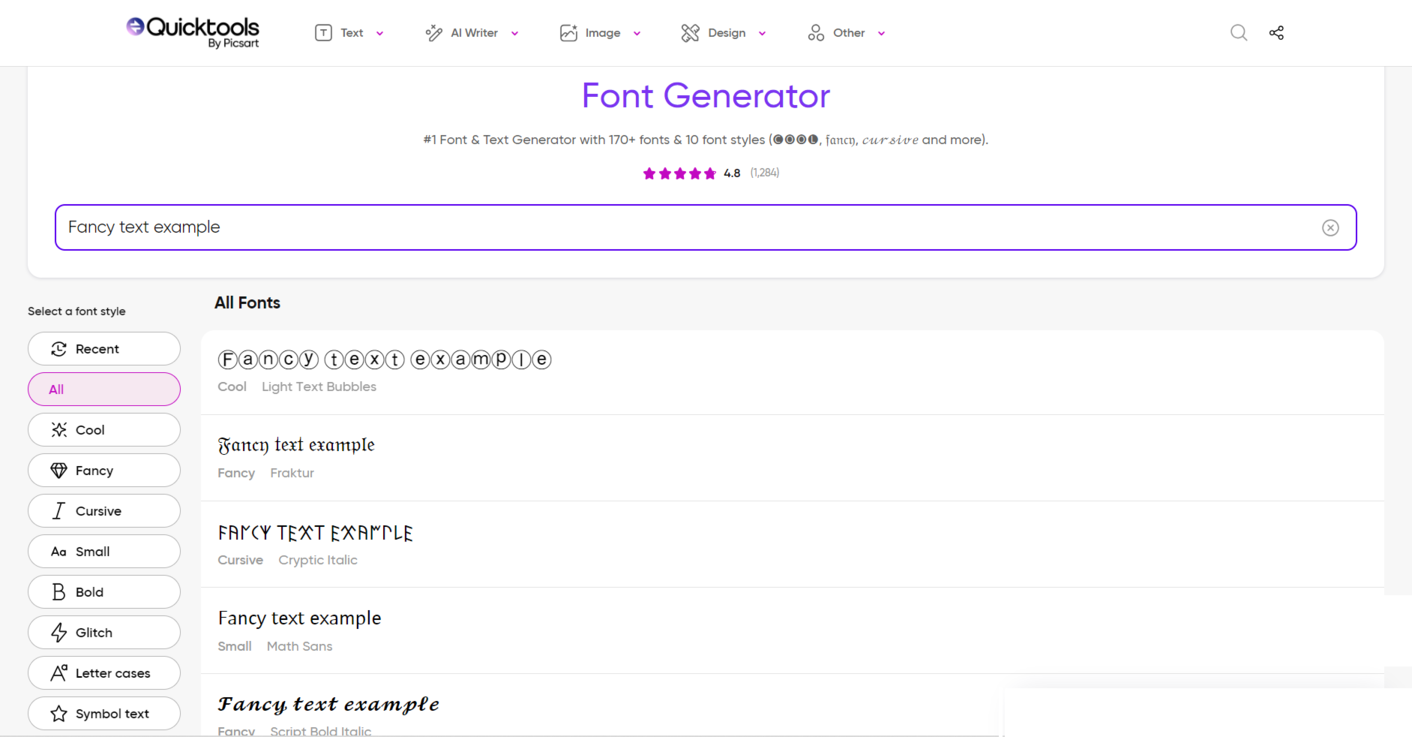 Other similar Telegram font generators to consider:
These crazy styles are great for curated Telegram channels and personal profiles where aesthetics matters just as much as the content itself. By choosing an unusual font, you can demonstrate your creativity and attention to detail as well as make your channel more memorable.
One more thing
Telegram is one of the most downloaded apps in the world. It has more than 700 million monthly active users, and many of them could be your prospective customers. So, if your business isn't on Telegram yet, it's time to change that.
Conversational marketing is easier than you think. Using SendPulse, you can create your own intelligent Telegram bot to send promotional campaigns and provide your customers with support around the clock. Also, you can enable seamless online payments and turn your chatbot into an effective sales channel.
Our platform allows you to send up to 10,000 messages per month for free, so you get a good chance to test SendPulse before signing up for a paid plan. We also provide you with 24/7 support and comprehensive learning materials to ensure your success. Give it a try!