So far, Telegram hasn't been very generous in terms of creating opportunities for marketers. Businesses had to come up with awkward workarounds and use risky tools to get at least some exposure on the platform.
Thankfully, things are changing, and advertising on Telegram is getting easier. Although you'll still need to use third-party solutions, there are way more options now, and the services themselves have become more trustworthy and advanced. Some of them are even AI-powered.
Let's take a look at the Telegram marketing tools that are in high demand today and discuss their pros, cons, and common use cases. Then, we'll compare them side-by-side to help you pick the ultimate Telegram marketing software for your business goals.
What are Telegram marketing tools?
By Telegram marketing, pros usually mean sending promotional campaigns and placing ads in public Telegram channels. Since the messenger doesn't offer a unified feed, there's no straightforward and guaranteed way for marketers to reach a wide audience, but bulk messages do the trick.
However, sending campaigns manually would be both a tiresome and dangerous task — no one wants to have their account blocked. Also, that would be disrespectful to Telegram users who haven't given consent to receive such messages. Telegram bot rules say contacts must message you first before you can message them back.
That's why marketers rely on chatbots to tick both boxes. You can share your QR code or link with your audience, and they'll start a conversation with your bot. After that, your bot will be able to send them all sorts of campaigns.
So, Telegram marketing tools are mostly chatbot-building and automation tools. For the purpose of our article, we'll be focusing on versatile platforms that can also be used for building bots for other social media channels like WhatsApp.
Telegram marketing software use cases
Gone are the days when chatbots were used for repetitive and robotic replies and caused nothing but annoyance. Today, chatbots for Telegram can be intelligent and highly conversational, acting as multifunctional virtual assistants.
Here's how you can use Telegram marketing tools and chatbot-building tools in particular:
Customer care and service. Have your bot assist your customers whenever they run into a common problem and need an urgent solution. The bot can help them discover relevant resources or perform a series of actions needed to address the issue.
24/7 availability and support. With chatbots, you can create the impression of availability around the clock, making your brand appear more accessible and responsive.
Promotion. You can use bots to send promotional messages at scale, informing your audience about ongoing sales or special offers on your products or services.
Announcements. Chatbots are great for sharing important news without fearing that your messages will drown in your recipients' inboxes. You can notify your customers about price drops, new arrivals, or brand-related events.
Booking. Let your customers book appointments, reserve seats, or sign up for classes through your bot and send them automated reminders to reduce no-shows.
Customer nurturing. Through chatbots, you can share helpful, curious, and inspirational content to help your customers start associating your brand with positive and exciting news.
Customer education. Empower your customers to make the most out of your offerings by sending them educational guides, expert tips, and ideas daily or weekly.
Brand reinforcement. Your chatbot can fully mirror your actual brand voice, helping your target audience understand and appreciate your brand and its values.
Sales. Let your customers place orders and make payments directly through your chatbot to remove friction from their journey and help new subscribers convert effortlessly.
Rerouting. Chatbots can redirect your potential customer to the agent with the most relevant expertise to answer their question, which will help your team stay more productive.
Entertainment. Chatbots are indeed chatty and fun to talk to, and you can use that to your advantage, inviting your followers to stay in permanent contact with your brand through a witty, conversational bot.
This list goes on and on. Depending on how you design your bot, it can be responsible for one or more of these tasks. Pretty much any industry — healthcare, eCommerce, travel, education, beauty, or SaaS — can benefit from automated conversations.
No worries, you won't need to program your bot from scratch — we're about to check out a few low-code to no-code tools that make the bot creation process a breeze.
Five Telegram marketing tools for automating and streamlining communications
Let's discuss some popular Telegram marketing tools that can help you implement your conversational marketing strategy and more.
SendPulse
The chatbot builder by SendPulse is an easy way to build powerful chatbots, even if you've never done that before. It provides you with a straightforward visual builder where you can quickly build various scripts for your bot.
Here's how it works:
Create a new bot with @BotFather or get a token to connect an existing one to SendPulse in a few clicks.
Set up auto-replies and build complex conversation flows in a visual drag-and-drop editor.
Test and edit your bot's architecture as needed.
Use our subscription widgets to help your website visitors discover your bot.
Prepare and schedule personalized bulk campaigns once you've built some audience on Telegram.
Your chatbots can accept payments through PayPal, Stripe, and other popular payment systems. Thanks to user segmentation, you can send highly targeted campaigns. It's also possible to directly integrate your bot with GPT to make it more knowledgeable and human-like.
For example, you can personify your bot by telling GPT what tone it should use.
The best part is that by creating a SendPulse account, you get access to the full email and sales automation toolkit, including a CRM, a landing page builder, and more.
You'll have all the time in the world to test the builder before you buy it — you can send up to 10,000 messages per month to your subscribers for free. The pricing plans start at $10 a month. You can save 20% by paying yearly.
BotPenguin
BotPenguin is a chatbot platform supporting over six channels, including Telegram. The platform offers 60+ seamless integrations with over 40+ CRMs, ticketing systems, and other marketing tools.
The software has a powerful set of features:
diverse conversation flow templates;
unified inbox for Telegram, Facebook, and other channels;
live chat interface for websites;
subscriber data collection;
human agent handover;
chat routing and role-based access;
20+ languages;
appointment booking;
user segmentation;
multiple widgets;
ChatGPT integration.
BotPenguin supports three distinct bot types: Lead Generation Bot, Support Bot, and Assistant Bot. However, you can also create something fully custom.
The platform has a limited free-forever plan, with 2,000 messages. It also has flexible paid plans — the cheapest one costs $5 monthly for 3,000 messages. You get two months for free by choosing to pay annually.
Respond.io
Respond.io is an all-in-one platform for conversational marketing and sales. The platform offers solutions for every stage of the customer lifecycle. It supports a variety of channels, from email and SMS to Viber and Telegram. All you need to do to get started is chat with @BotFather to create a bot. Then, you can connect it to Respond.io to send and reply to messages.
Respond.io has a visual editor for building conversation flows.
Telegram is just one piece of the puzzle this platform helps you solve. Here's what you can achieve with Respond.io:
centralize all your support channels and create a single inbox for your agents and managers to provide them with essential customer context;
standardize responses to frequent questions and create complex flows with multiple-choice questions;
perfect and automate your lead routing strategy to connect high-value leads with the most skilled agents;
manage all your contacts from a single place and get total visibility of every customer conversation;
integrate your CRM to keep track of the deals created with the help of your chatbot;
send limitless promotional campaigns with a high degree of personalization;
create elaborate chat menus to help your customers explore your products and services.
As you can see, Respond.io is not a classical chatbot builder per se but rather an inbox on steroids. The platform can replace 5+ regular marketing tools. Because of its capabilities, it isn't cheap — the plans start at $99 a month. You can save 20% by paying yearly. There's also a 14-day free trial. However, trial plan users are not allowed to send bulk messages.
Botmother
Botmother is a no-code chatbot builder for Telegram, Facebook, Instagram, WhatsApp, and Viber. It can be integrated with Zapier and various payment systems. As always, to get started, you need to create a bot and generate an authorization token in @BotFather. Then, simply connect it to Botmother.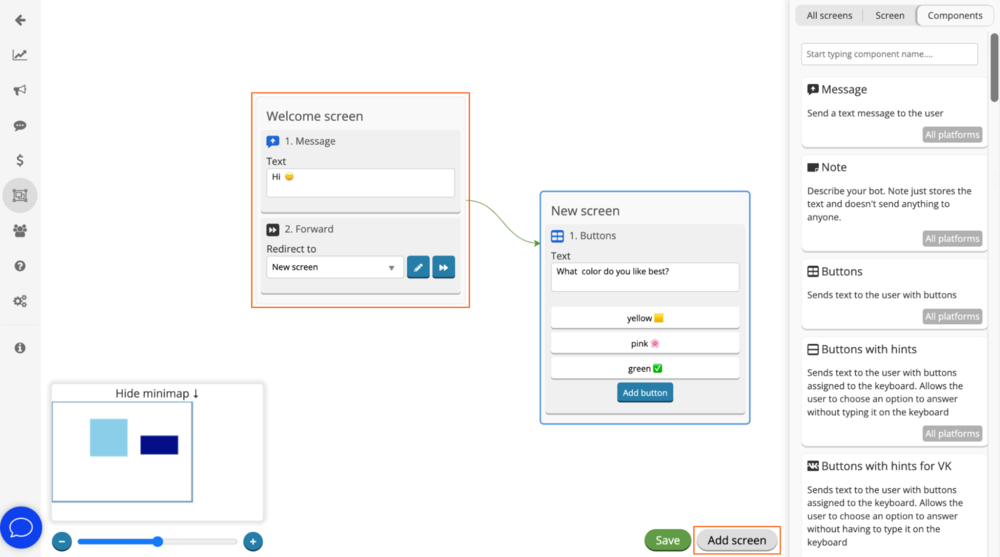 The builder offers all the essential features for creating an effective virtual bot assistant for Telegram:
drag-and-drop editor;
variables;
event-based triggers;
statistics;
navigation buttons;
broadcasting (bulk campaigns);
media files in messages;
widgets.
Botmother allows you to create up to 10 test bots for six messengers for free. The pricing plans start at $17 a month per bot.
FlowXO
FlowXO is a feature-rich chatbot platform that can help you generate more leads and improve customer experience. With FlowXO, you can create bots with minimal effort, thanks to its intuitive interface. The platform also supports Facebook Messenger, Slack, Twilio SMS, and other channels.
Here's a quick overview of what you can do with a Telegram chatbot by FlowXO:
create automated workflows;
qualify leads and analyze user interactions;
gather customer information;
process payments;
use templates to easily set up flows for common use cases;
send various types of content;
hand-off conversations to live agents;
integrate your bot with ChatGPT and 100+ other apps;
collaborate with other agents or developers.
FlowXO has a limited free plan with up to 500 bot interactions. The paid plan starts at $19 a month, with possible upgrades.
Which Telegram marketing software is the best?
Let's see how the Telegram marketing tools we've reviewed stack up against each other.
| | | | | | |
| --- | --- | --- | --- | --- | --- |
| | SendPulse | BotPenguin | Respond.io | Botmother | FlowXO |
| Supported social media channels | 6+ | 6 | 10+ | 6 | 8 |
| Integration with OpenAI | + | + | + | – | + |
| Email automation | + | – | – | – | – |
| Link page builder for social media | + | – | – | – | – |
| Built-in CRM | + | – | – | – | – |
| Widgets | + | + | + | – | – |
| Free plan | up to 10,000 messages | up to 2,000 messages | up to 1,000 contacts | N/A | up to 500 interactions |
| The cheapest monthly plan | $10 | $5 | $99 | $17 | $19 |
As you can see, the chatbot builder by SendPulse is the most feature-rich and cost-efficient, as it comes with a generous free plan and a solid sales and marketing automation toolkit. Make sure to sign up for your free account and see it in action!