There's no secret that customer testimonials have always been a powerful method to persuade prospects to purchase a product or service. Unlike traditional advertising, it allows leveraging people's trust. If all the expectations are met in practice, you can build a large and loyal audience for your brand or business.
According to Trustpilot, nine out of ten consumers read reviews before buying a product or service on the internet. Surely, when you make any purchase online — whether it's a household item or an eLearning course — the first thing to check is the experience of previous customers. Not only does it help ensure the product is worth getting, but it can also significantly help people evaluate the pros and cons of this specific item or service.
Talking about testimonials in the eLearning industry, online reviews are treated similarly to personal recommendations. Students can share some of their insights about the course, emphasize personal gains and achievements, describe the overall impression about the value and relevance of certain educational products, and so much more. Student testimonials are also great for course creators to spot great ideas for course improvement.
In this post, we'll explain the importance of student testimonials when launching your online course, covering their advantages and best practices that will surely come in handy for course creators. As a bonus, we'll share an efficient tool that can greatly help create an online educational product for businesses, schools, academic centers, and other institutions eager to teach.
What are student testimonials, and why do they matter?
Student testimonials are the real client feedback shared on the course platforms. In most cases, it helps showcase the actual value of certain educational products and can significantly help learners in their final decision of signing up.
In fact, student feedback can be, at times, more efficient compared even to the most fascinating, creative, and beautifully written marketing campaign. Why? The answer is pretty simple: consumers trust each other more than brands. An impressive 79% of people trust online reviews as much as personal offline recommendations.
In terms of eLearning, student testimonials are one of the best methods for course creators to enhance their brand reputation, increase sales, and improve marketing competitiveness at the most reasonable cost and resource input. Though business owners often overlook word-of-mouth, professional marketers will agree that student testimonials can generate tons of profits for online courses.
How to get student testimonials and use them properly
The competition in the eLearning industry is getting higher day by day, with marketers implementing even more sophisticated mechanisms to enhance conversions. That is why it's not enough to simply post a bunch of general words about the course to persuade your visitors to get started.

A good testimonial is worth more than its weight in gold, but it also takes a lot of effort to convince students to share some words about their personal learning experience. Below we'll introduce some of the most valuable tips to help you implement the right student testimonials that work.
Diversify your feedback-sharing methods
To encourage more students to share testimonials, it's critical to make sure this process is easy and doesn't take too much of their time or effort. Common methods to gather course testimonials include form submissions, email surveys, surveys on social media platforms, and third-party review tools, which show up after a user purchases or completes an online course.
The more choices you provide, the more likely you'll get first-class feedback about your online courses from your students.
Always ask students' permission before sharing their feedback anywhere
A perfect student testimonial should rely on authenticity, originality, natural language, and specific details. In most cases, this material also includes personal data, like name, job title, age, photo, working industry, and more.
Whether you're an owner of an eLearning startup or an extensive online course platform, it's important to always take client data sharing seriously. A good practice that adds more trust to your brand and adds more confidence in students who create their testimonials is asking for their permission to share their materials.
Realizing that their personal information is handled carefully, students will be more eager to share their opinion about the product. Additionally, this can motivate them to describe their online course experience in detail, explain the pros and cons of the selected courses, and analyze their advantages over the market alternatives.

Respond actively to new testimonials
Another critical aspect that can help demonstrate that you highly value student testimonials is a timely response to the learners' feedback. Whether these are praises of your online course or negative comments that uncover specific problems, setting up an immediate connection with your students can benefit your brand in staying closer to your end consumers and establishing credibility and trust with your audience.
Besides encouraging students to share their opinion, immediate reactions to reviews can help you build a great community and showcase your brand's commitment to its value and usefulness.
Reward student loyalty
There's no secret that people like getting things for free or in exchange for a specific action. So, launching the brand ambassadorship, reward program, or personalized offers for student testimonials is surely a chance to show appreciation for your client's opinion, improving their overall satisfaction at the same time.
If appropriately implemented, rewarding students for testimonials can boost your course's try-out rate and improve your online reputation.
Actively use testimonials across different marketing channels
When working with student reviews, marketers typically suggest posting them on the course homepage. However, implementing student testimonials across multiple mediums opens up much more opportunities for generating leads and conversions for your eLearning business. For instance, testimonials can be a great fit for:
blog content;
success stories;
social media and ad campaigns;
Using first-class testimonials across these fields is an excellent chance to engage new students, authentically target different audiences, and enhance marketing performance.

Places to feature student testimonials for online course marketing
Regardless of the topic of your online course, it's possible to organically fit testimonials of your learners into your online course promotion strategy.
Think about the places that most users visit before becoming your student. Do you send email campaigns? Do you use a particular social media platform more often than others? Student testimonials are most compelling when people actually see them, so make sure you place them well.
For example, in most cases, course creators embed student testimonials into their homepages. They help hook potential students at the first stages of interaction, encouraging them to try and enroll in the course immediately.
Here's a student testimonial example featured on the StellaCulinary program landing page:
Other popular places to share testimonials are success story publications on your brand's social media accounts, email marketing campaigns, or recruitment-focused content.
Additionally, you can leverage different content formats for your student testimonials, like social media posts and stories, videos, blog posts, news sections, and other specific content types. For instance, you can share student testimonials as Instagram posts to build trust with the audience: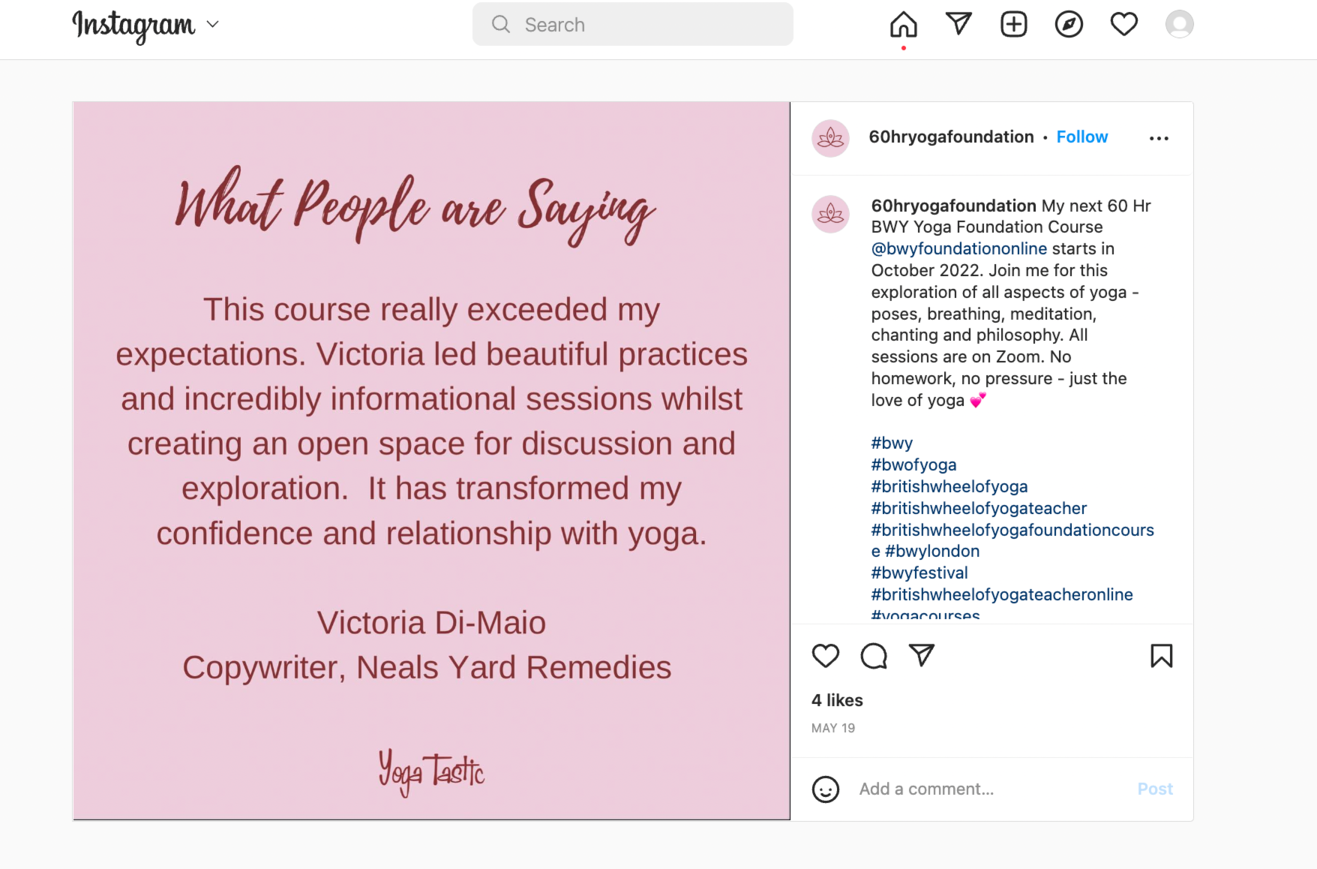 Whatever option you decide to focus on, stay sure it will help you promote your eLearning business in the best way possible. Just don't hesitate to try new methods and add some creativity when asking your students to share their stories, and you'll nail it.
Five excellent examples of leveraging student testimonials for online courses
So far, we've discovered how to get student testimonials and where to share them. Now let's analyze some great examples of embedding student testimonials into different courses.
Your Yoga Flow
Along with sharing personal impressions, student testimonials at Your Yoga Flow are highly authentic. On this online course's website, visitors can find students' opinions and discover the names and even social media pages of course participants, which means the authors of these comments are real people and not just paid reviewers.
Additionally, these student testimonials contain each participant's detailed experience and personal gains. This allows covering audiences with diverse goals: healthcare, mentoring, theoretical yoga basics, etc.
Trupp — The Chef's Table
The best thing about student testimonials at the Trupp — The Chef's Table course is learners' emotions. As you can see, the company posted not only generic feedback about positive experiences. They've put together content demonstrating the best aspects of this cooking course through the prism of its participants.
Happy and Healthy Relationships
One more trick that can add more credibility to your student testimonials is to offer structure-free reviews. In the example below, learners have shared their feedback about the relationship course by Happy and Healthy Relationships in detail, highlighting the most valuable aspects that helped them combat different challenges and improve their communication skills.
Such detailed feedback can contribute to engaging more potential students and generating way more conversions.
Language Trainers
Student testimonials at Language Trainers are focused on personalization. In these reviews, learners share details about classes and their instructors, exemplifying the challenges and progress they've made with these language courses.
Also, Language Trainers' testimonials include some information about the learner — name, language focus, and location — which allows the company to better showcase the learning paths of multiple students from different language groups.
The Bar Method
While previously we've got comparatively short to mid-length testimonials featured on homepages and course landing pages, The Bar Method has introduced student testimonials in their blog, where each student can share their experience and thoughts about what they've really gained after joining this workout community online.
Conclusion
No matter whether it's a newly created course or an upgrade of the existing one, obtaining student testimonials can help your product stand out in the eLearning market. High-quality, feature-specific, and personalized reviews from real learners will add more credibility to your course, making it more attractive and valuable for its potential audience.
At the same time, student testimonials allow you to get an overall impression of your product's quality, discover the best features learners like about the course, and spot the areas for your course improvement. Luckily, with the online course builder by SendPulse, you can easily create online training programs for different industries and improve the product whenever needed to meet your audience's current learning goals.
Having discovered what student testimonial is and how to implement such reviews into your educational product, it's never been a better time to start! Sign up for free to SendPulse online course platform and launch your first-class eLearning project!