Squarespace is an incredible tool for building websites; there's no denying that. However, when everyone uses the same tool, the outcomes become quite predictable. Besides, Squarespace isn't a budget-friendly solution for small businesses. It initially seems affordable — until you calculate all the monthly payments and transaction fees.
Squarespace's features are abundant but not very advanced. Aside from websites, it also offers scheduling, community management, video editing tools, and the list goes on. Chances are, you won't use half of these tools, but you'll inadvertently pay for all of them.
Moreover, with Squarespace, creating a truly multilingual website is nearly impossible. You'll need a third-party integration for that, and it doesn't come for free.
Finally, the platform, potent as it is, doesn't offer you full creative freedom and flexibility — instead, you're working within the constraints of a template. Sure, Squarespace has thousands of them, but so does WordPress, and the latter won't cost you a cent.
So, what are the Squarespace alternatives?
We've gathered a few powerful code-free website builders that are just as easy to use as Squarespace. Some are geared toward creatives, while others are perfect for eCommerce or agencies. Check them out to find the Squarespace alternative that best suits your goals.
SendPulse
Our intuitive site builder is created specifically for busy entrepreneurs, creators, startup founders, bloggers, business owners, event marketers, and anyone needing a convincing online presence. It's easy to master and entirely visual, meaning you won't need to write a single line of code unless you want to.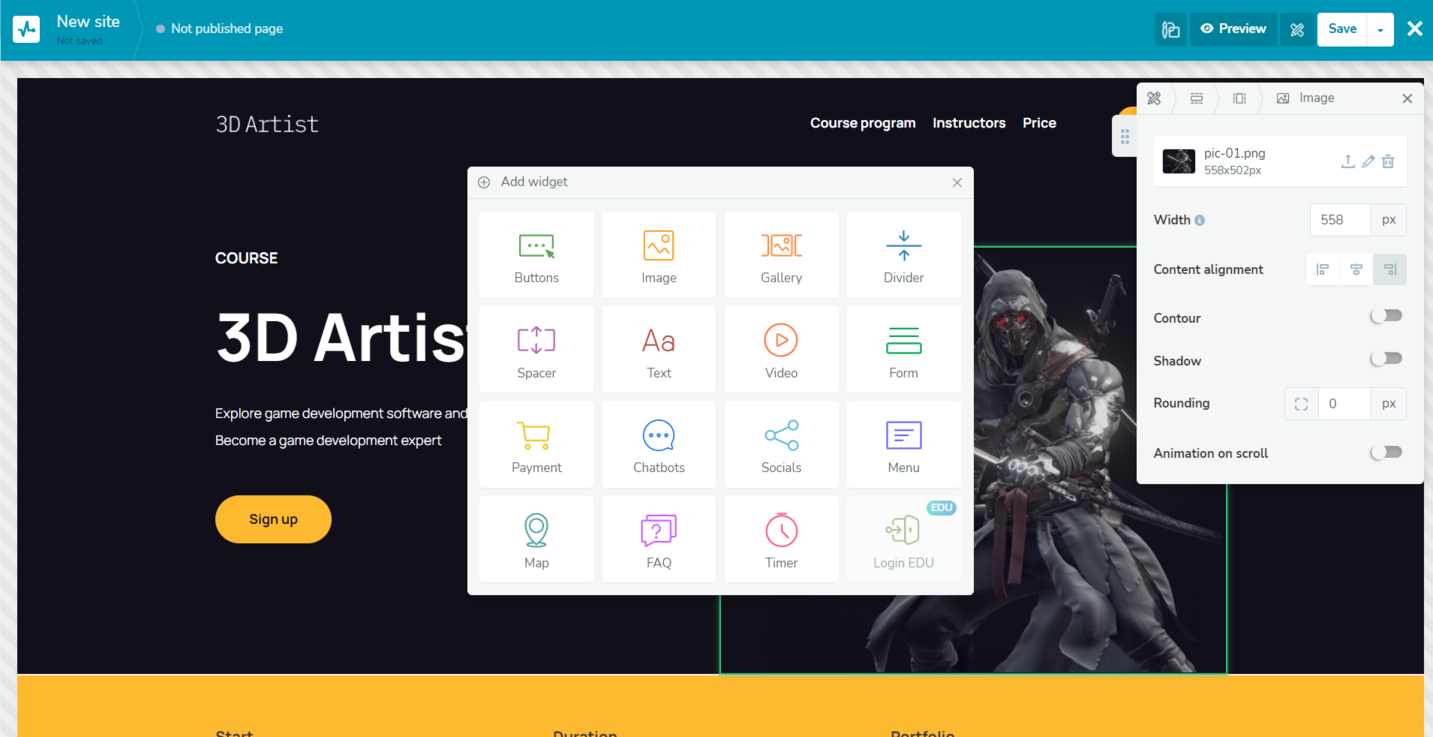 Here's what SendPulse has to offer:
Design tools. Choose from dozens of pre-designed templates and create professional-looking, converting websites in minutes. Then, customize your website's look and structure using a drag-and-drop builder.
Functionality and safety features. SendPulse enables you to create multi-page websites and make them secure with the help of SSL certificates. You can also add custom code to your site to connect analytics scripts, add widgets, special effects, and more.
Promotion tools. Create attractive subscription and lead capture forms for your website to boost your social media traffic and turn your visitors into devoted customers.
eCommerce features. Accept payments through the most popular payment systems such as PayPal, Stripe, and more. Drive spontaneous purchases by installing a countdown timer on your website.
Analytics tools. Connect Google Analytics and Facebook Pixel to your website to track your performance.
Google Maps widget. Drive in-person sales by adding Google Maps with your office address to your site.
Sales tools. Keep track of your deals and store your customer data in an easy built-in CRM.
Outreach tools. You can also send personalized automated email campaigns and SMS to users who purchase through your website.
Conversational marketing features. Hit your website visitors with relevant pop-ups to keep them engaged and maintain meaningful conversations with them through chatbots on other channels like WhatsApp or Instagram.
Integrations. Connect Zapier, Typeform, Slack, and dozens of other apps to SendPulse to extend your website's capabilities even more.
In addition, SendPulse lets you create educational products and promote them on a dedicated landing page.
SendPulse offers flexible pricing — you only pay for the tools and the volume you actually need. A standalone website builder will cost you just $13 a year or more, depending on how many sites you need. You can create one website for free to try out the platform before you commit to a paid plan.
Wix
Wix is the main competitor to Squarespace, offering a familiar drag-and-drop interface, free hosting, over 500 templates, and an impressive range of features. The builder allows you to easily create and customize any commercial or creative website without any coding knowledge.
Here's what makes Wix a great alternative to Squarespace:
Design tools. You can use custom fonts and animation effects like parallax to make your websites visually pleasing and multi-dimensional.
eCommerce tools. Wix enables you to create stunning storefronts and product pages for your online shop. You'll also be able to track orders, manage your inventory, create special offers, offer multiple payment methods, and set up shipping rules and prices.
App market. If Wix doesn't offer some specific feature, its partners sure do. Wix's App market is a go-to place for powerful eCommerce apps and integrations.
SEO tools. Wix allows you to customize your metadata and URLs, set up bulk redirects, and so on.
AI functionality. Short on time? Out of ideas? Wix ADI can generate a personalized website for you in minutes based on your preferences and needs.
Business tools. Wix gives you a custom mailbox that matches your domain, along with free hosting, website analytics, an SSL certificate, and a live chat feature. You can even manage your contacts in a basic CRM.
Online booking system. With a website powered by Wix, you can manage bookings and reservations, get paid for your services, and send automated appointment reminders to your clients.
Blogging tools. Wix has a whole bunch of tools specifically for bloggers and opinion leaders. For instance, it enables you to create visual-first, mobile-friendly posts and add contributing writers.
Music, photography, and video tools. Share, display, and sell your art through your Wix website. The platform allows you to protect your works with a watermark, feature content from different channels, and offer monthly subscriptions.
Event management tools. Send nicely designed invitations, manage your guest list, and sell tickets right on your website.
Overall, Wix is a great Squarespace alternative for those who want more flexibility, features, and customization options. However, because of how advanced it is, you can't expect it to be cheap. This is also not the easiest website builder to master as there are simply too many features to explore. Wix is also quite possessive — should you want to migrate to another platform, be prepared to transfer most of your data manually.
Wix's pricing policy is similar to that of Squarespace. The cheapest plan without Wix branding costs around $16 and is only for personal use. Business plans start at $27 a month. Wix doesn't offer a free trial but has a 14-day money-back guarantee.
Shopify
Shopify offers an eCommerce-first, no-code website builder that can be useful for small business owners as well as large enterprises. It is an ideal alternative to Squarespace for those who want to sell products online at any scale.
Let's take a look at what Shopify has to offer in terms of website building and maintenance:
visual drag-and-drop builder with a clean, straightforward interface;
vast collection of tasteful, industry-specific, and customizable themes;
comprehensive dashboard displaying your sales and orders at a glance;
domain and hosting services;
built-in SEO features;
email marketing capabilities;
inventory synced across all your sales channels;
unlimited product pages;
simplified shipping with discounted rates;
fraud analysis and PCI DSS compliance for all transactions;
over 8,000 third-party apps and integrations;
various sales channels, apps, POS, and multi-market management features;
24/7 support and comprehensive resources.
In addition, Shopify offers a handful of useful business tools like a privacy policy generator or a CPM calculator free of charge.
Compared to Squarespace, this is a more specialized platform focused on eCommerce. Think of it as a whole ecosystem of various sales tools and services that can help you automate your business and efficiently sell B2B or globally.
That said, world-class functionality comes at a price. Shopify's high-end website themes alone may cost you hundreds of dollars. The pricing plans start at $39 a month, plus transaction fees. Thankfully, the platform offers a 3-day free trial and a discounted 3-month period.
Weebly
Weebly is a Squarespace alternative that offers a good balance of features and simplicity. It can be used for creating slick, attractive online stores, portfolio websites, and anything in between. As always, no coding skills are needed — Weebly offers a convenient drag-and-drop builder.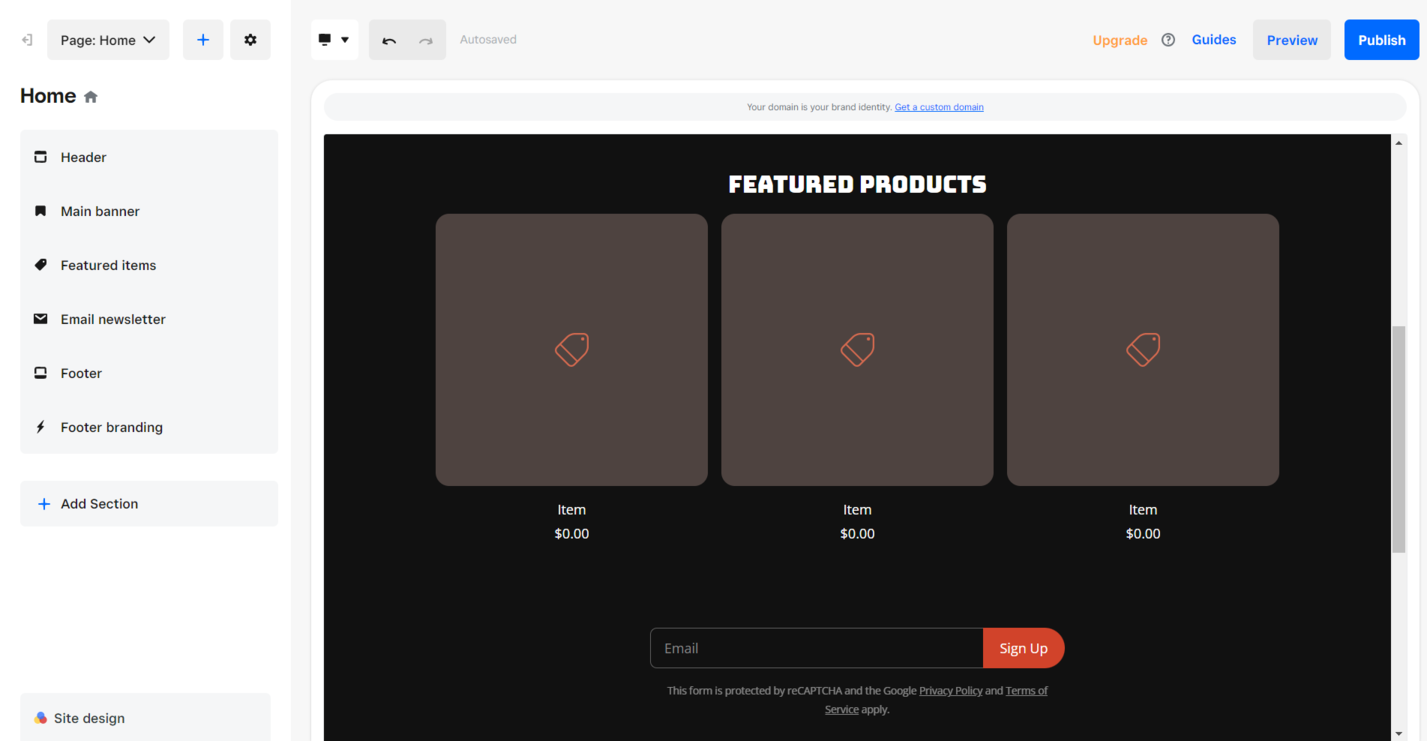 With Weebly, you can quickly set up your website and start selling or growing your readership with ease:
create stunning and intuitive websites with video backgrounds, built-in search, custom fonts, special effects, and custom code;
buy a custom domain of your choice directly through Weebly;
use integrated analytics to understand your visitors' shopping behavior;
add product search and product badges to your store, making your items easily discoverable;
rely on Weebly's free hosting, SSL security, DDoS mitigation, and 24/7 support;
send informative and nurturing email campaigns to your customers using customizable email templates;
use Weebly's SEO and analytics tool to develop a clear strategy for your website and understand your current position;
track your inventory and manage shipping from one place;
get exclusive shipping rates and create coupons for your customers;
make your website more visible on the internet through integrated social media marketing tools, SEO tools, and AdWords credit;
create professional niche blogs, manage comments, and schedule content for your blog;
update your site on the go with the Weebly mobile app.
Weebly is part of the Square product suite, which also provides eCommerce, banking, HR, development, and customer-facing solutions. As your business grows, you'll be able to use more Square products without having to move to a different platform.
The platform has a limited free plan. The monthly prices start at $16 for a professional plan.
Jimdo
Jimdo is an all-in-one website builder for small-business owners — it lets you create lightweight, eye-catching websites in minutes and promote them like a pro. Artists, freelancers, photographers, agencies, and startups use Jimdo to showcase their work and find new clients.
Here are some of the most interesting features of this Squarespace alternative:
drag-and-drop editor for creating multi-page websites;
hosting and custom secure domains (free in the first year);
library of high-quality, copyright-free photos to use when designing;
collection of 40+ industry-specific, mobile-optimized templates;
shipping and local pickup options;
built-in SEO tools and personalized recommendations;
appointment booking service;
payments through PayPal or Stripe;
special offers and discounts;
custom logo maker;
built-in analytics tools;
customized legal text;
unlimited storage;
banner maker for important announcements and updates;
listing tools for syncing your business info across 10+ channels;
100% GDPR compliance;
quickly available support from real human agents.
Jimdo has partnered with Facebook and now offers dedicated selling tools for Instagram and Facebook. You can effortlessly sync your Facebook catalog with your Jimdo store products and set up Facebook pixel to measure your advertising efforts.
As you can see, this is one of the most eCommerce-friendly Squarespace alternatives. The main Jimdo's advantage is that it doesn't charge transaction fees. Jimdo's pricing plans start at $12 a month ($19 for an eCommerce plan). You can give the platform a try in a risk-free way — there's a basic free-forever plan.
SITE123
SITE123 is a powerful yet affordable website builder that gives entrepreneurs and bloggers just enough tools to display and sell their products and knowledge online. The platform offers a very hands-off approach — you don't have to manually customize or set up anything unless you really want to. The platform will ask you a few questions and do the rest for you.
SITE123 has all the capabilities of the average content management system, minus the complexity:
you don't even need to drag and drop anything — you can just pick a template and upload your content;
you can create a nice-looking blog, online store, or forum, depending on your needs;
you can pick one of the hundreds of niche templates, from CVs to restaurant landing pages;
you get a custom sub-domain for free;
you're allowed to create an unlimited number of websites under one account;
your site will be stored on content distribution network (CDN) servers to reduce loading time;
you can always get royalty-free images for your website from an integrated image bank;
your website can be instantly edited or updated at any time.
But here's the catch. If you want to connect your own custom domain to SITE123, you'll have to pay $12.8 or even $17 per month on top of your monthly price, depending on your subscription type. The platform has only one premium plan, which costs $12.80 a month. There's also a limited free plan and a 14-day money-back guarantee.
Webnode
Webnode has over 45 million users because it's a versatile, robust, and low-cost website builder. It offers a great range of features for building commercial, creative, educational, or entertaining websites, and it can be used by individuals as well as established businesses. Webnode supports 24 languages and allows you to create unlimited pages. You can get your site up and running in just 5 minutes.
The Webnode feature list includes:
Easy setup. Webnode allows users to create a responsive website in just a few minutes from their phone or tablet.
Variety of design options. You can find the right template for a blog, company, community, nonprofit organization, portfolio, or online shop. It's also possible to add special effects like parallax.
Domain and hosting services. Webnode enables you to purchase a new domain or connect an existing one. You'll also get fast and scalable hosting along with a backup feature.
SEO tools. Webnode offers a range of SEO tools to help you optimize your website for search engines, including meta tags, descriptions, and site maps.
eCommerce tools. With Webnode, you can sell products online, manage inventory, and process payments. You'll also be able to offer discounts and sales.
Easy widget integration. Add a calendar, forum, chat, or weather forecast to your website in a few clicks.
Transparency. Connect your site with Google Analytics and analyze your visitors' behavior to achieve better usability and conversion rates.
Social and SEO tools. Share your website on Facebook or Twitter and make sure your site is easily searchable.
Email tools. Webnode offers custom mailboxes and spacious storage to help you keep business communications separate from your regular inbox.
Analytics tools. See who's visiting or interacting with your website and where they come from.
Community management. Create beautiful lead capture forms to build a loyal audience. Manage memberships to create and nurture private communities.
The team behind Webnode has over 20 years of website-building experience and is speaking multiple languages. They're ready to help you five days a week and promise a 24-hour turnaround.
Webnode offers two categories of plans, for eCommerce and personal use. The former start at $4 a month, while the latter costs $12.90 monthly or more, with no transaction fees. It's possible to use Webnode for free with limited functionality.
Pixpa
Pixpa is an all-in-one platform for photographers, artists, entrepreneurs, models, and designers, enabling them to showcase, share, and sell their work online. If your products or services are highly visual, this might be the right solution for you. Pixpa has been around for over ten years, and there are many reasons for creators to love it.
With this Squarespace alternative, you can:
create breathtaking galleries, portfolios, and stores using a drag-and-drop builder and elegant templates;
use a custom domain, a worldwide CDN, and secure cloud hosting powered by AWS;
sell images as prints or downloads and set your own pricing;
enable search and favorite lists for better user experience;
set up a seamless checkout and collect payments through PayPal and Stripe;
manage international sales and shipping;
fulfill your orders using Automated Lab Fulfillment with Pixpa's integrated partner lab WHCC or pick any lab of your choice;
get a quick overview of your sales and target forgetful customers with abandoned cart emails;
set up discounts, taxes, and shipping rates for your online store;
create unlimited client albums, add unlimited content, and enjoy unlimited traffic;
extend your site's capabilities with third-party integrations.
Pixpa deserves special attention as not that many website builders cater specifically to artists and creators. At the same time, it offers all the necessary selling and analytics tools, striking the perfect balance between aesthetics and practicality.
The platform offers a 15-day free trial and a 30-day money-back guarantee, so you'll have enough time to decide if that's the right tool for you. Pixpa does not charge any commission or transaction fees on your sales. The pricing plans start at $6 per month.
GoDaddy
GoDaddy Website Builder is similar to Squarespace and Shopify. It lets you create powerful, sales-oriented websites that also have great looks and usability. Over 21+ million people around the world are using GoDaddy to create and host their websites.
GoDaddy is a domain registrar and web hosting company, so you can expect a state-of-the-art experience in terms of hosting and security. And, of course, the builder is entirely code-free, although you can always add custom code.
Here's why you may want to choose GoDaddy over other Squarespace alternatives:
Design options. The platform provides you with dozens of eye-pleasing templates for all possible use cases, from real estate to health and fitness.
Versatility. GoDaddy has tools for pretty much everything, from blogging and selling products on marketplaces like Amazon to managing appointments and chatting with customers on social media.
Branding. You get to customize every inch of your website however you like it. You can also create beautiful, branded content for your site and social channels with GoDaddy Studio.
Easy payments. GoDaddy Payments allow you to receive online, in-person, or over-the-phone payments quickly and securely, with low transaction fees.
Visibility. GoDaddy helps you find local customers on Nextdoor and increase your reach on social media and search engines.
Convenience. Manage your website, orders, sales, inventory, appointments, marketing campaigns, and customer communications from a single tab.
GoDaddy offers a surprisingly generous, feature-rich free plan. However, to grow your business and get access to the whole range of features, you will need a premium plan starting at $9.99 a month, billed annually.
Duda
Duda is a less hyped but no less worthy of attention website builder for freelancers, startups, and agencies. With this alternative to Squarespace, you can create websites for your business and your clients at scale — the service allows for a quick turnaround, thanks to automated workflows and dynamic page creation.
Here are the main Duda features:
speedy, unbreakable websites with 99.9% uptime and SSL;
AWS hosting;
drag-and-drop tools and professional editing capabilities;
rich selection of customizable templates;
white label marketing tools;
built-in upsells, eCommerce, and App Store extensions;
client access control and tracking;
client billing tools;
widget builder;
tools for collecting content and collaborating with clients and teammates;
API integration;
award-winning 24/7 support.
Out of all Squarespace alternatives, this one is probably the most advanced, but you'll need some coding skills to explore its full potential — or you can hire an expert to help you out. This is also a solid alternative to Webflow, a popular online visual editor.
Duda has a free trial. The plans start at $19, paid monthly. You can save 25% by choosing annual billing.
Which alternative to Squarespace is the best one?
We've looked at a handful of Squarespace alternatives, each with its own pros and cons, and here's our final verdict based on user testimonials and side-by-side comparison:
Wix might be the best choice if you need a real powerhouse website and are ready to pay extra for advanced features;
Shopify might be the best investment for you if you have ambitious business goals and expect your brand to take over the world;
Webnode or Weebly might be the best option for easy and attractive websites;
Pixpa might be chosen if you want to earn money with your art since it's a more niche solution;
SendPulse is a great choice to get a powerful marketing and sales automation toolkit alongside an intuitive visual website builder for a fraction of the average cost.
Test out the builders today and see for yourself!